"When darkness falls across the land and the midnight hour is close at hand, when the souls of the dead returned to their homes, comes out witches and ghosts.…"
From dressing, trick-or-treating having horror-themed house parties and having a Bonfire night, we can't get enough of this spooky festival. In fact, Brits are expected to spend £687 million this year on Halloween, with seasonal sales on being a growth trajectory year on year for over a decade.
Clearly, Halloween and Bonfire Night present a huge opportunity to drive sales and gain new footfalls as we move into autumn. It is best to stay ahead in this game and treat the shoppers to a wide range of confectionery, snacks, quick meals, drinks and booze.
From movie nights spent at home to get-togethers with family and friends, shoppers will seek out their favourite snacks in the lead up to Halloween and Bonfire Night, says Matt Collins, Trading Director at KP Snack, making both events a key opportunity for retailers to maximise CSN sales.
At the heart of the impulse occasion, confectionery remains in the top purchases within the independent channel. The confectionery market does especially well during the Halloween season, making it the UK's third biggest retail event in the confectionery calendar.
Retailers can maximise sales uplift by ensuring they stock affordable products suitable for both parties and trick-or-treat occasions.
Phil Hulme, Commercial Director at Kervan Gida UK Ltd, asserts that confectionery is a key category when it comes to planning for Halloween.
"Retailers can make Halloween a focus in the aisles by decorating them to draw shopper attention, and they can make sure shoppers know where they can buy their Halloween treats," he says.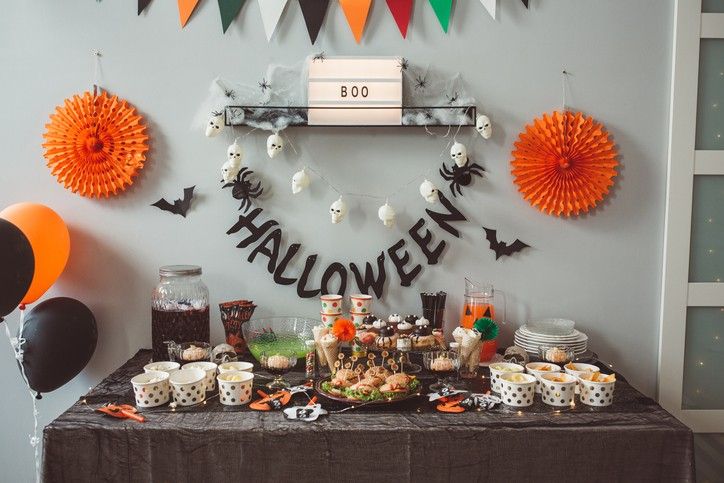 It is a misnomer that Halloween is a kids' festival. Adults also have their fair share of fun so it is best to be prepared to cater to their needs too.
With independent stores being the go-to outlets for all the last-minute items required to make Halloween a success, retailers can benefit by being well prepared for the annual sales uplift, says Nicola Randall, head of marketing at Brothers Drinks Company.
"When it comes to boosting Halloween sales, the absolute key single piece of advice we'd give is 'Don't forget about adults'," says Randall.
Lauren Priestley, Head of Category Development Off Trade at Diageo, too vouches on Halloween and Bonfire Night as huge opportunities for retailers to unlock additional sales.
Echoing Randall's thoughts is industry peer Mike Chapman, Head of Wholesale at PepsiCo, who further adds an interesting and surprising insight here- 80 per cent of all crisp, snacks and nuts occasions come from adult-only households during the Halloween season.
"We're seeing a cultural trend called 'kidulting", as adults tap into their nostalgia and enjoy the snacks they used to when they were younger. With more adults getting involved with the occasion, be it through spending time watching films as a household or socialising with others, we are anticipating demand from adult shoppers to be on the rise within this channel this year," Chapman says.
Mark Frossell, Senior National Account Manager at St Pierre Groupe, states how Halloween brings with itself a wave of 'big night in' that peaks around these occasions, creating a sales opportunity across the retail landscape – and also in categories not immediately associated with the season, such as bakery.
Treat me
One can't buy happiness, but one can buy Halloween candy, and that's pretty close.
Stores should be well-stocked on bestselling lines along with new launches to maintain the right amount of excitement among little trick and treaters.
Health and sustainability continue to be of concern to consumers year-round. Bebeto offers a range of small bags for trick or treating while the larger 150gbags are perfect for parties as they use less plastic per kg and are made of a form of OPP that is widely recyclable.
Bebeto's range is packed in 150g non-plastic bags which are designed for sharing – each portion is 20g. It also has boxes containing 45 individual, small 15g bags, which are ideal for trick or treating and, at 15g, are perfect for portion control.
The Bebeto range typically has an RRP of £1.00. Sharing a bag of sweets such as Bebeto gummies is the ideal way to cut back during the cost-of-living crisis as they not only are they affordable sweet treats, but they can also be used to decorate cupcakes.
"Bebeto doesn't product limited edition packs, we have Halloween-specific SKUs. We have our popular 150g Halloween-themed vegan sharing bags, which include Bebeto Monster Spaghetti, Bebeto Fizzy Fangs, and Bebeto Gummy Brains," says Hulme.
Last year, Bebeto introduced a brand new 150g sharing bag, Bebeto Spooky Mix, which contains a selection of fun, Halloween-shaped fruity gummies, in blackcurrant, apple, orange, and strawberry flavours.
Its Halloween vegan sharing bags are all free from artificial colours and flavours, are vegan approved by the vegetarian society, and are halal certified, with an MRP of £1.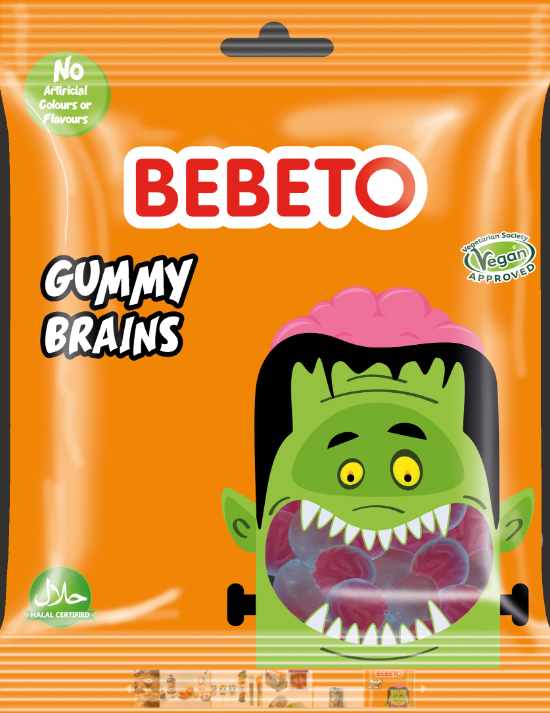 Bebeto Gummy Brains 150g, Bebeto Fizzy Fangs 150g, and Spooky Mix 150g are available, alongside 400g Fizzy and Gummy Party Tubs and Pick & Mix Party Pack 750g as part of its Halloween offer. Bebeto Trick or Treat Party Box, launched in 2022, is still very much in trend.
Another huge name to reckon in the confectionery aisle is Perfetti Van Melle which is worth over £91min the total £1.7bn sugar confectionery market in the country.
Perfetti Van Melle's UK business is driven primarily by its Mentos and Fruittella brands, both currently worth around £56m with Chupa Chups lollipops and Smint completing the lineup.
When it comes to preferred ranges at Halloween, store owners are looking to stock a wider range of wrapped sweets, larger bags, different formats and significantly, with HFSS upon us, healthier sweets.
Confectionery wholesaler Hancocks is all set for this season with a wide selection of Halloween confectionery from the UK's leading brands, including some exciting novelty products.
The Bonds Candy Cups have three spooky options that perform well during the Halloween season. The Dracula Teeth, Scary Pumpkins and Spooky Mix Candy Cups RRP £2.50 are filled with delicious pick n mix sweets and are great for sharing.
"Our range of Candy Realms confectionery is brand new for this year and has been hugely popular among customers and retailers for its great value. Candy Realms has added new spooky products to the range, including Spooky Tubes, Skull Mallow Pops and Spooky Mallow Skewers – all with a recommended retail price of £1.00," Kathryn Hague, Head of Marketing at Hancocks, tells Asian Trader.
Crazy Candy Factory offers Halloween-themed impulse products that are especially popular among young shoppers. Their novelty products include Sour Skull Sprays, Zombie Bling Ring and Zombie Brain, all with an RRP of £1.29.
"Our Halloween pick n mix range includes top sellers Kingsway Dracula Teeth, Kingsway Gummy Spiders, Bubs Ghosts and Kingsway Monsters. This year, we're also adding brand new Dobson Halloween Lollies, Barnetts Zombie Bombs and Barnetts Mega Sour 3kg jars to our range," says Hague.
For Bonfire Night, retailers should stock up on marshmallows, hot chocolate toppings, old-fashioned fudge, and toffee and treacle flavoured treats. Retailers should also stock up on kids' novelty products that will keep children entertained during bonfire and firework events.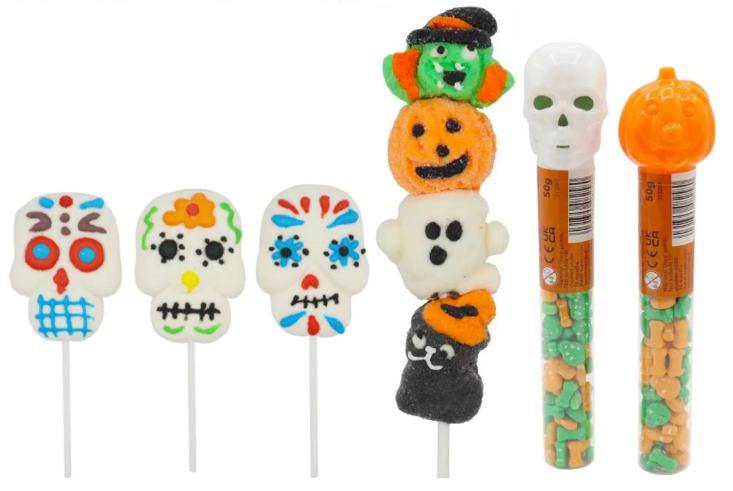 Retailers should consider stocking customers' favourites are extra-large and tasty vanilla-flavoured Mega Marshmallows (550g, RRP £3.50), Sweet Toppings Kit (210g RRP £3.00) and the range from Walkers Nonsuch, one of Britain's oldest makers of traditional toffee.
Retailers can also purchase Walkers Nonsuch toffees in 2.5kg bulk bags for £11.49 – the sweets are individually wrapped so they're ideal additions to pick-and-mix displays.Dobson's Bonfire Mega Lollies, (RRP £0.20) and Honeycomb Cinder Toffee (RRP £1.20 100g) are also some great option.
Wholesaler Bestway is also all prepped-up this year with its Halloween range.
In chocolate singles, Bestway is stocking Snickers Caramel, Nougat & Peanut Chocolate Snack Bar, Kinder Bueno White and Hazelnuts Single Bars while it also has multi-packs bestsellers – Cadbury Wispa Chocolate Bar 4 Pack Multipack, Cadbury Twirl Chocolate Bar 5 Pack Multipack apart from chocolate Sharing Bags – Cadbury Dairy Milk Buttons, Cadbury Oreo Bites Chocolate Bag.
Catering to kids range in particular, Bestway has Cadbury Fudge Chocolate Bar, Kinder Surprise Milk Chocolate Egg with Toy. In drinks and hot beverages, Bestway has this interesting mix of Ovaltine Original, Galaxy Instant Hot Chocolate, Cadbury Hot Chocolate and Cadbury Wispa Instant Chocolate.
Moving on to savoury side, retailers should offer themed fixtures and special promotions, while prioritising sharing crisps, snacks and nuts (CSN) products.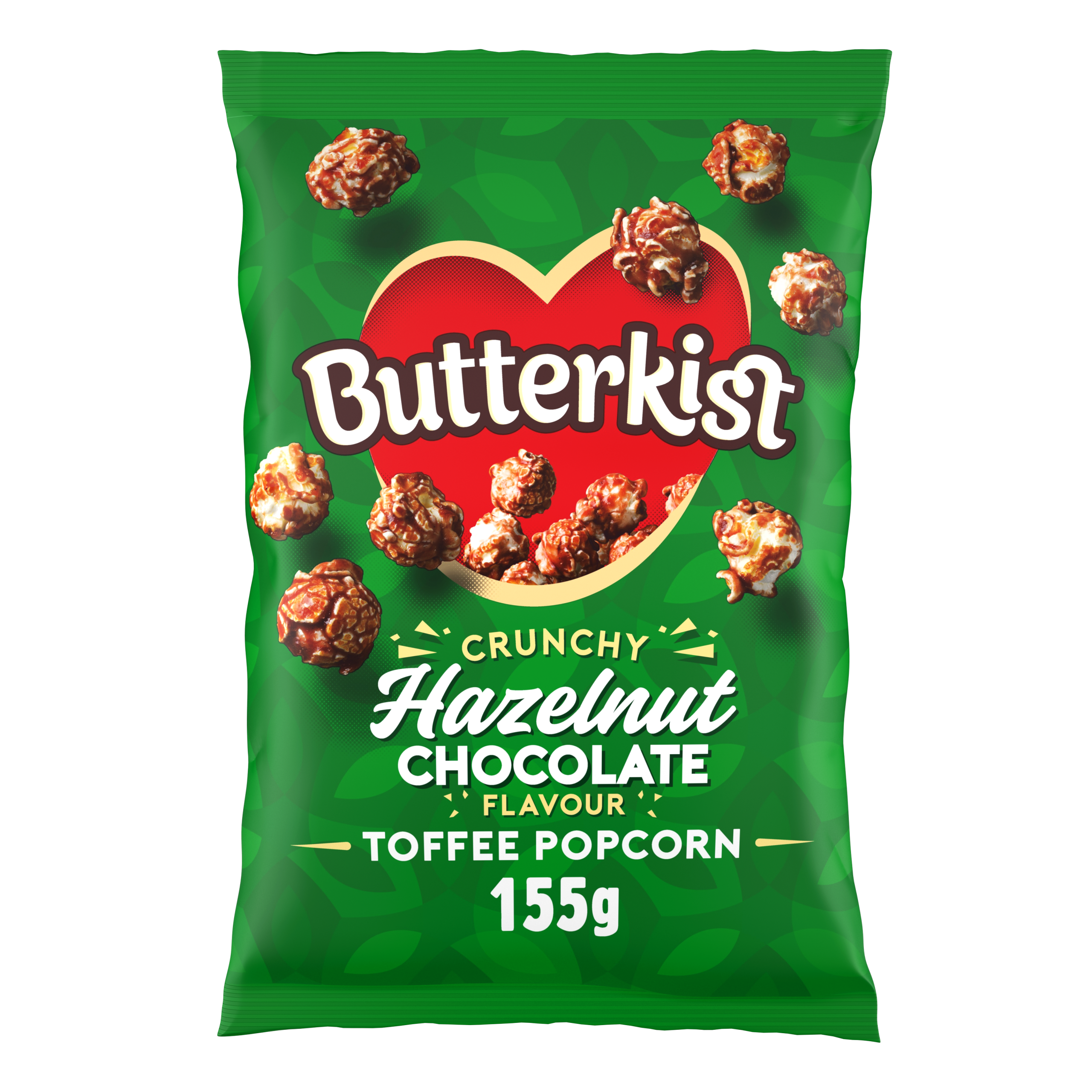 Worth over £1.6 bn, sharing is the largest segment in CSN, says Collins, adding that KP Snack's exciting sharing range delivers something for everyone and all occasions, from popcorn to nuts to pretzels and, of course, crisps.
Butterkist is the nation's favourite popcorn brand, an ideal choice for movie nights this Halloween. At nearly twice the size of its nearest branded competitor, Butterkist enjoys a 36.6 per cent market share.
POM-BEAR is another family favourite and a great choice for in-home Halloween occasions. Worth £30.2m RSV, POM-BEAR is a gluten free snack which contains fewer than 100 calories per pack. Space Raiders is another fun snacking option for families celebrating Halloween.
If confectionery is the king of Halloween, it is being challenged by a fierce rival in the form of crisps and snacks, primarily due to adults' demand.
Walkers' complete portfolio of snacks can help retailers tap into the demand for fun snacks at Halloween that adult shoppers are looking for.
"In particular, we're seeing Monster Munch and Wotsits especially sought within these adult only snacking occasions, with 69.8 per cent of Monster Munch and 52.6 per cent of Wotsits being consumed by adults only during Halloween," Chapman from Pepsico tells Asian Trader.
With shoppers on the lookout for snacks that tap into their childhood nostalgia, retailers can maximise their sales by selecting the right brands for those adult consumers in the run up to Halloween events.
Bigger bag sharing options naturally suit the Halloween occasion as shoppers gather with friends and family, so retailers looking to make the most of this should stock up and centre their displays on RRP PMP sharing formats.
"Our complete range of sharing RRP PMPs is growing at +25.6 per cent and are must-stocks during Halloween, as consumers turn to our portfolio of known and loved brands and flavours,' says Chapman, recommending retailers to stock Monster Munch Pickled Onion and Wotsits Giants," says Chapman.
Wotsits is launching two new RRP PMP SKUs in Really Cheesey and Flamin' Hot flavours.
While snacks and ready meals are obvious product lines to stock, a noteworthy product line with huge room for further growth is 'eating enhancers' namely table sauces, dressings and condiments. Worth over £70m in the convenience channel, mayonnaise leads the subcategory with 33 per cent share, closely followed by Ketchup with a 23 per cent share. Areas of growth within the category also include flavoured mayonnaise, squeezy formats, salad dressings and other thick sauces such as BBQ and hot sauces.
The changing seasons are a huge influencer in the consumption of table sauces.
"Summer is a very important season for the table sauces, dressings and condiments category because of BBQs and summer parties. But don't forget Christmas – condiments is the fastest growing subcategory3 during this period so make sure you are well stocked in Cranberry Sauce, Mustard etc" says Lucy Richardson, Unilever UK Category Director
"With 99 per cent of households buying these products, they are key top-up items in convenience stores. That's why it is so important to have the top sellers available. If the customer can't see it or it isn't available, they will simply shop elsewhere."
Halloween and bonfire season are the peak of 'big night in' each year and consumers are looking for ways to make the most of at-home events, with a particular focus on handheld eating.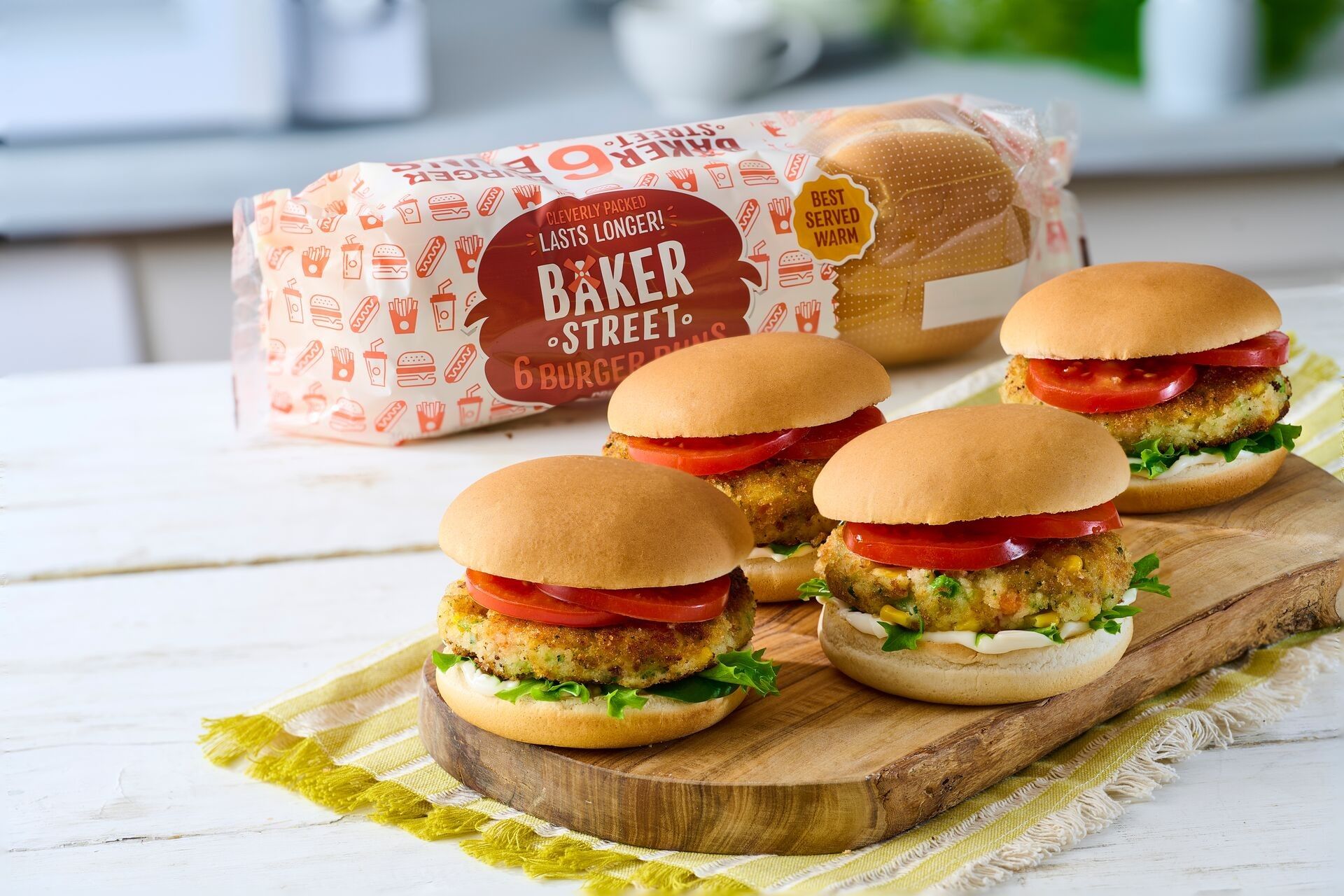 "Consumers are looking for quick and easy ways to create 'fakeaway' favourites. Baker Street's range of Burger Buns and Hot Dog Rolls are ideal for consumers looking to recreate classic burgers and hot dogs, served with a variety of toppings" says Frossell, adding that Baker Street's recipes have been specifically developed for this purpose – with burger buns 'built for burgers' and hot dog rolls 'ready to handle' the load.
The Burger Buns and Hot Dog Rolls are performing well, as they meet consumer needs around creating these impromptu take-away classics. They also cater for the whole family and multiple meal occasions – a very attractive proposition for those wanting to make their food go further. As 'super-sized' meals continue to grow in popularity, sales of our Jumbo Hot Dog Rolls and Mega Burger Buns are also on the rise.
Drink it up
Key importance of soft drinks in this season can be seen by the fact that sales soared with £70m year-on-year value growth during Halloween 20221 as shoppers grabbed soft drinks to elevate social gatherings.
Amy Burgess, Senior Trade Communications Manager at Coca-Cola Europacific Partners (CCEP), points out that in-store visibility is the key to unlocking growth opportunities during seasonal periods such as Halloween, especially for top brands with linked marketing and promotions.
"To tap into this spooky occasion, retailers should stock a broad range of sharing packs from top brands. Think large PET bottles of Coca-Cola, Fanta, and Schweppes. It's a recipe for Halloween success!
Fanta is the number one flavoured carbonates brand in GB and during Halloween 2022 it generated nearly a third (31.6 per cent) of total flavoured carbonates growth, with one in four flavoured carbonates soft drinks sold during that period being Fanta.
"This year to help retailers create a sense of excitement in their stores we have launched our latest Fanta Halloween campaign, including a spooktacular on-pack promotion offering its biggest pool of epic prizes and scary surprises yet," Burgess tells Asian Trader, adding that the campaign in running until 7th November.
"Shoppers are invited to scan QR codes on limited edition, ghoulish packs of Fanta which will take them to the Coca-Cola app to play a Halloween game and then find out instantly whether they've won an epic prize from Fanta's biggest-ever £70k prize pool – or a scary surprise.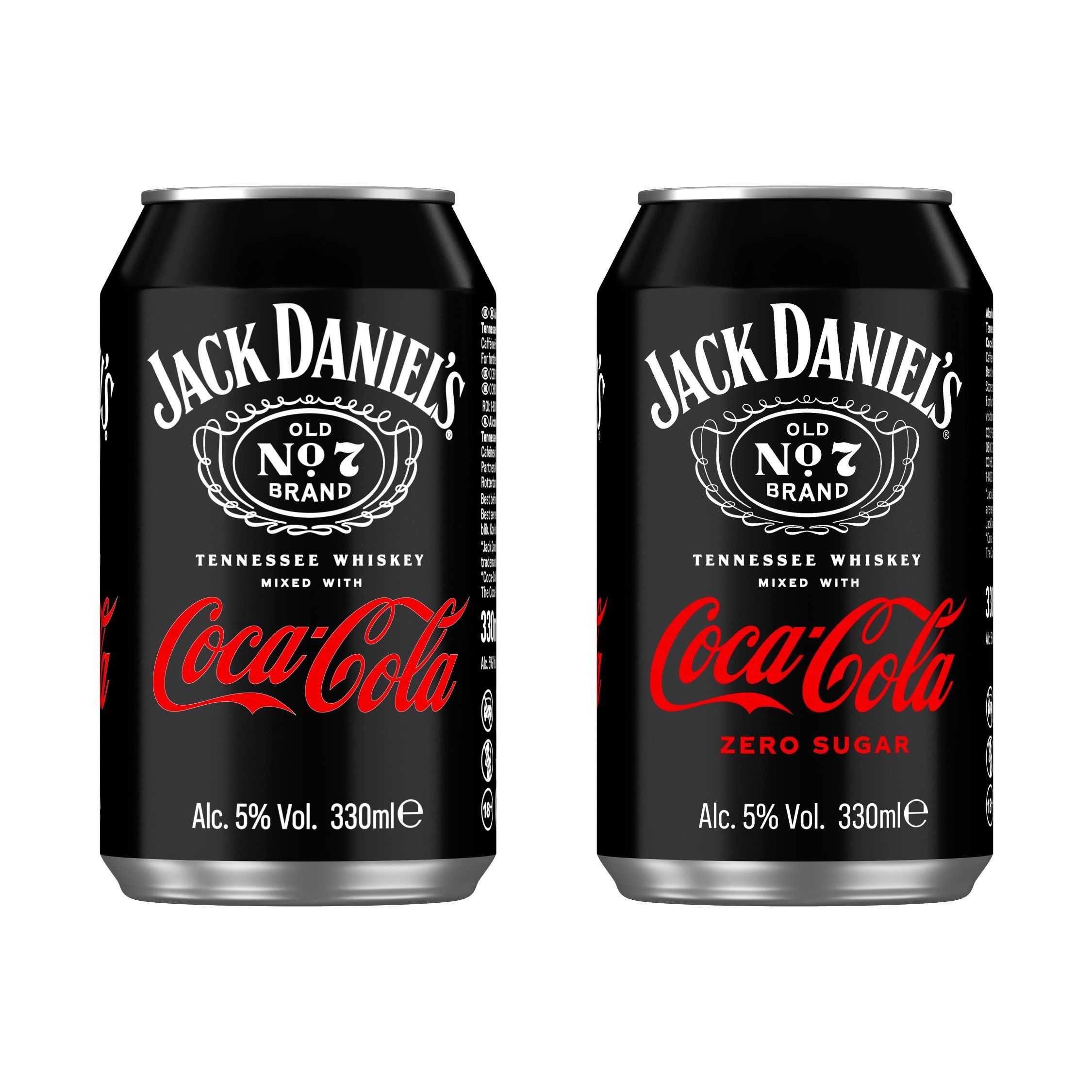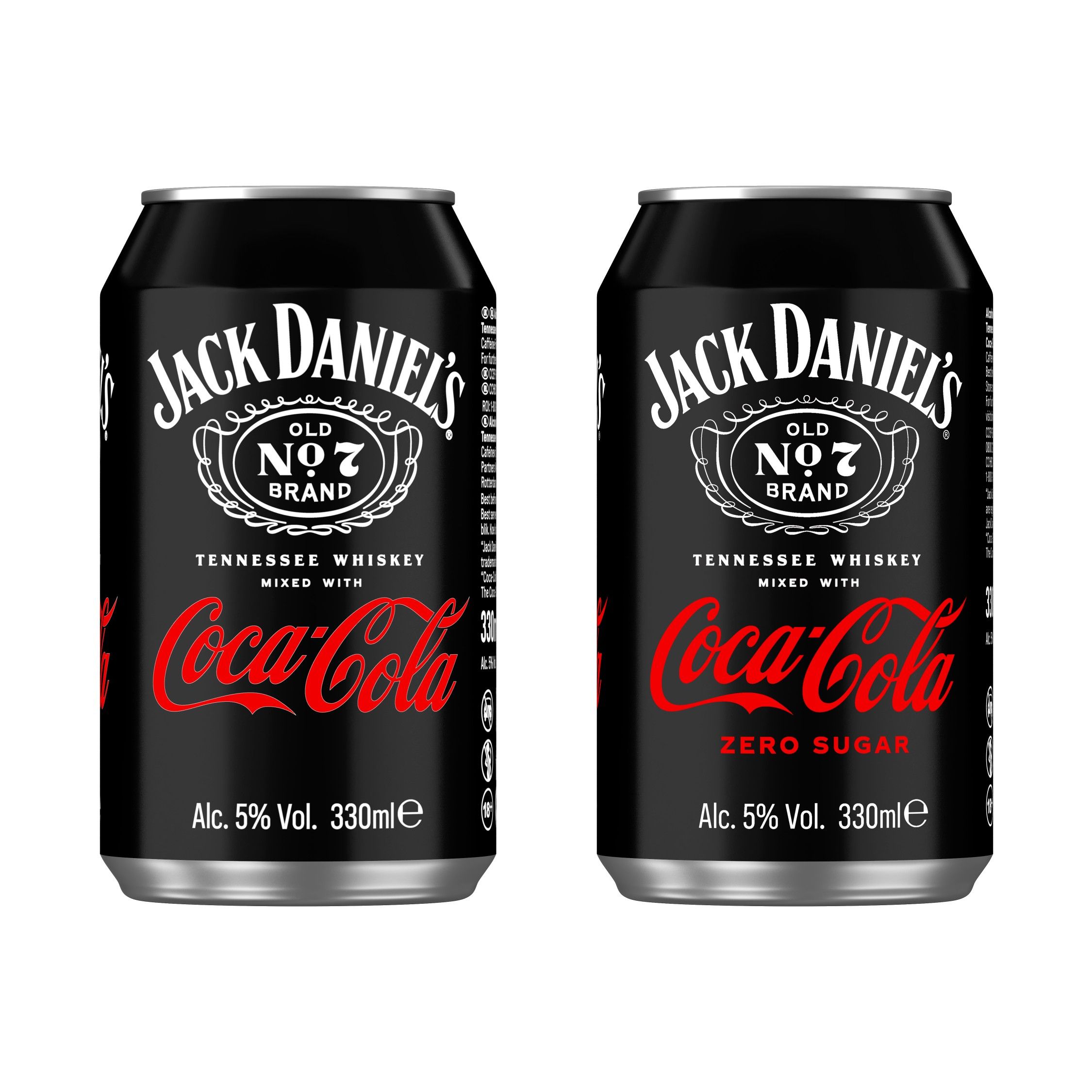 Prizes include cash, UK horror experiences with travel and accommodation, home entertainment systems, and scary movie night supplies.
Coming months will also bring the immense opportunity of Bonfire nights. To make the most of this opportunity, retailers should focus on key categories such as colas, carbonates and mixers, and leading brands within this.
Coca-ColaTM, especially Coca-Coca Zero Sugar, is the go-to, growing in value and volume in convenience. Also on the list should be Fanta and Dr Pepper, the number one and number two flavoured carbonates brands in retail and Schweppes, the number one mixers brand in the off-trade by value and volume.
"Our Refresh Tomorrow soft drinks category vision has identified opportunities to drive further sales growth within soft drinks over the next three years – and taking full advantage of social occasions like Bonfire Night is key to igniting this success," Burgess tells Asian Trader.
As mentioned earlier, Halloween is not just a kid's thing anymore. It is a much-awaited event of the year, looked forward to by adults too as it gives them a perfect excuse to have some fun.
Brothers Toffee Apple Cider is a great-tasting, seasonally relevant flavour that allows adults to enjoy the festivities, and generates additional sales opportunities for stockists. It's flavour cider isone of the biggest-selling variants and has become synonymous with Halloween over recent years.
Randall says, "For switched-on independent retailers looking to maximise sales outside of the more traditional child-focused categories, stocking Brothers Toffee Apple is a great way to generate incremental Halloween sales to adults."
Priestley too resonates with Randall in believing that Halloween is key for alcoholic drinks sales as adults partying lookout for drink options which help to create memorable moments.
Retailers should make sure to stock consumer favourites such as Captain Morgan, Smirnoff, Gordon's, Tanqueray and Johnnie Walker.
"We know that rum is incredibly popular at Halloween, experiencing greater uplift in sales than any other spirit over the period. Currently worth £141m in the off-trade, retailers can leverage the strength of Captain Morgan Original Spiced Gold (40 per cent ABV) to lean into this trend," Priestley tells Asian Trader.
Captain Morgan recently expanded its portfolio with the launch of Captain Morgan Black Spiced (40 per cent ABV) – which joins the already-popular Captain Morgan Tiki (25 per cent ABV) and Captain Morgan Sliced Apple (25 per cent ABV) variants.
With nearly half of UK adults (47 per cent) switching between alcohol and low and alcohol-free drinks at the same occasion, and two-fifths (40 per cent) of adults saying they want to moderate their drinking, it is great to see the alcohol-free category continuing to grow and new innovations being launched.
Diageo has a varied portfolio of alcohol-free products, including Guinness 0.0%, Tanqueray 0.0%, Gordon's 0.0% Alcohol Free Spirit and Gordon's Pink 0.0% Alcohol Free Spirit.
"The growing interest in alcohol-free options is demonstrated by the strong growth Tanqueray London Dry 0.0 in the off trade (+16.4%6), the Gordon's 0.0 SKUs holding majority of share within the alcohol-free spirits segment and Guinness 0.0 4 x 440ml being the biggest Non Alc pack in the GB Off Trade in terms of value and volume," says Priestley.
Retailers should refresh their drinks aisles as early as September.
Tim Dunlop, European commercial director, Shanky's Whip from Biggar and Leith, says, "As the nation increasingly looks to its American counterparts and the holiday gets more traction than ever before in the UK, beyond the typical trick or treating trips and local organised bonfires, there's exists a clear adult opportunity in drinks that smaller format stores are well positioned to win.
"We're expecting the trend for at-home cocktails to continue to boom over the winter months with Halloween and Bonfire night representing lucrative opportunities for stores. It's the season for dark spirits and drinks with warming flavour profiles and Shanky's Whip fits right into this moment,' says Dunlop pointing out that it can be enjoyed cold as a sipping drink, in an Old Fashioned or mixed with cola or ginger beer, or in a hot toddy warmed drink or a hot spiced punch.
Local, smaller format stores are perfectly positioned to benefit from upweighted impulse occasions like Halloween and Bonfire Night.
Dunlop recommends dual siting alcoholic drinks and accompanying mixers.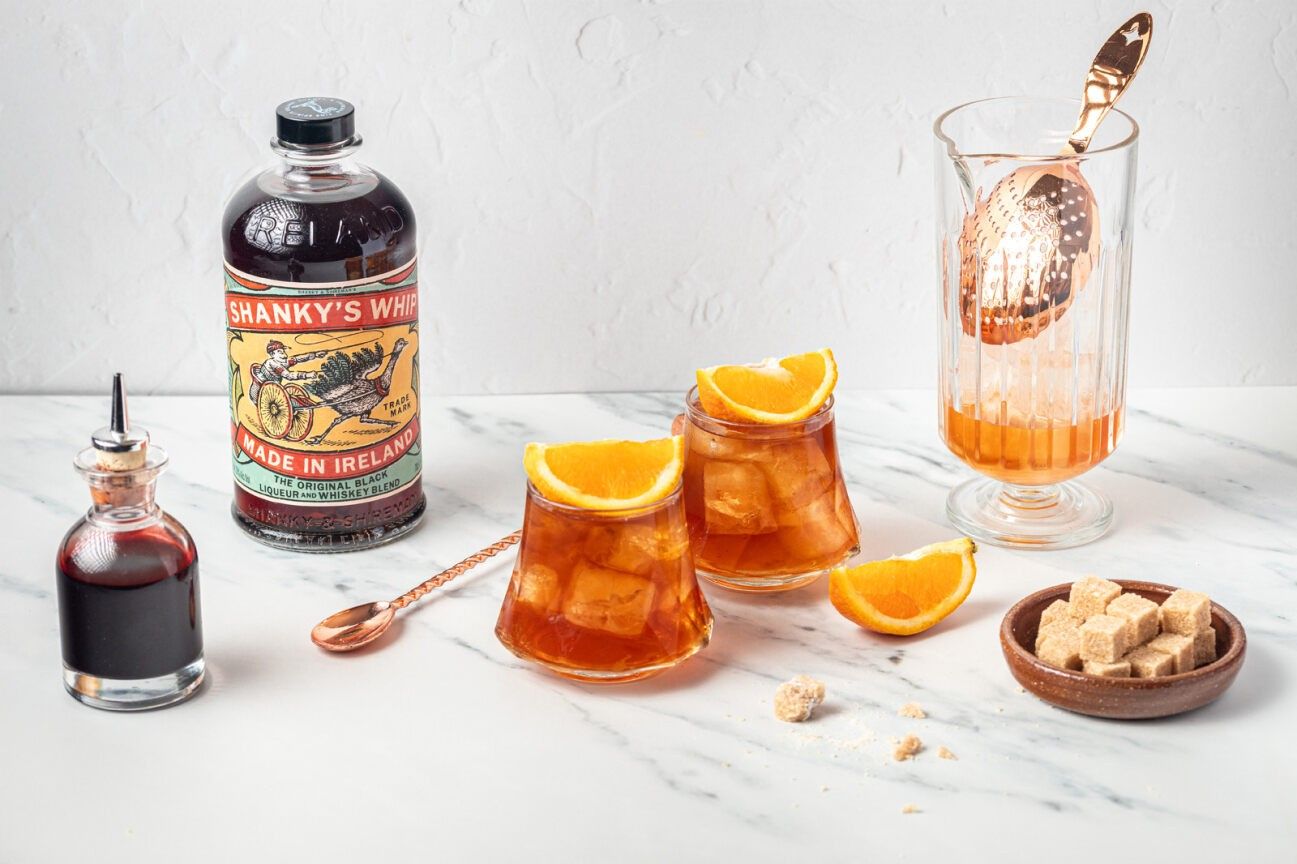 Shanky's Whip Irish whiskey liqueur is perfectly positioned to bridge the gap between Irish whiskey and liqueur – two prominent categories throughout the winter months.
Shanky's Whip is instantly recognisable with its vintage style label reflective of a box of matches. It stands out on shelf and invites curiosity – plus, the bottle shape, styling and branding appeal to the TikTok and Instagram generations.
"For the spooky season, we've created Shanky's Whip branded baseball t-shirts in Halloween-themed orange and white with 'Whip or Treat' emblazoned on the back and the familiar bottle branding on the front. We can work with retailers to offer these to their customers as part of a bundle deal for around £30 for a 700ml bottle plus branded t-shirt offer," Dunlop tells Asian Trader, adding that Biggar and Leith is also offering branded free-standing units and posters, eye-catching gift packs with mugs and glasses.
Shanky's Whip (6x700ml bottles per case / 33% abv) is available to retailers now via UK distributor, Craftwork.
New Surprises
In the world of confectionery, Perfetti Van Melle is bringing some new additions this year, most talked-about among them in Mentos Fanta, a unique collaboration between the two global power-brands of the candy and beverage categories.
The iconic, one-of-a-kind chewy candy is meeting up with the uniquely bold and fruity taste of a Fanta Orange drink. This first-ever global licensing offer for the Mentos brand will occur in the UK this summer and will continue into 2023. The limited edition will excite consumers in more than 50 countries across the globe.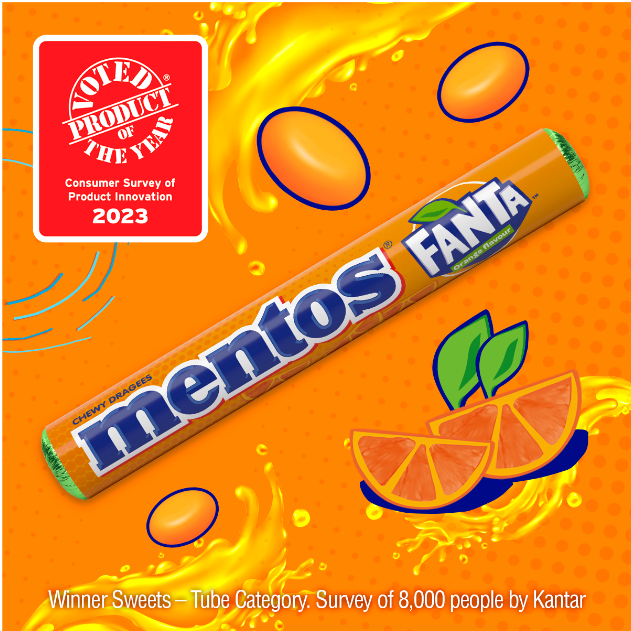 Mentos Fanta Orange flavour will be available in various pack formats to target different consumer occasions and to make sure that there is a Mentos Fanta candy for everyone – whether it is for on-the-go, for sharing or gifting purpose – with the iconic Mentos roll being the unmistakable hero.
Bringing big, bold flavours to evening sharing, the largest occasion within both nuts and sharing, KP's new Flavour Kravers range has been launched recently. Available in three delicious flavours- Flame Grilled Steak, Smokin' Paprika, and Sour Cream & Chive-FlavourKravers look to ignite interest from younger consumers to drive sales, with this demographic over-indexing in bold flavours.
Some new product ranges introduced by wholesaler Bestway this Halloween includes Aunt Bessie's Crunchy Homestyle Croquettes, Maynards Bassetts Jelly Babies, C4 Energy Pineapple Head, Millions Bubblegum Bag, Millions Strawberry Flavour, Rubicon Still Mango, Dr Oetker Ristorante Hawaii Pizza and Birds Eye Breaded Cod Fish Cakes.
UK's leading home baking brand Dr. Oetker has expanded its product portfolio with its all-new frighteningly fabulous Halloween range for October 2023,including Dr. Oetker The Spooks of Halloween Baking Cases, The Spooks of Halloween Decorating Icing, The Spooks of Halloween Sprinkles and the Spooktacular Science Bake & Learn Glow in the Dark Icing Cupcake Mix.
The new range also features Dr. Oetker's first ever seasonal cake mix, the Spooktacular Science Bake & Learn Glow in the Dark Icing Cupcake Mix (MRRP: £2.75), offering hours of endless entertainment, where families can bake fun glow in the dark cupcakes, allowing bakers to explore a new avenue of baking they wouldn't have come across anywhere else.
Adding some excitement to customers' bakes, are the Dr. Oetker The Spooks of Halloween Sprinkles (MRRP: £2.00) which allow home bakers to take their Halloween bakes to new heights, with pumpkin shaped sprinkles and seasonally inspired hundreds and thousands.
No Halloween bake would be complete without hand-drawn spiders, pumpkins or ghosts to set the scene and Dr. Oetker The Spooks of Halloween Decorating Icing (MRRP: £2.00) is versatile, easy to use and comes in a brand-new packaging which is fully recyclable, in line with Dr. Oetker's sustainability charter.

Jen Johnson, Head of Marketing, Cake & Dessert at Dr. Oetker UK, said, "Our new Halloween range is a great addition to our baking range, as we're constantly developing and aiming to find new ways to give our customers something fresh and exciting.
"Halloween is a key calendar date for us, as aside from Christmas, it's the biggest over indexing week in the home baking calendar, with sales +60 per cent higher than an average non-event week."
Premier Foods is also expanding its Halloween range for 2023 with the introduction of Mr Kipling Chocolate & Orange Slices. Available from mid-September, the "spook-tastic slices" are perfect for trick-or-treating, dessert, snacking at home or on the go thanks to their individually wrapped format.
Value sales of chocolate and orange flavoured cakes have grown +11 per cent year on year. In addition, 66 per cent of consumers are looking to try new seasonal flavours of the products they know and love. The MrKipling Chocolate & Orange Slices – as well as the wider Mr Kipling and Cadbury Halloween range – are set to help retailers capitaliseon this demand with a variety of options to attract shoppers into the sweet treats category.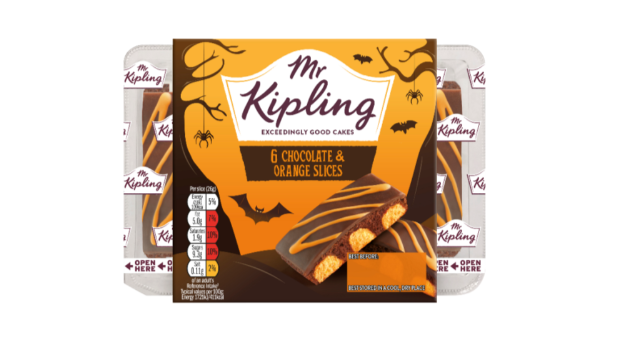 Naomi Shooman, global marketing director for sweet treats at Premier Foods, says, "Building on the growing success of the chocolate and orange flavour in cakes, the Mr Kipling Chocolate & Orange Slices are set to meet demand for this flavour profile at Halloween."
In addition to the new Mr Kipling Chocolate & Orange Slices, Premier Foods is also bringing back shopper favourites from across the Cadbury and Mr Kipling ranges. This includes Cadbury Mini Bonfire Logs, Cadbury Pumpkin Patch Cakes, Cadbury Goo Heads Cake Bars, Mr Kipling
Deliciously Good Toffee Apple Pies, Mr Kipling Terrifyingly Toffee Whirls and Mr Kipling Fiendish Fancies.
Beat the Blues
As the air gets chiller, retailers can maximise sales by stocking Halloween range early and focusing on effective merchandising.
Hague fromHancocks recommends combining the entire Halloween range into a big, impactful display to promote visibility and easier in-store navigation. Impulse buy products can be placed near tills to encourage unplanned purchases.
A huge 86 per cent of shoppers prefer wrapped sweets and chocolates for Halloween, and a similar number (83 per cent) say packaging choices play a major part in deciding which brands to buy.
Lauren Potter, Fruittella Brand Manager at Perfetti Van Melle says, "Shoppers opting for wrapped sweets and chocolates for Halloween is likely to be a long-term shift in consumer preference, as it hasn't decreased, even with people being less anxious overall about hygiene."
"Judging by the responses to our survey, Perfetti Van Melle is in a real sweet spot to respond to both shopper demand and retailer needs – individually wrapped sweets and sharing bags from the UK's best-loved brands; Fruittella and Chupa Chups, that appeal not only at Halloween, but throughout the year."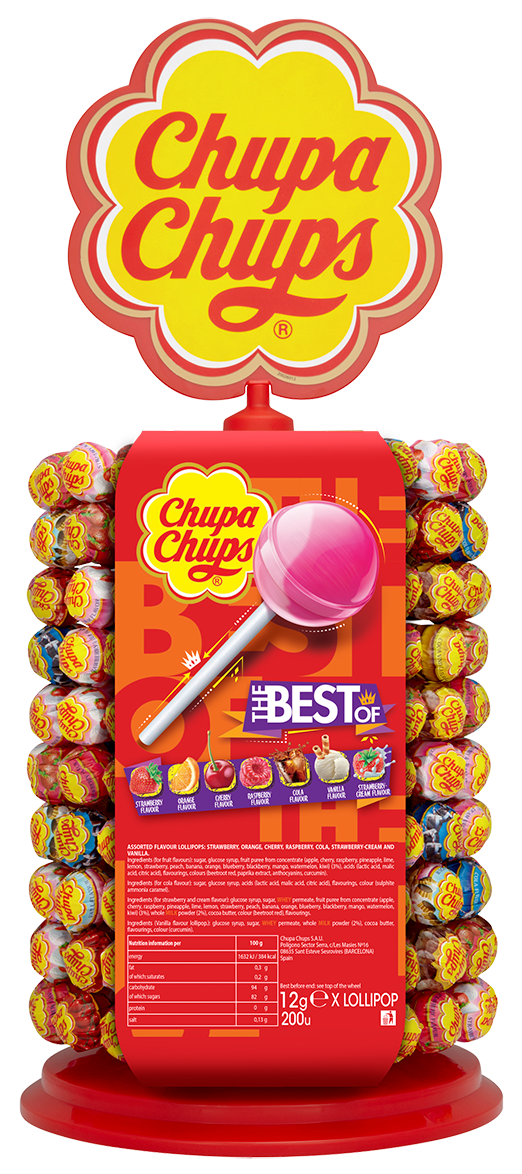 Using social media promotions is a great idea as it will help inspire shoppers to celebrate Halloween and Bonfire night.
Don't forget the power of pumpkin in this spooky season. Local stores can use pumpkins as part of their Halloween displays in store to inspire customers. It is also a way of increasing footfall to attract customers who are out making last-minute purchases.
Speaking about what works best in convenience, Jamie Davison, Retail Director at Bestway Retail, lists hot beverages such as hot chocolate or mulled wine at the top list for this season.
"For those having a large Halloween celebration at home, convenience stores should also include adult formats of drinks in multi pack cans and format large bottles of beer, and soft drinks to cater for the young ones," says Davison.
For food ideas, convenience to stock on sausage rolls, and jacket potatoes for those people celebrating in front of a bonfire and marshmallows and skewers for toasting with chocolate to melt and for dipping, he adds.
"With the current cost of living crisis, shoppers now rely on their convenience store to get the best prices for their shopping. 88 per cent of shoppers used a convenience store in the last quarter, with 10 per cent using them most of their shopping," Davison tells Asian Trader.
Davison recommends retailers to cross merchandise the categories as a theme and at eye-level, showcase the main products such as confectionery and sugar sharing bags and ensure that the sections in the store are well stocked to meet customer demand.
Whilst trick-or-treating is a key part of the Halloween fun, retailers should be sure to also profile products that appeal to adults like Brothers Toffee Apple that offers a fun way for adults to enjoy Halloween festivities.
"We also now offer an alcohol-free version for those who still want a taste of the seasonal fun but are keen to moderate their alcohol intake with alcohol-free Toffee Apple Cider," Randall tells Asian Trader.
Sure shot easy way to drive impulse purchase here is keeping the drinks chilled.
Around Halloween, adults might pop into independent stores to stock up on trick-or-treat items but chilled Halloween-relevant cider will appeal to those keen to reward themselves after a hard evening traipsing around the streets, or to those hosting their own Halloween celebrations at home, says Randall.
Impactful, eye-catching displays have a significant effect on sales.
Halloween offers a great opportunity for independent retailers to drive seasonal uplifts across a wide range of categories.
"We work closely with retailers to ensure prominence for Brothers Toffee Apple at this key time of year: we support independents with in-store media, shelf barkers, wobblers and aisle fins. Our Toffee Apple flavour benefits from ever-increasing levels of support each October and seasonal volumes have grown significantly as a result. Halloween presents the brand and stockists with the opportunity for incremental autumn sales," says Randall.
Trick or Treat
A not to be missed key item to stock in this season is matches and lighters. In the convenience channel, annual sales of matches and lighters exceed £46 million.
Republic Technologies brands have a commanding 86 per cent share of the UK's Utility Lighters market. With unrivalled knowledge of the lighters and matches market, the company's wide-ranging portfolio of historic brands includes ZIG-ZAG, Cook's, Swan, Bryant & May, Poppell, Cricket, lumière and By candlelight. Not to forget household favourite Bryant & May Extra Long and Cook's Matches.
"Halloween leads the way for increased use of matches and lighters – not surprising, as spending on pumpkins alone is estimated to have reached almost £30 million last year.
Against the backdrop of a tough economic climate, people really want to make the most of family focused celebrations such as these. As matches and lighters take up limited shelf space, retailers can really boost seasonal sales of these highly affordable, but high-margin products, says Gavin Anderson, Sales and Marketing Director at Republic Technologies (UK) Ltd.
Bonfire Night and Diwali also spark increased demand, as these consumer celebrations large and small across the UK drive purchase in the £85m matches and lighters market.
Apart from stocking usual food and beverages bestsellers, retailers should not overlook that consumers will also be buying Halloween decorations including tableware, party decorations and sweets to mark the occasion.
As Randall from Brothers Drinks Company puts it, Halloween is no more only about pumpkins, witches' hats and random knocks at the door – it's a bonus opportunity for independents looking to secure incremental autumn sales.