SHS Drinks has announced it has struck an exclusive deal for WKD to be the Official Alcohol Partner of Love Island series 8.
The second year of the partnership will be supported by a major summer campaign, with the leading RTD brand set to benefit from extensive co-branded opportunities, which will form the focal point for the brand's marketing support this year.
The hit ITV2 show, which has transcended to a cultural phenomenon over recent years, will air across the summer.
Comprehensive plans to leverage WKD's Official Partner status and maximise the tie-in will comprise broadcast media, co-branded pack designs, price-marked packs, on-pack promotions, in-depot activation, and a huge social, digital and influencer campaign, including exclusive WKD-themed content featuring Islanders.
Plus, a Love Island promotion as part of an activation in pubs and bars will feature for the first time this year as an additional strand of the campaign, further increasing awareness amongst convenience shoppers.
WKD said last year's link-up was so positively received by consumers and customers alike that a further deal for 2022 was sought. Last year's series was 2021's most-watched commercial programme for 18 to 25-year-olds, the WKD core target, and the series achieved an average of 4.2m total viewers per episode. At its peak, 11,000 programme-related tweets per minute were posted.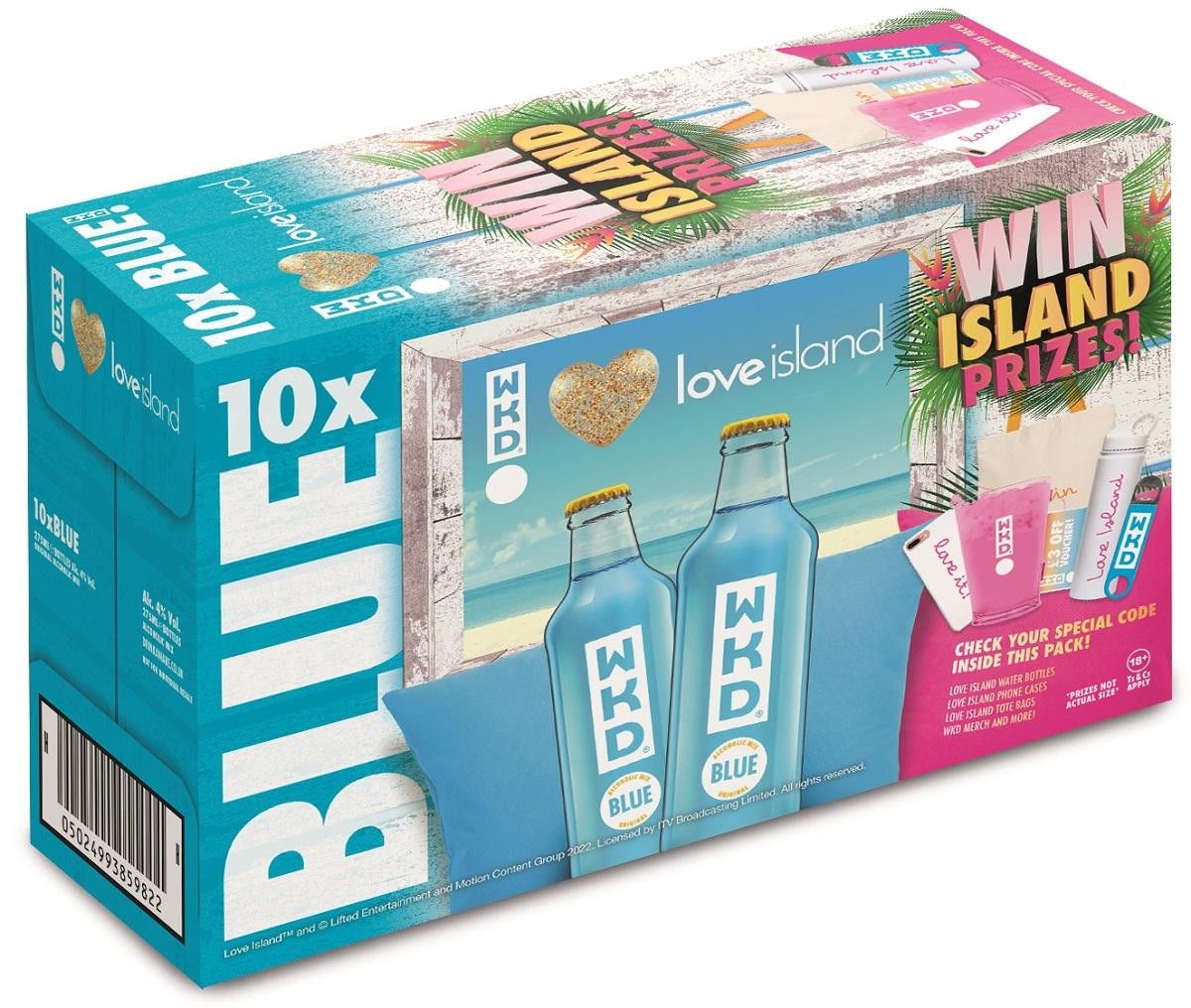 The high-profile tie-in will see WKD on TV with ads showcasing the programme association. Airing across ITV2, ITV Hub, video-on-demand (VOD) and the official Love Island app, the broadcast elements of the campaign will reach 7.2m viewers.
Bringing the partnership to life at the point of purchase and generating rate of sale for stockists, two impactful co-branded initiatives will cement the sponsorship association in the eyes of the consumer:
A striking co-branded design will appear on limited edition WKD Pink 700ml bottles. Complemented by contrasting campaign-themed gold cap closures, the fully sleeved special edition bottles are set to be the summer's 'must-have' item for fans of the show and WKD. SHS anticipates huge interest amongst shoppers keen to hunt down these Instagrammable bottles which are perfect for sharing either on social media or in a poured glass. In addition, a PMP Love Island design version will be available exclusively to independents. Price-marked at £3.39, the neck label will also alert consumers that the Love Island variant is included in the '2 for £6' offer running across the entire WKD 700ml PMP range.
Featuring a standout design inspired by the iconic Love Island Beach Hut, a co-branded offer on all WKD 10-packs will create opportunities to win exclusive Love Island merchandise, including tote bags, phone cases and the show's legendary personalised water bottles.
Supporting the overall campaign and building on last year's successes, WKD will have a robust activation programme with display space and impactful POS as part of a nationwide focus in depots, and tailored content on WKD social channels will create consumer awareness of retailers' offers and help drive store footfall.
Alison Gray, head of brand – WKD at SHS Drinks, says: "We're really proud to be linking with Love Island for a second time; we're the perfect couple and just meant to be together! The programme is a TV phenomenon with huge reach and fans can't get enough of it. In a fragmented media landscape, the continued success of Love Island highlights just how much our target consumers still relish a shared media experience. Last year, Love Island attracted three times more all-important 18-25 viewers than other similar programme formats.
"Consumer and trade feedback was extremely positive last year and we're back with an all-inclusive package deal that's even bigger and better. Consumers are going to see WKD and Love Island brands partnered up on TV, partnered up on retailers' shelves and partnered upon social media. In addition, this year we'll be filming exclusive WKD content on location in the sun and also setting Islanders someof our very own cheeky 'YourWKDSide' challenges. As 2022's winning couple, WKD and Love Island are going to serve up some sizzling summer fun to entertain, engage and engender sales growth."