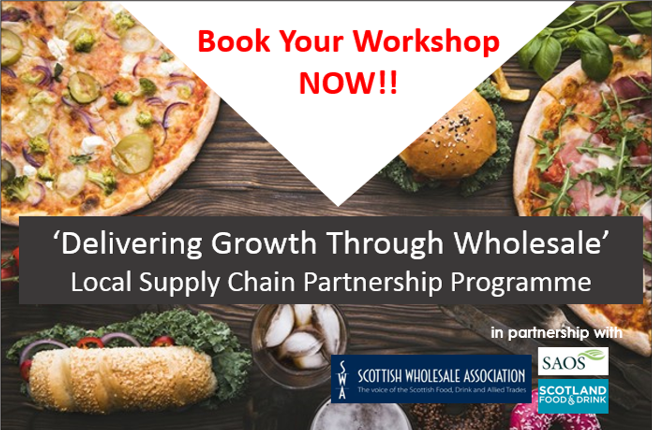 Workshops for wholesalers and producers, as well as a sector-first Meet the Buyer event, will start in January 2022 and mark the next phase of the Scottish Wholesale Association's Delivering Growth through Wholesale programme.
The Scottish Wholesale Association (SWA) is working with the Scottish Agricultural Organisation Society (SAOS) and Scotland Food & Drink to deliver the next of the programme which was launched earlier this year to encourage members and the wider wholesale sector to strengthen engagement with local producers and help them access new markets.
Delivering Growth through Wholesale is an ambitious programme designed to provides businesses with the tools and information they need to help them maximise opportunities within a wholesale industry with sales worth £2.9 billion.
Wholesaler workshops will take place over two half days and highlight the benefits to wholesalers of sourcing locally as well as exploring how to overcome barriers of engagement between wholesalers and producers. The workshops will also detail steps wholesalers can implement to take advantage of Scottish sourcing opportunities.
Producer workshops will introduce the wholesale industry to companies which may not be familiar with how it operates. Sessions will highlight the scale of the opportunity, how wholesale works and the benefits it can deliver for producers as well as helping producers understand what wholesalers are looking for and provide insider tips on both managing relationships and maximising sales once a listing is secured.
"Our Local Food Logistics Strategy will accelerate the process and help us achieve our objective to distribute more local goods onto the shelves of Scotland's 5,000 convenience stores and onto plates in 30,000 hospitality, tourism and leisure outlets," said Colin Smith, SWA chief executive.
"It's all about helping our sector become resilient to challenges and getting us ready to capitalise on new opportunities while at the same time educating Scottish producers to the fact that wholesale is a massive opportunity and a dynamic route to market."
John Davidson, strategy and external relations director at Scotland Food & Drink, said: "As one of the key actions from Scotland Food & Drink Partnership's Recovery Plan, this programme is essential in increasing the Scottish supply base across the wholesale sector."
Workshops
These workshops are free and are open to all wholesalers and producers in Scotland. They will take place over Zoom and attendees must be able to commit to both sessions. Those who attend the workshops will receive priority for the Meet the Wholesaler event taking place on 9th March.
The wholesaler workshops will take place on Wednesday 19th January (9am to 12.30pm) and Tuesday 25th January (1pm to 4.30pm). Wholesalers wishing to apply for a place on the workshops must be operating in Scotland and interested in increasing their Scottish sourcing activity. The workshop has limited places which will be offered on a first come, first served basis.
To apply, please visit here. Applications close on Friday 3rd December at 5pm. Your workshop place will be confirmed within five working days of registration with a full agenda shared nearer the time.
The producer workshops are scheduled for Wednesday 12th and Thursday 13th January along with Tuesday 8th and Thursday 10th February. Producers must be operating in Scotland and interested in developing a route to market through wholesale.
To apply, please visit here. Applications close on Friday 3rd December at 5pm. Places will be confirmed after the registration closing date with a full agenda available nearer the time.
Any questions should be directed to Ami Pattni.