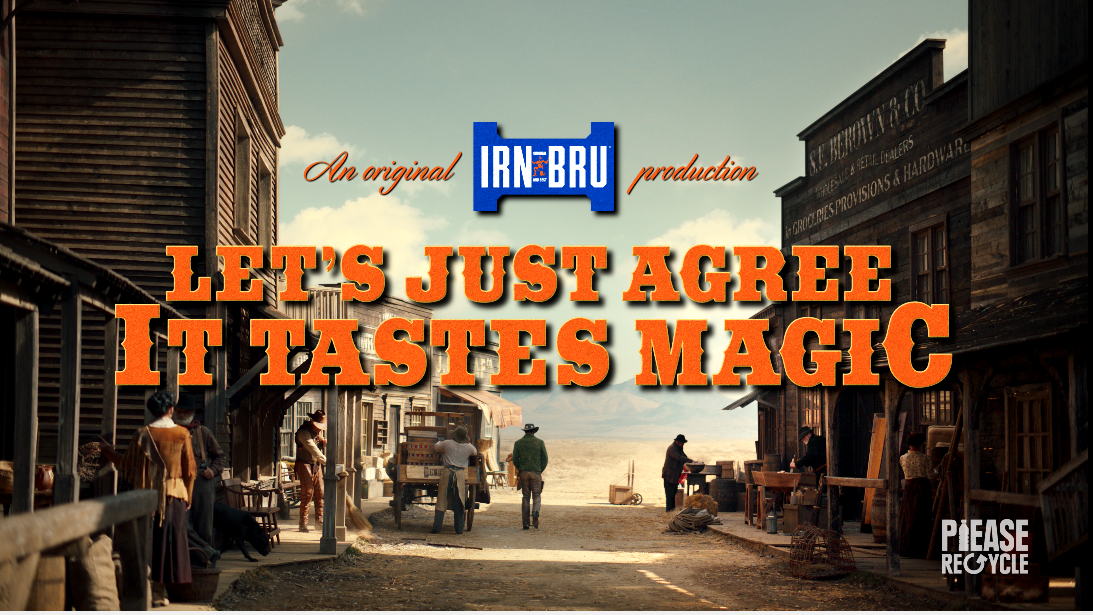 For decades IRN-BRU has been described as "indescribable" – but now it's challenging the nation to put their taste buds to the test and pinpoint the "BRU-nique" flavour of the iconic Scottish soft drink.
The UK-wide challenge is in celebration of IRN-BRU's latest TV ad, which airs from Tuesday 13th July and forms part of the £6 million investment in IRN-BRU. The heavyweight campaign will clearly differentiate IRN-BRU from all other carbonates and will be spearheaded by this new advert – set in a wild-West saloon. The campaign will run across a number of media channels, including TV, digital and social, reaching 90 per cent of 16-34 year olds in Scotland and the North of England.
IRN-BRU's  the taste is often a hot topic of debate: bubblegum, tutti-fruity, orange, or cream soda; no one has ever quite managed to put their finger (or tongue) on the exact flavour.
Which is why the popular soft drink has launched The Great Taste Debate – challenging the public to grab a can, take a sip, and tell them what flavours they detect via social media.
And, to sweeten the deal, IRN-BRU will give one lucky fan a year's supply of their legendary fizz for the best tried-and-tasted video (T&Cs apply).
"Whether it's bubble gum or tutti-fruity, IRN-BRU fans can never quite agree on the exact taste of our BRU-nique soft drink," said Adrian Troy, Marketing Director at AG Barr. "Naturally, we decided to have a bit of fun with this. Whatever the flavour, hopefully we can all agree on the fact IRN-BRU tastes magic."
As well as airing on TV across the country, the ad can be viewed by scanning QR codes found on cans and bottles throughout the UK.
To take part in IRN-BRU's great taste debate, simply use #IRNBRUchallenge and tag IRN-BRU on TikTok (@irnbruofficial) , Instagram (@IRNBRU), Twitter (@IRN-BRU), or Facebook (@IRNBRU).