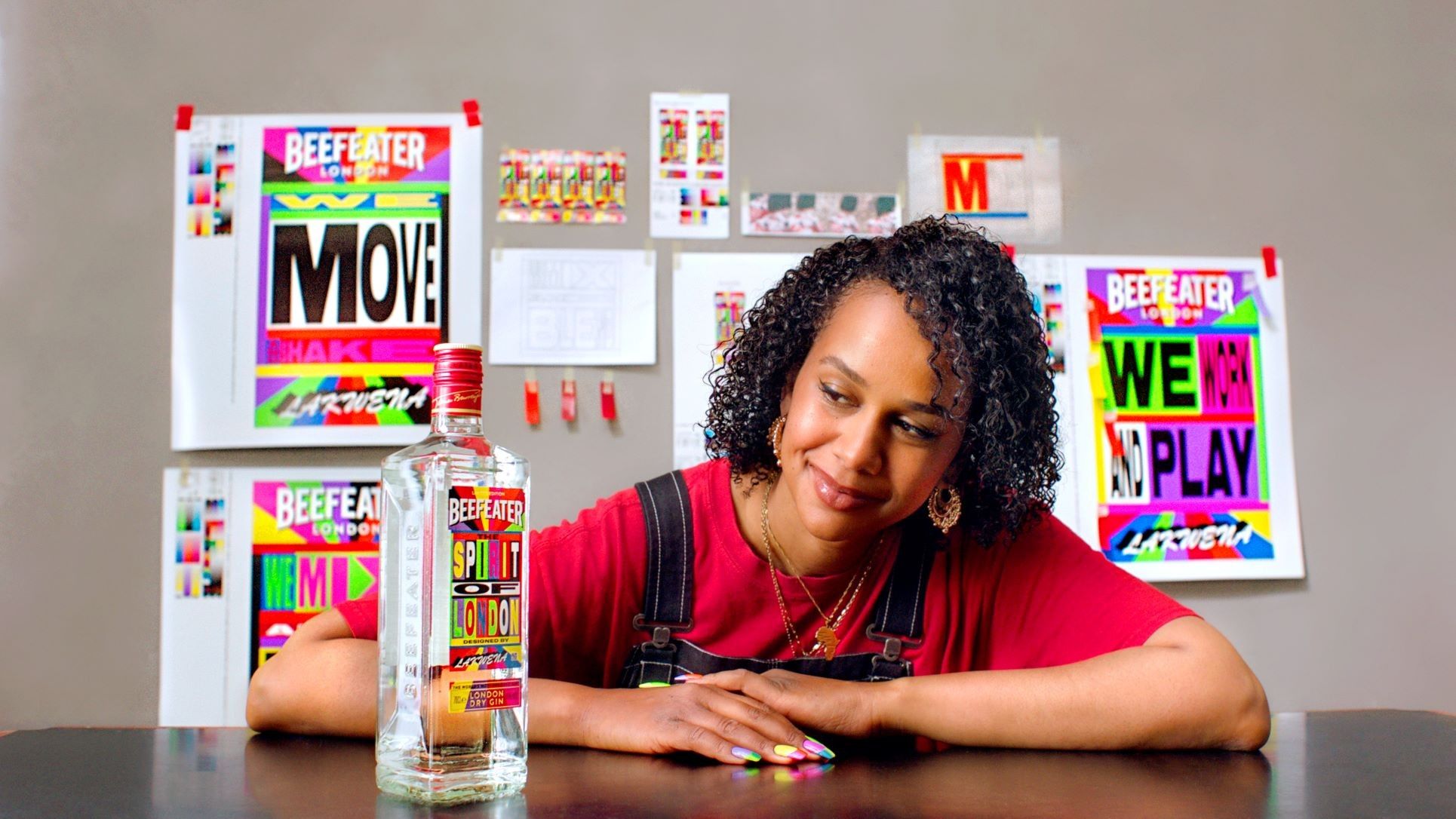 Beefeater Gin has teamed up with Lakwena, a London-based artist known for transforming cityscapes with her signature bold colours and mottos that possess a unique, vibrant energy. The collaboration celebrates The Spirit of London in a way that reflects the multi-cultural and multi-faceted makeup of London, the place Beefeater calls home. Her clashing colour palettes and positive affirmations "transform the grey concrete and brick into moments of optimism and verve".
Lakwena has given Beefeater London Dry a bold makeover with a limited-edition, vibrant new label in the artist's signature joy-inducing style. Through her clashing colour palette and dynamic designs, she has created a bottle that will leap off the shelf or back bar.
At the centre of the collaboration is a brand new, limited edition bottle adorned with a unique piece of art created by Lakwena for Beefeater London Dry. To support the bottle launch, Lakwena has also created three positive mottos, which will be amplified across digital channels, that speak to the true values of what makes London such an incredible, multi-cultural city.
The mottos are designed to reflect upon some of the key values that make up The Spirit of London:
We Mix and Blend – London is a mix and blend of people, culture, sights, sounds and tastes, the motto captures the clash of cultures and what happens when good things come together, just like a great gin cocktail.
We Work and Play – London is a city of endless opportunity and people from across the world move there to work and pursue their dreams. And have some fun. The motto captures the energy of the city where Londoners work hard, but play even harder.
We Move and Shake – In London the only constant is change. Over its long history, the city has been rebuilt and reimagined, but its always remained resillient because those who live there are adaptable and flexible.
"What better way to pay homage to The Spirit of London than by collaborating with an artist who embodies the very essence of London as a culture capital," said Leanne Banks, Marketing Director for Pernod Ricard UK. "Lakwena's bold art is a constant source of positivity and optimism, refreshing our love of life in the city. We're excited to be offering our consumers a unique opportunity to own a truly unique and vibrant collectors item and to be providing something new that is sure to make noise on shelf or on the back bar."
The new Beefeater x Lakwena Limited Edition Bottle is out now in 70cl, 75cl and 1L formats, and will be available across the UK On- and Off-Trade. To support the launch, Lakwena will be taking over the Beefeater Distillery in the heart of London with a bespoke, large-scale mural, and Beefeater will be taking over Boxpark Shoreditch with a gallery-style activation, as well as a terrace takeover at Boxpark Croydon.