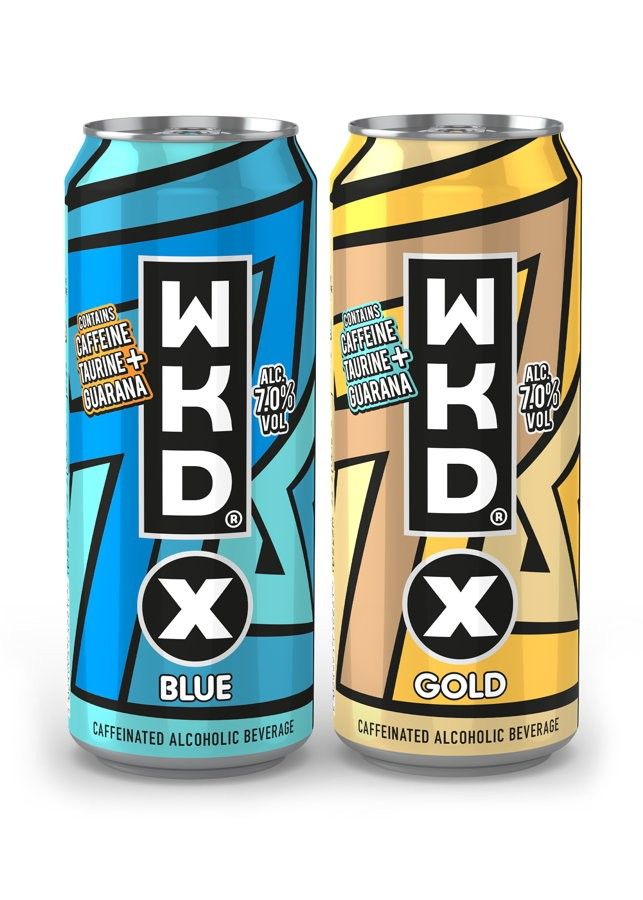 In a bold initiative which draws inspiration from the energy drinks category, leading RTD brand WKD is set to launch an alcoholic drink containing caffeine, guarana and taurine.
Available in 500ml single cans, the 7% ABV drink is launching in a duo of striking flavour variants: WKD X Blue and WKD X Gold.
Debuting in May and available in both standard and £3.29 price-marked packs, WKD X will be offered to stockists in trade cases of 12 x 500ml single cans.
With energy drinks currently the fastest-growing segment of the soft drinks category and with consumption skewed to the 18 to 30 age group, brand owner SHS Drinks said WKD is perfectly placed to bring a nationally recognised brand to the fledgling 'enhanced RTD' category.
Enhanced RTDs currently generate £24m in sales and have grown 90 per cent over the last two years. The launch of WKD X will mark a step-change in the development of this new consumer category of high energy/higher ABV drinks. In the impulse channel, this developing drink segment already accounts for 15 per cent of total RTD category sales, according to NielsenIQ data.
The launch of WKD X will draw on the soft drinks category's success and present a credible and nationally supported alcoholic version to a receptive 18 to 24-year-old target market. With four times the consumer awareness of other RTD brands and sales 36 per cent over the last two years, WKD is in a prime position to successfully expand to new and innovative categories.
"WKD is synonymous with delivering great flavours and even greater times. The brand has always been about delivering for different consumer moments and needs across a whole spectrum of usage occasions, and WKD X will take our offering in independents to another level," Alison Gray, head of brand – WKD at SHS Drinks, said.
"WKD X is where the WKD brand meets the lust for life; it's an energetic fusion of the best of both. Consumers are already well versed in mixing alcoholic drinks with energy drinks – what WKD X delivers is the convenience of a pre-mixed format from a respected brand that consumers know and love. For depot managers and convenience retailers keen to focus on where incremental RTD category growth will come from, WKD X marks the spot."
Displays in cash and carries and off-shelf features in-store will support the launch. A high-profile communications campaign will build consumer awareness of WKD X through social media, extensive influencer activity and consumer-facing PR.