Becoming more sustainable is important for the future of the planet, but for retailers, it can be a great way to attract new customers and retain existing footfall, as well as save money.
Take the year-long project by Suntory Beverage & Food GB&I (SBF GB&I) at Derbyshire retailer Amit Patel. A series of sustainability-focused changes, both large and small, at the Premier Town Street store in Sandiacre has resulted in savings of more than £600 a year!
At the start of 2020, SBF GB&I partnered with Energy Saving Trust to implement the changes (see box), in Amit's 900 sq ft store. Designed to show that starting your sustainability journey is something every store can do, without having to spend thousands of pounds, the project has revealed how small changes can make a big difference in making stores more environmentally and financially sustainable.
"This project has been fantastic to work on. I'm already seeing the benefits of the changes – both in terms of my energy savings and the feedback from my shoppers, who love what I'm doing and the way the store looks now," Amit says.
"Thinking more about how we impact the environment is incredibly important for many reasons, and I urge all retailers to look at how they can start doing just that."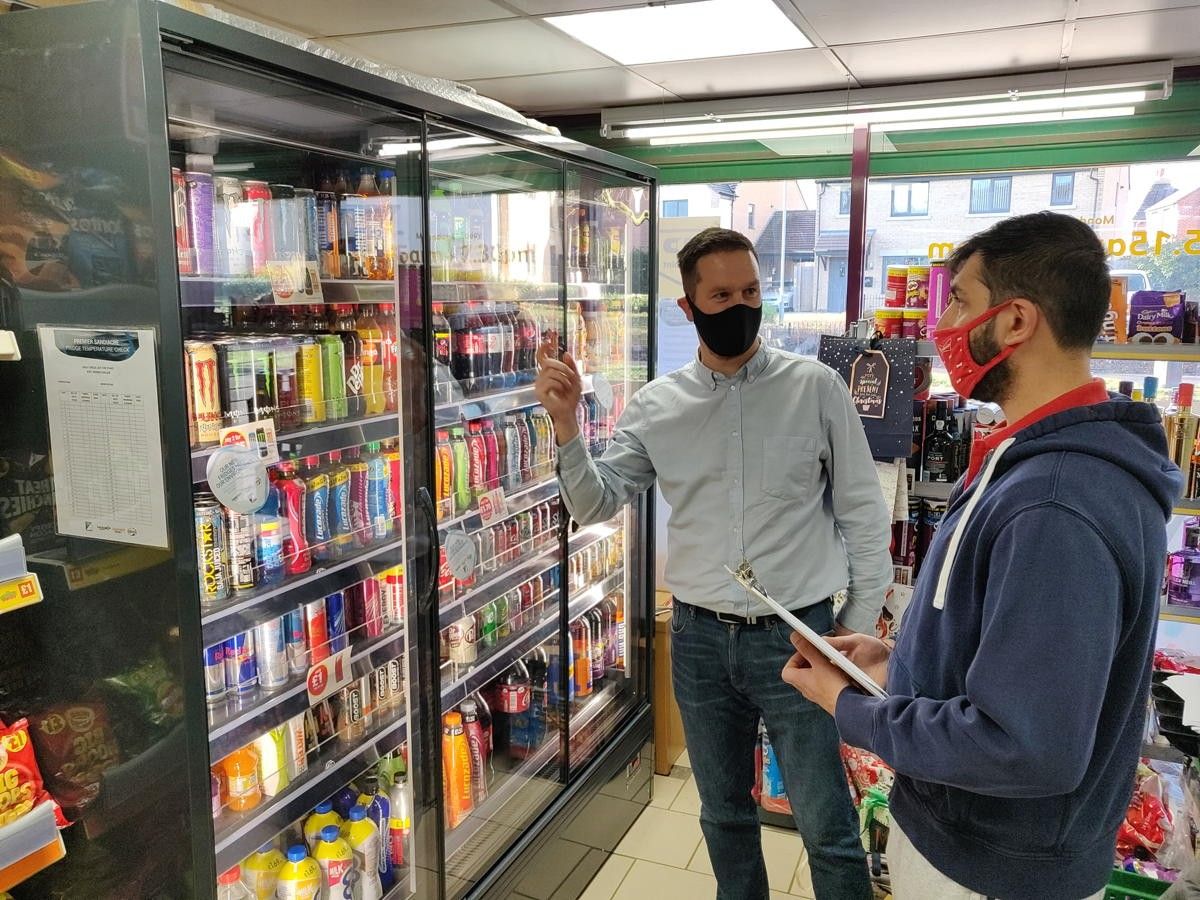 The savings at Patel's store show that convenience retailers in the UK could cumulatively save an astonishing £28.3 million every single year by making such changes that benefit both their local community and the wider world.
"We know that not every store is in a position financially to invest in replacing their chillers, but our work in Amit's store shows that not every change has to be as large as that to make a real difference. If the UK's 46,388 convenience stores made these sustainability-focused alterations, the total savings across the channel could be up to £28.3m per year," says Matt Gouldsmith, Channel Director, Wholesale at SBF GB&I.
Andrew Tod, insight & analytics manager at Energy Saving Trust, adds that the project at Amit's store can act as a template for small businesses to improve their own sustainability credentials. "It's also important to note that areas that retailers might not have thought about – improving the shelving in your storeroom, for example – can have a huge impact on your CO2 emissions, saving retailers time, money and reducing energy use," he says.
Gouldsmith informs us that the in-store sustainability project with Amit Patel is just the start for the company, which plans to work with other retailers to make their own small changes.
The project ties in with Suntory's vision of Growing for Good – being a company that always benefits its community as it grows. The company has an ambitious target to move to using only 100% sustainable plastic bottles by 2030, as part of a wider 2050 environmental vision, aiming to achieve net zero greenhouse gas emissions across the entire value chain.
"By stocking popular soft drinks brands which also invest in being as sustainable as possible, retailers can make the first steps towards a more environmentally friendly range that will drive long-term sales success," Gouldsmithsays.
"Not only will this help retailers make changes to their store, but it is crucial to appeal to what the shoppers want and are looking for."
Mukesh Patel, who runs Capel News in the Surrey village of Capel for 35 years, agrees that soft drinks is one category where sustainability claims have some impact on the sale of products. "If they come to know through advertisements that a particular brand's bottle is recyclable, they sometimes ask for that particular one," he says.
Reccling uptake
The key here is plastic recycling, and many retailers are proactive in doing their bit to tackle the menace.
Sohan Singh, of Premier store in Hitchin, Hertfordshire is one such. "We collect all the cardboard and plastic that comes in packaging separately and give them to recycling team which comes for collection weekly. This way, I am trying to cut down waste from my store," he says.
And, Imtiyaz Mamode, another Premier retailer who runs the store in Wych Lane, Gosport, is all in for the deposit return scheme (DRS) for drinks containers, while the government is yet to confirm the scope and timeframe of its scheme.
"I would like to have a can and bottle recycling collecting machine where customers can drop a can or bottle and get 1-2 pence in return," he says. "I think having such a machine may encourage people to recycle, which eventually may become part of their habits and thinking. The government has stalled the plan for such collection machines but I will try to get one whenever it is allowed."
Ealier in March, the Department for Environment, Food and Rural Affairs (Defra) has launched a second consultation on the implementation of the DRS for England, Wales and Northern Ireland. The Defra anticipates that the introduction of the scheme would be in late 2024 at the earliest, instead of the current target of 2023, as a result of the pandemic impact.
The Scottish government is also assessing the impact of the pandemic on the go-live date for its scheme, currently scheduled to take effect next year. The Scottish DRS proposes a 20p deposit on single-use drinks containers, and materials will include PET plastic, steel, aluminium and glass.
Trade bodies have voiced concerns on including small retail outlets in the scheme, citing the limited sales and storage space to facilitate a return point, suggesting instead that the scheme should strategically map the location of return points rather than mandating every location that sells drinks to take back containers.
However, Mamode thinks that the scheme should be made mandatory for every store in the UK. "This way, cans and bottles will not end up in landfills while store owners can also earn some commission from recycling agencies. It's a win-win deal," he reasons.
Tom Fiennes, GB Commercial Sustainability Director at Britvic, a founding member of Cicularity Scotland, which is the scheme administrator for the Scottish DRS, notes that a well-run scheme will also be beneficial to the manufactures as at present demand for rPET vastly outstrips supply.
"As soon as April 2022, businesses will have to pay an additional £200 per tonne of plastic packaging they put on the market that does not contain at least 30% recycled content. Supporting an effective DRS will help increase the availability of rPET, while making it more commercially viable for anyone that chooses to access it," he says.
Manubhai Chauhan, who runs Swan News in Kidderminster, Worcestershire, is a sceptical retailer though; saying people often fail to reciprocate the sustainability measures.
"I am not much tuned with what manufacturers are doing or what claims they are making about their products being sustainable but I do see a rise in recycling bins to collect plastics and bottles in my area," he says. "However, people hardly do that and that's the sad part. So even if the packaging is recyclable and the customer or the user is not putting it back to be recycled, what's the point!"
Would plastic bag charge work?
Unfortunately, this is a sentiment Mamode and Singh share when it comes to the single-use carrier bags. From May, the plastic bag charge has been extended to all retailers in England for the first time, with the charge increasing to 10p.
New figures from the Defra show that as a result of the carrier bag charge, the average person in England now buys just four single-use carrier bags a year from the main supermarkets, compared with 140 in 2014. By extending the charge to all retailers, the government expects that the use of single-use carrier bags will decrease by 70-80 per cent in small and medium-sized businesses.
Mamode is not much optimistic on that front. "When the price of plastic bags increased, many customers kept on buying them and that too, almost every day. They are ready to shell out more but not change their habits," he says.
Singh has a similar experience. "When people are going to bigger joints for monthly or bi-monthly supplies, many of them carry three or four bags. However, they don't do that while going to a smaller store because no one will bother to carry a bag for four pints of beer or two packs of milk," he notes.
Fiennes, of Britvic, opines that all stakeholders, from industry to customers to the governments, need to work together and share expertise to make a sustainable future possible. Discussing the ways to drive recycling uptake, he says innovation, such as the transition of 7UP bottles to clear plastic, will support this further.
"Not only does Britvic research show that 40 per cent of consumers are more likely to recycle clear bottles over coloured bottles, but clear bottles are also easier to sort during the recycling process. This therefore means that this form of plastic is more likely than darker plastics to be recycled into another bottle," he comments.
Need for a communication strategy    
More significantly, Fiennes points to the need for incorporating the sustainability credentials to the in-store communication strategy.
"Many suppliers, including Britvic, are working hard to update packaging and the recyclability of their products. Retailers will be increasingly stocking such products if they are already doing their bit in terms of sustainability, but is this being communicated to shoppers," Fiennes asks.
With so much choice available in stores, clearly demonstrating the sustainable products stocked has become an imperative, he notes. "It not only ensures the products are front ad centre, allowing consumers to make informed decisions, but also highlights the retailer's dedication and work towards striving for a greener future."
"POS can offer a great way to highlight these products in store or they could even be pulled together in a stand-alone fixture. We'd also recommend linking these to environmentally-led events and awareness days such as Recycle Week (21-27 September 2021)," he explains.
And, the demographic to target would be children, he adds. Kantar research, published in September last year, shows that children had the biggest impact on people's decisions and behaviours when it comes to living sustainably and reducing waste, showing the generational element at play.
"This shows how important it is for suppliers and retailers to make changes now, as the next generation will have an even greater concern for the environment, and their purchases will reflect this," he comments, suggesting retailers to make full use of social media if conducting wider sustainability initiatives in store.
Research of over 2,000 UK adults conducted by Upfield, leading producer of plant-based margarines, cheeses, and spreads, confirms this, with nearly three quarters (71%) of Gen Zs and millennials between the ages of 18-34 willing spend more to help if it means their food choices have a lower impact on the environment. This is in comparison to only 12 per cent of the over 55s.
"Perhaps this is due to almost two thirds (62%) of 18-34yos, thinking that brands are doing enough to be eco-friendly, which drops to 50 per cent for the 45+yos," comments Sam Thomas, Head of Category at Upfield UK&I.
Upfield works with third parties to conduct detailed life cycle assessment analysis, which helps them track different aspects of the business to see the products' total environmental impact, and which areas can be improved.
"To help consumers make more eco-friendly choices, we are introducing carbon labelling to a wealth of our products to be more transparent with shoppers, so people can understand the impact of the food choices they make. We are proud to be one of the first companies to do this, but we hope the rest of the industry will follow suit," Thomas added.
Brands first 
When it comes to reducing the amount of plastic the country uses, Brits think brands and manufacturers are the most responsible (73%), followed by supermarkets (69%), consumers (54%) and the government (52%) [Harris Interactive, July 2021].
Specifically, nearly two thirds (64%) of consumers want brands to reduce packaging, half (50%) request for more information on how to recycle and 46 per cent ask for more clarity on how products are sourced [Deloitte, March 2021].
It's no wonder then that sustainability has become a serious agenda for manufacturers, with all major FMCG brands announcing ambitious targets and big commitments. Mondelēz International has pledged 100% recyclable packaging and 100% sustainable cocoa sourcing globally for chocolate by 2025, but Susan Nash, Trade Communications Manager at the leading snacks company says that they are also at the forefront of a joined approach in addressing the environmental concerns.
"We've joined forces with several other large, branded manufacturers in the UK to form a £1 million fund to help make flexible plastic recycling economically viable for recyclers and easier for consumers," she says. "We intend to improve flexible plastic recycling and reduce plastic pollution by giving the material a stable value."
The industry-first Flexible Plastic Fund is expected to increase the supply of recycled plastic enabling industry to become more 'circular' and meet theforthcoming UK plastic packaging tax obligations. The fund is designed to drive progress towards household collection of flexible plastic for recycling.
Mondelēz has recently announced a move to recyclable packaging for its snacking cheese brands, Philadelphia and Dairylea.
KP Snacks has a three-stage plan, pacKPromise, to minimise the environmental impact of their packaging with the goal of making all of their plastic packaging fully reusable, recyclable or compostable by 2025.
"We are working hard to reduce our environmental impact by reducing our use of packaging, and by cutting energy, water and waste. And our aim is to help retailers do the same," Matt Collins, Trading Director at KP Snacks, says. .
The company has invested in new equipment which will help them to pack snacks more efficiently, resulting in a significant plastic reduction across three top-performing heritage brands; Skips, Nik Naks and Space Raiders, allowing retailers to maximise shelf space with new slimmer packs. Skips will see an impressive 40 per cent reduction. The packs also help the company to reduce their lorry miles, translating to 644 fewer lorry journeys and an improving environmental footprint.
Planned projects across 2021 aim to remove 410 tonnes of plastic from the KP Snacks packaging chain, translating to a 6.8 per cent reduction of total consumer packaging used in 2020.
"With three in four consumers wanting suppliers and brands to prioritise eco-friendly packaging as a quick-fire solution to help them live more sustainable lifestyles, retailers should stock brands with reduced and optimised packaging," Collins adds.
KP Snacks has also partnered with TerraCycle to launch the first nationwide recycling scheme for bagged nuts, popcorn, crisps and pretzels packets. There are now 500 public drop off locations around the UK, and Since March 2019, the scheme has collected 9.5million snack packs and raised £22,000 for charity, with waste collected turned into play and picnic equipment, garden planters and bird feeders for two community organisations near KP Snacks sites.
Pros and cons of paper
Many companies are switching to paper and cardboard packaging, especially with the new plastics tax coming into force next year. Global snacking major pladis, which is committed to make all its packaging recyclable, reusable or compostable by 2025, has recently introduced new paper-based, recyclable packaging for its popular loved Jacob's Mini Cheddars and Jacob's Cheeselets 200g snacking caddies, with Jacob's Cracker Crisps and Jacob's Twiglets caddies set to follow suit later this year.
The move will save up to 600 tonnes of packaging from landfill every year, and shoppers will now be able to dispose of all empty Jacob's caddies via UK-wide kerbside recycling collections. Earlier in June, all pladis-produced problematic-to-recycle black plastic and PVDC film was removed from the UK market, saving 80 million plastic trays from landfill every year.
"The development of sustainable packaging solutions across our bestselling lines remains a huge business priority, and we're thrilled to have gained further ground in reducing our environmental impact," says Scott Snell, Vice President of Customer at pladis UK&I.
"As one of the UK's largest snacking manufacturers, we know that any positive changes we make to the sustainable credentials of our packaging have the potential to make a real impact."
While the paper and card board has a high recycling rate and clear sustainability benefit over plastic, the excellent durability and versatility of plastic, that makes transportation of products easier, and in turn made plastic the default choice for packaging, is still something to beat, as experienced by Sohan Singh of Premier Hitchin.
"All the baked goods and similar stuff earlier used to come in plastic packaging but nowadays, they come in cardboard boxes. They are kept in cash and carries, transferred in two to three vans and by the time they come into our store, many of the pieces are damaged," he says. "No one wants to buy them. If they discover damaged products at home, they complain back to us."
Singh thinks customers are more concerned about the quality of the end-product, than the environment-friendly efforts by the manufacturers. "Sometimes, the practices the companies are following may be good but in the end, I don't see them adding up in the sales. In fact, some of the practices, which are not practical, backfire," he adds.
Loose products and refills
Many convenience stores are leading by example in sustainability and zero waste, adding refill stations to the store.
Pete Patel, winner of Asian Trader Awards in last two years, is a pioneer who makes sure to move away from pre-packed fruit and vegetables and introduce packaging refill stations for store cupboard essentials whenever he does a refit to his stores.
He has been expanding on the initiative, thanks to the shoppers who dutifully support him. Speaking about his Costcutter store in Brockley, Lewisham earlier this year, he told us: "Many of our customers live in shared housing or flats, so don't want to buy big bags of produce. We now use recycled paper bags for loose produce. We've also introduced specialist bags for organic cooking ingredients, nuts and pulses and all are sold in biodegradable packaging."
In February, the experienced Hussain family launched their 12th store in 3,000 sq ft premises in Edgware, London with a refill station, and the concept was also new to the local residents.
"This is a community type of store and we just thought we would put something different in there with the refill station and see how people took to it," said Haroon Hussain, one of the brothers involved in running the family business, LA Foods.
Currently selling foodstuff including nuts, grains, seeds, cereal and similar, shoppers have been enquiring about other lines such as cleaning products, which is an area the family may consider in the future.
"It seems to be a big hit and is certainly a talking point. It is perhaps a bit of an unusual concept for the type of demographic we're serving but I think once our customers get used to the idea it will really take off," he said at the time.
And, now the fixture is becoming a unique proposition for the group when their latest store, their 14th, opened in July in Camden and featuring a refill station, offering customers nuts, cereal and more.
The concept is indeed taking off in the convenience sector, with larger players begin to show an interest. When Blakemore Retail launched its first Spar Market store in Gwynedd, Wales in July, it has a refill station for dried goods aimed at customers looking for more sustainable shopping solutions.
Ruth Forbes, Head of Responsible Business Projects at JTI UK, argues for the wider adoption of this development, noting its impact on the takings.
"Being a more sustainable business will not only help retailers stand out from the crowd and attract environmentally conscious consumers, it can also reduce monthly outgoings. For instance, we've spoken to local retailers who started stocking loose produce, not only for its environmental impact, but because the margins are higher," she says.
Last year JTI launched its 2030 UK Environmental Plan, which includes several ambitious sustainability targets across five key focus areas: emissions, energy, waste, water and stakeholder engagement. Forbes says they are also making strides to help independents becoming more confident with promoting their sustainable changes and goals.
"Small, noticeable changes are a good first step, such as installing doors on fridges or LED lighting.
Retailers could also look to introduce light sensors or a 'switch off' policy for staff in areas that aren't in constant use, such as a stock room, to further reduce energy use and cut bills. Working with suppliers that promote sustainable deliveries is also a good idea," she explains.
JTI is committed to reducing its packaging (including plastic), ensuring it's 100 per cent reusable or recyclable by 2030.In line with this commitment, Sterling Rolling Tobacco Essential 30g comes in a paper insert pouch packaging which contains less aluminium, and the blend generates less leaf waste compared to other RYO brands due to its unique whole leaf blend.
Impacting livelihoods
Besides a healthy planet, the remit of sustainability encompasses decent livelihoods for the people around the world who produce food at farms and process it in factories. Tea brands are particularly invested in this area, with every part of the business –from the sourcing of raw materials to the packaging of products–is now being closely scrutinised.
PG tips is a leader in this, fully transitioning to a plant-based range, complete with biodegradable tea bags and wrapless boxes across its entire retail range."With shoppers now five times more likely to buy sustainable products, there's a clear demand for a cuppa that not only tastes good but does good for the planet," Fiachra Moloney, general manager tea UK&I at Unilever, comments.
"The transition to a fully plant-based range will help retailers meet demand and help to grow the category. We've also made it even easier for customers to make greener choices, with clear messaging of the biodegradable tea bags on the front and back of the box."
Tea and coffee business Taylors of Harrogate, owners of Yorkshire Tea and Taylors Coffee, have been working hard over the last year to combat the impact of the pandemic on its suppliers at origin, and announced five commitments to help bring them some stability.
"This included a renewed commitment to longstanding relationships and a £500,000 relief fund to support farmer livelihoods in our supplier communities. We're proud that the fund is making a difference to lives in many countries already," Helen Boulter, Multi Sector Sales Controller at Taylors of Harrogate, says.
From a brand point of view, Yorkshire Tea is replacing the oil-based plastic seal in tea bags with a plant-based plastic called PLA, and switch is now complete for the 40, 80, 160, 210 and 240 boxes. The 40 and 80 teabag boxes are their best-selling lines in convenience, and these tea bags can now go in kerbside garden waste or food waste bins.
"Our commitment to making a positive difference in the world means that when it comes to tea, independent stores don't need to decide between prioritising sustainability or sales," Boulter adds.
Tilda launched its first ever Impact Report in July as the leading rice brand celebrates its 50th year of trading this year. The report outlines progress in the three focus areas of sourcing, manufacturing and packaging and sets out new commitments to drive improvement and transparency.
"By launching the [report] and being honest and transparent about our challenges, I hope that we can encourage more businesses to consider their impacts on the planet and people, whilst supporting our trade customers to play their part," Jon Calland, Head of Sustainability & External Affairs at Tilda, comments.
"We understand the importance of taking responsibility for our impacts across the value chain, specifically looking at the journey from paddy to plate – from the farmers who grow our rice to what happens to our packaging after our products are used."
Tilda works with over 7,000 farmers in India who are involved in its Farm Extension Programme to ensure fair livelihoods and protect the environment through good agricultural practices. It is currently undertaking a feasibility study with 50 farmers to explore how methods to reduce greenhouse gas emissions and conserve water in rice farming can be scaled up across the sector.
The brand supports the Flexible Plastic Fund and will have a fully recyclable plastic pouch in market this year, ready for when kerbside recycling begins.
Del Monte, leading brand in the UK's canned fruit market, aims to achieve 100% of global product volume certified as sustainably grown by a third party in the next four years.
"Since Del Monte launched its global sustainability program in 2010, we have been working actively with third party organisations to develop sustainability packages and guidelines for our farms and operations. Today, 77 per cent of Del Monte's product volume sold globally is certified as sustainable by SCS Global Services or the Rainforest Alliance, to reach 100% by 2025," says Martin Tilney, Senior Commercial Director, Del Monte UK and Europe.
He recommends retailers to adopt creative points of sale that disrupt traditional category flows, in turn capturing shoppers' attention and encouraging impulse purchases. "Furthermore, retailers should ensure they are allocating enough space to the most popular lines to avoid having to continually re-merchandise when managing customer demand," he adds. "To support this, they should ensure the fixture is fully stocked with the correct range, so shoppers can find exactly what they need quickly and easily, reducing brand-search elsewhere."
Promoting a shift to the plant-based
Several recent studies have suggested that shifting to plant-based food can help reduce climate change by significantly reducing carbon dioxide emissions. Quorn, a trailblazer in the meat-free sector since they sold their first product in 1985, believes that food and drink companies like theirs have a responsibility to come together to make a positive impact on the planet.
"We believe that what we eat now can create a better future. Quorn's mycoproteincan play a big part in the solution the planet needs. It is nutritious and sustainable like no other protein and has a texture close to meat, which makes it easy for people to choose food that is good for their own health and that of the planet," says Gill Riley, Marketing Director at Quorn Foods UK.
Earlier this year, the brand launched a new integrated campaign designed to engage every shopperwho are reflecting on their consumption of meat and trying to reduce it from their diets. Last month, they unveiled Quorn Meat Free Steak Match Day Pie as part of MeatFreeMatch Days initiative in partnership with Liverpool FC.
"If football fans at Anfield swapped to a Quorn Meat Free Steak Match Day Pie for just one home game, we can save 102,600 kgof CO₂, which is the equivalent to the energy needed for 733 matches worth of floodlights in Anfield," Riley adds.
Sustainability is a crucial factor influencing consumer trends as shoppers become increasingly concerned about the environmental impact of their purchases, and there are numerous studies to support the reasons why small retailers should focus on sustainability.
However, statistics apart, experiences of retailers like Amit Patel and Hussain family tell us that convenience retailers need not be just reactive to the consumer trends, but can proactively respond to perhaps the biggest critical global issue of our time, especially after the last month's UN climate change report that sounded 'code red for humanity'.
Whether investing in electric vehicles for the home delivery, using paper bags for customers or buying a 'smart plug' to measure per-day energy usage of machines in store, it's time to make our own pledges and start making simple, sustainable changes.