Unilever is helping its well-loved brand, Wall's, celebrate its 100th birthday, marking a century of supplying shoppers with some of the most iconic frozen treats. Whether it be a refreshing fruity Twister or a deliciously chocolatey Cornetto, Wall's has maintained its status by continuing to innovate new flavours and products for its fans, whilst keeping household classics cool in the freezers. It is now a popular and well-known ice cream brand worldwide, having been sold in over 50 countries worldwide since its launch in 1922. To mark this jubilant occasion, Wall's is launching innovative new products to join its line-up of iconic brands.
"For 100 years, Wall's has brought happiness to the nation with its delicious ice cream delights," said Horacio Cal, Ice Cream Marketing Director Unilever UK&I. "Our iconic ice cream has been right at the heart of many celebrations, get togethers, holidays and summer days, and we couldn't be prouder.
"To celebrate this momentous occasion, we are continuing to brighten up freezers across the country with a selection of new products for our ice cream lovers to try – from the reinvention of the iconic Rocket Lolly to the family favourite Viennetta in a fitting Birthday cake flavour. Our new products are the perfect way to help shoppers and retailers mark the special occasion with us. Bring on the next 100 years!"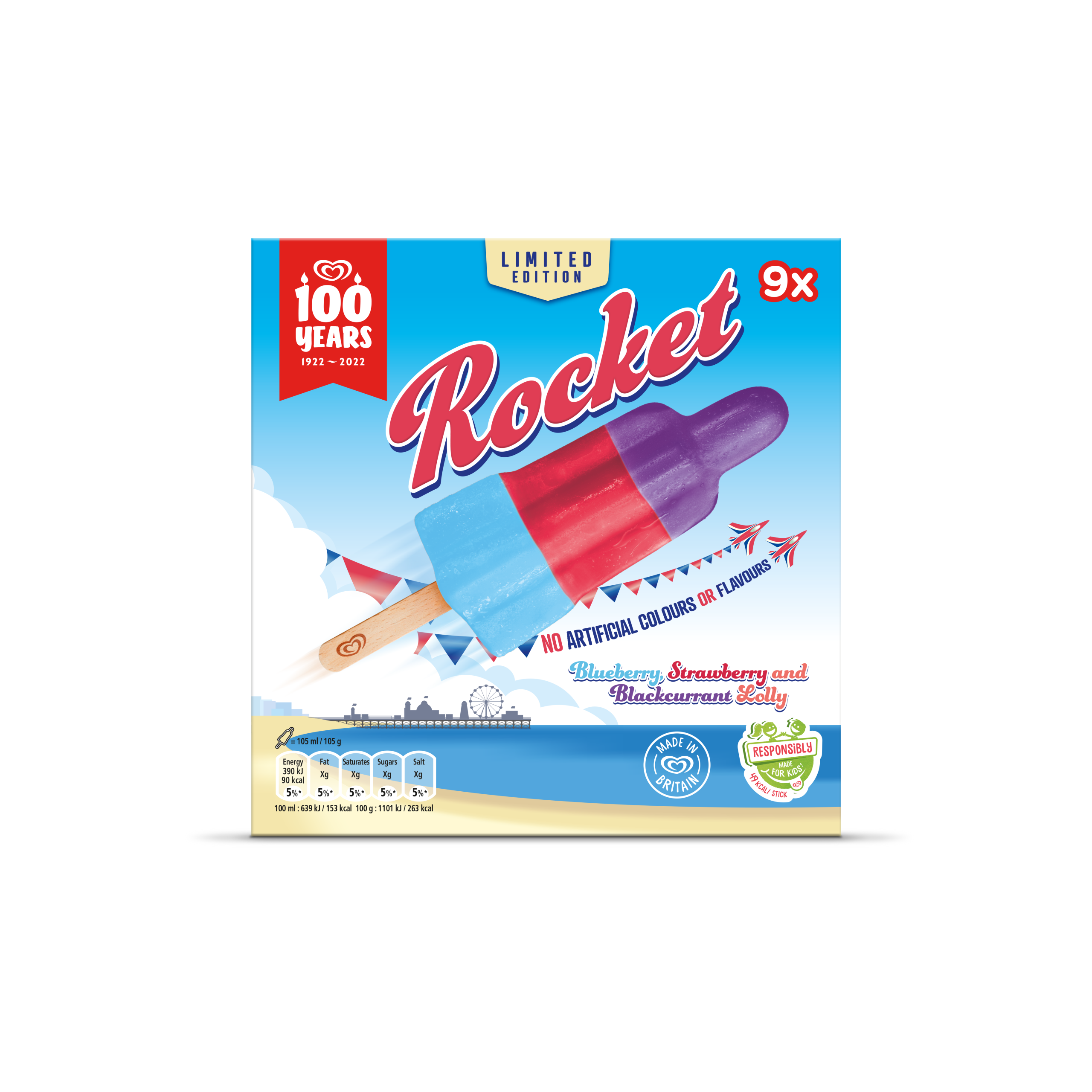 Wall's 100 Year Rocket Lolly
The limited edition 100 Year Rocket Lolly – combining Blueberry, Strawberry and Blackcurrant flavours, this fun-loving lolly is inspired by the iconic retro Wall's Sky Ray Rocket that was created to mark the famous moon landing in 1966.
Adding to the Responsibly Made for Kids range, this trio of fruity flavours contains no artificial colours or flavours. With a clear logo on pack to help parents make informed decisions about the nutritional content, this lolly contains 44 calories, with a maximum of 9.9g of sugar per portion and adheres to Unilever's responsible marketing to children principles.
Viennetta Birthday Cake
To continue the 100 year celebrations, Viennetta is introducing a new Birthday Cake flavour, whilst also marking 40 years since Viennetta sold its first ever dessert. Combining delicious vanilla and strawberry flavour ice creams with Viennetta's classic crisp chocolate flavour layers, this sweet treat is topped with multi-coloured sprinkles for added fun. What's more, the new flavour contains no artificial colours or flavours.