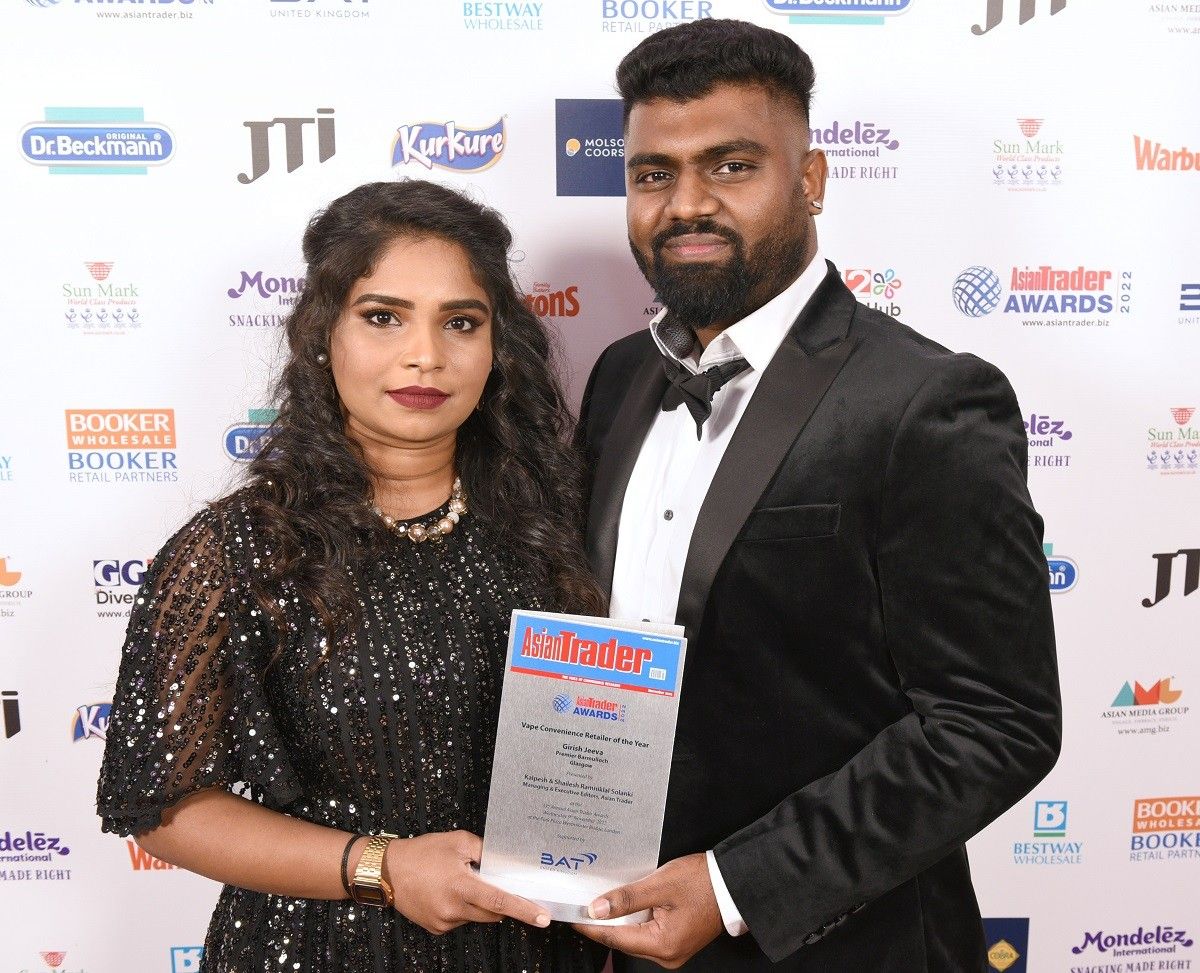 Vape has changed a lot for the convenience channel in a positive way, and Girish Jeeva, who runs the Premier Barmulloch store in Glasgow, is a trailblazing young retailer who has immersed himself in the world of vape.
After an extensive refurbishment, his store now showcases its vape offering in a beautifully merchandised three-metre display. His vape fixture was especially commended for its hygienic presentation and its flawless merchandising, winning him the Vape Convenience Retailer of the Year 2022 honour at the 34th Asian Trader Awards.
Girish is still just 29 years old, but he says that "the young bring strength, passion and drive". He caught the retail bug at the age of 18, starting at his uncle's forecourt. And, after working for around five years with his uncle, the entrepreneurial instinct surfaced, the urge to "start something on my own".
He would not take the plunge immediately; instead, he went and worked for other businesses, car companies and all, to expand his knowledge. "And then at 25, I felt like it's time for me to start my own business. So I bought my first store, which is a small shop in London Road in Glasgow," he says.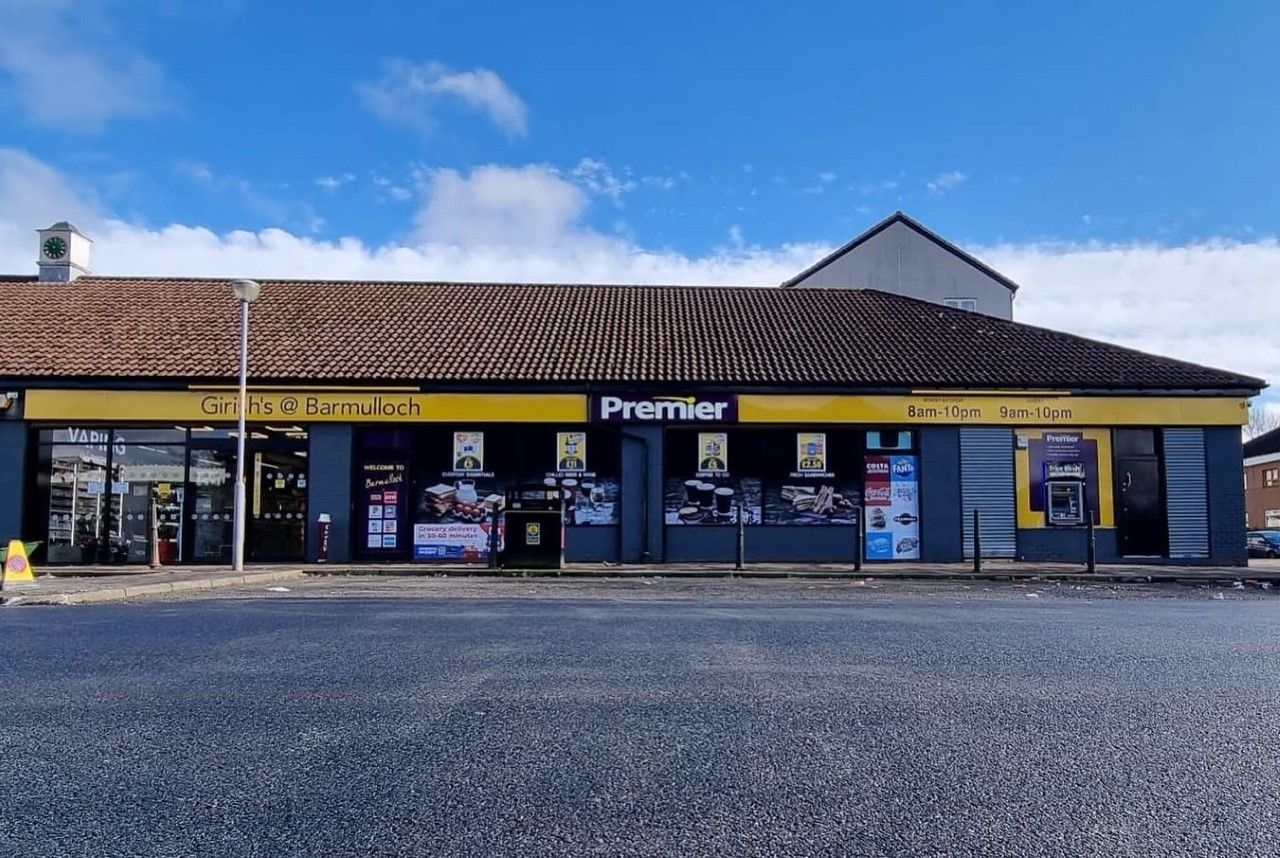 It was a run-down site, and had been closed for two years before he took over. "After taking a toll for the first year, we turned it around, and I was doing good sales, and I built my business from there."
After three years, he expanded, buying the Barmulloch store in November 2021, which was, again, a run-down site! However, Girish sensed a lot of potential there.  "At that point, I decided that I want to do a full refit, and bring in new lines, things that the shop never had before," he explains. They managed to double the weekly sales after the refit, and one year on, the sales have further increased, settling at £55,000 to £60,000 a week.
His dad, Mohan, takes care of his first shop, as full focus is now at the Barmulloch store. "We still got potential awards to win this year," he laughs. And, he is ably supported by his fiancée, Tharsika. "She has been part of it since the start," he says" "She handles all the paperwork and accounts and stuff like that."
Award sales boost
As he went on with the refit, vape was, and still is, a hot category, and he ensured the store would realise the full potential of it.
"We decided to give a three metre floor display where customers could come and have a close up, you know, feel the range," he explains. "We have obviously been keeping the top brands, such as Elf Bars, the new Crystal Bars and Lost Marys and so on. We try to give the customer the full flavor, and always try and keep the stock level high."
The result is that they get customers coming from really far. His promotions also help in this regard. But, he thinks winning the Vape Convenience Retailer of the Year award really clinched it for the shop.
"Before we took over the store, I think the old owner was only doing about £200 to £300 a week on the vape sales. After we changed the display, in the beginning, we were only doing about £3,000 to £4,000 sales per week. At this present time, we are now hitting – especially after winning the award – about £8,000 a week on just the vape. So, that's been a really solid increase for us," he says.
"I personally think the award has made a difference, because obviously a lot of people recognise us for winning the award, and from last November (when the Asian Trader Awards were announced nationally) to now, our sales increased by over £4,000."
That is a 100 per cent increase, and all the more reason to enter the Awards!
In addition to the Awards boost, Girish also benefits greatly from Asian Trader and Vape Business magazines, along with the others, to stay up to date in the ever-evolving category.
"And what we tend to do is, we always try and stock up the range that we feel like will bring customers in. So, with that massive display, we try and provide everything for all sorts of customers. And by keeping on top of it, and always talking about the trends, that helps us continue increasing the sales," he notes.
His merchandising in-store is backed up by a comprehensive social media presence. "We have got a really active social media page where we always update prices, make customers aware of any changes and what could possibly come in and always updating product availability and so on. We do a lot of promotions and stuff like that on social media," he adds.
'Don't ban display'  
Vaping has attracted a lot of negative publicity of late, particularly disposables. In Scotland, the government has launched a review on single-use vapes, with a ban under consideration. The Local Government Association has called for cigarette like display restrictions and plain packaging for vapes, and health charity ASH is campaigning for a tax on disposables. Girish is understandably worried.
"To be honest, if they bring in the rules banning it or even closing the curtains on them, just like how they're doing with cigarettes, I feel like it will have a big impact, because especially, as I mentioned, what brings and what drives the sales for us, is the display that we have on the shop floor," he explains.
"Having to sacrifice that, and closing vape like cigarettes, will obviously decrease the sales for us. It will be very difficult to handle."
Girish says he completely disagrees with the proposals to ban disposable vapes, and even suspects it as a means to shore up the tax revenues from cigarettes.
"Don't get me wrong, there are some negative factors in terms of kids coming into vapes, because they think it's cool to just vape even though they are not smokers, I get that. But I think government is just using that reason, so they can make the money again on cigarettes," he asserts.
Community-orientated
Girish stresses that they are community-oriented business, which he thinks is the main reason people continue to come to the store even after the pandemic, when the local stores across the country witnessed increased custom.
"We do a lot of activities with communities, and we give back a lot. Just last year, in December, we donated £400 to our local disabled children in need, who can't have a normal Christmas like everybody else," he says.
"We want to support the community. We do events, prizes and stuff like that, and donations like this. We are part of six or seven different charity groups, which you do regular donations, and support them. So, a lot of customers see what we do. It actually drives more of them to come and support us back. We are supporting the locals, so they are supporting the local business. So obviously, that does help us a lot."
This is especially relevant amid the cost-of-living crisis, which has been present for some time now, putting great financial stress on both consumers and businesses.
"[The crisis] has had quite a bit of impact on us," he reveals. "Customers who find it difficult to buy the everyday essentials, because the cost is really high, they are struggling."
And, Girish is responding by taking a margin cut. "What we have done to help them and support them is we have tried to keep the margins as low as possible," he explains.
"Before the pandemic or before the crisis, 28 to 30 per cent margin is what we were achieving. But now I have cut that down to 25 per cent. So we have taken a hit on our margins just to support the customers. Hopefully, if it ever gets resolved, then they will see what we have done for them, and they will continue to shop with us. So yeah, try to do things like that," he adds.
It's a big question mark, resolving the cost-of-living crisis, but the newfound appreciation for local businesses, strengthened by the experience of the pandemic, is sure to hold him in good stead. But the immediate concern is the rising overhead costs.
"Business cost is very difficult," he says "Electricity is the main thing, and then the staff wages are increasing. It's another impact because all the prices are going up, margins are going down, where do we find the extra money to keep up with them."
"But then again, if we can't keep up to minimum wages, then we lose a lot of staff. Staffing is already an issue right now, let alone when the minimum wage goes up. We enjoy doing everything in the business, but things like these, in terms of business expenses and stuff is really, really unmanageable at the moment," he admits.
Future-proofing
Girish has a thriving home-delivery offer, making use of the Snappy Shopper platform, and he says it all comes down to what sort of experience you give to customers.
"We keep the prices up to date on Snappy Shopper. We always call a customer if there is an availability issue. We always offer substitutes. My staff are trained to make sure that they give a call to every single customer to make sure that they know that they are not going to receive something or if they would like to be paid for something else. We are always doing different sort of offers to engage customers to order more from us. So the delivery side of things has helped us a lot," he explains.
"But again, it all comes down to how well you maintain the customer service. Because any store could offer the service, but it's up to us to make sure that customers are coming back and reordering from us."
Social media is a key part of growing the business to the next stage. "Because once you maximise the area you are in, you are going to get more customers coming in," he notes.
He says retailers need to treat social media just the way they treat their store. "If you're in the store, how much it is important for you to have your shelves full, your fridges full, social media is just as important. If you put the time into thinking, this is part of what you should be doing, that will drive the sales a lot more," he says.
And, finally, he emphasises that partial measures are no help if you are looking to take your store to the next level.
"The one recommendation I'll give anyone is, if you are planning to do a refit, you have to go all out, you have to do the full launch, you can't say I'm going to do just the vape category or the refresh category, you need to do a full refit for you to see a return in your investment and for a change in your sales," he says.
"If someone feels like they don't want to go all out, I'd recommend them not to do the refit at all, because if you decide you are only going to invest £50,000 where you are supposed to invest like £100,000, you are going to see no change at all. So you either spend £100,000 or not spend anything at all."
It's a bold approach, but one that has served Girish well.