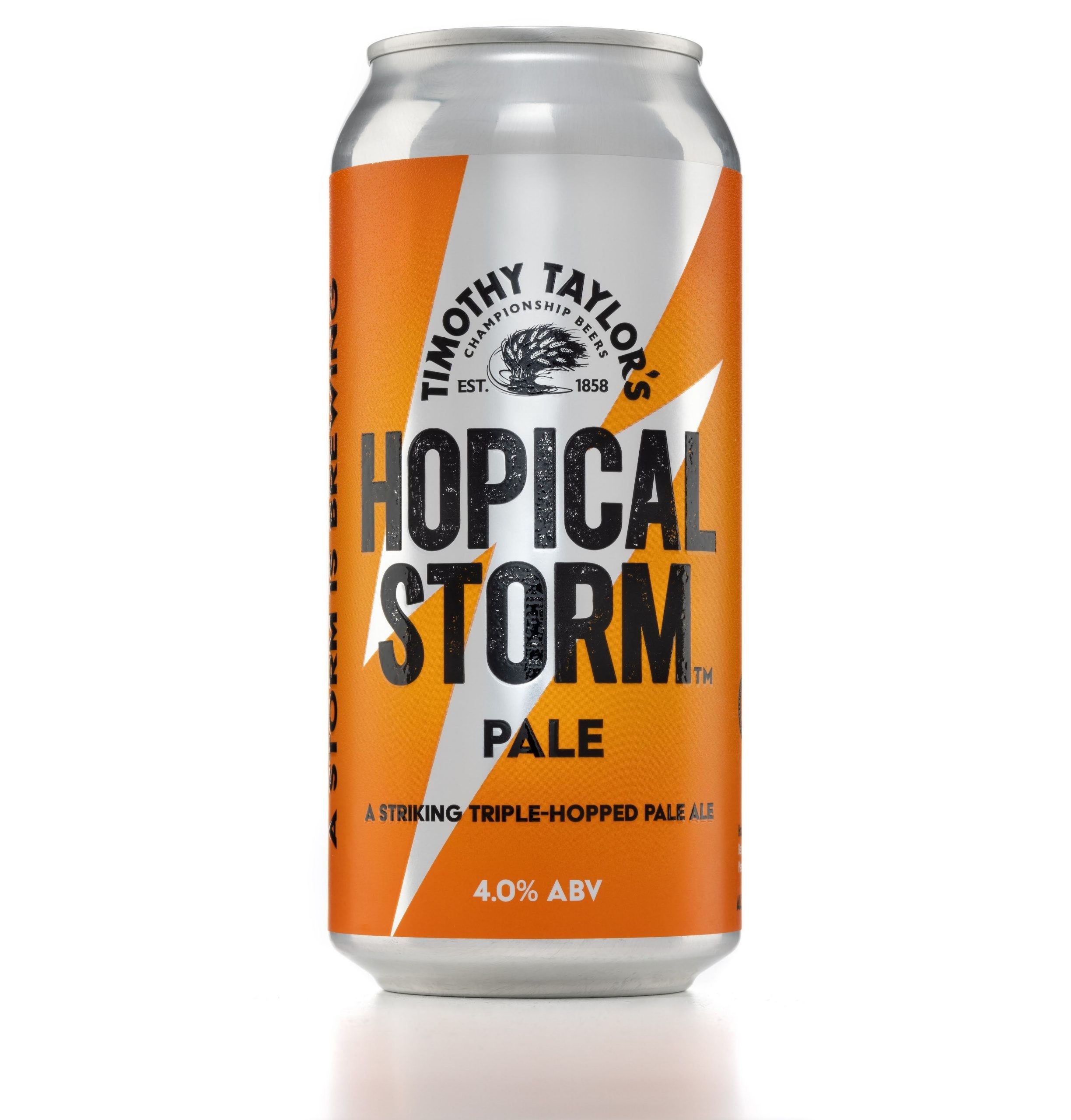 Timothy Taylor's Hopical Storm is a four per cent ABV, triple-hopped, sessionable pale ale topped with flavours of mandarin, mango and passion fruit that unleashes a tropical cyclone of refreshment. Originally launched in the on-trade in cask, Hopical Storm was then brought out in keg and is now available as the first-ever canned beer from the Keighley brewer.
Launching the can, Timothy Taylor's Chief Executive, Tim Dewey, explained "Hopical Storm is a delicious four per cent triple-hopped sessionable pale ale that strikes thirst and is a characterful twist on the tradition associated with Timothy Taylor's. Having launched successfully in cask and keg, we recognised that Hopical Storm cans would be a logical extension to our range as they would suit the style and flavour profile. The decision has been welcomed by retailers who see the potential for a refreshing triple-hopped pale ale in the off-trade that is more accessible than higher ABV beers in the category.
"This is a new approach for a brewery that was established in 1858," he continued, "but one thing that is never compromised, no matter how a Timothy Taylor's beer is presented, is quality. So, whilst Timothy Taylor's core business remains in cask beer, Hopical Storm can now be served in can in a wider range of at home or outdoor occasions, with drinkers reassured that they will still enjoy 'that taste of Taylor's' they have come to expect."
Hopical Storm is brewed using five UK-grown hops in three stages of hopping – Cascade and Whitbread Goldings in the copper, Cascade and Chinook at the hop back stage, then dry-hopped with Jester and Ernest. Combined with Timothy Taylor's natural Knowle Spring water, fine barley malts and the unique Taylor's Taste yeast to create the tropical storm of flavour and aroma. Hopical Storm is notable for its pale golden appearance and clarity and is vegan-friendly, wearing the distinctive Vegan Trademark and certified by The Vegan Society. It is presented in 440ml aluminium cans with distinctive orange branding that characterises the burst of fruit aroma and flavours, and a cut-out silver lightning flash which symbolises Hopical Storm's ability to strike thirst.
"Timothy Taylor's is an independent business that operates with honesty, integrity and consistency," added Dewey, "and is committed to brewing quality beers, using only the best ingredients, for everyone to enjoy. The development of Hopical Storm is a great example of building and investing in quality, premium brands for the future and the evolution from cask to keg to can ensures that we can get this delicious beer in the hands of thirsty drinkers who want a refreshing beer wherever they are and whatever the occasion."
The tropical storm of flavour and aroma can be enjoyed as an unaccompanied refreshing drink but is also a perfect match for a range of different foods, including most pork dishes which pair well with the hops. The light fragrant flavours of South East Asian cuisine match the citrusy notes of Hopical Storm whilst white fish and shellfish complement the acidity and tropical fruit flavours.
RRP £3.00 per 440ml can. The launch of Hopical Storm cans will be supported by a full calendar of marketing activity including print and digital advertising, sampling through Beer52, and presence at events including BrewLDN, the Yorkshire Dales Food & Drink Festival, Bloodstock Open Air, the Festival of Cricket, and as one of the brands poured by Timothy Taylor's as the official beer partner of CarFest.