Tilda's milling and manufacturing centre sits on the Thames east of London at Rainham, a witness to relatively recent times when boats would moor at the jetty and unload. Now everything is containerised and shipments of rice arrive by road from further along the estuary after unloading at London Gateway.
Last year Asian Trader interviewed (on Zoom, of course) Jon Calland, Tilda's Head of Sustainability & External Affairs, in the wake of the panic-buying and shortages on the shelves during the first lockdown. Certain national tabloids had been spreading misinformation about where Tilda's rice was going and he wanted to reassure retailers that the company was working literally around the clock to ensure that all product possible was being supplied to the independent channel – something that could not be said of all suppliers at the time. Indeed, Tilda was one brand that was almost permanently present in convenience stores throughout the pandemic, the result of a super-human effort at Rainham.
It is important to note this, because about one third of Tilda's output finds its way onto the shelves of the independent grocery channel – a disproportionate amount that shows just how vital a brand Tilda is for the revenue and reputation of UK c-stores.
Rice to see you
There was a sense of crisis in the Spring of 2020 that – despite ongoing shortages of everything from HGV drivers to turkeys and toys – does not feel so very urgent now. In fact, travelling out of London in an empty railway carriage on a bright early autumn day lends an almost holiday atmosphere.
This time we were going to find out, among other things, about Tilda's recently published "Impact Report". It is an ambitious set of targets and indicators that addresses the company's performance in several areas, not least its pastoral and ecological responsibility in India, where 7000 small- to medium-size farmers supply Tilda with its raw product. It also looks more widely at corporate responsibility and sustainability issues, setting out concrete (as opposed to idealised) plans for improving energy use, packaging and recycling over the next few years in a way that will have a significant impact on the exploitation and renewal that characterises Tilda's company "personality" – Tilda is determined to be one of the green economy's "good guys", and most of the targets arise out of things they have already been doing for many years.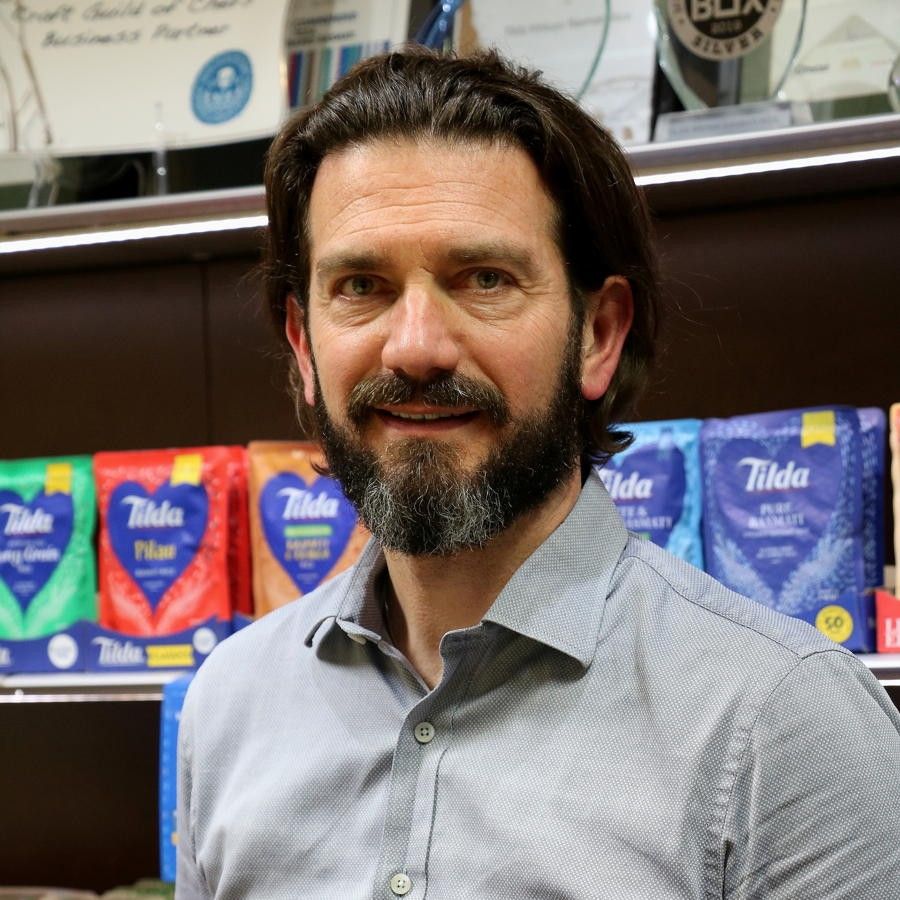 Sitting alongside Jon is Anna Beheshti, Head of Marketing, and Tilda's French MD Jean-Philippe Laborde, who arrived at the company following Spanish firm Ebro Food's purchase in late 2019, which meant that Jean-Philippe had barely got his feet under the table when the Covid virus upended all the plans of mice and men last year.
But Jean-Philippe was already familiar with basmati – Tilda's main stock-in-trade, though not by any means the only one – and with Tilda itself, because he had been living and working in India for eight years already, based in New Delhi, as managing director of the company Tilda was predominantly buying its rice from. "So, the history goes back a long way," says Jon.
"Ebro India took over a rice mill a year after I arrived," recalls Jean-Philippe, "and we were based in Taraori, which is the name of the variety of the traditional basmati rice. "That variety is known as HBC-19, to be exact, according to the Indian Seeds Act, 1966.
"It was close to what we call the Basmati Highway, NH1, where you go directly from Delhi to Amritsar, Punjab, and have all the local villages around," Jean-Philippe continues. "So I visited many places to understand farmers, and see the way they cultivated basmati, their challenges, the way they do things."
It is a depth of expertise that he has carried with him to Tilda, which seems an integral part of the land and community where its rice grows. The company was started fifty years ago in Leicester by Rashmi Thakrar, who died in 2017, and which he named for his two sisters, Tila and Daksha. He came to the UK at the time of Idi Amin, like so many other Ugandan Asians –although Rashmi himself was not a refugee as he already had a house in Harrow. He subsequently spent much time in India and was himself very close to the farmers and their families (he taught very many local children to swim), so there is a long-time link that marks Tilda out as not just another buyer of local produce, and puts it in a very good position when it comes to the hopes ingrained in the Impact Report, as we shall see.
The rise of Tilda as a company mirrored the immigration of Asians to the UK around that period, and their own prosperity as time went on. But it also is testament to the transformation of the British palate over that period, partly indeed thanks to the Asian cuisine brought by ethnic Indians who settled here. "Tilda were the pioneers of basmati, they brought basmati rice to the UK," says Jon.
"In fact, Tilda grew with long grain rice, because that's what the Brits knew, and it was only really in the 1990s that things flipped. Now the majority of what we sell is basmati rice. There was a tipping point but it was growing throughout the 80s. In 1989, we moved from Leicester to this site. And obviously, there's the jetty where we were able to bring in ocean going vessels."
Back in the 1990s Tilda was still doing sauces (with Madhur Jaffrey), "But the sauce business wasn't something we were able to really be unique in – there was lot of competition in that area. We were really a rice business and decided to focus on rice," says Jon.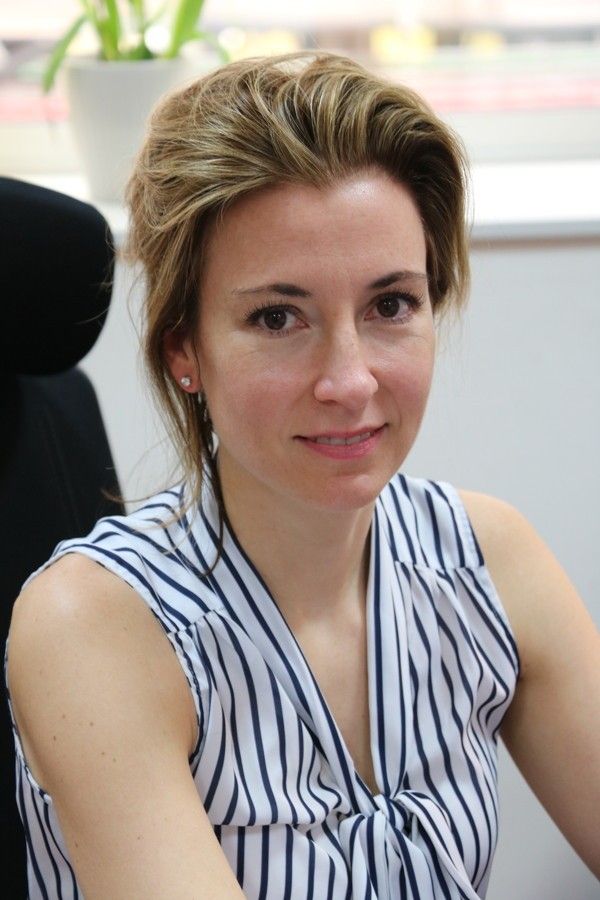 "Brits have discovered world cuisine," Anna adds. "It has been on this enormous journey – a food revolution, and hand in hand with that comes the rise of Instagram and people getting into cooking, having really open mind when it comes to global cuisine."
Tilda further differentiates itself within the rice category by the way in which it treats its raw product in order to ensure its reputation for the highest possible quality basmati.
"To keep the quality at the level that customers expect from Tilda, we really age the rice," reveals Jean-Philippe. "We never directly buy the rice from the crop and ship it. Instead, we keep it in India to make sure that we have the proper ageing starting from there. Then we import and keep it for almost a year overall."
In pursuit of excellence in basmati – is there anything more worthwhile in life? – this ageing and fine milling at Rainham means that it is very difficult to cook Tilda basmati to a sodden gluey lump in the saucepan. The team is emphatic that the care with which it is presented to consumers is vital in expanding the overall market for basmati and rice in general: if people think they can't cook it properly then they will be reluctant to try; whereas if it's a pleasure to boil and serve, basmati will win ever more converts. And right now is the perfect time to try.
Shaking the box
As we discuss events of the past year, it is clear that the pandemic shook up consumer habits and expectations across the board. For Tilda, this meant important, positive changes despite the crisis.
"Number one was the shopping habit," says Jean-Philippe. "The way we shop is different and convenience stores are a quite an important part of that. Now, if you need something urgently, you go directly to a convenience store not the supermarket for basic things. If you need two or three items you will go directly to the convenience store more often, compared to before the crisis."
Number two, he says, is that although online shopping has increased, "you still fall back on what you used to do before" – with c-stores benefitting. "So you have actually extended the points of shopping compared to what you had. And that means for us to be present on the convenience store is important".
The change in work-life arrangements wrought by the pandemic has led not only to altered patterns of shopping, but also of cooking. "Now we can see things spinning up and coming back to normal," says Jean-Philippe, "but we also need to factor how we're going to work, tomorrow, and that's a hybrid work. Let's say you spend two days at home and three at your workplace, you're likely to cook more at home, by definition."
This goes alongside the rise of scratch-cooking and a new domestic spirit of adventurousness in the kitchen developed during lockdown – which has helped Tilda's revolutionary microwaveable recipe rice range no end. "It doesn't mean that the time they spent for cooking is much longer," he stresses, "but you want to do more with what you have and explore different cuisines and a more global cuisine, whether this is Indonesian, Japanese, Mexican, etc."
Jon points out that until microwaveable rice arrived (Tilda had been experimenting with it since the early 2000s), "it wasn't a convenience food: pasta was convenience. If you're a student you could knock up pasta very quickly. Basmati was still something that took time to cook. It was a foodie thing."
Halfway, then, between scratch cooking and food to go lies an expansion of sales in the developing "almost ready" sector. "That's what we've seen with our consumers and it has been quite important," says Jean-Philippe. "You may not have the skill, or you don't want to spend one and a half hours to cook something particular. So, you can maybe pick up something which is already half prepared."
The new recipes win twice because they save on waste (and so cost) as well as time: there is no need to buy packets of chili, herbs and ginger, for example, and then throw half away, because the ingredients are already mixed in with the rice.
"One of our variants is Coconut, Chilli and Lemongrass," says Anna. "There would be wastage if you put lemongrass and all these other ingredients in to cook, so there's definitely convenience and we know it's super important, not only from the ease and the quick cooking time but also actually assembling a dish like this from scratch."
The savings on ingredients plus the exotic choices have, I remark, almost invented a new market and supercharged the appetite for rice.
"Actually," explains Anna, "rice has outperformed total grocery in terms of demand as an ingredient. And that is partly because it is so versatile, unlike pasta and many other ingredients. Whether that's Mexican or Chinese or Middle Eastern and Thai cuisine, which is rising, every country or continent around the world has their own much-loved rice dish." She points out that not many people would know how to make peri-peri rice – one of Tilda's successful variants – from scratch.
Part of the impulse for eating out was that home cooking could become a little boring – "When your repertoire might be cooking seven or eight different recipes, then after number eight, what would you do? You fall back on number one. You're desperate to explore something new, because you're fed up with eating all the same stuff," says Jean-Philippe. What Tilda has done is make home cooking not only enticing again, but superfast with their two-minute microwaveable rice recipe bags.
What Jean-Philippe believes is that there may be a long-term or secular change now that the nation has grown more used to – and fond of – cooking at home compared to relatively more expensive restaurants; and this will be to the benefit of the convenience channel.
"When you cook at home, you understand what [a lot] you pay for at the restaurant. That may really change the dynamic. What I expect is a lot of change in the hospitality sector and the way we consume outside of the home, more retail and a little bit less on food service."
Half a century of doing good
"We started this particular journey more than 25 years ago," Jean-Philippe says of the actions and initiatives outlined in the Impact Report. "We wanted to give a fair view of where we are, what we've done, and what we could do to really have an impact, and not just to say things we can't achieve. And that's the message that we were trying to convey in this report."
The document ranges from measures helping Tilda's farmers in India ("We have contract farming where we commit that we will buy their crop at the moment of the harvest and for that we pay a premium to them regardless of the market price") to details of the 100 per cent renewable electricity that is used on site at Rainham.
Decades of good practice that had simply become part of the way Tilda does business needed to be identified and abstracted to go into the report, and it was not easy to do.
"There were always things that the business has done, such as the partnership with the World Food Programme, which is something that dates all the way back to when our founder was still there and which is held in 70 countries, and we try to run that every year. It's a choice to do something like that and something that people don't expect. Our founder took the view that we do these things but we don't publicise them, whereas I very much disagree, because if you don't say anything, then people assume the worst," says Jean-Phillipe.
"The problem was how to gather all the different things and to put it into one report," he adds.
"What we decided to do is go for a deep dive to understand exactly where we stand and be humble and say this is the starting point and not to overcommit, which I think is a bit too much today – most companies overcommit on things, adding and adding things after the first five pages."
He says they wanted to give a fair view of what Tilda has achieved, what remains to be accomplished, and "not just to say things we can't achieve", he emphasises. "One is what do we do in terms of sourcing with our farmers, because that's actually the critical point. If you have no rice, there's no business" – Tilda in fact has its own agri-extension team counselling farmers if they have problem with growth and crops, pests and so on. "We have some in different parts of Haryana, we have one in Uttar Pradesh and they move around on a regular basis to assist farmers, and that's the best way also to maintain your quality."
Back in the UK, it is not only renewable energy that they are chasing but recyclable packaging– and again, it is not a flavour-of-the-month publicity drive but something that has been underway for a long time. It is a complex and complicated process: the manufacturer might be able to develop recyclable packaging, but it means nothing if proper collection and disposal are not available post-purchase, especially when council collections do not discriminate finely enough to pick out particular materials.
"There are a number of initiatives," says Jean-Phillipe. "To start with, it's going to be through collection points at major retailers. Many are offering it now and by the end of the year we're hoping that it should be at least with the Big Five. But the onus is on the customer to return our pouches and our dry rice packs. All of this can be recycled, the way to do it is through chemical recycling. So the existing packaging that we have in the market today, this can be recycled, but only through the collection points."
PET (the plastic for soda bottles) is readily recycled, but Jean-Phillipe says that the flexible plastic used in pouches is not currently accepted anywhere domestically in the UK – although curbside collection is scheduled to begin from January 2023. "Our objective is to be recycle-ready, which means it's one type of plastic – so mono PP or mano PE. One is for the pouch. The other one is for the block packs. We recognise the silver bullet is going to be when curbside collection begins."
It is clear that the company is deadly serious about wanting to be known as responsible and to practice it – not just to feel good about themselves but because there is real business sense to it. Consumers, becoming ever-more aware of the ethics of production, exploitation and consumption, are far more likely to endorse and use a brand that in turn makes them feel good about themselves. too: it enhances the overall "taste" of the product.
In fact, so keen is Tilda on pursuing this course that it is even thinking – still somewhat nervously, says jean-Phillipe – about chasing B-Corp status, a new classification that companies can apply to qualify for, that depends on clearing many ethical and technical hurdles, and sends a powerful message that they are to be trusted with careful stewardship of the environment, together with transparent and honest business practice. "What we like is that it is not just a certification, but a continuous improvement process, which means you need to consider all stakeholders, not just consumers," says Jean-Phillipe.
"You can invite all your employees to be part of it, then it's a committee which is not just for the board – that's what I find excellent within B-Corp, because you have to be transparent and show where you stand with all the weaknesses, not just all the great stuff you can do."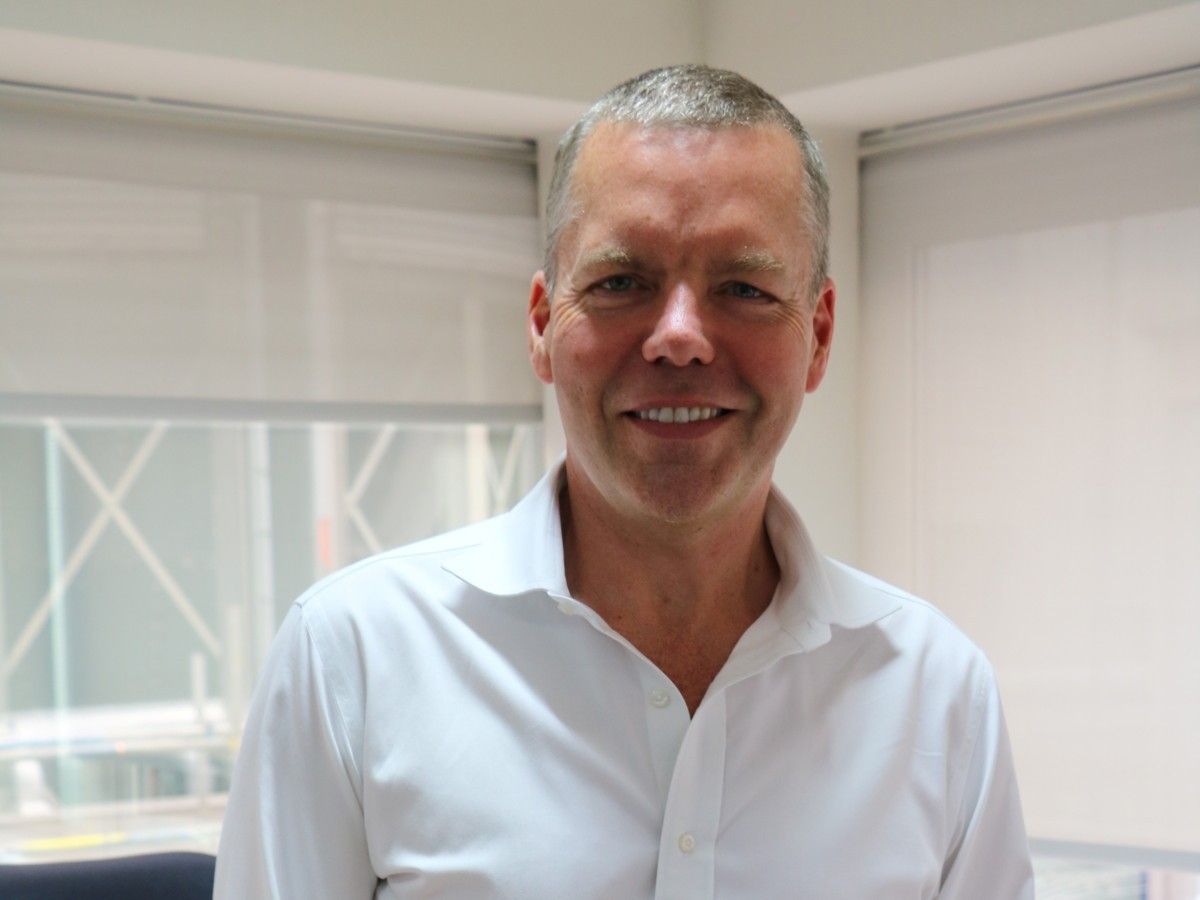 Jon – who has been with Tilda for 21 years, agrees that it is the way forward: "Our history was very much as a family business and they did the right thing, but it wasn't about that and that wasn't the message. Why do people buy Tilda?" he asks. "Because it's a number one for quality, it's a premium product. The family did these good things, and the company had that as part of its ethos, and we wanted to capture it in a report."
It's a fine report – the antidote to "greenwashing" and a testament to a company that does good with a great product.
So, here's to the next fifty years!