In November and December 2022, the Tobacco Manufacturers' Association commissioned a nationwide poll of 12,000 smokers on their attitudes, awareness and understanding of illicit tobacco.
This is the ninth year that this survey has been carried out and trends are presented where possible.
This year's survey points to five key findings:
73 per cent of those surveyed bought tobacco in the last year that was not subject to UK tax (that's up two per cent on 2021).
58 per cent of people are still buying "branded" cigarettes and Roll Your Own tobacco, even though it has been illegal in the UK since 2016 (19 per cent of smokers said that they "only" buy branded tobacco).
Every one of the twelve UK regions has seen an increase in people buying illicit tobacco – apart from London and the East of England, where there has been no change. Only Wales has there been a decline by one per cent since last year.
Fewer people are reporting illicit tobacco – 29 per cent of those surveyed reported the trading of illicit tobacco in 2022 compared to 32 per cent in 2021.
Fewer Under 18s are seen trading illicit tobacco – 15 per cent of those questioned had seen Under 18s trading illicit tobacco compared to 16 per cent in 2021.
The Survey
The illegal tobacco market continues to remain stubbornly robust with more than seven in 10 smokers surveyed still buying illicit tobacco.
It is a startling finding that despite branded (non plain-packaged) tobacco being illegal in the UK since 2016, 58 per cent of smokers surveyed still buy branded cigarettes and Roll Your Own tobacco, with nearly one in five "only" buying branded products – over six years after the ban came into force.
The decision by the Government to impose the biggest ever duty increase in the March Budget, coupled with the ongoing cost-of-living crisis could well see more smokers turning towards buying illegal tobacco.
The cost-of-living crisis has clearly had a lasting impact on many consumers with nearly four in 10 surveyed claiming that increased living costs had impacted their purchasing habits and where they now choose to buy "cheaper" (illicit) tobacco.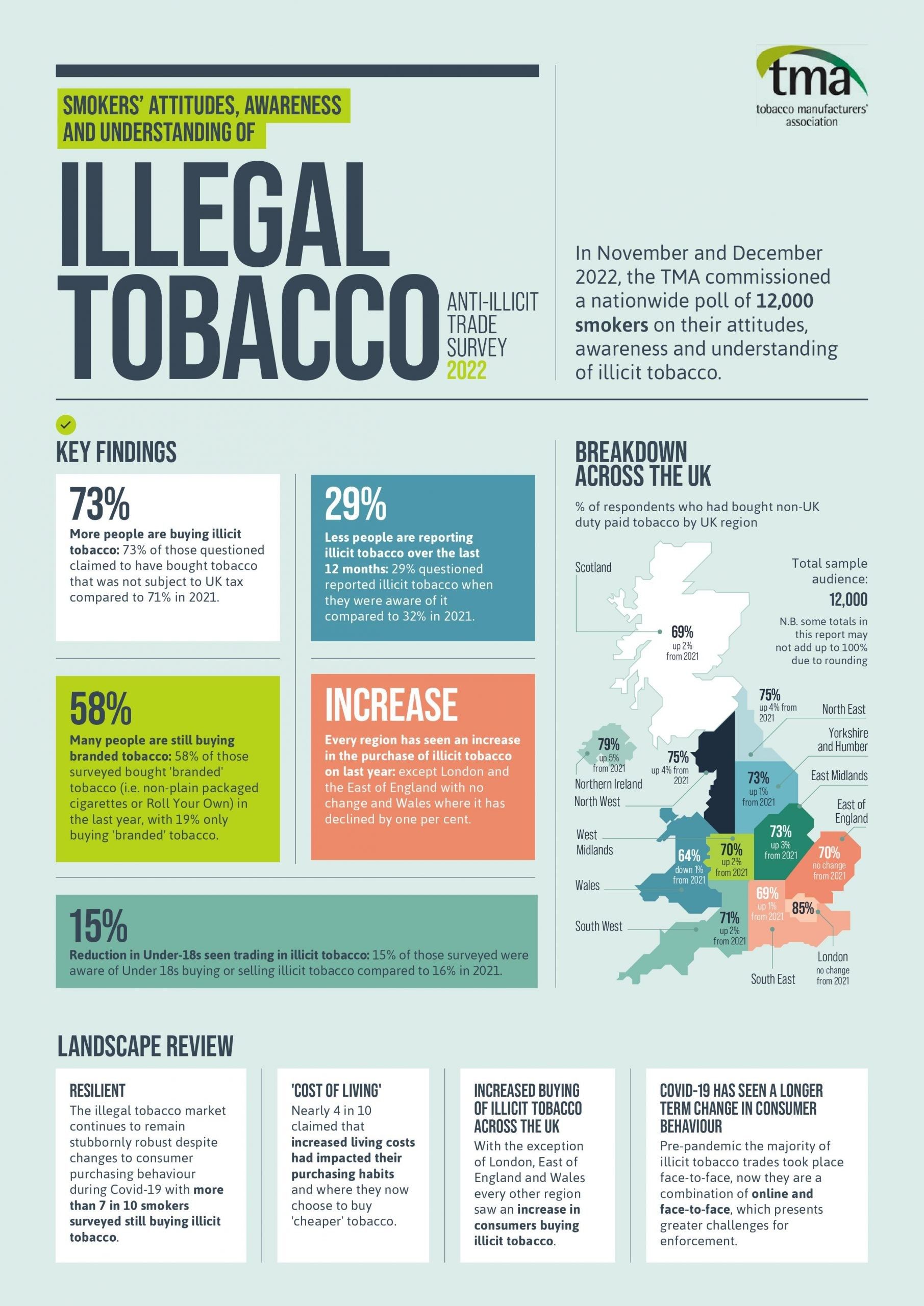 Pre-pandemic, the majority of illicit tobacco trades took place face-to-face (e.g. between friends/family/workplace colleagues or from strangers in pubs, bars, cafés or in the street), while during Covid there was a major shift online, with growing quantities of illicit tobacco being traded though social media and on websites offering cheap tobacco.
As the impact of the Covid pandemic and the related restrictions have receded, consumer sentiment has returned to more normalised behaviour, and there is growing evidence that criminals are capitalising on opportunities to expand their operations in the smuggling and sale of illicit tobacco.
We are now seeing a combination of illicit tobacco trades online and face-to-face which presents even greater challenges for law enforcement.
According to the most recent HMRC Tax Gap data, illegal smuggling and consumption of illicit tobacco cost the Government £2.5 billion in lost revenue over 2020-211 – a £600 million increase on 2017-18 figures2 from just three years ago.
"The illegal tobacco market is not showing any meaningful signs of decline despite the total number of smokers in the UK consistently falling year-on-year since the 1980s," said Rupert Lewis, Director of the TMA.
While the TMA supports the Government's new enforcement measures such as imposing 'on the spot' fines of up to £10,000 against those who deal in illicit tobacco, and the recently announced, and soon to be published, new strategy to tackle illicit tobacco – which will see those rogue retailers charged with trading illicit tobacco stripped of their licence to sell legal tobacco products – it doesn't escape the reality that price point and accessibility remain the twin drivers which underpin the consumption of illicit tobacco.
According to the latest TMA Anti-Illicit Trade Survey, 73 per cent of smokers bought illicit tobacco in the last year, and with tobacco taxes increasing by record amounts in the last Budget, many consumers will continue to seek cheaper products which means purchasing from illegal sources.
This latest survey also underlined those smokers who wish to report illegal tobacco sellers appear to be confused by the proliferation of reporting lines, for example HMRC (0800 788 887), Trading Standards (through the Citizens Advice consumer helpline on 0808 223 1133), Crimestoppers (0800 555 111) and a number of "local" numbers set up by tobacco control groups. It is therefore concerning that the Police, despite them not being responsible for enforcement in this area, is now the most commonly contacted authority.
The TMA calls for the adoption of a single number for the reporting of illegal tobacco, with the information collated and made available to the most appropriate enforcement body. For a copy of the UK TMA Anti-Illicit Trade Survey 2022, please contact [email protected].