The food and beverage industry as a whole is at a better place no matter how despondent things seem, wholesale and retail data expert Tom Fender has said, saying the industry is performing well, and the situation is not as bad as it seems at "News at 10".
Ever-optimistic Fender continues to remain optimistic as he sat down for a candid chat with Asian Trader. A data and digital consultancy expert in wholesale, convenience retail and foodservice, TWC development director comes with more than 20 years of experience in this field. He obviously knows this sector in and out and has a natural pulse-indicator inside him, telling him about the mood of the industry as a whole.
"Both wholesalers and independents, whether it's independent food service operators or independent convenience stores, are probably performing better than what economic commentators are speaking on the news- 'Oh, it's all terrible. We're going to be into recession'.
"Seeing such TV broadcasts when the latest bad figures get reported, it is natural to start thinking 'oh my lord, it's the end of the world!'. I don't think wholesalers and retailers are feeling anywhere near as bad as what the political commentators or the economic commentators are saying.
"It might get a little tough sometimes due to seasonal developments like train strikes particularly in the run up to Christmas as they are crippling for business, especially hospitality," he said.
May be the entire economy is not looking well but it is the nature of the industry and products that the picture here cannot look very gloomy for a long time.
Citing TWC's upcoming report's findings, Fender feels that people always like to treat themselves to "little treats" even if they are running short of disposable cash.
"Well, some of the things which we are noticing and getting feedback from other stakeholders too that it would be natural for people to think that consumers would stop treating themselves when the money gets tight.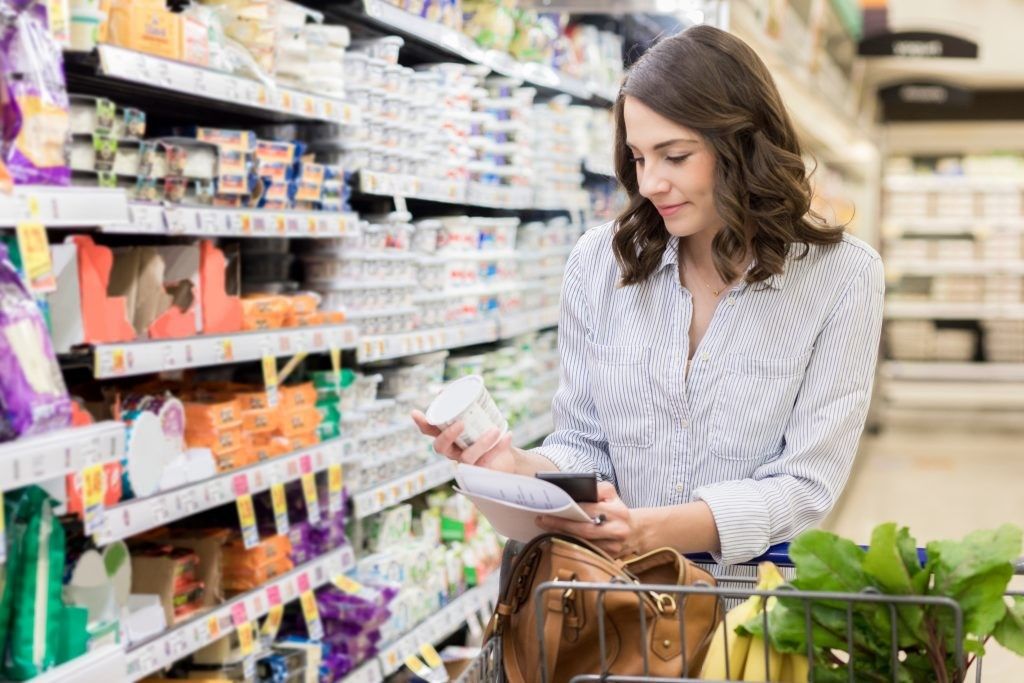 "However, the fact remains quite the opposite. We are about to publish a research report in about a week which shows that consumers are still treating themselves by buying nice, low-cost, but indulgent treats," he said.
Now that Covid and the dreaded lockdowns is a thing of the near past, it seems that the worst is now over, and things are coming back to normal.
"Things are returning to normal post COVID. During COVID and lock downs, there were supply and availability issues. As a result, both wholesalers and retailers were trying to get whatever products they could from anywhere. Now, things are much better, maybe still not 100 per cent but they are generally much better.
"I have been attending a lot of conferences and trade shows meeting wholesalers from across the country and all sizes. And the common thread is that that they are now able to plan better. Not only that, but they are also able to forecast better. It's almost getting back to normal day to day operations, as opposed to firefighting which they were doing a year or so earlier.
Wholesalers are feeling calmer, more stable and in control, Fender said, adding that by and large, most of them are doing very well.
"I recently attended the CJ Lang SPAR Scotland event where one of the key takeaways was that the second half of 2023 is likely to be a bit harder than the first half of 2023. First half of 2023, there was a lot of price inflation, which drove up the price of goods and things. As inflation comes down, it will be hard for them to maintain that," he said.
Talking about independent convenience, Fender commends their role and the value that they brought to people's lives during the pandemic and lockdowns.
He however added that since it was practically impossible to retail all the customers that they gained during the time, numbers in this sector are not looking very good but it should not be worried upon much.
"Convenience retail is also doing well. One should note here that seeing from the figures, it seems that independent retail is down year on year. But that is expected and not to be worried upon.
"Independent convenience retail did so well, gained so many customers during COVID lockdown. But still, it would almost be impossible for them to retain every customer and every purchase that they made," Fender told Asian Trader.
It's festive time
Diwali, Halloween, Thanksgiving and run up to Christmas days overall bring a lot of buzz for local stores. Fender strongly feels that this time should be tapped in properly and well in time.
"Impulse treats and snacks will see a huge demand as consumers want to mix socially and entertain at home, now more than ever before. Whether it's Halloween, Diwali or Christmas, I see very exciting opportunities for brands and retailers to work together to create some excitement and theater in store, by obviously having the right product mix."
Fender wants local retailers to learn from supermarkets in creating a "theater zone" in front of the stores to create festive excitement among people. The idea is to create fun and catch consumer attention and then introduce them to a new launch or to the latest trends.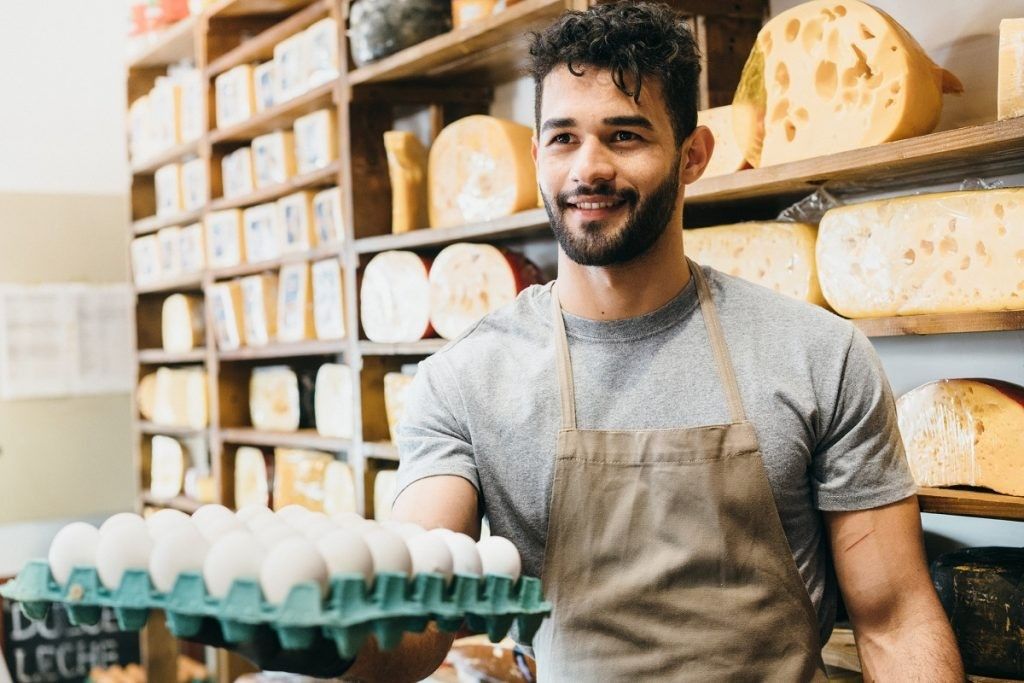 "Supermarkets usually are much quicker than independent convenience stores. They are quicker to get off in front of store theater zones or front of store and thus in creating excitement too," says Fender, urging convenience store operators to not be too late.
"Start earlier, prep your stores and your team too. Think about introducing competition among staff like those who sell the highest products on a certain day, or a certain week get a bonus or something similar."
Fender recommends indie retailers to leverage on what supermarkets can never can, that is creating a personal connection with the shoppers and a sense of familiarity.
"Create fun. Consumers go into convenience stores about two or three times a week. They often know the staff really well, maybe not by name, but they will certainly recognize them, which is not the case in supermarkets. Retail staff can play a really good role in promoting the products or maybe highlighting the products or even giving some samples away just to get people trying it and thus coming back to buy more," Fender told Asian Trader.
Fender strongly feels store staff has a huge role to play and an enthusiastic and passionate workforce can do wonders.
"Consumers are often in this slightly coma-like state when they walk into stores, because it's all part of their routine. So you just shake them a little bit to get them out of their normal stroll mood by catching their attention or making them curious about a particular product line or new launches, it can make a big difference. I always believe that staff is one of the biggest drivers of incremental and impulse sales."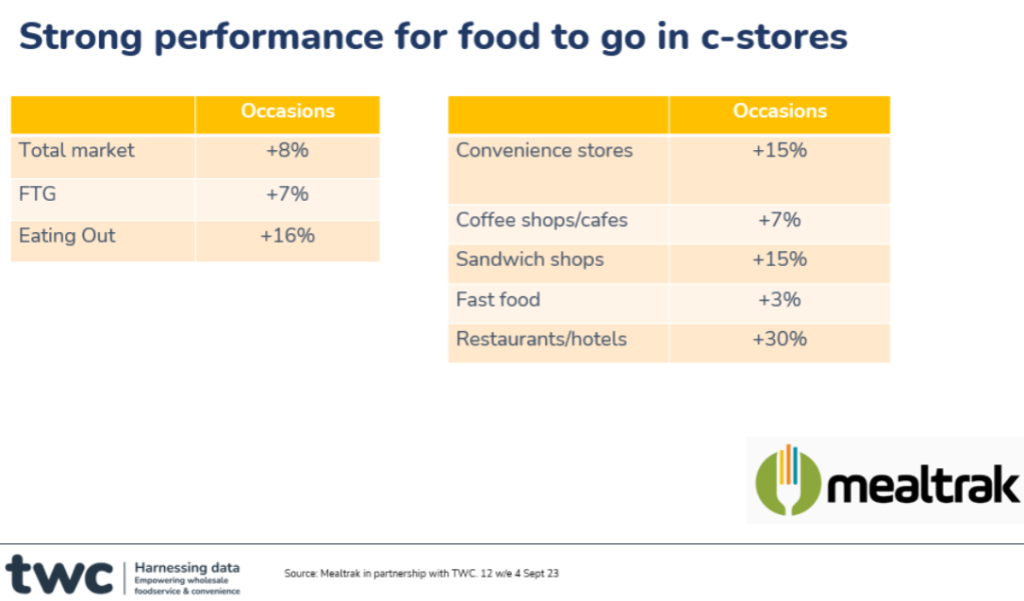 Furthermore, food-to-go is looking promising in the convenience channel which is exciting as it opens new avenues for add-on sales.
"Now that more people are returning to offices, more people are commuting, convenience stores, coffee shops, food to go outlets and sandwich bars and similar stores will very soon start doing well again, especially those that fall near travel hubs. Overall, it's good that people are out and about because that's when they spend money."
"We are seeing that there is a vast increase in people buying food to go from convenience stores. And I think that's partly down to the fact that more consumers are returning to the workplace either because they must or because they want to," Fender said.
Kings of convenience
Price-marked-packs (PMPs) continue to be the king of indie stores as they come with a reassurance from shoppers that they are not being overcharged.
Fender, however, flagged that these PMPs are unnecessarily and unrealistically low, thus eating into wholesalers' as well as retailers' margin.
"Price on the price mark pack is often unnecessarily low. Some of the research and analysis that we've done recently show that if PMPs whose prices were increased slightly – from one pound to 1.25 pound- do not show any decline in volume sales.
"In our consumer research and price sensitivity studies, we have seen that £1.25 works as fine as £1when it comes to PMPs. Going up a bit is not a problem as most consumers pick PMPs anyway because of the price flash. They do not take notes or compare with the last actual price. It's more about marketing and communication, which is more important rather than the actual price," he pointed out.
The slight increase gives suppliers an opportunity to give maybe an extra one percent or two margin to the wholesaler and to the retailer, Fender said, earnestly pleading with suppliers to continue with PMPs but "please consider £1.25 if you are still at £1".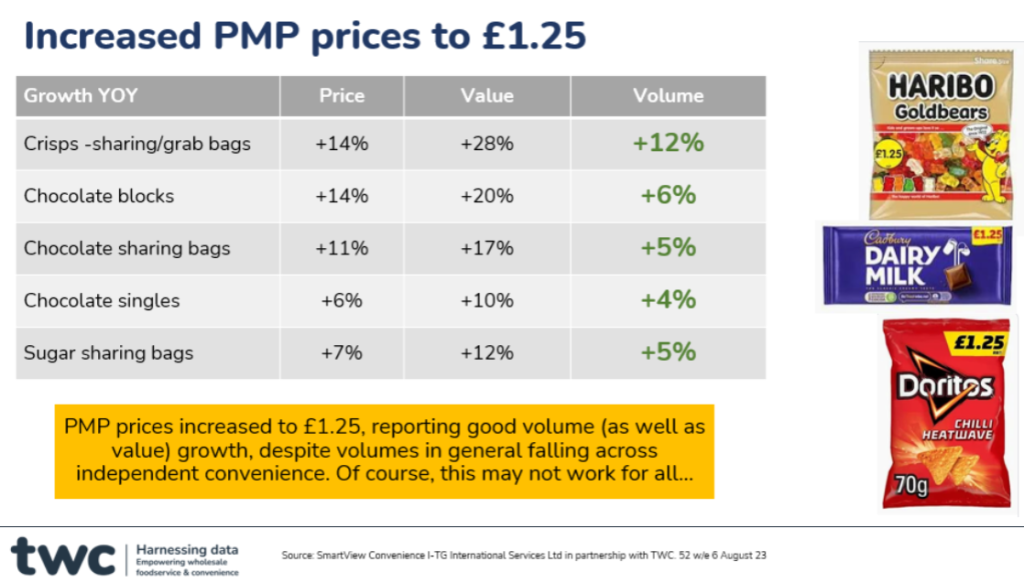 While impulse lines and PMPs continue to perform well and provide a great vehicle for further growth for indie stores, Fender is worried over the alcohol category as lately this category has been "massively underperforming" in local stores.
"Alcohol as a total category is massively underperforming in convenience stores and it's worrying as sales volume and value of alcohol through independent channel is down quite substantially.
One of the reasons for this downtrend can be that people who used to consume alcohol have now stopped consuming and are moving more towards low and no alcohol products, Fender said.
"Although the shift towards low and no alcohol is still a very low percentage of sales, it might explain why there is a decline in normal alcohol products in independent convenience stores. The second reason is competitive pricing and promotional strategy of supermarkets due to which consumers end up buying another and more products when they are in there. I think that is a really big issue.
"And the third reason is obviously hospitality. Figures show that hospitality is doing well. They definitely charge more but they also make sure that the environment, service and their food is good and up to the mark.
"I think alcohol is a category which needs to really be reviewed and really needs to be understood. Wholesalers and suppliers collectively need to really understand what is going on and also why is it going on and what needs to be done to rectify it."
The situation with alcohol may seem gloomy but a few steps and a bit of thought on the product line can definitely perk things up a bit.
The recent trend of having a beer cave in c-store or a dedicated well-lit section for alcohol can definitely help. Another thing to consider here is coming up with good promotions.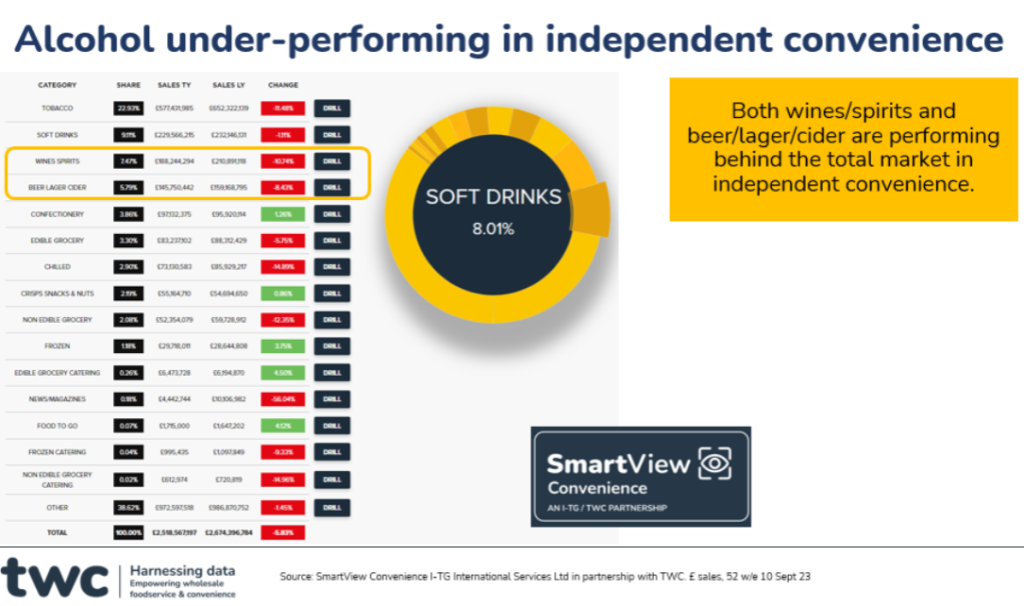 In supermarkets, consumers feel drowned and clueless in the sea of products across various categories and sub-categories, and this gives a perfect window of opportunity for indie stores to stand apart and be their savior and hero.
Supermarkets have a vast range, but also it is "pretty boring as they would often have five facings of the same red wine".
"Local stores can up their game here by having a little bit of signage and education among the staff. While a local store cannot become the next Harrods wine room, a bit of background information can come in handy as consumers could be sometimes interested to know more about their booze apart from just the price. They will appreciate it if store staff can give them a little bit more information," Fender said.
For local stores, Fender feels there is a really huge opportunity for premium wines.
"Let's say, if someone is cooking a nice meal or treating oneself at home with good wine, or simply going over to some friend's house and think of bringing one along as a gift, it is only convenience stores that can cater to that demand in real time.
"We got to recognize and acknowledge that there are many consumers who aren't looking first and foremost at price, but for something which they can enjoy, which in turn comes with spending a bit more but they are ready for that," he said.
Also, Fender vouches "100 per cent" for local beer when it comes to creating a unique alcohol range and thus renewing the curiosity level among the consumers.
"It all comes back to retailers to create the need and opportunity. The local beer and other alcohol range should have proper signage, flagged with a tiny picture of the Union Jack or even with a picture of your county or something like that. The idea is to make it look fun while promoting the fact that the range is from a local business.
"Staff should be well-aware of the range and should sound enthusiastic about it. The collective effort of all this ends up creating curiosity among shoppers and they end up buying some products, thinking 'let me try and see how this is' or even 'let me support this local business'."
Cigarettes, tobacco and related products are also under performing but that is just because people are switching from traditional cigarettes to vapes, Fender said, pointing out that since vape products typically cost a lot less so when we look at value figures, it looks like it's massively down.
Winsome Wholesale
Like everything else in the world and in our lives, the food and beverage wholesale side of the business too is getting tech-savvy.
Fender shines a light on what is happening at the depots and how the new-age wholesalers are making use of technology in different aspects.
"More and more wholesalers are now commercializing their data through companies like PWC with their reporting platforms. Talking about tech, CJ Lang is spending two and a half million pounds on some technology, which is going to improve their forecasting. Businesses have been investing in digital shelf labeling.
"Scotland wholesalers have been doing some really interesting stuff with technology. JW Filshill has created a whole new depot that is majorly technology driven. So yes, I think wholesalers are really getting to grips with technology."
"If we try to look closer, we will find wonderful wholesale businesses dotted all around the country doing some interesting and innovative things. Not to overlook the technical innovations in terms of sustainability, carbon reduction, and emissions reduction. There is some fabulous work which has been done by businesses. I think it's an exciting time as the sector is embracing technology."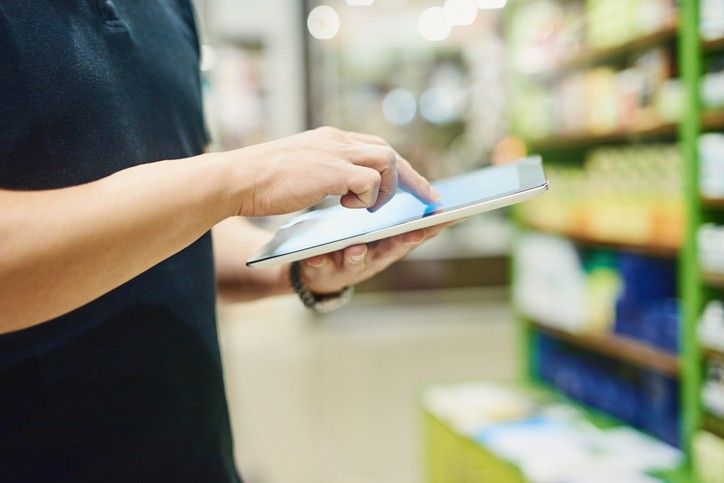 Fender, a data expert himself, recommends wholesalers as well as retailers to arm themselves with the power of data to understand their respective customer mindset and hence stay a step ahead.
"Data identifies trends. Data can help retailers identify if they are stocking the right kind of products or not. Let's just say a wholesaler caters to 1000 retailers. Out of these, 600 of them are stocking a particular product range mix which is doing really well while the rest 400 stores are struggling.
"What that wholesaler can do is it that armed with the insight of 600 retailers, it can approach those400 retailers and tell them and point out how they are missing out on huge sales opportunities, thus enlightening them on how the other 600 stores are able to do better sales," Fender cited an example.
Data can also help with pricing and promotions as it helps the stakeholder to decide what prices to sell, he said, adding that it can also help to measure the effectiveness of promotions.
Speaking about promotions, it certainly seems to be THE buzz word in the world of wholesalers.
However, Fender is raising a food for thought- "how much is too much".
"All the year round, there are a lot planned promotional strategies, not just once every two or three months, but they are happening every month. Some are happening as collaboration between suppliers and wholesalers while some wholesalers are themselves investing in promotions. But certainly, there does seem to be continuous cycle of promotions.
Fender said, "One of the things that I have heard wholesalers say is that we need to review what's happening with promotions because we are in this cycle of doing them every three weeks. And therefore, the question which wholesalers and suppliers need to think about is, 'are we doing too many promotions? Is the promotion timed properly?"
Acknowledging the fact that promotions do help in gaining more retailers footfall, Fender urged the wholesalers to consider and evaluate these promotions rationally.
"Wholesalers need to see whether retailers are only ever buying information or actually buying extra during promotions.
"If retailers are stocking more products during these promotions, then it is still a wise move and is actually a very good strategy on their part as that's where store owners can make some margin- by buying on promotion and further selling on promotion."
What wholesalers need to do is to pause a little bit and gauge here if retailers would actually wait for promotions to come and buy only then or they will stock up anyway, Fender said.
"If every week wholesalers are just changing promotions name and still bringing more ones, its almost like a continual thing, like spinning the plates, as opposed to a calm and long-term pricing and promotion strategy."
Hail data
Between data, wholesale and convenience retail, Fender has spent more than 20 years in this field starting from Lumina Intelligence. Fender was an initial seed investor in a technology startup Bolt Learning, an online training module that was bought by private equity in 2019. The same year, he joined Tanya Pepin, the founder and MD of TWC as development director.
"It's a fast-moving industry. Food and drink sector is the best industry to work in. I love it," he concluded.
Today, chief executives, directors and top managements of retail businesses in the country cite customer data insight as the number one pointer on which they are going to focus on more than anything else in the next few years.
"Data drives business by showing you what you should be selling at what price. It tells you how well promotions are working for you. It tells you whether your customer base is increasing or decreasing. And obviously if it's decreasing, then that sends kind of early alarm bells.
"We at TWC have the best reporting solution in the marketplace. Our reporting platform is easy to use so you don't have to be a rocket scientist. We have more than 62 wholesalers now using our platforms. So it is very widespread across the market," said Fender.
"We make it visual and easy to comprehend. We try to make data come to life," he concluded.