It feels as though the next generation market of "post-smoking products" is at a stage where we can regard it as well and truly established in the UK – beyond being the New Thing or a strange and experimental idea.
Supply and distribution networks are widely and reliably bedded in, alongside well-disseminated consumer education and instruction facilities.
"We are witnessing growing consumer interest in devices which can easily be purchased in store, with little guidance from a salesperson and are easy to operate with either pre-filled closed or disposable pods," agrees Micaela Sangiovanni, Senior Trade Marketing Manager at RELX International.
"The growth in convenience and demand for easy-to-operate devices has continued into 2022 and remains a key shopper trend when selecting a next-gen nicotine device.
The government, remarkably, has proven positive and encouraging towards vape and its allied developments, being well-educated by health organisations, such as Public Health England and the NHS, which proclaim the average 95 per cent less health risk of Next Gen compared to traditional smoking products.
As Kate O'Dowd, Head of Commercial Planning at Philip Morris Limited (PML), points out, "Vape, nicotine pouches, heat-not-burn products – the UK is maturing rapidly into a market of smoking alternative stores, offering a wider range of smoke-free categories rather than specialists focused on one category."
This has been reflected in the industry where a variety of product strategies have been pursued. Smaller companies have often concentrated on one product, such as vapes, while others competed across categories. Time will tell whether companies will knuckle down on a leading category or pursue a broader-range of development.
Now though, we can see the market dividing into three distinct areas, where just a few years ago, it was heavily dominated by vaping and e-cig products.
First to compete came the heat-not-burn (HNB) technology, which, needing time to develop its complicated tobacco treatment and heating elements, arrived later but now, with the latest versions of Ploom and PML's IQOS, is well into its stride.
An entrant in the past couple of years as been the nicotine pouch that arrived (culturally at least) vias Scandinavia, where tobacco pouches are an institution (NB: the UK pouches contain nicotine but zero tobacco and are again, far less harmful).
And with that, let's get into it, looking at these three main categories of Next Gen products: vapes/e-cigs, HNB and nic pouches.
Super heated!
Initially the arrival of vaping tempted many smokers away from cigarettes, but after a big rise conversions levelled off somewhat as a rump of tobacco-lovers found the relative lack of "hit" from vapes insufficient, and were not particularly attracted by the vast range of flavours if the tobacco taste was not there.
This section of nicotine consumers was a perfect one to be addresses by the new HNB technology, which actually used a specially treated form of tobacco, which did not need to be ignited, to generate the nicotine delivery and taste that far more closely resembled the authentic smoking experience.
"More and more customers are looking for an alternative but familiar tobacco experience with devices that heat tobacco instead of burning it," says Gemma Bateson, JTI's Head of Reduced Risk and Head of Ploom For this reason, pack sales of Heated Tobacco products in Traditional Retail have seen average growth of 10 per cent per month for the past two years.
An authentic cigarette experience without most of the health dangers is perfect to lure smokers who remain unseduced by the appeal of vape, and it appears to be working: the Heated Tobacco category was worth £83 million in the last year in Traditional Retail, with a massive growth of 43.6 per cent YoY.
The reason for this amazing growth – on top of an already healthy vape market – is. As O'Dowd explains, "Heated tobacco is gaining significant traction in the UK amongst adult smokers looking for cigarette-like satisfaction, which currently, no other smoke-free category on the market can match."
Promisingly, it is "hard-core" smokers who can be targetted by HNB, tobacco-lovers left unimpressed by the vape experience – 58 percent haven't yet found a satisfying alternative to cigarettes, says O'Dowd. There is a lot of these consumers remaining in the UK, and HNB represents a very optimistic technology for further depleting the sales of traditional tobacco.
"Complementing vape and nicotine pouches with a real tobacco alternative will generate new revenues streams and enable retailers to offer a more rounded smoke-free portfolio to meet consumer needs," continues O'Dowd, and PML's IQOS was the first HNB product to be released in the UK, and it spearheaded the advance of HNB acrposs the country,.aklthough a lot of territory remains unconquered.
"Having only launched in the UK in late 2016, awareness of heated tobacco remains low, but momentum is building," confides O'Dowd. The number of stores selling HEETS [the tobacco cartridges used in the IQOS system] has increased six-fold since January 2018. PML are now selling almost 50 times the volume of HEETS each month than it did on average in 2017.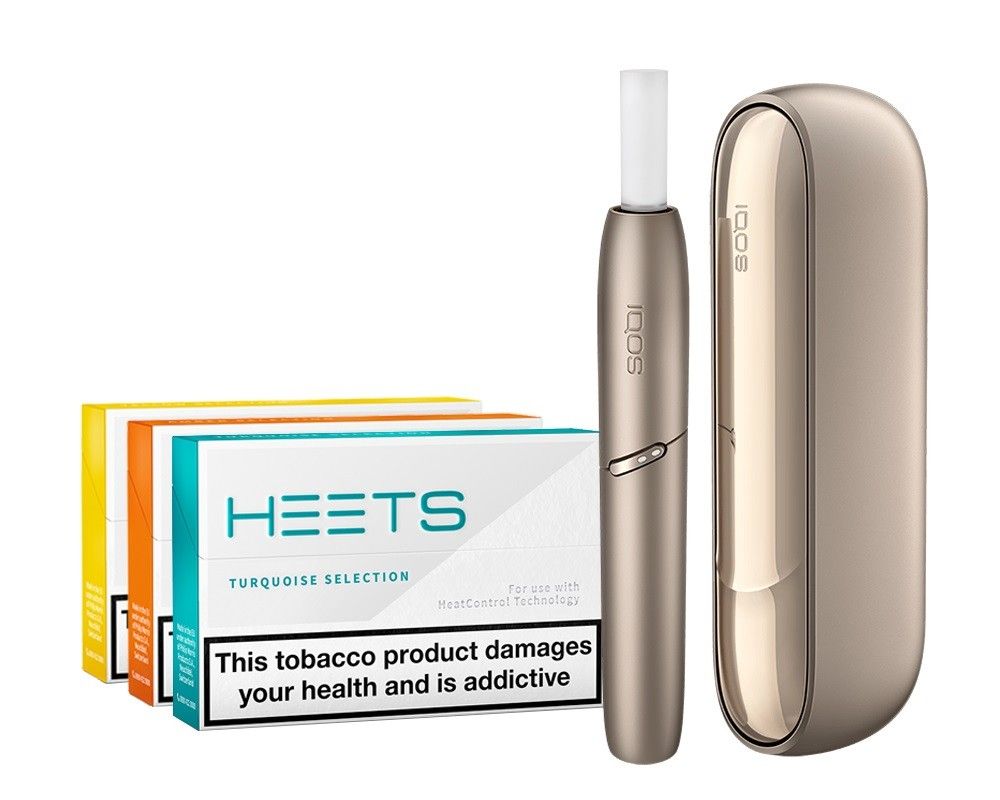 The RRP of 20 HEETS (as with Ploom's EVOs) is less than half the average price for a pack of 20 cigarettes. There are ten HEETS variants now available in the UK – ranging from menthol to traditional tobacco blends – and HEETS Mauve is PML's newest product launch:  a new variant in its that offers a crisp menthol tobacco blend with "a taste of dark forest fruits".
JTI's HNB system, Ploom, launched at the end of 2020, and was reimagined at the end of 2021, featuring a longer filter to achieve a smoother, real tobacco taste
"The new and improved EVO tobacco sticks, which have an RRP of £4.50, offer a variety of enhanced flavours ranging from tobacco, for true tobacco enthusiasts, to menthol and fruit-based flavours for a more refreshing taste sensation," says Bateson.
"Consumers are increasingly searching for flavour in the Heated Tobacco category and in February JTI launched a crisp apple & menthol variant named Ruby to cater to this demand." All of Ploom's flavours are "colour-coded" as a guide to the flavour experience, with Bronze, Amber and Green being the tobacco-tasting options.
"In addition to this," says Bateson, "JTI has also launched two new alternative variants with crush capsules, Green Option and Purple Option. These new flavours allow the consumer to discover a new taste sensation with EVO flavoured capsules. Both are a well-balanced and smooth tobacco flavour, with a subtle mint infusion that releases a burst of flavour when the capsule is crushed."
Vape to the future
In terms of the mass-market and the kinds of sales most common in the C-channel, it is notable that vapes evolved into "podmods". The modular, cartridge-style "click-and-vape" innovations from producers such as Imperial Tobacco (blu), BAT (Vuse) and Juul Labs eased entry to the category for smokers who wanted to try vaping but had no interest in mastering all the paraphernalia, as the early "hobbyists" had done with such relish. Podmods enabled vape to go mainstream, and disposable e-cigs suffered somewhat as podmods inserted new disposability into the vape sector, and more recent entrants to the category such as RELX are helping to keep the vape sector in a state of really quite rapid expansion,
Figures show that pod systems and cartridges have seen the most year-on-year growth across all channels and within Convenience. Podmods are the most popular, accounting for 7.9 per cent of volume share, vs. 4.9 per cent for "open" (that is, refillable) devices [ITUK EPOS, 52 weeks data to w/e 26/09/21].  Imperial's blu brand supplies both open (bluPRO) and closed (myblu) devices.
"One of the main factors driving the popularity of pod-mod systems like myblu is their ease of use, with the device's hassle free Liquidpods allowing vapers to switch between flavours in seconds via a simple one-step 'click and go' system," explains Imperial Tobacco's Consumer Marketing Manager, Tom Gully. "With this in mind, we'd strongly recommend including a leading pod-mod system such as myblu within the range to tap into this trend."
"We suspect closed and disposable pod vapes will continue to grow in popularity and gain traction at the expense of their open-system counterpart, due to their sleek, ultra-compact properties, affordability and convenience," says RELX's Sangiovanni.
"Every store and its customer base is completely unique so there's no 'one size fits all' approach to follow," says Gully. "But, as a general rule, we recommend stocking at least one open and one closed system from a big brand like blu. The range of devices on offer should always be supported with a strong portfolio of e-liquids. E-liquids tend to fall into four main flavour categories, including fresh, fruity, earthy and sweet, so we'd recommend stocking a range that covers all of these flavour profiles."
He advises retailers to also include a variety of nicotine strengths, including nicsalts (such as myblu Intense), to cater for all tastes: "Our best-selling variant in the myblu range is the Menthol Intense Liquidpod, so we would highly recommend this as a must-stock for all retailers."
BAT's Vype vape system changed its name and branding to Vuse last summer, and since then has carried on growing. Last December the company officially declared 2021 a "pivotal year", with an influx of 3.6 million customers in the first nine months, meaning that the company's total non-combustible user base had reached 17.1 million.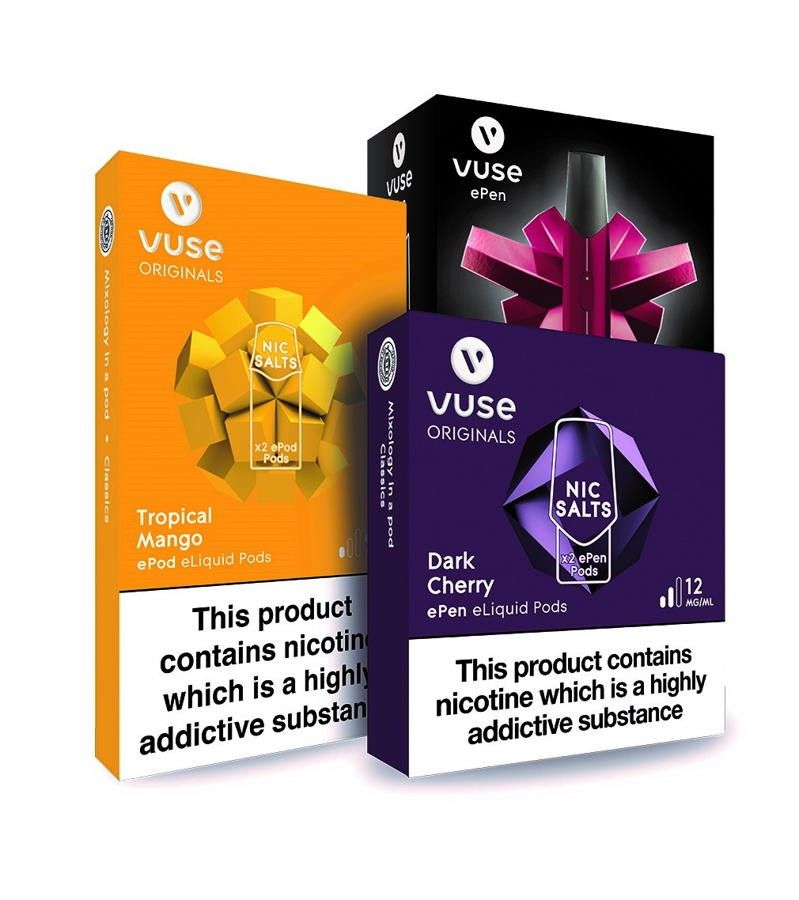 The range, including the Vuse EPen 3 and the nic-salt based EPod Pod Kit are driving sales. "It's a fantastic opportunity for retailers to further grow next-generation sales," says British American Tobacco's Head of UK Trade, Khurram Durrani. "Vuse embodies our commitment and investment in innovation, quality, safety and sustainability, not only in vaping but in every one of our products. As an overall product package for retailers, we don't believe Vuse can be beaten right now."
BAT is reportedly growing revenue by more than five per cent due to its new categories.
"By leveraging our increased scale, new categories will contribute to profit growth for the first time as their losses start to reduce, a key step on our pathway to profitability by 2025."
Strangely enough, e-cigs have made something of a comeback as more smokers enter the sector, perhaps because they resemble cigarettes in their extreme disposable nature.
Since 2008, Totally Wicked has been one of the UK's leading vape manufacturers. In 2022, the company decided to use its 14 years of experience to create the VLTZ bar. Wicked claims that most vapers will get up to a day before it reaches the end of its life (and at £5.99 would work out at about half the price of a pack of regular cigarettes). Once the battery has depleted, simply dispose of the device. Available in 10 popular flavours, the VLTZ bar is a must-have for any convenience store looking to grow its e-cigarette sales.
The innovation that helped vape to compete with HNB when it arrived was the "nic-salt" concept, a chemical adaptation that enabled vapes to deliver nicotine into the bloodstream more quickly, so they could better compete with the sensation of smoking real cigarettes.
That worked well, but now that vape is in active competition with HNB products to recruit recalcitrant cigarette smokers, the next stage of the great appeal of vaping may just have been reached with the announcement, a few weeks ago, of JUUL2 from Juul Labs.
"Following a successful online pilot launch, we are pleased to release the next-generation JUUL2 for sale nationwide through our retail partners in the UK," Juul Labs' EMEA VP, Dan Thomson said. "We have been encouraged by the number of existing JUUL users who have transitioned to the new system since launching on our UK website, and we look forward to providing even more adult smokers with an alternative to combustible cigarettes."
The JUUL2 is designed to resemble the original cigarette-smoking experience far more closely that the previous generation of JUUL vapes, and more exactly, perhaps, than most other vapes on the market.
This indicates that not only is JUUL competing in the vape sector but is also aiming at the target consumers of the HNB makers: smokers unattracted so far to vaping. That represents a potentially lucrative and large pool of new customers.
"A key part of our mission is to transition adult smokers away from cigarettes, the leading cause of preventable death in the world, killing some 90,000 Britons annually," says Thompson. "We believe the best method to switch adult smokers to a potentially less harmful, non-combustible alternative, is to provide a product that closely resembles the consistency and experience of smoking."
The essence of JUUL2's appeal is this closeness to the smoking sensation, and the distinctive feature of the new Juul Labs innovation.
"It's also critically important that alternatives can continue to compete with cigarettes, especially when it comes to the point of purchase, and with JUUL2, we believe we are taking another step in that direction," Thompson added.
In addition to the upgraded features for adult smokers, JUUL2 also strengthens Juul Labs' ability to protect against counterfeit products, striking a blow to the illicit trade market of its products – a problem caused by popularity. A new JUULpod ID feature significantly improves the company's ability to identify unauthenticated products and prevent use at the device level, and the JUUL2 Device will only work with JUUL2 pods.
"We have focussed our resources on the development of technologies aimed at transitioning smokers and combating unauthorised and underage use and we have a product roadmap in place to accomplish that for years into the future," Thomson concluded.
The JUUL2 features, which are based on feedback from adult smokers, include a more consistent vapour experience, to compete with combustibles, a larger, long-lasting battery, and a smart light system communicating e-liquid level and battery life.
The new JUUL2 pods (18 mg/mL nicotine strength) are available in Virginia Tobacco, Polar Menthol, Crisp Menthol and new Autumn Tobacco, Ruby Menthol and Summer Menthol flavours.
In sum, 2022 looks bright for the continuing expansion of the vaping market. "Vaping starter kits which come with a pre-charged vape device, USB-C charging cable, long battery life and ready-to-use flavoured pods will be the preferred choice for smokers and vapers on the go and will continue to grow in popularity throughout 2022 and beyond," concludes Sangiovanni.
Nic pouches rule!
One of the great – initially unexpected – hits of the Next Gen scene over the lockdown period has been the nicotine pouch.
A survey carried out by the Institute of Epidemiology and Health Care noted that nicotine pouch use was rare among adults in the UK (1 in 400), but that prevalence doubled from November 2020 to October 2021 (over the lockdown). The report discovered that pouch use was four times more common among men than women but less common in older age groups. Its use was also more prevalent among current smokers, recent former smokers and long-term former smokers, compared with never smokers (so non-smokers don't really ever try nic pouches). "Prevalence was also elevated among e-cigarette and nicotine replacement therapy users" said the report, implying that a variety of Next Gen product categories can appeal to individual consumers.
Nicotine pouches arrived in the UK via a tradition of tobacco pouch use, especially in Sweden (called snus), and might have been delayed in relation to vapes because the tobacco pouch is illegal in the EU outside that country, and also still illegal in the UK.
But the way around it was for producers to develop the tobacco-free (or "white") nic pouch, containing only nicotine within a harmless organic-based wad of cotton or similar, held between gum and jaw, delivering the hit without the harm.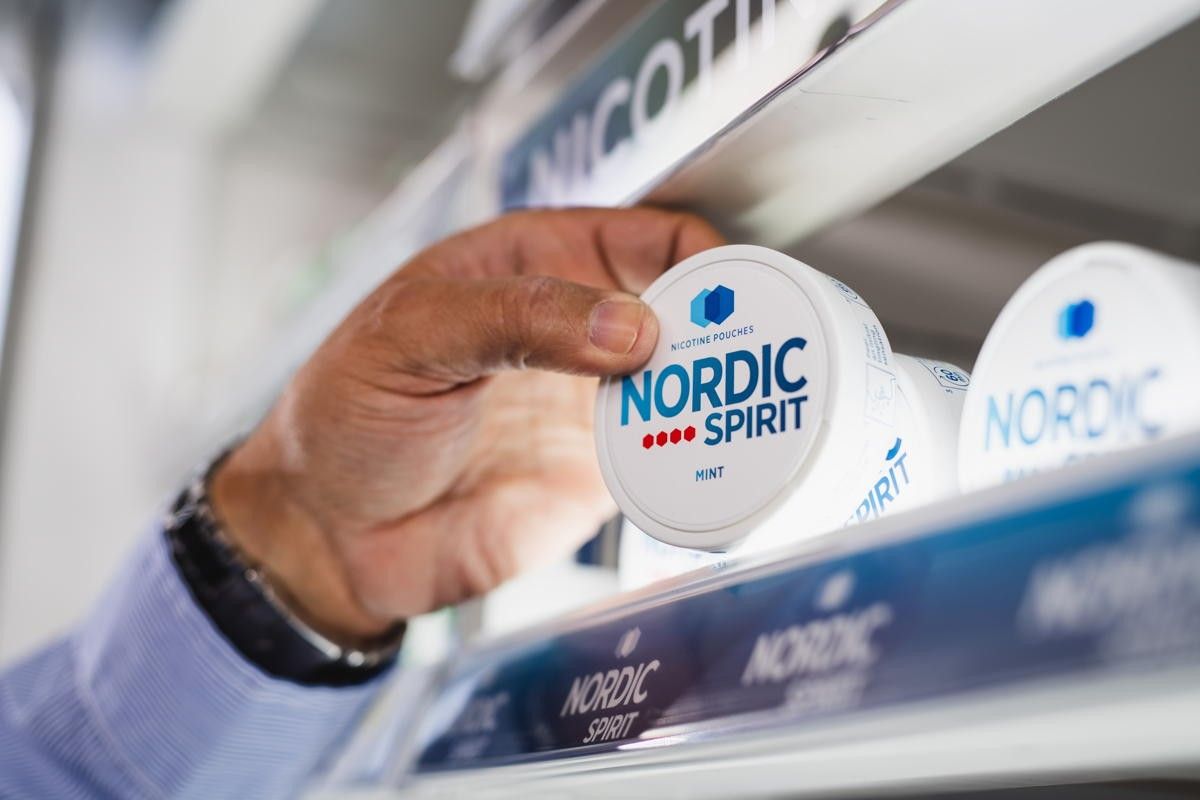 Nic pouches are less noticeable than chewing gum, giving them great advantages in ease of use in a variety of situations (indoors and in meetings, for example, as they are undetectable, unlike vaping or HNB-ing), especially useful now lockdown is behind us.
"Returning to 'on-the-go' lifestyles, we know these convenient and discrete pouches appeal to existing adult smokers and vapers who find themselves in situations where they cannot, or do not want to, smoke or vape – making them a must-stock for retailers," explains Bruce Terry, portfolio brand manager at JTI.
The main brands to have established themselves in in a rapidly-growing UK market are JTI's Nordic Spirit, BAT's Velo and Zyn, by Swedish Match.
"The 100 per cent tobacco-free nicotine pouch category is growing at a phenomenal rate and is only predicted to escalate further over the next 12 months," says Terry, adding that despite being a relatively new category, the Nicotine Pouch sector has seen strong growth in the UK throughout 2020 and 20211 and is now worth £2.2 million a month in revenues and growing to approach £26.9 million a year.
He says that a key trend within the nicotine pouch category is the continued demand for higher nicotine strengths. "Strong and Extra-Strong now make up 72.6 per cent of nicotine pouch sales and Extra-Strong is the fastest growing strength."
Again, this demand for more strength hints that traditional smokers are entering the market: "Extra-Strong pouches are likely to be the top strength category of 2022 if their popularity continues, so we advise retailers to provide a good choice of products in this segment."
In anticipation of this, Nordic Spirit recently expanded its portfolio with the launch of a new Spearmint flavour and a new Extra-Strong nicotine strength for Bergamot Wildberry. The new launches are both available in an Extra-Strong strength to reflect the growing demand for stronger variants in the nicotine pouch category. The latest variants will help retailers provide a range of options for customers seeking a stronger nicotine experience.
Mint is particularly popular (menthol tobacco having been banned by EU edict) and demand has soared within the category, with the Nic Pouches market currently split 77.6 per cent menthol and 22.1% fruit, according to Terry. "To keep ahead of this growing trend, retailers should ensure they always stock a range of flavours within the higher strengths," he advises.
Terry says that recent data shows 54 per cent of pouch consumers use other flavours regularly besides their favourite – so stock all of them. It's also useful to start new customers on lower strength pouches.
Last October, BAT launched its VELO nicotine pouch brand in the UK. "These products come in a range of different flavours and nicotine levels, designed and created to become market leader in this emerging category. We designed these tobacco-free pouches to be the easiest, most convenient nicotine pouch at our consumers' disposal," British American Tobacco's UK general manager, Fredrik Svensson, says. "There's no mess, no smoke, no smell, which means VELO can go absolutely anywhere with you."
VELO is already the number one nicotine pouch in Scandinavia, according to Nielsen data and, in further proof of this sector's growing importance, the company announced that it has also acquired the US pouch brand, Dryft.
Zyn, meanwhile, has recently added the Tobacco Gold flavour to its range, available in medium (3mg) and strong (6mg) strengths.
Swedish Match says its product was particularly developed for consumers who may not have previously considered nicotine pouches, due to preferring a tobacco taste over the current selection of flavours available in the market.
Tobacco Gold has a sweet tobacco flavour, reminiscent of dried fruit, wood and caramel and addresses the demands of consumers, as tobacco has become the most desired flavour in the category.
"We're delighted to be the only major brand to supply tobacco flavour nicotine pouches as we've seen this to be the most desired flavour for users," Darren Griffin, country manager of ZYN, said.
Next gen, next steps
Slowly, vape, HNB and nic pouches will displace the traditional smoking products, and no doubt at some point in the future the |UK will become smoking-free.
When that day will com e depends to a great extent on how quickly c-store retailers, who sell a disproportionate 45 per cent of smoking products, persuade and educate their customers to switch to Next Gen smokeless products.
We know that revenue and products are vastly enhanced by having knowledgeable staff help customers to be informed about products that can help them transition from cigarettes, but the channel needs to be aware that it can improve its educational role, which is still lacking in certain respects.
A recent study by new study by the UK Vaping Industry Association's (UKVIA) revealed that very few stores are helping smokers who are looking to switch to vaping with quality advice.
It revealed that only 1.1 per cent smokers looking to switch to vaping for the first time received quality advice from the convenience store while on the other hand specialist vape retail stores were main sources of advice for 48 per cent of smokers.
Vape specialists have many disadvantages compared to c-stores in terms of locations and opening hours, and much custom diverted from them to convenience under the lockdown, when the specialists were compelled to shut up shop.
But independent retailers should concentrate more on gaining the kind of useful knowledge they can impart to wavering smokers if they truly want to increase revenues from next gen sales: of the current vapers interviewed by the UKVIA, 57.4 per cent said that advice was instrumental in them quitting their smoking habits.
But in terms of quality of advice, 54.4 per cent of those who had bought their first vape from a specialist vape store said that the support they received was extremely informative and supportive, just 14.8 per cent who purchased at convenience stores.
"The whole retail sector has a key role to play in advising smokers on a successful switch to vaping which is considerably less harmful than smoking," said John Dunne, director general of the UKVIA, said. "However, our research suggests that convenience stores and supermarkets could do a lot more to support smokers who are considering transitioning to vaping."