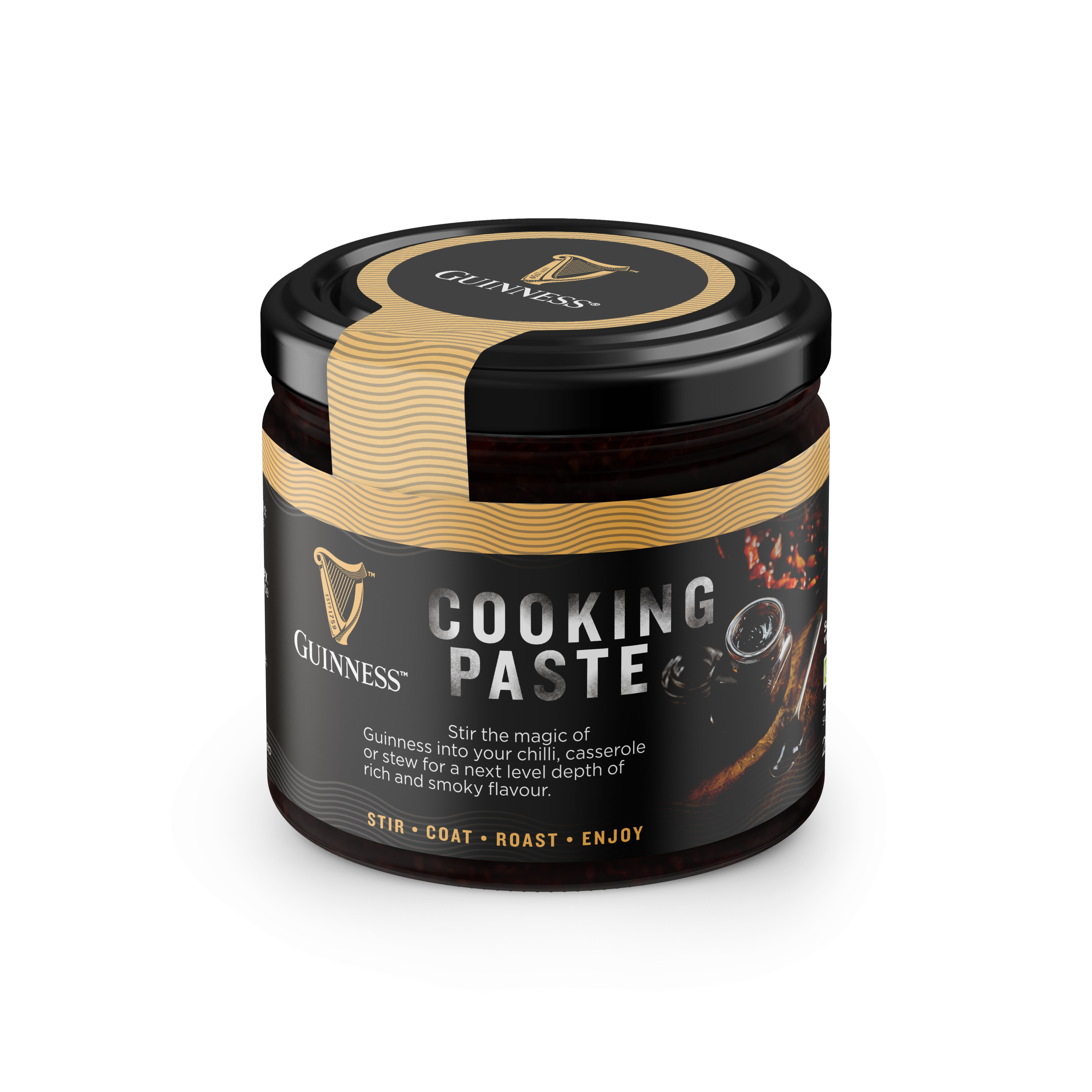 The Flava People has teamed up with drinks company Diageo to launch "Guinness Cooking Paste".
The new cooking paste is the perfect blend of Guinness, honey and soy; designed to be the "secret ingredient" to bring favourite meals to life.
Targeting the "wet herbs" shopper and placing itself firmly in the herbs and spices aisle, the Guinness Cooking Paste is aimed at the "Lazy Garlic" or "chilli paste" consumer – people who enjoy experimenting with home cooking but rely on base, easy-to-use ingredients to create intense foodie flavours.
Dubbed "the beer of taste" and loved by chefs across the world, Guinness adds a recognisable malty, smoky flavour to this premium, sweet paste. A versatile add-on for a variety of meal types, the paste is suitable for vegetarians and can be used as a stir-in or as a rub for meat and vegetables.
"Guinness is a beer with a unique standing in the world of food and has been associated with hearty home cooking for a long time now," said Olivia Parkes, Brand Manager for Guinness at The Flava People. "This new paste is designed to expand shoppers' relationship with Guinness and food – providing a more premium and versatile experience, while remaining easy to use."
Recent data by YouGov showed a rise in home cooks during the last year, and many people are now cooking from scratch, of the 93% Brits who claimed to prepare meals at home, as many as a third say they are cooking meals from scratch five times or more per week.
Olivia added: "Now we are looking for more meaningful foodie experiences in our homes to bring people together; from restaurant cook-a-longs to preparing meals from scratch for friends and family, dining in is the new dining out. Consumers are braver than ever with flavour and are always looking for new ways – and products – to take their dine-at-home experience to the next level."
The Guinness Cooking Paste comes in a fully recyclable glass jar (200g) at RRP £3.00.
The paste is part of a wider launch between The Flava People and Diageo, being one of 10 new products launching over the next six months to include sauces, rubs and more, and available to order for convenience and independents.
In June 2021, The Flava People launched three stir-in Guinness mixes nationwide. The vegan hearty recipe mixes comprised of Steak & Guinness Ale Pie, Chilli Con Carne and Sausage Casserole, RRP £1.00.