The evening of 9 February 2021 saw the first ever virtual Asian Trader Awards, hosted by Rory Bremner and with contributions from Prime Minister Boris Johnson and Mayor of London Sadiq Khan.
The Prime Minister wrote that, "The past 12 months have been an unprecedented time for independent retailers. As you well know, retail is already experiencing a transition as it responds to market pressures and I sincerely appreciate the tremendous effort you have made in adapting and innovating during the pandemic."
He noted the heroic feats of independent retailers not just over the past year but in general,acknowledging that, "Independent retailers play a vital role in our communities, acting as hubs for local people and having a positive impact on the communities they serve.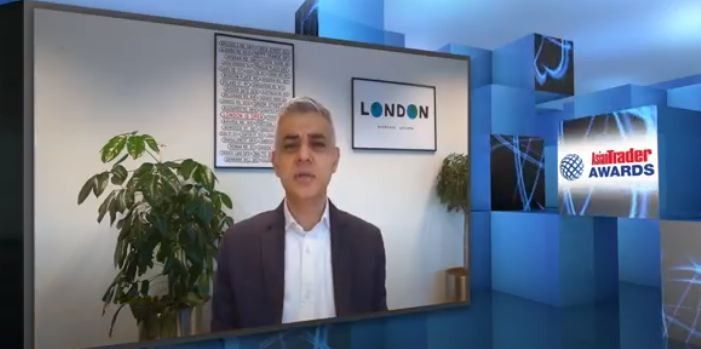 The Mayor of London joined the awards and also highlighted the leading role that convenience has played in the pandemic drama: "Despite restrictions, local stores have worked incredibly hard to remain open to their communities and stocked with essential goods. They have been lifelines for many people without the means to travel by car and have helped reduce demand for public transport by enabling people to buy everything from food to cleaning products nearby."
He concluded, "As the Mayor of London I would like to say a big 'thank you' for your hard work, community spirit and selfless actions."
Rory Bremner, such a good and long-time friend to Asian Trader and Asian Media Group, explained how this year had been particularly taxing for the judges, who were forced to decide upon winners across an incredibly strong and well-deserving short-list of retailers who had truly gone "above and beyond" their duty in every respect.
Ram Solanki Editor's Award
Kalpesh Solanki, Group Managing Editor of AMG, introduced the first award of the evening, named in honour of Ramniklal Solanki, father of Kalpesh and Executive Editor Shailesh and founder of Asian Media Group, now in its 53rd year. Ramniklal died almost a year ago, and the award was renamed in his honour.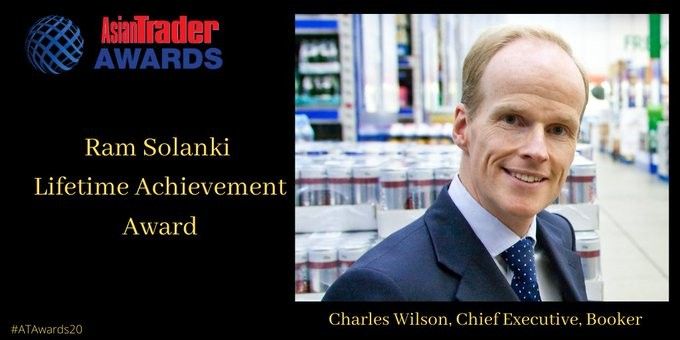 This first Ram Solanki Editor's Award was presented to the retiring CEO of Booker, Charles Wilson, whom Kalpesh honoured as "that rare breed of an individual – an astute corporate leader who combines a genuine human compassion with practical hard-headed business acumen."
"I'm really touched and it is a huge honour to receive this award because your father, Ramniklal, was a personal inspiration," said Charles.
He added: "Running Booker is a team effort. It's in partnership with the retailers that we do a good job. I am very touched, very grateful and very humbled."
Wholesale Depot of the Year, supported by JTI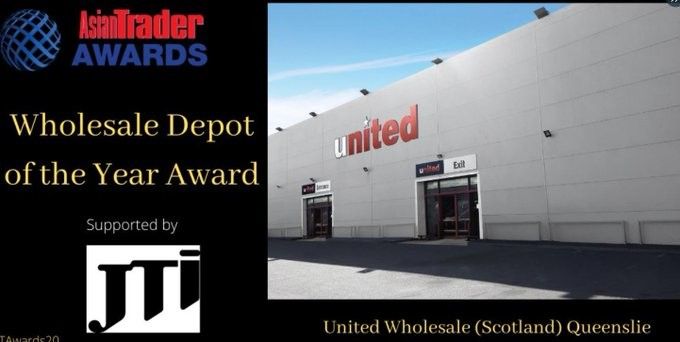 The first Asian Trader Award of the night was presented by Steve Dyas, Convenience and Gas Director, JTI, and the winner was United Wholesale's (Scotland) 170,000 sq ft Queenslie branch, which re-launched in 2019 with a revolutionised customer experience using state-of-the-art video technology and aninterconnected app and depot system, giving us a glimpse of the future of wholesaling. It was given to Asim Sarwar, Executive Chairman who said he was "absolutely delighted" and that they had been on a journey to create the first digital depot and the "blueprint for what a future depot should look like."
Convenience Chain of the Year
Rory Bremner presented this new, special award for a retailer with over three stores, and which recognises the entrepreneurial flair now very much prevalent in the sector.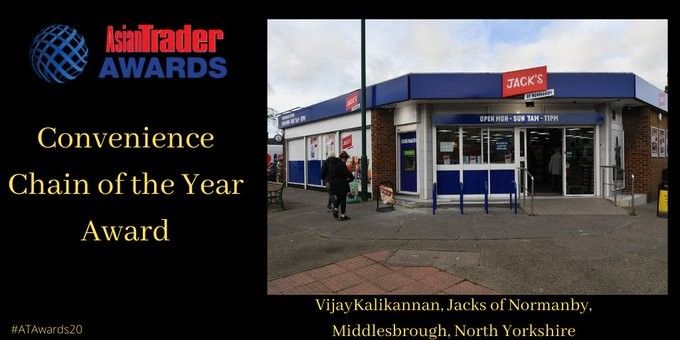 It was given to Vijay Kalikannan, who came to England in 2003 to study for an MBA, worked in Sainsbury's, bought his first store in with very little capital but whonow owns and operates nine stores in the North East, including the first independent Jack's.
Next Gen Award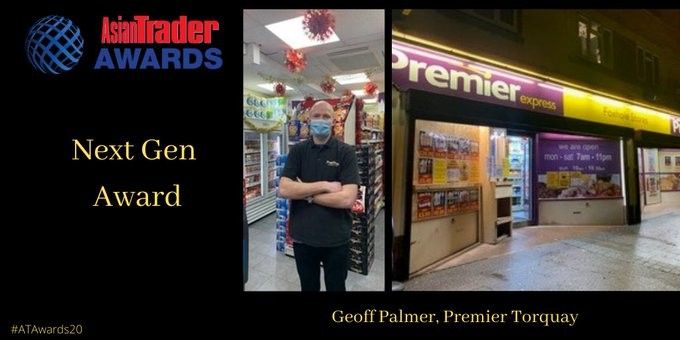 This award was introduced to recognise the way in which convenience has begun to be carried on and expanded by the daughters and sons of those who originally built up the sector in previous decades. It was presented by Asian Trader's Brand Champion, Shefali Solanki, to Geoff Palmer of Premier Torquay who is also, like his father, a farmer but still manages to run three stores, presumably on very little sleep.
Bakery Retailer of the Year Award, supported by Warburtons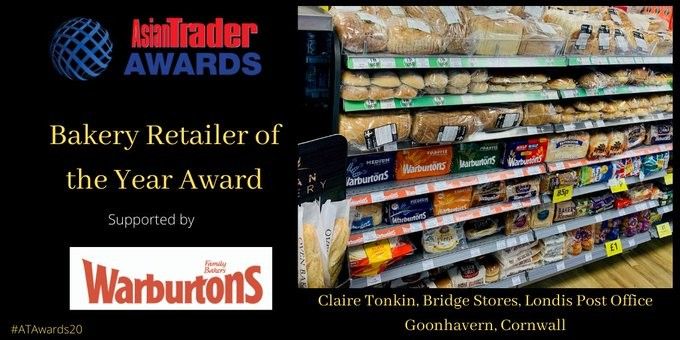 Always hotly contested, this year's prize was presented Brett Warburton to Claire Tonkin of Bridge Stores in Goonhavern, Cornwall, who returned home from university to what was had been a derelict village store – now utterly transformed, with locally-baked cakes, hot waffles with Cornish ice cream, traditional pasties and pizzas – and even milk on tap. It's a go-to destination for anybody driving by.
Impulse Retailer of the Year Award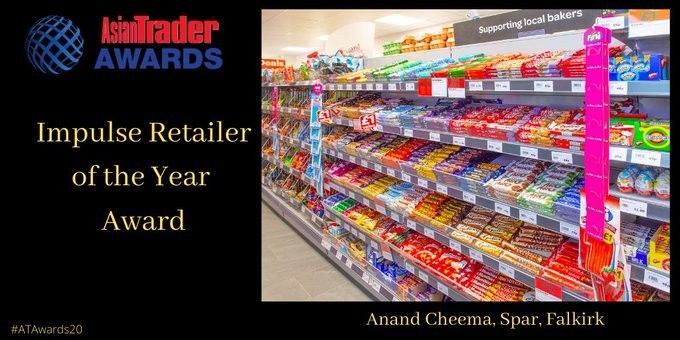 Dawn Butler, MP for Brent Central and the former Shadow Secretary of State for Equalities, introduced the nominees and announced that Anand Cheema of Spar, Falkirk as the winner of the Impulse Retailer Award. He had been warned off retail by his parents but said it was in his blood. Anand's Spar in Falkirk is immaculately merchandised and he has made it a whisky hot-spot for connoisseurs, even selling several vintage bottles for £2,500.
Food-To-GoAward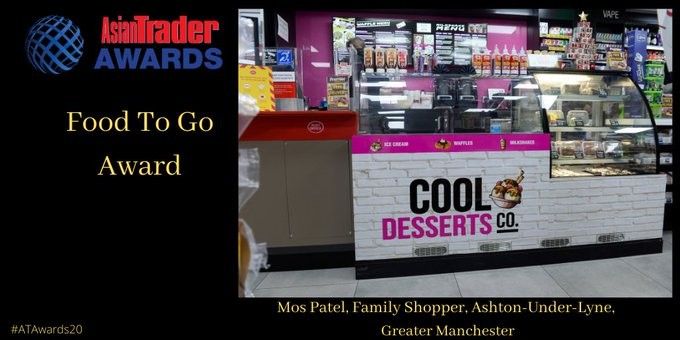 This fast-growing category in convenience had been knocked a bit sideways by the lockdown and the disappearance of commuters, but retailers have taken the bull by the horns and expanded their offering for those stuck indoors. Rory presented the award to Mos Patel, of Ashton-Under-Lyne, Greater Manchester, who had even built up a fleet of "fully green" cars for home delivery, and services local businesses with lunch.
Independent Retailer of the Year Award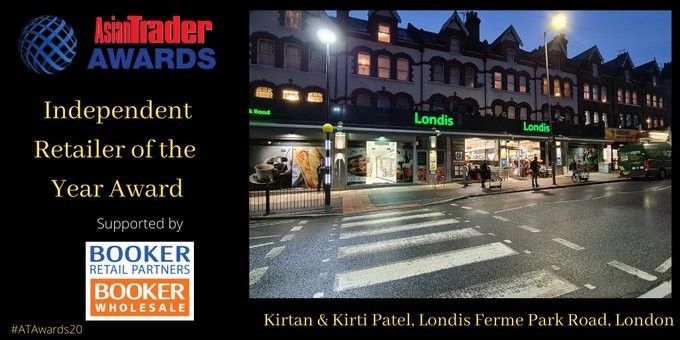 For this award, Asian Trader welcomed Colm Johnson, Managing Director, Booker Group – Retail, to present the prize, to brothers Kirtan & Kirti Patel, Londis Ferne Park Road, London, whose family store has been a neighbourhood landmark for 42 years. They were a pillar of the community during the pandemic and operated a donation scheme for the vulnerable in the area. The store has expanded, is immaculate and has a finely-curated collection of wines and craft beers.
The Local Hero Award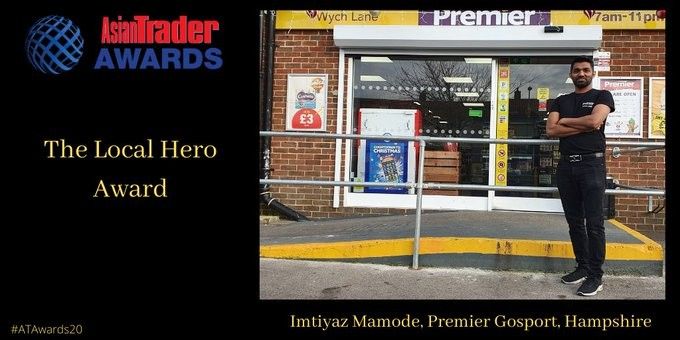 Acknowledging the role played by store-owners during the pandemic, the Local Hero Award featured nominees who had all responded in the most innovative and magnanimous manner for their customers and community. It was presented by MP for Brent North, Barry Gardiner (or "Bad Ass Baz" as Rory called him) to Imtyaz Mamode of Premier Gosport in Hampshire, who had even made use of the (closed) nearby pub's kitchen to cook meals for the vulnerable in his community.
Vape Convenience Retailer Award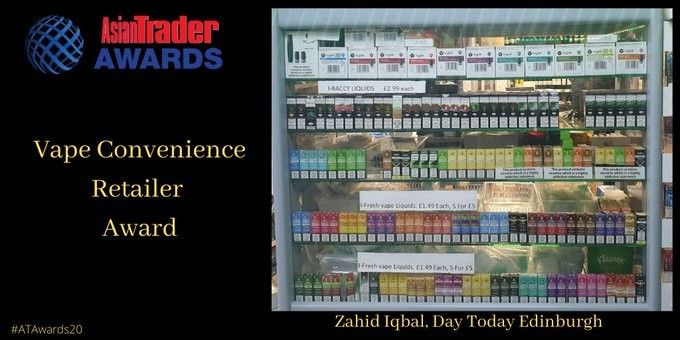 Asian Trader editor Andy Marino presented in this up-coming and thriving convenience category, which particularly rewards retailers who use their initiative and knowledge to transform their stores into profit-centres and vape hubs in the community. The award was won by Zahid Iqbal of Day Today, Edinburgh, who is known as the Vape Expert and the man to go to for every piece of advice, getting calls from as far afield as Africa. His margins are legendary.
Spirit of the Community Award supported by Mondelēz International
Perhaps the most difficult of all the awards to judge, this year we again arrived at two thoroughly deserving winners, presented with their awards by Mark Stananought, Sales Director, Impulse Channel at Mondelez International.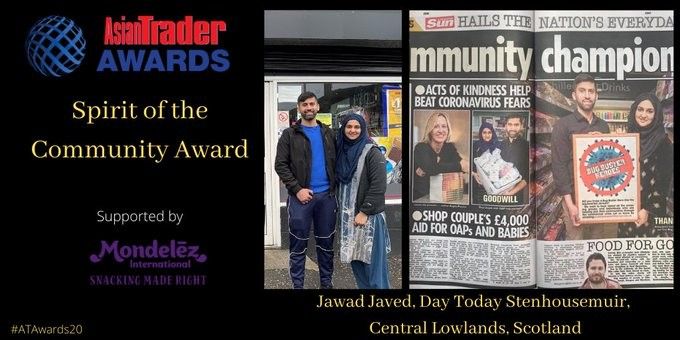 The first winner was Day Today, Stenhousemuir husband and wife Jawad and Asiyah Javed, who have owned their store just four years but have already become the tent-pole of their community, giving out PPE, delivering food parcels to the needy and their own Happy Meals (after the fast-food place closed) to local children during lockdown. At one point all the emergency services parked outside the store and applauded them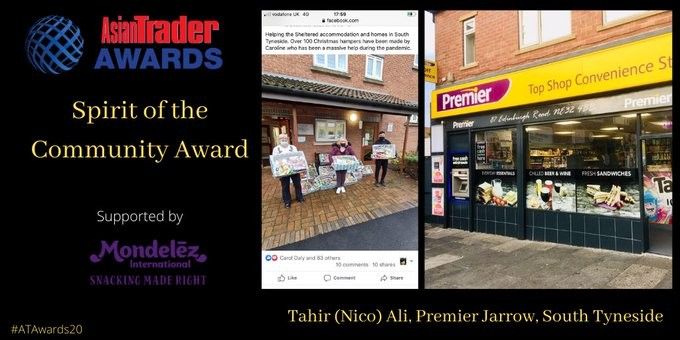 The second Spirit of the Community winner was Tahir Ali of Premier, Jarrow – a true unsung hero and the bedrock of his local community. He provided food parcels and hampers to hospital staff, suppliedfood banks and even drove hundreds of miles to ensure his customers could get essential supplies of pasta, hand sanitiser and toilet rolls when they were shortages. He even delivered birthday cakes and signed football shirts for the local children.
Shop Safety Best Practice Award
A special award born out of the pandemic, because we wanted specifically to acknowledge the hard work and persistence of independent retailers in upholding the rules of hygiene and social distancing, often in the face of non-compliance and even abuse from impatient customers.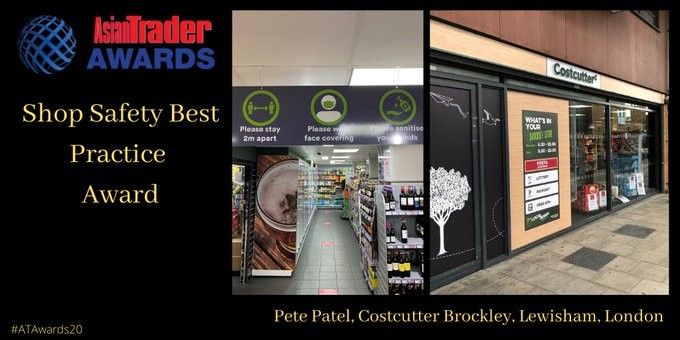 Muhammed Butt, Leader of Brent Council, gave the award to Pete Patel of Costcutter, Brockley, and Rory told us howcustomers had praised Pete's outstanding service, including a safe-for-food misting machine, and even the "bouncer" he put on the door, counting people in and out.
Asian Trader of the Year
"And now for the big one," said Rory, handing over to Mayor of London Sadiq Khan to present the award to Anil Patel of Costcutter in Chislehurst, Kent.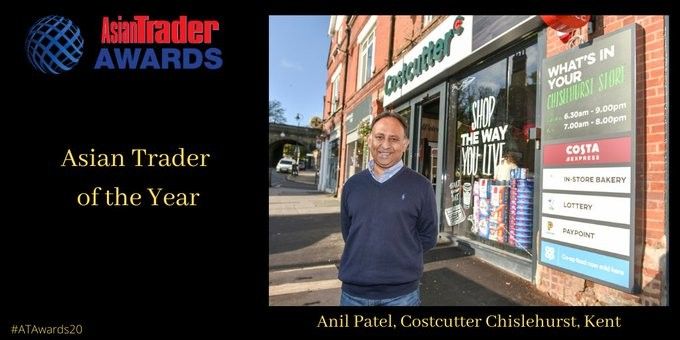 Anil's store is an integral part of the community and has been in  extended family ownership since 1985. It is a sumptuous storeof beautiful floors and high ceilings with bright, luminouslighting. With over 30 metres devoted to fresh and chilled produce, the store's footfall has increased by over 35 per cent and weekly turnover has more than doubled since a recent refit.
There is also a fabulous wine and spirit selection and wonderfully curated aisles for 300 craft beers.
A visit to Costcutter Chislehurst is not a shopping trip so much as a pleasurable outing that can lift your day.
In Rory's words,  "It is a jewel of a shop and Anil is a genie of a retailer."
HERE'S TO THE NEXT TIME
Service has only been briefly interrupted due to the pandemic, and we fully expect to see all of our lovely retailers in person, in London at a top-notch hotel with top-notch food and entertainment for this November's Asian Trader Awards – all as normal.
Has there ever been such a beautiful word as "normal"?