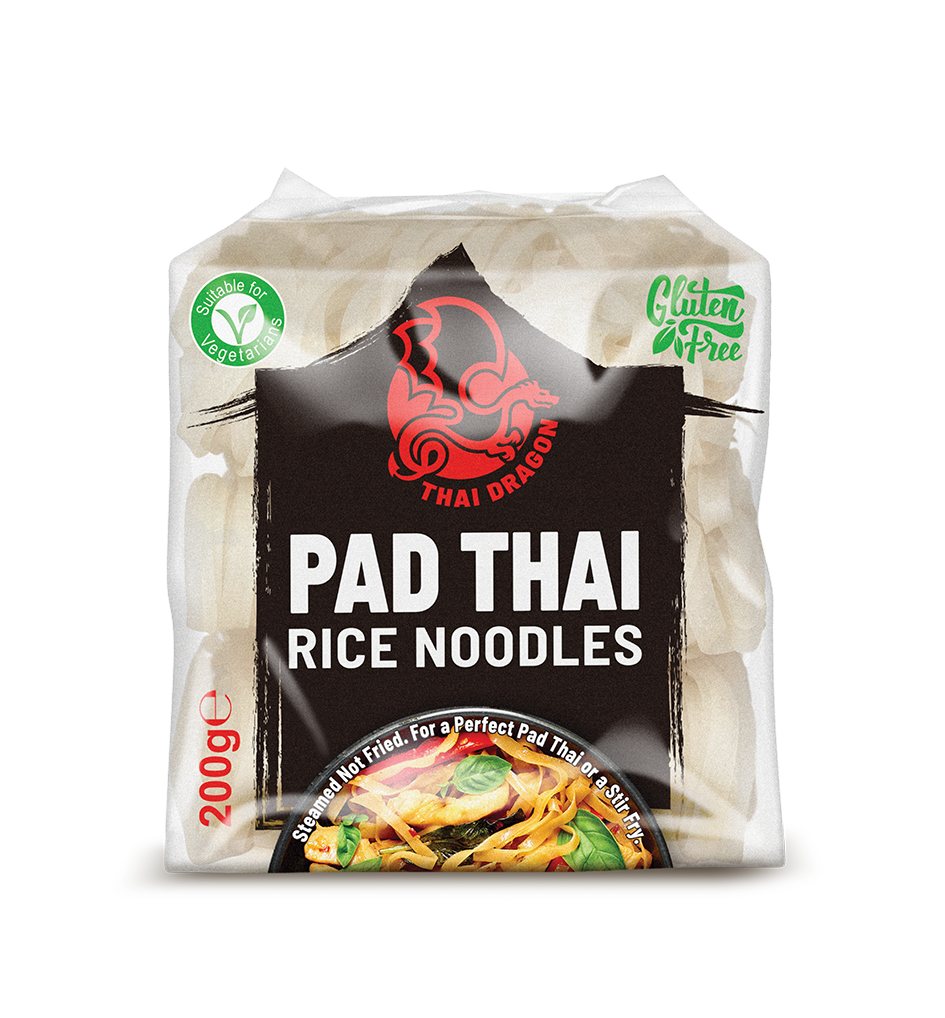 Thai Dragon has sets its sights on becoming market leading authentic Thai brand as it enters the noodles category with a traditional steamed offering.
The newly launched Thai Dragon brand has expanded into noodles with two new lines this week.  It follows impressive sales growth from the brand which sits at almost £5 million since its launch last year.
Its latest gluten-free range of rice noodles is ideal for creating traditional Thai dishes at home, such as Pad Thai or other classic Thai-style stir fries. The new lines are made using traditional Thai methods, steamed and not fried, for an authentic Thai taste experience.
The range is available to independent retailers via Surya Foods online wholesale catalogue.
The Thai-inspired range kicked off in January 2020 with a trio of Thai Snacks. These were soon followed by a five-strong line-up of Thai-inspired sauces, including Thai Dragon Sriracha Hot Chilli Sauce Original; Thai Dragon Sriracha Hot Chilli Sauce Wasabi Flavour; Thai Dragon Black Fire Extra Hot Chilli Sauce; Thai Dragon Sriracha Chilli Mayo Sauce (vegan) and Thai Dragon Sweet Chilli Sauce. Thai Dragon Soy Light and Dark Soy Sauces were added  in July 2020.
The brand achieved Tesco listings for each launch, as well as hitting the shelves of independent retailers across the UK.
Its move into the market comes at a time when more and more UK consumers are learning how to prepare their favourite international dishes at home due to lockdown restrictions.
"Our newly launched Thai Dragon brand has got off to a fantastic start – achieving almost £5m in sales since its launch last year," said Surya Foods Managing Director Harry Dulai. "At the moment the buzzword in pricing is all about EDLP (everyday low price) – especially as UK families affected by the current pandemic start to feel the squeeze on their finances."
The Thai Dragon launch is being supported by a contemporary consumerfacing website and a social media campaign titled #ridethedragon which includes consumer competitions and online giveaways. The brand is also working with online social media influencers to reach its target audience.