A special category born out of the pandemic, Shop Safety Best Practice Award at the 31st Asian Trader Awards has got deserving winner in Pete Patel, whose efforts represented the epitome of the hard work and persistence that independent retailers have shown in upholding the rules of hygiene and social distancing.
And, it has indeed been a rare honour as this was the second consecutive win for Pete at Asian Trader Awards, after bagging the Bakery Retailer of the Year award in 2019.
While the new category has seen strong contenders, reflecting the serious commitment of independent retailers in fighting the pandemic, Pete's safety practices have been simply outstanding, whether it's the 'bouncer' on the door counting customers in and out and sanitising all baskets or the regular use of a safe-for-food fogging machine.
"As soon as the Covid situation started to happen, we put Perspex screens up straightaway for our staff at the tills and we've got hand sanitiser units all around the store for the customers," Pete explains.
They put a one way system in, allowing only 15 shoppers in store at a time, and also a queue management system as well, which has attracted praise from his new and old customers alike. "We actually had a member of staff standing on the door all day, not only to limit the number of people coming in, but to sanitise the baskets and trolleys and stuff," he says.
With hygiene a main priority, they have also invested heavily in a fogging machine to regularly disinfect the store. "We got a fogging machine which is a machine that kills 99% of bacteria and viruses and once a week we would walk around the shop to spray the whole shop with this fogging machine," he adds.
They had lots of display stands all over the floors which were all removed to give people more space to walk around, making aisles wider for social distancing. They also switched deliveries as late as possible so the shops were being filled over night time rather than the day, thus avoiding staff and customers mixing all the time. Deliveries went directly to a warehouse, which again meant wider aisles for people to social distance.
"We increased obviously our cleaning, which we're still doing now, so all the touch points would be washed every two to three hours: the fridge door handles, baskets, key pads (of card machines), and anywhere people were touching quite a lot. We were making sure they were all wiped all the time, trying to stop this question of contamination," he says.
He also ensured that customers could get everything they need for a full shop. At the height of the pandemic, they even hired vans to collect stock from suppliers who were no longer able to deliver. Key items were restricted to three per customer – "no prices were ever inflated," he adds – including masks. When hand sanitizer was hard to find, he worked with their supplier to offer customers a refill station where they could bring empty bottles and refill them in-store.
"We offered free home deliveries to vulnerable and elderly customers. NHS workers offered 10 per cent discount in-store," he adds.
Safety, still in place
Pate has five convenience stores, all under Costcutter fascia, and a Bargain Booze outlet. He has ensured that staff at his stores were taken care of, when it comes to their safety.
"Our staff have gone above and beyond, coming in every day even at the height of the pandemic. We ensure all staff are provided with all PPE equipment including masks, visors and gloves. Any staff that had to travel on public transport we were paying for them to travel by Uber so that they didn't have to use public transport during the pandemic," he explains.
Pete also ensured that they have been rewarded throughout the pandemic for their hard work with regular bonuses.
He has taken these measures at all of his stores, and many of these are still in place even after the pandemic restrictions are ended. "The cleaning schedule is continuing. The screens are still in place, hand sanitisers are still in place. We're still supplying all the PPE for the staff. We're asking the staff to still wear masks. We've still got posters up asking the customers if they can to wear a mask but we're not enforcing it," he explains.
The mask rules were often a source of contention in many a store, especially when the government made them mandatory, sometimes leading to abuse, and even violence, against shop staff. Pete, however, says their customers have been very respectful of the staff and other shoppers.
"The way we approached the customers, obviously customers that were not wearing masks, we just asked them politely and said' look if you can, wear a mask, or if you've forgotten a mask, we have a mask', and we offered them a disposable mask for free," he explains, adding that they never actually had an issue where people, saving the one or two, are not happy or wouldn't wear it.
"Most of the time what we found it wasn't people didn't want to wear it. People were not used to bring it on with them at the beginning. So we used to just have a box of masks available to customers and then we offered a mask and if they said 'oh no I can't wear it' then obviously we let them carry on," he adds.
Pete believes that shoppers now expect better hygiene standards at stores. "I think it's important that they feel confident when they come into the store: they can see the standards are high, they can see the baskets are being wiped every time, and it's not overcrowded," he says.
In fact, at some of the smaller stores, he has still kept the one way system in place.
Sustainable steps
Pete is also a pioneer in sustainability and zero waste who makes sure to move away from pre-packed fruit and vegetables and introduce packaging refill stations for store cupboard essentials whenever he does a refit to his stores.
At his Brockley, Lewisham store, they now use recycled paper bags for loose produce, that are much in demand as many of the customers live in shared housing or flats and don't prefer  big bags of produce. They have also introduced specialist bags for organic cooking ingredients, nuts and pulses and all are sold in biodegradable packaging.
The Southborough, Tunbridge Wells store, opened in September last year, has a refill station, which is now dutifully supported by the shoppers. "During the pandemic, it wasn't too fast because obviously people weren't happy with open, they weren't open, there's a seal, but people were handling stuff. They were a bit concerned. But since the turn of the year, it's picking up nicely," he notes.
His latest store at Meopham, Gravesham , which is scheduled for a full refit and expansion in December before re-launching in January next year, will also have the refill station.
Pete takes a meticulous, data-driven approach to store refurbishments, and thoroughly researches the area and demographic. When he did the refit of his Brockley store in 2018, he carried out a couple of surveys, one inside the store and one of customers that were not visiting the store, in addition to the data on their customer persona from Costcutter's Shopper First programme.
The independent survey revealed that they weren't offering enough promotions, pricing was too high and there was a demand for a more extensive vegan offering. They did the refit based on the feedback, creating designated vegan spaces throughout the store, in chilled, ambient and frozen categories. Vegan sales would double after the refit, with the store becoming the destination for vegan foods in the area.
At Southborough, he worked with Costcutter's store development team to convert the site into a modern convenience store offering shoppers a wide range of fresh food and the option of doing a 'full shop' closer to home. The 1600 sq ft store achieved 200 per cent of its sales target in the first week itself.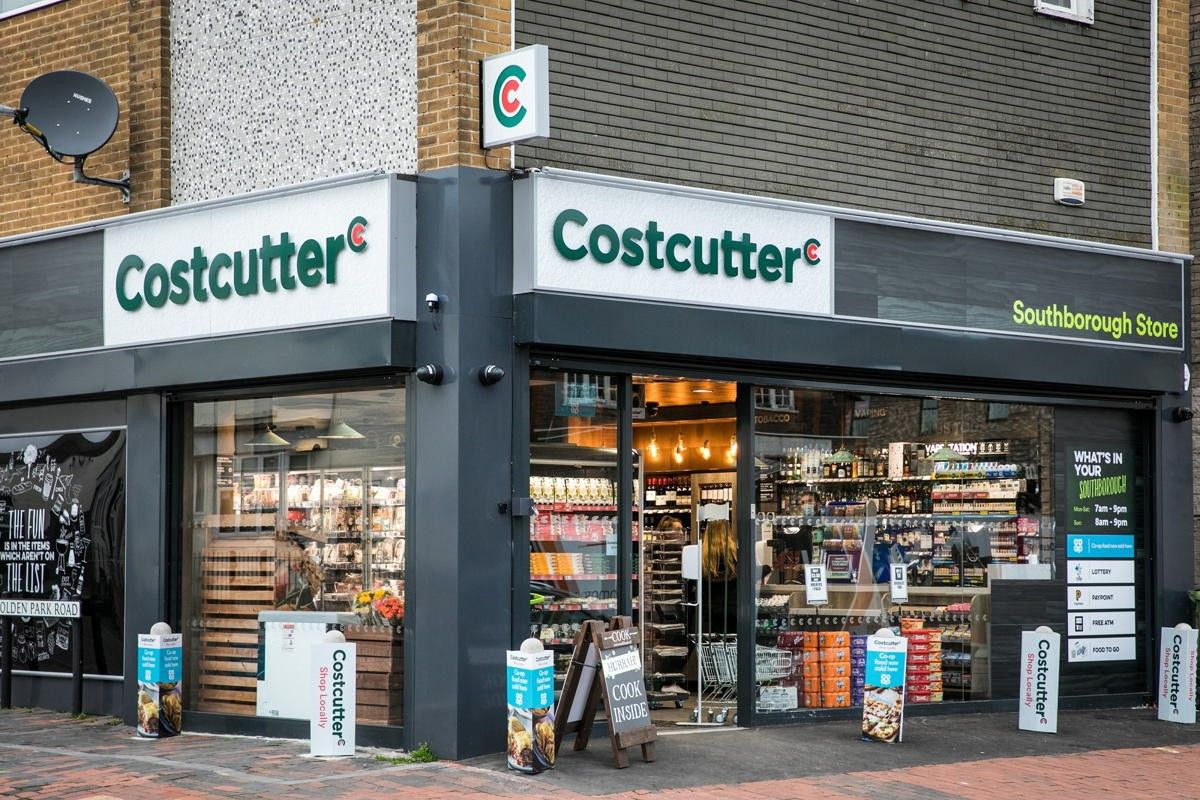 And he hopes to do an encore at Meopham.  "Its complete refurbishment, we're doubling the size of the shop (currently 900 sq ft) and then it's going to be a total rewire. Everything is going to be brand new."
Ready meals will be a focus of the store, as the Shopper First programme has pinpointed Younger Tonighters – looking for fresh easy meals to go – representing a fair share of all shopper personas.
Pete notes that, generally, more people are eating at home now, and their visits to restaurants have slowed down. Alcohol sales are also on the rise as people are staying away from crowded pubs. Across his stores, he is taking steps to tap into these opportunities.
"We're just making sure that we cover more of those requirements. We notice more people are going into premium wines than the basic ones. We've just increased our premium range. Where we can, we try to get the COOK frozen meals in," he says. "Because what we're noticing [is that] the customers are quite happy to come in for a COOK meal and a bottle of wine."
Finding chinks in multiple's armor
Alongside looking at what the requirements are in the area, Pete also makes sure that he looks at what the competition is doing. And if it's a multiple competition – Tesco is just four doors away from the Meopham store – he will be looking more at what they're not doing good at.
"We will concentrate on that because we know we can compete on what they're not good at," he says. "We're not going to affect their business. We're not going to close a Tesco down. But I feel there's enough market share for all of us to have enough trade."
This is a tried and tested formula for him, something he did splendidly at this Brockley store, which has two Sainsbury's, a Co-op and independently owned convenience stores all within walking distance. Each of the small sections they introduced as a point of difference, be it the vegan range or the craft beers, they had to later increase as departments. The store's vegan range has become so extensive and successful, it prompted the local Sainsbury's store to reduce their vegan offering and direct shoppers to them instead.
He is planning to do more food to go at Meopham, with a deli counter and all. "It's not just standard food to go. We're going to push cheeses and stuff like that. Again, it's something that the Tesco doesn't do. It's different to what they're doing," he notes.
Pete also picks a lot of ideas from across the pond. "I do a lot of research online and a lot what's going on in the US and Canada. Especially the food to go areas like the milkshakes and stuff, I just see what's coming there," he says.
While food to go sales generally went down last year as a result of the pandemic restrictions, Pete observes that the sales are now back to pre-pandemic levels. On the other hand, overall sales are down on last year when compared to the peaks of last year (their weekly sales at Brockley rose from £40,000 to £120,000 at the height of the pandemic!), but still on average 20 per cent up on the pre-pandemic levels.
They are also resuming their community engagement activities this month, with a barbecue event at the Southborough store. "A local butcher is going to get involved and all the money we raise, will go to the chosen charity (Macmillan Cancer Support).
He believes home delivery, which picked up pace during the pandemic, is going to be an important part of the business going forward. They only have it in one store presently, but his aim is to create their own platform once they expand the service to one or two more stores.
Follow the trends
Pete's parents bought their first shop in 1980, in Orpington, Kent, when he was just five. They still own their second shop in Brentwood, where he also has the Bargain Booze store. His other store is in Heanor, Derbyshire, bought in 2016 alongside the Brockley site.
He has been brought up around shops all his life, joining the trade filling shelves by colour. He believes one need to focus on trends to stay on top in the ever-evolving convenience retail landscape, and he would also tell his fellow retailers to focus on their shops. "Don't worry about what next door is doing or, or the shop across the road. Focus on your own shop."
He also thinks it's important to delegate. "As a retailer, you can't do everything yourself. If you've got a good team or staff around, you then delegate stuff to them, because they'll probably do it just as good as what you can. And it just frees your time up," he notes.
Running six stores, he explains how store managers and staff play a crucial role in his business. "I get the start, and make sure they feel part of the store. They're always in the front line. So if you've got an event, I make sure they're always involved in that. And I keep the store managers up to date with any decisions I'm making in the background which affect the store."
And, at the end of the day, a positive feedback from the customer is what makes him feel good.  "Because everyone's really quick to give negative feedback," he notes. "But when we get positive, which happens quite often, you know, we will get an email sent to the store saying how happy they were with the service, or great the store looks. And that's what makes me happy."
"When someone takes the time out to just say, 'I'm happy with what you've done', it makes you feel good."