Ravensbourne University student Paulina Grönlund has been names the 2023 winner of Kopparberg's annual Limited-Edition design competition, pipping 200 others to the title.
The partnership with Ravensbourne University, part of Kopparberg's continued mission to celebrate and champion the UK's independent creatives, invited students to create and submit designs for a selection of this summer's limited-edition labels for bestselling flavours – Strawberry & Lime, Mixed Fruit, and Pear.
The labels will appear on over 4.5 million bottles in supermarkets, pubs and bars this summer, as well the brand's out-of-home advertising across the UK.
For her winning designs, Paulina will also get her university fees paid for a full year, as well as an internship at one of London's most awarded and prestigious creative advertising agencies, Neverland.
25-year-old Paulina, who is studying for a bachelor's degree in Illustration for Communication, won for her free-spirited, punk-inspired designs which feature bold pops of colour and quirky characters.
The judges felt her designs met the brief around bringing to life Kopparberg's "Free to Be" attitude and thirst-quenching fruit refreshment, drawing on her love for travelling and nature to visualise the brand's rich design heritage.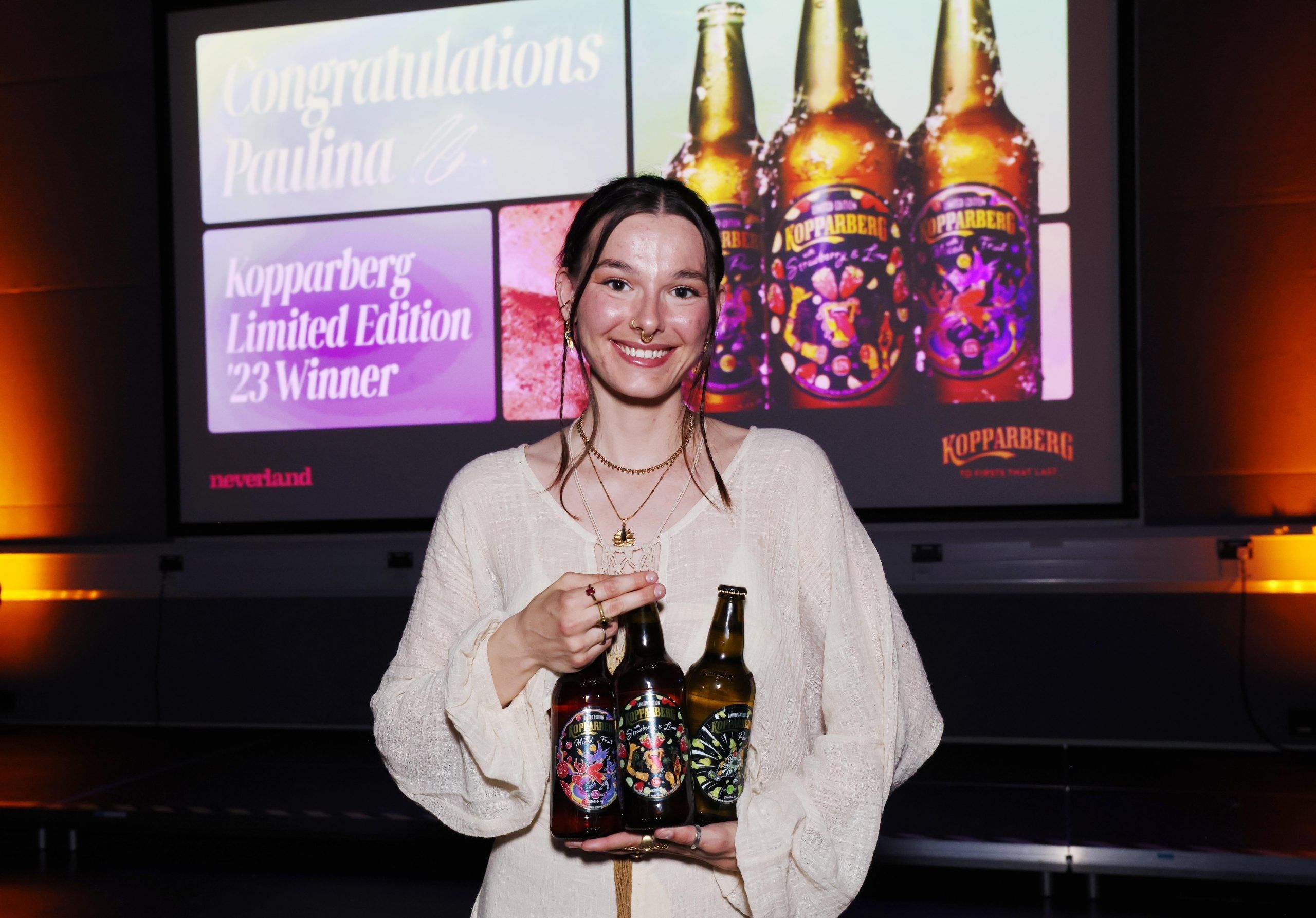 "The 'free to be' concept really resonated with me since it's been the way I've lived for a very long time, and I have spent the last couple of years exploring the world and enjoying all that mother nature has to offer," said Paulina. "This proved a rich source of inspiration for my designs which feature bright, fruity embellishments, while the characters represent the joy of the 'free to be' spirit. I am absolutely over the moon to have won the competition and I can't wait to see my designs in stores!"
The initiative is part of Kopparberg's ongoing commitment to give back to the community and supporting up and coming individuals in the creative industries. Underpinning the brand's latest campaign, "To Firsts That Last" – about creating unforgettable firsts with lasting impact – Paulina is set to experience an incredible first with her winning design displayed across the UK which Kopparberg hopes will be a springboard for her future success and long-lasting career.
Rob Salvesen, Head of Marketing at Kopparberg said: "We fell in love with Paulina's designs instantly, they embody the raw creativity and freedom that we stand for as a brand.
"Paulina took us back to the first time Kopparberg landed in the UK, exciting, unique, bold and an absolute first of its kind, and we are delighted to showcase Paulina's designs across millions of bottles across the UK this summer.
Kopparberg's core cider range with Paulina's Limited-Edition designs will be widely available from May 2023.