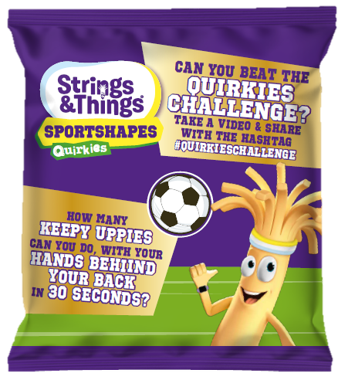 Strings & Things, part of Kerry Foods, has announced the launch of two limited-edition ranges across Yollies and Cheeshapes Quirkies to celebrate this summer's sporting events. The two new SKUs include an array of sporty challenges to keep kids active over summer and allow retailers to tap into the excitement around the summer of sport. Both Sportshapes Quirkies and Yollies limited-edition packs will be available in grocery and convenience stores across the country this week.
Sportshapes Quirkies feature 16 new Cheeshapes designs including a football, cheering shape and foam finger, and build on the success of Cheeshapes Halloween and Winter editions. Last year, the limited-edition SKUs introduced 600k more shoppers to the category. This demonstrates a huge opportunity for retailers to tap into cultural moments to drive sales across the kids snacking category.
The new Sportshapes range looks to build on the interest in cheese snacking in the UK, with kids' cheese snacking growing 9 per cent in the last 12 weeks, allowing retailers to tap into the growing category in a fun way with a brand already popular with kids.
Following the success of last year's limited edition Halloween packaging, Limited Sports Edition Yollies will also be launching with fun new pod designs inspired by different sports to help retailers drive excitement around key sporting tournaments this summer. Strings & Things innovative yoghurt on a stick, Yollies, provides retailers with a healthy but uniquely fun snack option for kids being a source of calcium for healthy bones. The Yollies range continues to see success year-on-year with spending up 5.6 per cent.
"We're so excited to be kicking off a summer of sport with the launch of limited-edition packaging across our Cheeshapes and Yollies range, helping retailers get into the spirit of the tournaments and drive sales," said Victoria Southern, Marketing and Category Director at Kerry Foods. "We know parents are looking for snacks with health benefits but that are fun to keep kids entertained! Given the success of our previous limited-edition ranges we're confident both new launches are going to be a hit with both kids and their parents."
Strings & Things Sportshapes: £1.50 / £1.00 on promo
Strings & Things Yollies: £1.75 / £1.00 on promo