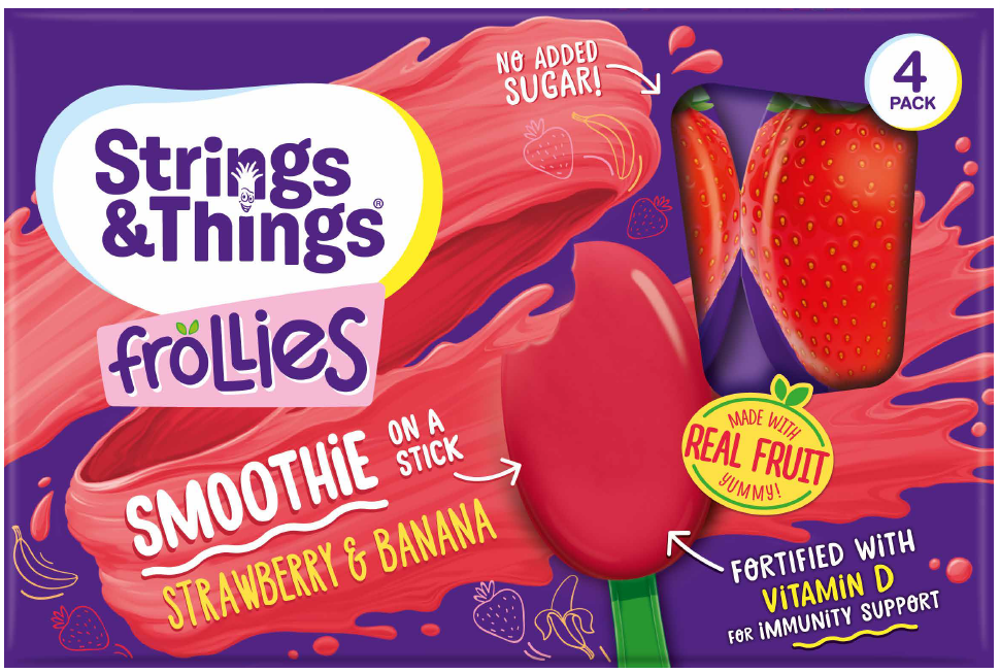 Strings & Things, part of Kerry Group, has announced the launch of Frollies, a new fruit smoothie on a stick. The product, an expansion ofStrings & Things' successful Yollies range, will be available in Tesco from today (7) with further rollout across grocery, convenience and wholesale next month.
The first of its kind, Frollies are chilled smoothies on a stick made with real fruit, a new innovation for this category. Frollies are firm enough to hold their shape, making them convenient and mess-free, perfect for both kids' lunchboxes and on-the-go. Each Frollies pod, offered in packs of four, contains quirky challenges or quiz questions to bring some fun back into lunchboxes this summer. The playability of the product is set to excite kids whilst the natural fruit contents cater to parents demand for healthier kids snacking options.
Over the last year, health and immunity have become a driving force behind purchasing behaviour for parents. In fact, low- and no-sugar claims are the top priority when buying packaged food for children. In response, Strings & Things has embarked on a mission to "make good food fun", launching products with health benefits that also inject excitement and adventure into kids snacking. The launch of Frollies provides kids with the enjoyment of a fruit lolly and the reassurance to parents that it has real fruit, no added sugar, and extra vitamin D to support immunity.
The kids' handheld yoghurt category is now worth £97 million, growing by 11 per cent compared to last year, and is part of an overall kids' yoghurt category that is now worth £412 million.
Retailers already familiar with the popularity of the Strings & Things brand can capitalise and expand their range to cater to the changing needs of parents and kids. Yollies are already a popular lunchbox staple amongst younger kids, with an RSV of £5.5m and growth of 15 per cent since the start of 2021. The new Frollies offers retailers the opportunity to "age-up" and diversify their current kids' snacking fixture, targeting a slightly older demographic. The launch of Frollies is backed and supported by the Strings & Things brand, proven to drive sales for retailers. Despite schools being closed for most of last year, Strings and Things RSV was up 2.5 per cent vs last year, an increase of £1.3 million.
"We are thrilled to be launching Frollies for retailers to stock up on just in time for back to school," said Becky Youseman, Senior Brand Manager at Strings & Things. "The new launch is a really exciting development to the way kids snack and is evidence of our commitment to innovating in the category – helping to make kids' snacking fun. We worked with The Pineapple Lounge to develop this new product and their research unearthed that kids and parents love a snack that feels treaty yet healthy and refreshing."
Frollies is a category-evolving launch for the kid's yoghurt fixture and will be supported by a £1 million marketing campaign across TV, VOD, digital and in-store. Airing in September, a key time for retailers in the back-to-school calendar, the new advert will highlight the product's role as a family-friendly solution as parents search for healthy fun snacks for kids.
Frollies Strawberry & Banana Smoothie – RRP £1.75 (4x25g)