Bottled water and soft drinks is one of the most important categories for independent retailers due to its impulsive nature. Consumers who pop into a local corner shop for a newspaper will often buy a soft drink on impulse. Due to concerns over health, bottled water and juice are very popular alternatives to fizzy drinks. With HFSS regulation being enforced this year, independent retailers can win with a well-merchandised healthy soft drinks display.
Water is the most consumed beverage on Earth and packaged water is taking an increasingly large share of that consumption. Bottled water is also the largest component of the non-alcoholic beverages market worldwide, accounting for almost 50 per cent of sales.
According to a global data platform, the UK market for bottled water was worth £1.6 billion in 2020, a decrease of 14 percent compared to the previous year (when the country was not locked down). Sales of unsweetened mineral and aerated waters manufactured within the UK also saw a decline in sales in 2020 of nearly 16 percent to 324 million. Still water accounts for the largest share of packaged water sales, 77.5 percent of the market in 2020. Mineral water was likewise the most dominant variety of water, accounting for almost two thirds of sales.
The data also revealed that overall, the UK consumers drink 2.5 million litres of bottled water every year. Per person consumption stood at 45.8 litres in 2020. This figure is expected to grow to 58 litres by 2026. Among consumers of bottled water, nearly two-thirds drank the beverage at least once a week. The brand of bottled mineral water most preferred in Great Britain is Highland Spring Water. Over six million British consumers drink the brand. Combined, private label brands of mineral water reached even more consumers and Tesco's own brand reached 3.3 million Brits alone.
Bottled Water
The bottled water and soft drinks category have experienced a level of change within the last 18 months because of the pandemic. As restrictions continue to come and go, occasions when people were consuming soft drinks also changed. For example, as people continue to work from home, having lunch at home remains a key opportunity for natural source water, with the category experiencing a boost in "drink later" formats, which includes larger bottles and multipacks. For example, in the grocery sector, Highland Spring has seen a 13 per cent rise in the last 12 weeks for products within the 'drink later' format.
Despite this, "Drink Now" remains the largest sub-sector within Bottled Water and as people gear up to return to life on the go, this is set to continue into 2022. This will also create an opportunity, as more shoppers will return to taking advantage of the impulse purchase at front-of-store: retailers should think about how they can highlight and cater for this occasion in-store and online.
The flavoured canned sparkling water category has experienced huge growth recently, with sales showing a 141 per cent increase in the Scottish impulse sector and a 130 per cent in multiples. Highland Spring's range is available in three different flavours – Blackberry, Plum & Hibiscus, Apple & Elderflower and Rhubarb & Ginger, and the product is perfect for those looking for a healthier fizzy drink option to enjoy, whilst keeping hydrated. At under 35 calories per can, they are also a fantastic choice for those looking to kick-start a healthy living regime after indulging over the Christmas period.
According to data, unflavoured water products are the most popular in the convenience sector, with Highland Spring's unflavoured water experiencing a 34 per cent growth in sales in the last 12 weeks alone. Providing instant, healthy hydration in a range of assorted sizes perfect for on-the-go, it's no surprise that that the product performs well in the sector.
In terms of growth opportunities, the Sparkling Water subcategory has emerged as a star performer and has grown by 6 per cent in the last 12 weeks. Perhaps previously overlooked or reserved for special occasions, the last 18 months has seen a real trend towards sparkling natural source water, which is ideal for those looking for a little lift as part of their day. Sparkling Water is a perfect alternative to sugary fizzy drinks and many consumers prefer adding it to alcoholic drinks as a mixer instead of soda water.
Mike Buckland, Marketing Controller, Highland Spring Group says, "One product category that we expect to perform well as food to go begins to pick back up again is flavoured sparkling water – perfect for those consumers looking for healthy hydration with an added hint of flavour whilst out and about or with their lunchtime meal deal. The overall category is growing steadily, experiencing uprise of volume sales of 16% in the past 4 weeks."
Despite this, "Drink Now" remains the largest sub sector within Bottled Water and as people gear up to return to life on the go, this is set to continue into 2022. This will also create an opportunity as more shoppers will return to taking advantage of the impulse opportunity at front-of-store and retailers should think about how they can highlight and cater for this occasion in-store and online.
As consumers become increasingly health conscious in January, bottled water sales see their second biggest peak after summer. With 6.5 million people participating in Dry January, the demand for both bottled water and lower and no sugar soft drinks shoots up.
Adrian Troy, Marketing Director at Barr Soft Drinks says, "Drinking more water is currently the No. 1 healthy change that shoppers are looking to make. However, almost half of Brits dislike drinking water and say they prefer flavoured drinks. These trends lead to a massive incremental opportunity for retailers, where shoppers are looking for lower calorie soft drinks that don't compromise on taste and give them a fruity flavour hit.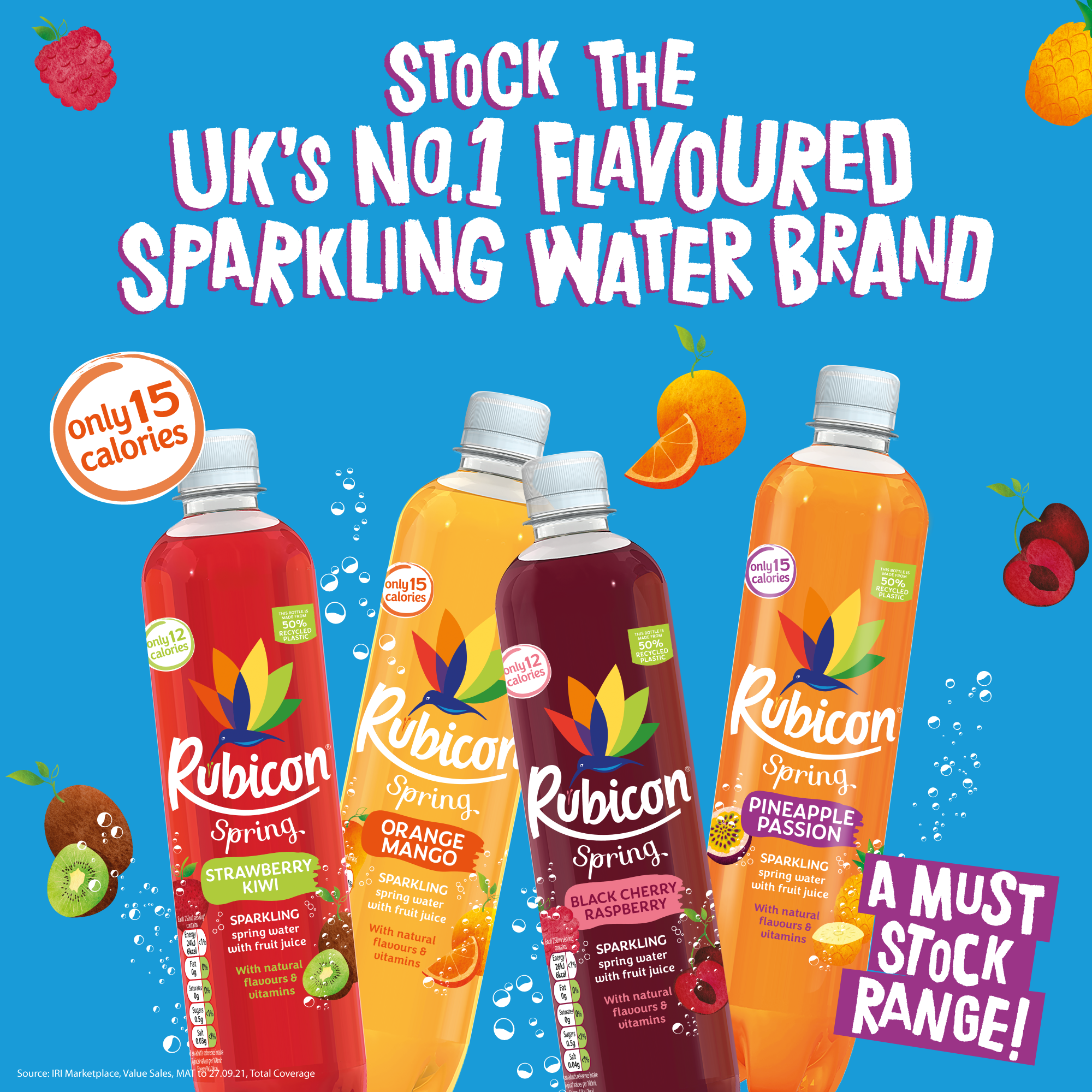 "Rubicon Spring is a must stock as the high taste, low calorie alternative that shoppers are looking for – a bridge between the healthiness of water and the taste of carbonated fruit drinks."
Currently, the flavoured sparkling water, bought by 1.6 million shoppers and bringing +52% more shoppers into the range over the last year, Rubicon Spring combines sparkling spring water and fruit juice, with 15 calories or less per bottle. It's been a strong year for Rubicon Spring. With the 500ml range shown strong recovery as on-the-go sales picked back up, with a +66 per cent increase in Drink Now sales and now growing at +38 per cent since restrictions have eased. However, we also saw a phenomenal +139 per cent increase in Take Home over the last year, as more shoppers enjoyed at home
Soft Drinks
According to Nielsen data, almost £1 in every £4 spent on "soft drinks for later" happens in convenience. More people say they shop in convenience stores for good quality products, 23 per cent versus 19 per cent a year ago.
Social distancing restrictions in the UK eased in July 2021, bringing the return of freedom to socialise more widely at home. The eagerness for consumers to do just this shows clearly in the positive soft drink sales figures for total convenience, released at the end of October 2021 in Britvic's 2021 Soft Drinks Review.
Looking at the detail, total take home soft drink sales in convenience and impulse over the last year showed significant growth of +16 per cent, versus pre-Covid levels. They were only down slightly (-3 per cent) on the peaks seen during lockdown, when Covid restrictions limited us from socialising out of home and spend significantly diverted.
Even more promising, the latest 12 week figures not only show significant growth in take home sales, +15 per cent ahead of pre-Covid levels, but there is also +1 per cent growth versus this time last year. Observers expect this trend to continue, with socialising at home increasing over the festive season and people make up for social occasions lost during restrictions.
Neighbourhood retailers have played a key role in their communities during the pandemic, filling perceived shortfalls in supermarkets' service. Many have built social media profiles and embraced home delivery, competing with fast grocery delivery. Shoppers have responded positively. 87 per cent of consumers used convenience stores in the second quarter, up +3 per cent on January-March 2021, and 13 per cent mainly used c-stores in June, the highest level recorded to date.
Having gained shoppers through lockdown, convenience and impulse retailers now have a huge opportunity to drive soft drink sales around in-home socialising. Social occasions were worth £1.49bn for the year to June 2021, up +6.1 per cent annually. But this opportunity goes beyond the big night in, important though that is. Local retailers are increasingly aware of soft drinks' importance in socialising at home around seasonal occasions and televised sporting events. Over the summer they have been creating "wow" moments in-store for soft drinks, focused on events and televised sports fixtures. In a classic example, June and July saw sales surges around Euro finals matches, a win for "on-the-ball" retailers. This activity led to these stores' shoppers feeling more loyal and involved.
Chris Newman, head of category management for convenience and impulse, at Britvic comments, "The key for retailers to unlock in-home socialising sales for soft drinks is to use the right range and displays and connect the categories, highlighting what's available for consumers to enhance the different occasions and events through the year. And we don't just talk about this. At Britvic, we offer retailers practical recommendations and tested tips to put this into practice and engage shoppers in store. It's part of our passion for elevating the soft drinks experience across all channels."
Ongoing after-effect of pandemic
Shopper habits are becoming more ingrained in terms of staying at home for domestic and social activities. When the pubs and restaurants reopened, there was still uncertainty over infection risks and the need for face coverings. At the time of writing, uncertainty about the pandemic is rising once again and some consumers remain cautious in public places. This ongoing risk aversion offers retailers an opportunity to help consumers create at-home social experiences with premium products.
The desire to stay healthy during the pandemic has accelerated the alcohol moderation trend and made health and wellbeing a higher priority for many consumers. One in four adults is teetotal, while one in three has reduced their alcohol consumption. Newman adds, "The opportunity is there for retailers to capture additional value and appeal to these consumers with attractive in-home offerings. The key soft drinks categories here are cola, flavoured carbonates, adult soft drinks and mixers. Important Britvic brands include Pepsi Max, 7UP, Tango, J2O and London Essence tonics and sodas."
Soft drinks appeal to both "high" and "low" tempos within in-home socialising. Everyday or low tempo occasions include family meals, lunch times, snacking and pick-me-ups, with soft drinks meeting different needs. Hydration involves trading up from tap water to squash, through good, better, best, own label to premium brand. Refreshment sees cola and flavoured carbonates, with flavours and no sugar, driving the trends, and J2O particularly appealing to adults. Energy drinks have evolved and matured in recent years with breadth of flavour choices and added benefits in the likes of Rockstar and Purdey's. Multipacks are growing, helping home-working consumers navigate their day.
Special or high tempo occasions fall into two kinds. Socialising and winding down involves mixers with spirits, but also enjoyed as adult soft drinks. Craft spirits' rise has prompted the emergence of premium, artisan mixers and trading up from own label to branded offerings like London Essence(part of the Britvic plc Group). Special occasions and gatherings include BBQs and other adult socialising, with premium carbonates in the forefront. Consumers perceive glass packaging as premium, associated with out-of-home soft drinks experiences.
Younger shoppers are more likely to decide what to buy when they're inside a convenience store. Exploiting cross-category merchandising drives impulse opportunities. Britvic advises retailers to present time-pressed shoppers with convenient solutions such as bundles of related products. The top three occasions when people would buy "bundles" are Night in with friends and family (46 per cent); Quiet night in (45 per cent); and Date night (28 per cent).
Consumers living with friends or in a house share are 55 per cent more likely to be interested in bundle deals for social occasions. The top occasion for food-to-go visits is a get-together with friends or family (24 per cent).
The seasonal opportunity
Seasonal events that include the whole community are a great way to engage the wider audience. Britvic advises retailers to maximise seasonal events, featuring the right soft drinks categories at the right times and at different occasions.
Christmas and Easter see the greatest seasonal in-store engagement, followed by Pancake Day, New Year and Halloween, with topical displays and engaging the local community playing a crucial role. Christmas is retail's biggest month of the year, with nine per cent on average of FMCG sales happening in December in normal conditions, based on pre-Covid experience. Convenience stores see significant penetration peaks across the categories at these times, with increased self-treating as the festive break approaches. Christmas is also a key socialising occasion, with people looking forward to seeing friends (63 per cent) and meeting relatives (59 per cent).
Sugar-free Trending:
It noticeable that adults have an increasing appreciation of soft drinks for in-home socialising. A third of the population are trying to reduce sugar in their diet, and low and no sugar soft drinks address three needs: treat, socialise/celebrate and time to unwind. Britvic's power brands that meet these needs include Pepsi, Pepsi MAX, Robinsons, J2O, R Whites, 7UP, Tango and London Essence tonic. It's also worth noting that Pepsi Max was the number one no sugar cola brand in convenience in the last year, with value sales of £121m.
Buckland says, "With 2022 upon us and 'health kicks' underway, it's likely that consumers will look for healthier options. Brands will need to cater to this by providing low sugar or lighter options, for example, of already popular products. Independent stores can look to compete with the multiples by ensuring they stock a range of beverages aimed to suit every customer. Retailers and store owners should also look at what products are performing well and ensure they stock it in a range of different formats and sizing.
"Looking specifically at Highland Spring products, retailers should ensure they stock the core range including both still and sparkling water products, our eco range – an 100 per cent recycled PET bottle available in a range of sizes and caps, along with the trio of flavours within the sparkling can range."
Red Bull has extended its multipack offering with the launch of a new Sugarfree Price Marked Multipack, which is exclusively available to symbol and independent convenience stores from December 2021. The new proposition is also set to be the No.1 low calorie multipack in the Soft Drink category, delivering £5.2 million in value to the overall category.
The innovation was derived to meet recent demand for sugarfree soft drink options, with consumers actively seeking a healthier energy boost on-the-go.
Additionally, multipacks are outperforming any other format, +34 per cent MAT and driving 85 per cent incremental growth. In the latest six months, Red Bull sold 21.4 per cent more sugar free volume through multipacks – with these variants also growing penetration by 20.4 per cent.
Expanding Red Bull's offering to include a Sugarfree Price Marked Multipack will both bolster the brands' current multipack portfolio and present an important opportunity to futureproof the range and support retailers navigating incoming HFSS legislation.
Adrian Hipkiss, Marketing and International Business Director at Boost Drinks says, "Flavours continued to be a big trend in 2021, particularly in the soft drinks sector. Flavours now make up 36 per cent of the stimulation market and are in 27 per cent growth year-on-year, with more than a third of shoppers revealing they make their purchase based on flavours alone. This has been a driving force for us at Boost with the introduction of our Mango Energy flavour in April 2021, a flavour that's growing 22 per cent YoY."
He adds, "Another range to highlight is the emerging Iced Coffee category, which is showing strong growth within the convenience channels. The ready-to-drink (RTD) Iced Coffee Market is currently worth £30m, growing at +28 per cent volume and +28 per cent value YOY.
"70 per cent of RTD Iced Coffee Unit Sales is made up of three flavours – Latte, Caramel and Espresso. Boost offers all of these as part of its Iced Coffee portfolio, available in 250ml £1 PMPs, and we're proud that Boost is now the number-one fastest growing RTD iced coffee brand in unit sales!"
PMP trend
"Trends show that consumers are increasingly likely to seek out value propositions from trusted brands. By offering price-marked packs (PMPs), it allows independent retailers to help build consumer trust and give shoppers the confidence that they're getting high quality great tasting soft drinks at fantastic price points, which is of growing importance in a post-covid world," says Hipkiss.
He points out that PMPs now account for over 60 per cent of total soft drink sales in independent and symbol convenience stores, and since the start of the pandemic, 43 per cent of retailers have stated that they will now offer more PMPs in their stores: "At Boost, we offer PMPs across our entire portfolio, as they communicate great value to the consumer whilst also offering excellent cash margins for the retailers."
He strongly recommends that retailers stock a range of soft drinks at different price points to cater to a larger audience, to include some PMPs as part of a varied range. In the current climate, it is important for retailers to convey value to their shoppers by ranging products that clearly show their price, particularly considering that price-marked packs (PMPs) account for over 60 per cent of total soft drink sales in independent and symbol convenience stores. "We offer PMPs across our entire portfolio, including our new 250ml Mango Energy which is available in 59p PMPs," he adds.
"As a brand, we're constantly trying to stay ahead of the curve and research new and upcoming trends and flavours, and we are excited to be working on some big new projects for 2022.
"Additionally, our Choose Now campaign will continue into 2022 as our biggest marketing campaign to date. The campaign is wide reaching and features across Out of Home advertising, as well as TV advertisement and Broadcasting Video On-Demand adverts. These are targeted towards programmes with a strong student and young adult viewership, driving further awareness of the Boost range."
Earlier this year, Barr Soft Drinks launched Rubicon Spring Pineapple Passion, targeting shoppers at the water fixture who might be looking for an interesting new flavour. Where stocked, the 500ml SKU has already grown to be the third best-selling flavour in the range, behind Black Cherry & Raspberry and Orange & Mango.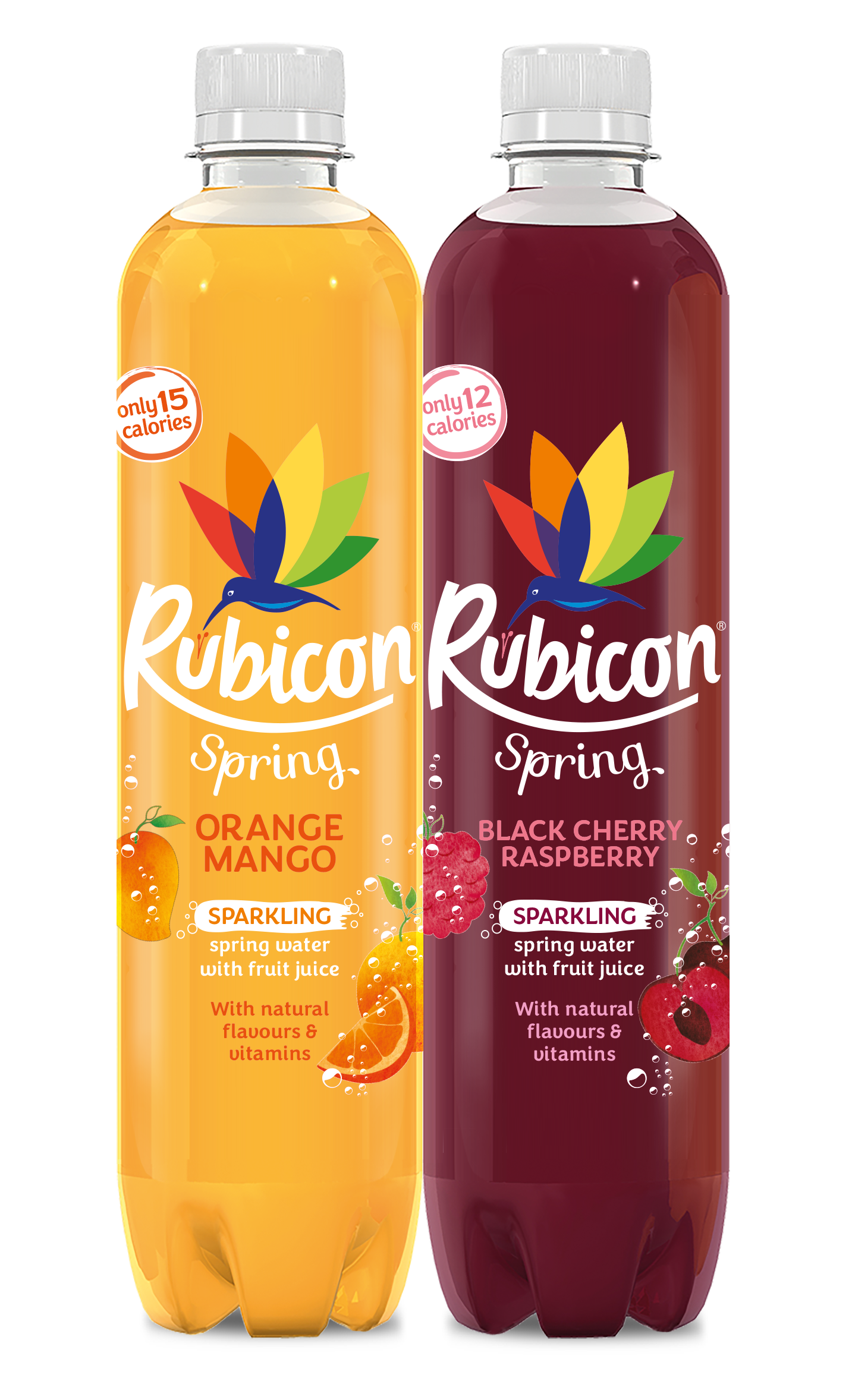 Stocking the full range of Rubicon Spring with the right space and visibility, utilising exciting POS, will ensure that retailers maximise the sales opportunities created from shoppers trying to kickstart the New Year with a healthier lifestyle.
Troy adds, "Our research shows us that many carbonates shoppers are looking to reduce their sugar and calorie intake, so it's really important for retailers to stock a range of choices in flavour and format. IRN-BRU XTRA, delivering extra IRN-BRU taste with zero sugar, delivered more than £20 million worth of sales last year*7 and allows retailers to offer a full flavour option within the growing low calorie carbonates sector. IRN-BRU benefitted from a £6 million brand investment last year, driving shopper awareness and driving growth in the Barr Soft Drinks portfolio."
The major highlight of 2022 will be the implementation of the HFSS legislation. Earlier, the government had planned to enforce the restrictions on promotions of HFSS foods and drinks by April 2022 but later it extended to October 2022 to allow more time for retailers to make the necessary changes to store layouts.
Buckland concludes, "The HFSS regulations will provide the natural source waters category with an opportunity to accelerate communications to consumers around bottled water being the healthiest option on the shelf. With additional regulations being introduced in 2022 on high fat, salt, and sugar products, it's important for retailers to be bold and bring to market on-trend, healthier and innovative products. As an industry leader, Highland Spring continues to innovate to ensure that it remains first choice for consumers."