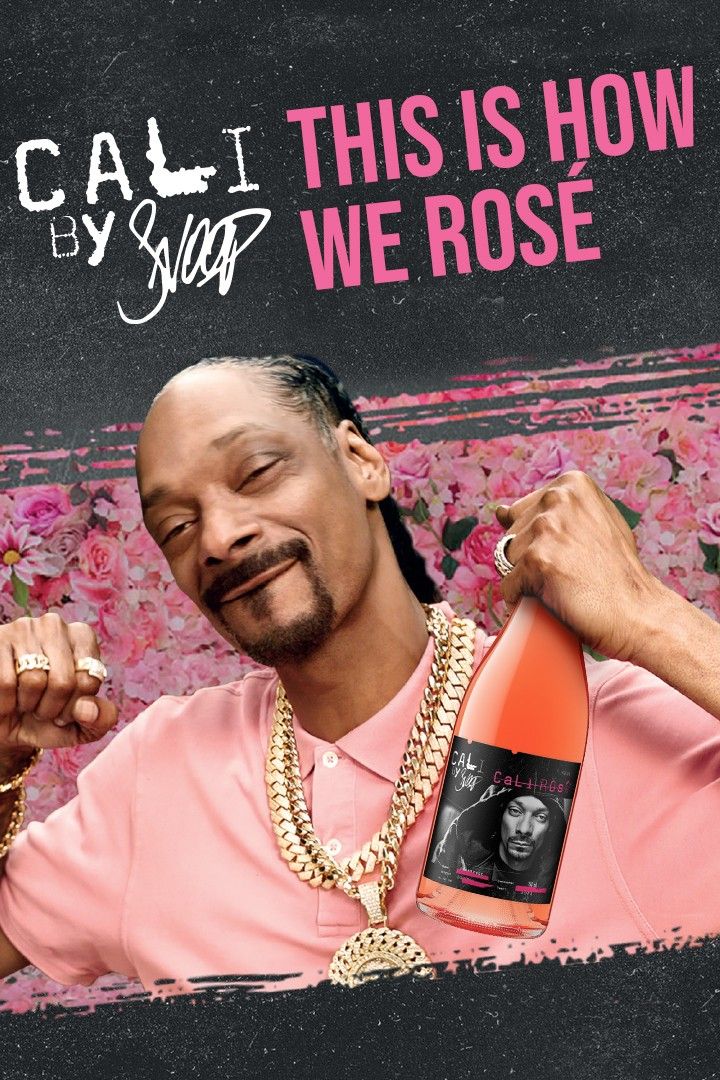 This month, US rap icon Snoop Dogg is travelling to the UK and will unveil Cali Rosé a brand-new addition to his high performing Cali by Snoop portfolio, during his European tour. This represents the brand's first move into the Rosé category. Cali Rosé is a fruit-forward wine aimed at recruiting the LDA-35 consumer into the category through disruption and defiance of convention.
Created in collaboration with renowned wine company Treasury Wine Estates, Cali by Snoop challenges the convention of wine with a unique narrative and sense of personality, underpinned by the wines' approachability and suitability for consumption occasions aligned with a west coast lifestyle. Cali by Snoop wines have a striking design, which includes Snoop Dogg's profile on the label and utilises ground-breaking augmented reality technology, with consumers invited to "Ask the Doggfather" by following a QR code on the back label where the D.O.G.G will respond to their questions.
"The love we got from the UK, when we launched Cali Red last year was incredible, says Snoop Dogg. "I always said I wanted to create a wine that cuts away all the noise, and looked and tasted like something people who don't usually drink wine would want to try, and the feedback from my fans shows we bottled that."
"This year, we're back and dropping the all-new Snoop Cali Rosé, to bring you those fresh feels from spring into summer and beyond. I'm heading to the British shores for my latest tour this March, and I can promise you I'll be bringing bottles of Cali Rosé. I hope you join me in sipping on my Rosé this summer and think of the California coast when you do. This is how we Rosé the Snoop Dogg way!"
The launch of Cali Rosé will be supported by a sizeable integrated marketing campaign across the UK which will include disruptive in-store display and promotion, out of home, PR, digital, social & influencer engagement.
"Following the successful launch of Cali Red, we are delighted to be continuing our partnership with music icon, Snoop Dogg, and launching Snoop Cali Rosé to the UK this spring," said Ben Blake, Head of Marketing EMEA at Treasury Wine Estates.
Cali by Snoop is a brand that honours Snoop's story, one which tells of overcoming adversity, beating the odds and taking his place as a leader in contemporary pop culture. Snoop embodies the timeless value of perseverance, and this Rosé promises to not shy away from being bold, full of character and emulate the chilled Cali lifestyle. Cali Rosé will be his second wine to launch in the portfolio, and we're excited to see how this brand grows over the coming years."
Cali Rosé is a bright Rosé with ripe fresh strawberries, complemented with delicate florals and rose petal aromas. The Rosé is fruit forward with raspberry, strawberry, and cherry notes.
Cali by Snoop Cali Rosé launches in the UK from March across wholesale, impulse, and retail accounts at RRP £11. Follow Cali by Snoop on Instagram and Facebook @CalibySnoop, and learn more at www.CalibySnoop.com