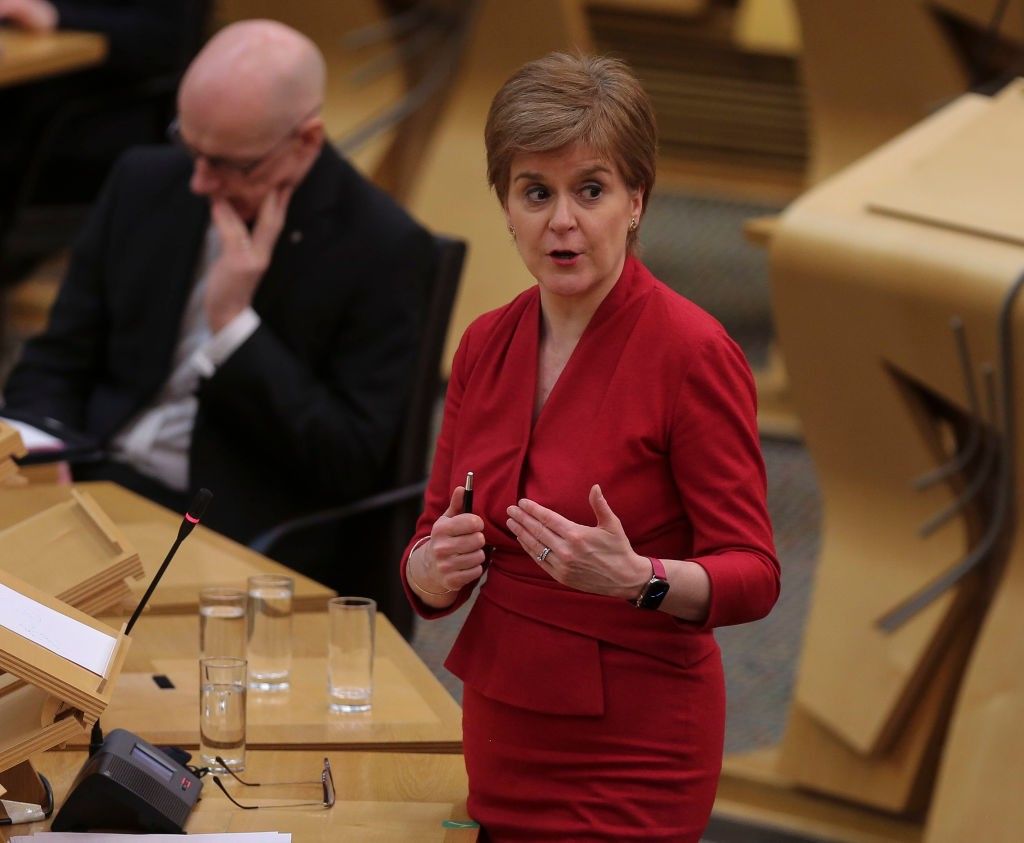 Scotland will look to begin a "substantial" easing of coronavirus restrictions from April 26, First Minister Nicola Sturgeon said Tuesday as she laid out plans to take the country out of lockdown.
The head of Scotland's devolved government told lawmakers there were "much brighter times ahead", adding that restrictions were working well alongside a mass vaccination programme that was "motoring".
"We can now see a firm way out of this if we all stick together and stick with it," she added.
Sturgeon indicated the lifting of restrictions on non-essential business would be more cautious than plans outlined for England by Prime Minister Boris Johnson on Monday.
"From 26th April, assuming the data allows, we will move back to levels with hopefully all of Scotland, that is currently in level four moving to level three," she said.
"At that stage, we will begin to reopen the economy and society in the more substantial way that we are all longing for," Sturgeon added, explaining the situation was "extremely positive and promising" but "still quite precarious".
Johnson on Monday outlined a four-step plan to ease lockdown measures in England, with schools opening again to pupils from March 8, and non-essential retail from April 12.
Some fans could be able to attend sporting fixtures from May 17, while all social distancing restrictions could be removed from June 21 — all subject to change and depending on scientific data.
"We are travelling on a one-way road to freedom and we can begin safely to restart our lives in confidence," Johnson said.
He added: "The crocus of hope is poking through the frost and spring is on its way both literally and metaphorically."
While welcoming the "cautious" road map out of lockdown for the sector, the Scottish Licensed Trade Association (SLTA) said a late spring reopening "will sadly be too late for many and for those who do survive there remain serious challenges ahead".
"While it is encouraging that our sector can hopefully reopen from the end of April, we are concerned that a return to the previous tiered system will lead many operators to decide that such restrictive reopening conditions are simply not worth the time, effort and money involved," Paul Waterson, SLTA spokesperson, commented.
He welcomed the commitment from the government to continuing financial support for those firms suffering as a result of the pandemic. Sturgeon also said she is considering support for businesses facing trading restrictions after they are allowed to reopen.
"For us, it is now a case of waiting to hear what the first minister puts on the table in her next announcement in three weeks' time – until then, we will work with her officials to help the Scottish Government make the best decisions for our industry," Waterson said.
Britain, the worst-hit country in Europe with more than 120,000 deaths and four million cases, has been under strict lockdown for weeks.
Unlike Johnson, Sturgeon did not give details on the further reopening but said in mid-March she would lay out plans for reopening into April and May "and into a summer when we hope, really hope, to be living with much greater freedoms than we are today".