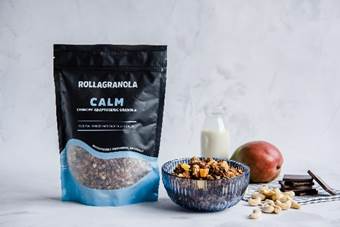 Rollagranola, the proper granola company, has announced the launch of a Nootropics range with four new flavours to suit our nutritional needs and tickle every tastebud.
Nootropics are compounds or supplements that can enhance aspects of cognitive performance, such as memory, focus, mood and energy, to name a few. Rollagranola said it has explored the perfect combinations of superfood nootropics to create a range that is not only delicious, but hugely beneficial.
"With our fast paced lives and increased lifespan we need to be turning to foods that really help protect cognitive health and function. Nootropics firmly fit into this category and is a great way to boost our meals to the next level of support," nutritional therapist Dana Chapman, of DC Nutrition, commented.
Rollagranola said each new flavour in the range is complete with a variety of superfood ingredients to help kickstart the day the right way.
Calm: With flavours of cashew, mango and chocolate, the calm variety will help promote a relaxed mindset and reduce stress. Special ingredients include ashwagandha to help lower cortisol levels, matcha green tea L theanine to increase dopamine and serotonin, and lions mane to reduce anxiety and promote mental clarity.
Energize: This cappuccino and white chocolate flavoured combination will focus the mind whilst boosting energy levels, allowing for peak performance all day long. Lions mane promotes mental clarity, caffeine and alpha lipoic acid act as energizers, while panax ginseng improves stamina, mood and memory.
Body and Soul: A combination tailored to physical and mental wellbeing, flavoured with refreshing summer berries and walnut. Special ingredients include creatine to deliver fuel directly to the muscles and brain and aid cell recovery, and maca, elevating mood, energy levels and endurance. Panax ginseng and ginko act to combat memory loss and supress stress.
Complete Vegan: This granola contains all the essential nutrients that vegans may be lacking from a plant-based diet, flavoured with hazelnut and cranberry and supplemented with pea protein. As well as ginko and panax ginseng, it contains iodised salt to combat iodine deficiency as well as 7 important vitamins to reduce brain fog and fatigue, and improve focus, memory, muscle strength and mood swings.
"We're delighted to be able to build on the success of our original range with these new functional food varieties," Sean Longden, Rollagranola commercial director, said.  "We're firm believers in the benefits of using natural ingredients that can help us life happier, healthier lifestyles but we also never compromise on great flavours."
All Rollagranola products are gluten free and handcrafted in the UK. A 350g pack will retail at £7 and a 40g pack at £2.