The last year has seen a good many people who were worried about their health during the pandemic quit smoking – that's a fact.
But it is also a fact that the sales of both factory-made cigarettes (FMC) and hand-rolling tobacco have increased substantially over the same period. In fact,medical journal The Lancet states that there are now 1.1 billion smokers worldwide – an all-time high. And that has led to an increase in the volume of accessories sold alongside cigarettes and tobacco products. Then, of course, there is vape – also enjoying buoyant revenues and shading into the more DIY end of cigarettes as smokers move away from standard options, for their health, and also to find value as prices rise and incomes stall or fall.
But the fact is that hand-rolling tobacco is, well … on a roll. FMC over the last year rose nearly 10 per cent (until end January), while sales of loose tobacco for roll-your-own (RYO) did nearly four times as well, gaining over 36 per cent in sales for the same period.
Many reasons for this can be guessed at. People have been at home more during lockdown, with more time on their hands, and in rooms or gardens where they are free to smoke, unlike office buildings. Result? More smoking despite the numbers of successful quitters. Plus, people have been understandably anxious, if not about the virus then about their jobs and careers – and tobacco is a famous calmer of nerves.
Then there is just plain boredom, which makes many reach for a cigarette.
In terms of the phenomenal growth in RYO, we can look at the trend that has been visible for some time now, as smokers in the face of ever-increasing taxes on their pleasures switch away from FMC to other forms of tobacco for economic reasons.
Note however that they may not abandon their preferred brand, and the action by tobacco manufacturers to offer pouched hand-rolling alternatives to their ready-made carton-packaged cigarettes testifies to the plain fact that taxes are biting hard while consumers remain as loyal as they can.
Among the traditional FMC now enjoying a presence in the RYO category are such brands as Players, Lambert & Butler, Sterling, Rothmans, Marlboro, JPS, Pall Mall and  Benson & Hedges – almost the entire FMC category has decided to "cut loose", so to speak. It never used to be like this: it is the future talking to us.
But this change in habits has had several consequences, not least introducing long-time FMC smokers to the rich world of experience that RYO and accessories can provide in terms of tailoring the individual preferences of each smoker by way of filters, papers and many other accoutrements. In a way RYO has opened a whole new world of taste and smoking pleasure to very many people who might never have considered it without government regulatory action. It is perhaps a big reason why the sharp divide between "factory" and "rollies" no longer holds firm.
Just keep rolling along
"The tobacco market remains heavily price driven and this has led to an uplift in consumers switching into Roll Your Own (RYO), as well as value Factory Made Cigarettes (FMC)," says Duncan Cunningham, UK Corporate Affairs Director at Imperial Tobacco & blu.
He speaks of the increase in "duallists" – smokers who choose between FMC and RYO depending on the occasion and reveals that one quarter of smokers now fit that definition. "With this in mind, retailers must be well-equipped with a strong product range across all categories in order to cater for this trend and keep one eye on their sales so they can adapt their range to meet the needs of their customers."
As a result of changing circumstances, the RYO segment has expanded its market share and now accounts for 45 per cent of tobacco sales, says Cunningham, with recent data showing volume sales are growing by 30 per cent as consumers "seek out greater value for money".
"In line with this growing demand for value, sales in the Economy RYO segment are also rising and Imperial is well positioned to help retailers tap into this trend with more brands in the economy segment than any other tobacco manufacturer," he adds.
This makes sense. One recent study observed that increases in the use of cheaper tobacco (value cigarettes and RYO) seen in various countries including the UK, Europe and the USA could be a consequence of canny industry pricing strategies. As governments shift tax increases between brand segments – so far penalising RYO less than ready-made – manufacturers attempt to maximise revenue and profit by disproportionately passing on tax rises to premium-brand smokers while keeping the burden on value products lighter.
"Consequently," says the study, "real prices of the cheapest cigarettes have remained largely unchanged since 2006 [this is from 2015] and the gap between the cheapest and most expensive cigarettes has widened." That situation must only have remained or grown more extreme since, and makes RYO even more economically attractive as time goes by.
A study from UCL in 2018 also hinted at the resilience of the RYO market, finding that they "are less likely to quit smoking than FMC consumers. The key reason for RYO smokers' unwillingness to quit is the comparatively lower cost of RYO products as compared to FMC. Thus, the market is expected to witness healthy growth in the upcoming years."
Indeed: the RYO segment is expected to expand at a compound annual growth rate (CAGR) of 4.2 per cent  from now until 2028.
JTI UK's Sales Vice President, Ross Hennessy, agrees that, "Despite a challenging year, the overall tobacco market still continues to be one of the biggest and most resilient FMCG categories in the UK and a category that drives footfall and revenue for retailers nationwide."
Even within the RYO category, it is Value RYO that is making headway, now taking 50.2 per cent of sales, proving as he says that that price is what counts: "Retailers should therefore stock up on Value RYO products, such as JTI's Sterling Rolling Tobacco, which is currently the UK's fastest growing tobacco brand."
Hennessy notices that in terms of what consumers are searching for, convenience is high on their list. To this end he recommends 3-in-1 formats – where the tobacco of choice comes complete with filters and papers – as the perfect solution, adding that "Our Sterling 3-in-1 Rolling Tobacco, which transitioned from a box to a pouch last year, offers existing adult smokers the fuss-free and convenient format they want, at the same value price as before."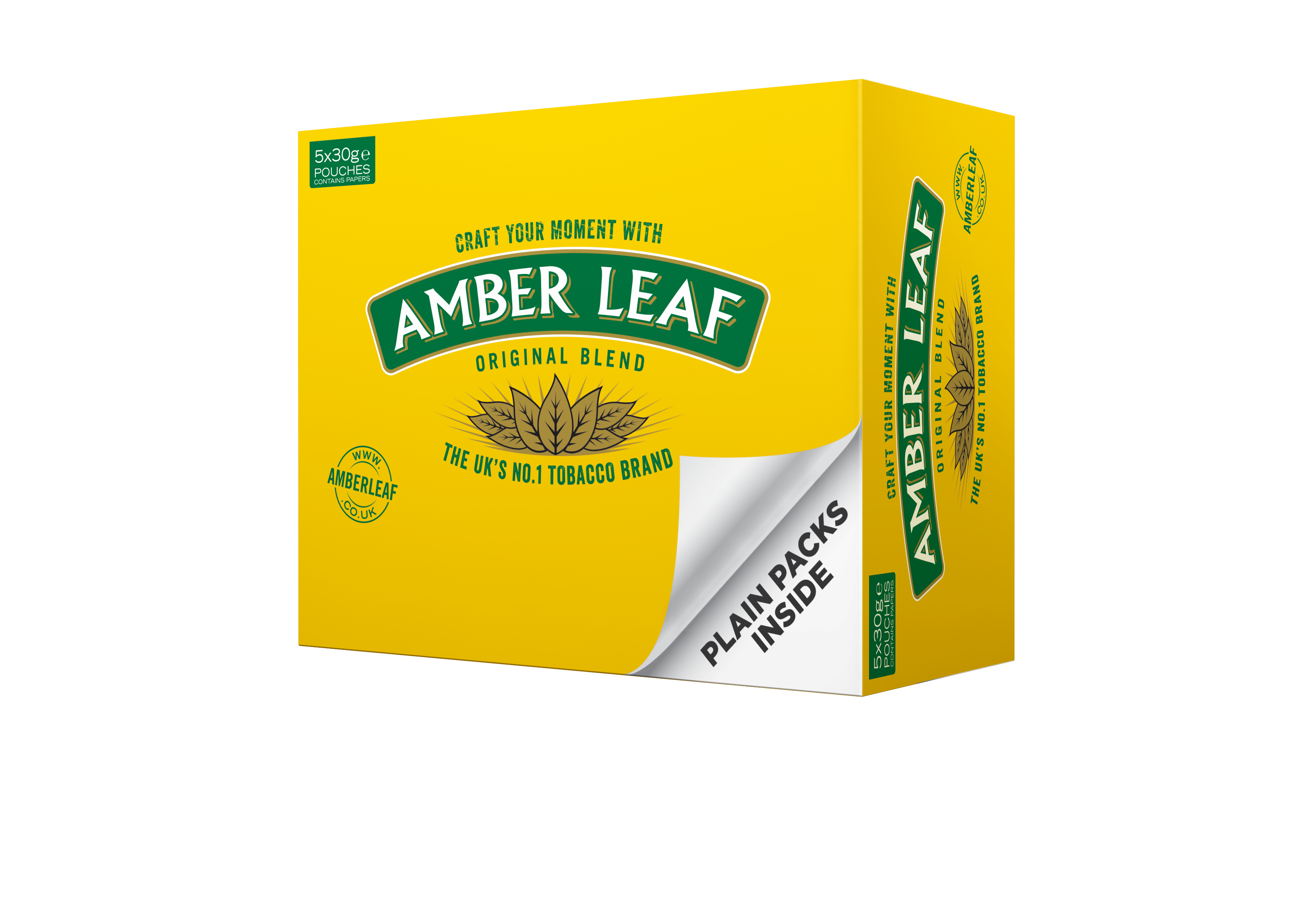 Meanwhile, JTI's Amber Leaf remains the No.1 tobacco brand in the UK with a 26.5 per cent share of the RYO market, and its Sterling RYO is the UK's fastest growing tobacco brand.
The NPD scene
As far as NPD is concerned, value is right up there. JTI's Hennessy is keen to explain about how Scottish brand Kensitas RYO has been repositioned as a 3-in-1 sku with RRPs of £11.95 for 30g and £19.60 for 50g pouch formats– "giving the range the lowest RRP for a 3-in-1 rolling tobacco product in the UK". He says that this offers "the same great quality and convenient tobacco product in easy-to-use formats as previously sold, now with a better value price,"adding that the move reflects the more than half-the-market share now enjoyed by Value RYO.
His colleague, marketing VP Stephane Berset, highlights Sterling RYO's move into a new 30g Sterling Rolling Tobacco Essential at an RRP of just £12.35. Instead of adding items to the offer, here value is gained by removing them: "Sterling Rolling Tobacco Essential 30g offers the lowest price point in the Sterling Rolling family as a less-for- less alternative, with no filters and papers," explains Berset.
The New Sterling Rolling Tobacco Essential also comes in a paper insert pouch packaging which contains less aluminium, and Berset says that the blend generates less leaf waste compared to other RYO brands.
Imperial Tobacco recently announced the launch of its JPS Players Easy Rolling Tobacco, a value RYO offering "an easier rolling experience, at an attractive price point". Cunningham says that JPS Players Easy Rolling features a more vibrant colour and lower levels of moisture, hence it is easier to handle and to roll. It is is available in 30g and 50g formats and at £11.95 and £19.60 respectively and includes rolling papers.
Imperial's UK Marketing Manager Chris Street meanwhile extolls the new format of Lambert & Butler RYO, a brand now just over a year old (or young).
"Lambert & Butler has already grown to become one of our fastest growing Roll Your Own brands," he says, describing it as a quality brand with a long-standing heritage."With demand for value tobacco continuing to rise, we've seen incredible YOY volume growth of 28 per cent, making it a must-stock product line for retailers."
To celebrate a year in the market, Imperial has launched two new formats and a limited-edition design for the Lambert & Butler RYO range, exclusively for the independent channel.
The limited-edition packs are available to buy now in both 30g and 50g formats with RRPs of just £12.80 and £21.00 respectively. "With an eye-catching branded trade outer that celebrates the milestone, both of the new limited-edition packs will benefit from an improved freshness seal, to help keep the product fresh for longer," says Street."Furthermore, with research showing 82 per cent of RYO consumers use tips, the 30g will also offer even greater value for money with the addition of 60 filter tips and 60 high quality papers, while the 50g will include 100 papers."
A world of accessories
RYO tobacco comes with all the trimmings, meaning some great brands with fabulous heritage, not to mention design and artwork (if that's your thing). Filter tips, papers of 1001 varieties, lengths and weights, rolling machines, flavour cards – you name it, there should be a place for it on your counter top, which could be even better for sales than in the gantry – and with the tobacco accessories market currently worth more than £313 million, now is the time to make the most of your offer.
"Innovative new product development combined with consumers spending more time at home over the last 12 months, with less day-to-day restrictions on tobacco use, has led to the UK's tobacco accessories market continuing to drive strong performance within convenience stores, says Republic Technologies' Head of Sales, Gavin Anderson.
The switch to local shopping and RYO has accelerated sales in tobacco accessories, and this new shopper sampling exercise has quickly turned to regular purchases as people come to understand the quality and affordability accessories deliver, while they simultaneously discover value for money.
"In order to tap into this trend and take advantage of the incremental sales on offer, retailers should make sure they're fully stocked at all times of filters, papers, lighters and other flavour-related innovations like Rizla Flavour Cards and Rizla Polar Blast Crushball filters, to cater for the rising number of consumers buying into the RYO segment," says Imperial's Cunningham.
One of the biggest developments over the year was indeed the menthol cigarette ban. This had the effect of catapulting manufacturers' recently-developed flavour cards and crushball filters into the front of the market and consumers' minds.
"Following the change in legislation last May, there has been a significant number of consumers looking for flavour alternatives to menthol cigarettes and a raft of tobacco related NPD has hit the market to help retailers cater to this demand," Anderson says.
He points to Republic's iconic Swan brand as a beacon within the tobacco accessories category, synonymous with quality and value for RYO shoppers.
"Swan Fresh Burst Crushball filter is already the best performing menthol capsule filter in the market a little over a year since launch," he says."Along with the other three menthol SKUs from Swan – Swan Cool Burst Crushball, Swan Cool Menthol Extra Slim and Swan Menthol Extra Slim – we have been enabling retailers to offer even more choice in flavour and format that deliver on quality, brand assurance and value for money."
In the menthol arena, the flavour card sub-category is set to deliver £18m in annual sales, highlighting a further opportunity for retailers to maximise profits within the tobacco accessories category.
"In 2019, we launched our Rizla Flavour Infusions range which has been extremely well received by both the trade and consumers," says Cunningham."Rizla Flavour Infusions comprise flavour cards that can be used with traditional FMC or RYO tobacco products. Simply insert a flavour card into a packet of cigarettes or roll your own tobacco and wait at least 60 minutes, or leave it in longer for a stronger, more intense flavour." He quotes latest figures showing thatInfusions are flying off the shelves and currently selling around 900,000 packs per week  as consumers look to recreate the menthol experience.
"Swan's latest new product launch, Flavour Fusion Cards, enables consumers to create their own level of flavour in a packet of cigarettes or roll-your-own tobacco from just 30 minutes," says Republic's Anderson. They are available in two variants, Fresh Burst and Menthol. Each small, lightweight outer contains 25 individual cards and allows retailers to manage shelf space more effectively.
When it comes to rolling papers and filter tips, Rizla and Republic Technologies' brands dominate the nations C-store countertops – and soon will be even more noticeable, thanks to some great new display designs. All three of Republic Technologies OCB Slim & Tips variants, OCB Premium, OCB Virgin and OCB Organic Hemp are available in a slim vertical shelf ready box, eye-catching but compact, measuring only 130mm (w) x 140mm (h) x 135mm (d), enabling retailers to maximise returns from their space more effectively.
Anderson says that there has been increased interest across all premium Paper & Tips formats, with the sub-category now worth more than £16m and growing at 66 per cent YOY in the convenience channel!
That means it's time to pay attention to display. Republic Technologies is advising retailers to move products out of the gantry and onto the counter, where space (and legislation) allows. "Driving visibility of category boosting NPD is key to increasing shopper awareness and can be a successful tool towards encouraging impulse sales," stresses Anderson.
The Swan menthol countertop display unit holds five packs of each Swan menthol variant and enables retailers to showcase the breadth and choice in menthol from Swan, and
In addition, the company is launching a CDU for its new Swan Flavour Fusion Cards. The lightweight display unit holds four outers of the Flavour Fusion Cards, two of each variant.
"These eye-catching display units not only enable retailers to showcase trusted, market-leading tobacco accessories brands but they also present an opportunity for retailers to signpost the tobacco category and drive sales across the category," Anderson concludes.
New SKUs
There are other interesting, freestyle additions to accessories creeping across the counter-top, or gantry, if it is defecting traditional FMC smokers who are the target for sales.
Swedish Match, who manufacture much more than matches, are moving into a space that is not vape and not tobacco, with their ZYN nicotine pouches which sit very well in the accessories section.
"The tobacco-free nicotine pouch market grew exponentially in 2020, with total sales of around 1m cans," a spokesperson told us."There is no doubt that the COVID pandemic has also had a significant impact as nicotine users look for alternative ways to enjoy nicotine. With ZYN, there is nothing inhaled and nothing exhaled, meaning that whenever you can't smoke or can't vape, you can use ZYN."
It seems that anything tobacco can do flavour-wise, nic pouches can also do just as well, especially flavour-wise, with ZYN offering a range of mint, something for consumers who "prefer a more citrus base", and now an Espressino flavour for those who love their coffee.
ZYN points out that as a Next Generation category, it is still very new and unknown so both visibility in store and education are key so consumers can be made aware of this fresh (in all senses) alternative. "We can see that the product sells better when it is located on the shelf," they say – and ZYN is promising to introduce a new flavour for summer 2021 and the end of lockdown – "inspired by the feeling of enjoying a drink on a warm sunny day by the Mediterranean Sea". It will come in two strengths: 2 for medium and 4 for a stronger experience.
Alongside ZYN on what might have to become a completely new shelf comes UK-based 4NX and their  launch of a new nicotine pouches collection, "designed to help with getting Britain smoke free by 2030, says marketing director Mark Shaw.
4NX is a company is focused with a vision of assisting helping Public Health England reach its ambitious 2030 target, and the launch range currently comes in two flavours, an Icy Mint flavour and a Berry Burst flavour. They are available in three different nicotine strengths, 8mg, 14mg and 18mg.
Making accessories and RYO a success
 Imperial's Duncan Cunningham, says that in terms of merchandising and marketing, one of the most important things to focus on in RYO and accessories is education. If retailers and their staff know the products well so they can talk comfortably to adult smokers about them and answer any questions they may have, this will pay off massively in terms of sales and repeat visits.
"There are various ways to train staff," he says."First and foremost, it's essential they know what products are stocked in store and where they are positioned on the gantry, so they easily find them. This is especially key for best-selling lines so they can always keep an eye on stock levels to avoid running out.
"Also, encouraging staff to read up on the latest category developments and news in features such as this in the trade press is a really great way to increase their understanding of the key trends and new products. There's a wealth of information at their fingertips that will go a long way to help them get to grips with the category."
He recommends Imperial's Ignite app as a great resource that allows retailers to keep up to date with the latest news, information and training opportunities to help them perform at maximum efficiency.
But he stresses above all how customer service has come to the fore, given the in-store restrictions in place as part of the Covid-19 pandemic: many consumers might not wish to handle products and might also be disinclined to ask questions at the till point while intimidating queues build up behind them. "With this in mind," says Cunningham,"retailers need to be prepared to proactively offer advice at the till point and help shoppers feel at ease by providing knowledgeable answers to their questions that really showcase their understanding of the category."
Republic Technologies' adds that retailers should be continually reviewing their range of tobacco accessories and tailoring it to their customers' needs:"Utilising innovative NPD and a renewed focus on merchandising solutions enables convenience retailers to meet the needs of the growing number of roll-your-own shoppers."
Do all they say and your profits from RYO will be rolling in.