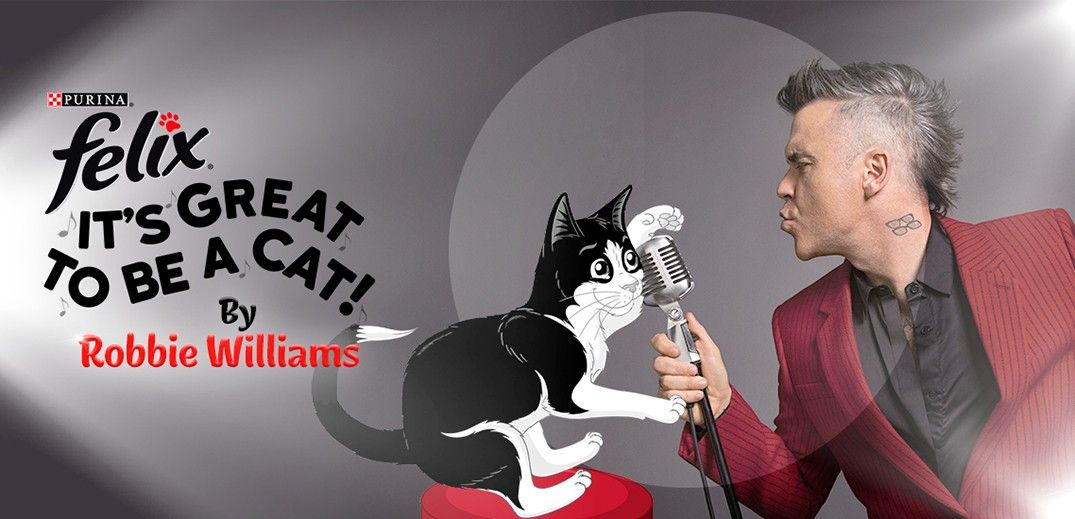 Leading pet care business Purina has announced a partnership with acclaimed recording artist Robbie Williams for its cat food brand Felix.
Williams has recorded a brand-new song as the new voice of Felix the cat, the face of one of the best loved foods for UK cats.
He will also star in a film premiere in which he will unveil a new exclusive track written and recorded specifically for this new Europe-wide Felix advertising campaign, 'It's Great To Be a Cat'.
"The cat is out of the bag, I'm the new voice of Felix. I've been a long-time fan of cats, I've had many feline friends over the years and after studying their fascinating behaviour, I can confidently say, It's Great To Be a Cat," Williams said.
Available from today (Jan. 25), the new track shines a light on how cats really do live their best lives, just like the one and only Felix. Focusing on their independence, cheekiness and ability to always land on their feet, the song will also be available to stream on Spotify.
Fabio Degli Esposti, group marketing director at Purina, said: "Combining our much-loved Felix food and treasured Felix-the-cat character, with the one-and-only Robbie Williams, gives us our best recipe yet. The two being mischievous together in their very own film premiere, shows exactly why they're the perfect fit."
Rebecca Marshall, senior brand manager at Purina UK&I, added: "I'm so excited to be launching our latest It's Great To Be a Cat campaign with Robbie Williams. The two truly are the pURRfect match and the new track is one that will definitely get everyone in a playful mood."
The launch of the partnership also debuts the premiere of Felix's latest advert, which will air exclusively on YouTube at 5pm GMT on Wednesday 25th January. Following this, cat lovers and Felix fans can catch the new song on prime-time TV slots, BVOD, Connected TV, Meta, and TikTok.