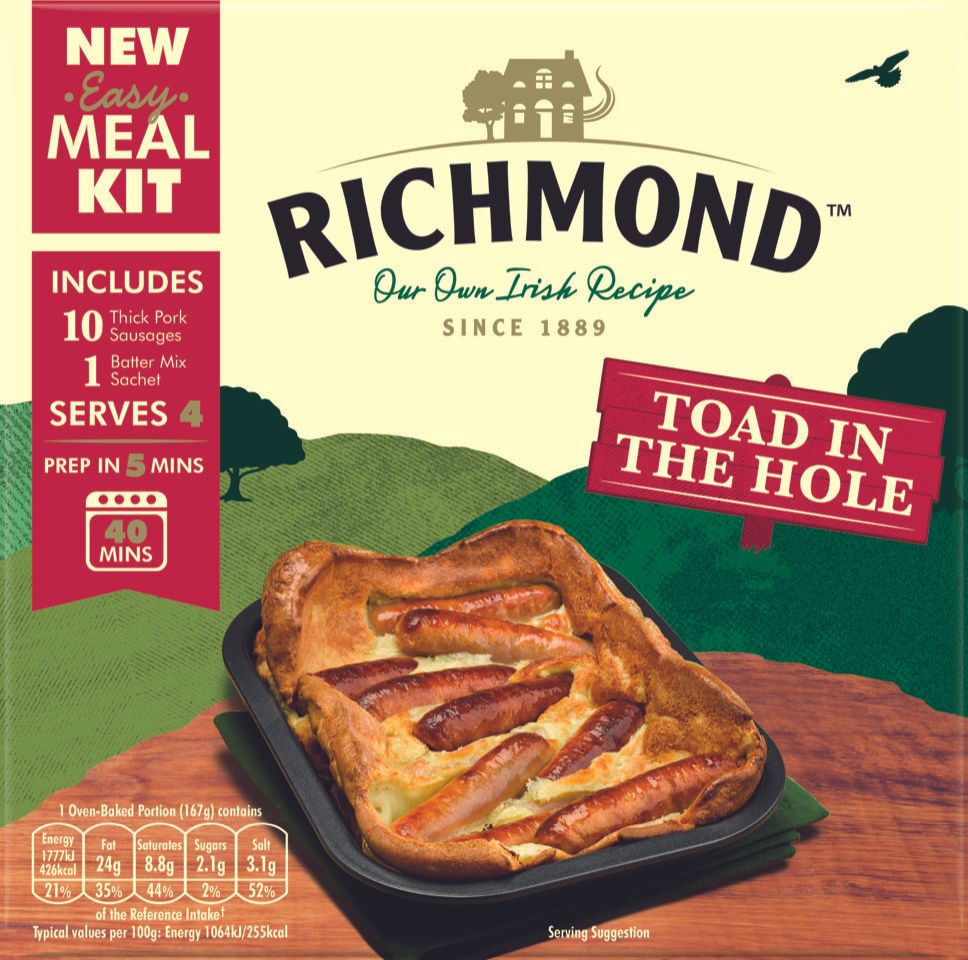 Richmond Sausages has launched its first ever meal kit. The Toad in the Hole Easy Meal Kit aims to provide families with a great fuss-free dinnertime option. The new kit will roll out to independents later in the year.
The simple, limited prep means parents can use the kit as it is or choose to add their own ingredient twists and additions, making it a versatile choice for all. The Toad in the Hole Easy Meal Kit contains 10 Richmond Pork Sausages – the perfect portion for families – and a sachet of batter mix to a make a fuss-free meal the whole family will enjoy.
Sausages have long been a dinnertime staple with "in a dish" now representing 35 per cent of all food occasions. As consumers live increasingly busier lives there is less opportunity to trial new recipes and families are looking for dishes they know will be enjoyed around the whole table. As the nation's favourite sausage brand, the winning combination of Richmond Sausages and toad in the hole batter mix means that parents can be assured they have a convenient and cost-effective solution for dinnertime.
Richmond has been making sausages for over 100 years and is committed to innovating in order to champion the needs of families. The launch of Toad in the Hole Easy Meal Kit gives retailers the opportunity to stock a new twist on the nation's favourite whilst offering new, exciting options which remove the stress of food preparation for parents. The brand now has an RSV of £55m, growing 17 per cent year-on-year and is synonymous with mealtime occasions that bring friends and families together over great-tasting food. In 2020, a year when sausages were flying off shelves, Richmond stood out, growing 22.7 per cent, ahead of the total fresh sausage category, demonstrating the brand's popularity amongst consumers and ability to drive sales.
"Our new Toad in the Hole Easy Meal Kit provides families with everything they need to make one of our favourite – yet difficult to master – meals in just five simple steps whilst ensuring their Yorkshire puddings perfectly rise every time," said Dawn Spencer, Marketing Director at Kerry Foods. "Now it's even easier to plate up a showstopping toad in the hole with our sausages – the perfect family meal as the weather gets colder."
To support the new launch, Richmond will be investing in a social and shopper campaign to excite consumers and drive them in-store.