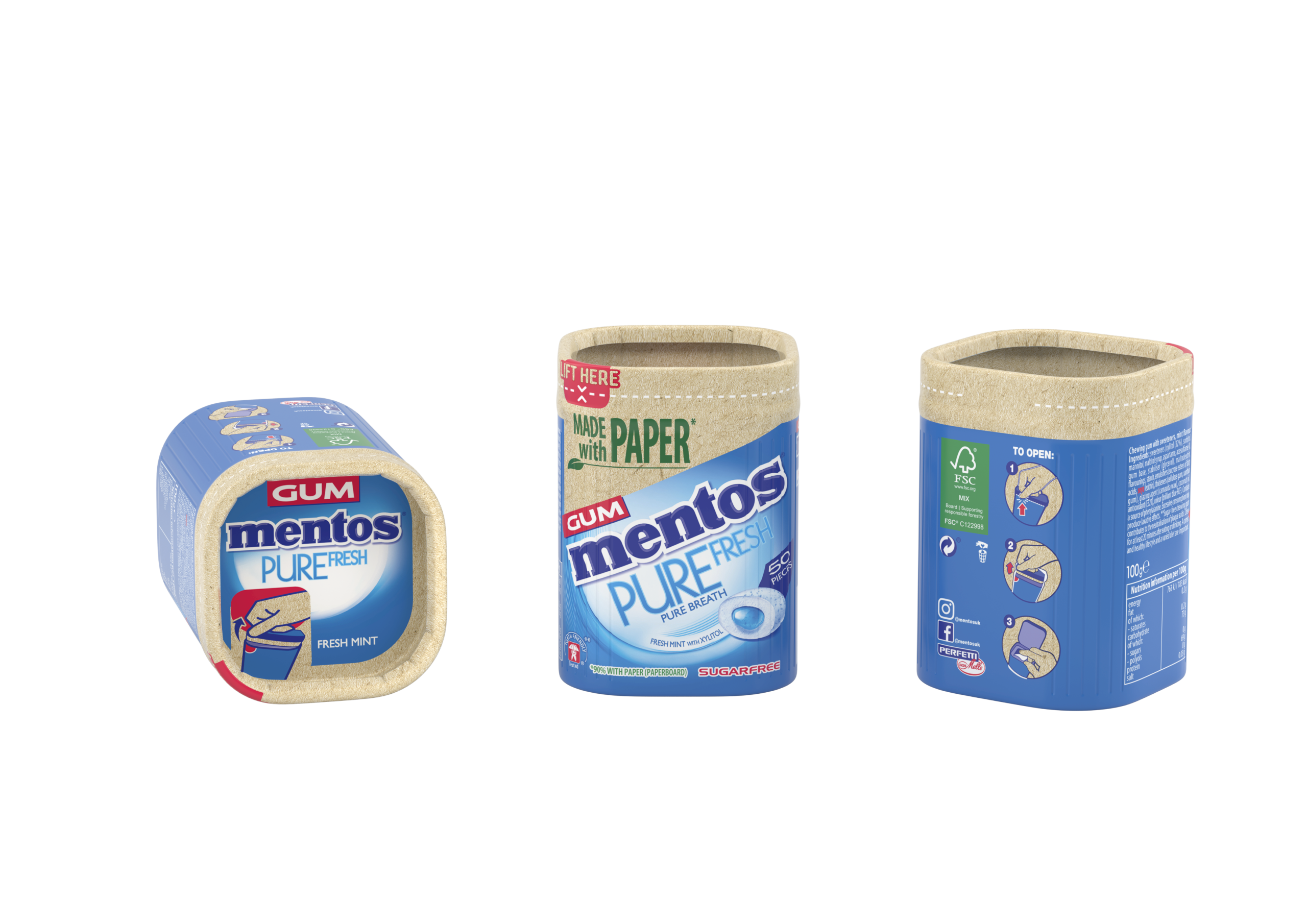 Perfetti Van Melle, one of the leading gum manufacturers in the UK, is pioneering fresh new packaging in market – Mentos Pure Fresh Gum is now available in a paper bottle!
The gum category is worth £281m and +15 per cent vs LY. Mentos Pure Fresh Gum is outperforming the category +27 per cent, driven by phenomenal sales YTD. This is the first paper bottle in the confectionery industry and represents a significant step in the right direction towards Perfetti Van Melle's wider sustainability goals – this innovation alone will reduce the plastic in Mentos Gum packaging by 93 per cent.
The new bottle made with paper* will launch in stores in c. 600 Co-op food stores this November, across the full Mentos Pure Fresh flavour range of Cherry, Tropical and Fresh Mint. The launch will be supported by a nationwide OOH campaign printed on FSC certified materials. Sales will be further boosted with the help of a Blis Geo targeting campaign that identifies consumers in proximity to stores which stock the paper bottles.
"We are extremely excited to be announcing the launch of the new Mentos Gum paper bottle," said Kim McMahon, Product Manager of Mentos Gum. "Perfetti Van Melle are continuously innovating, and to be the first in the gum industry to have a paper bottle is a step which we are extremely proud of.
"Sustainability is a key business focus for Perfetti Van Melle, and we have robust goals to meet in our own Reduce, Recycle, Recover program, which aims to deliver against meaningful measures to reduce plastics in our packaging. The Mentos Gum Paper Bottle is launched hot on the heels of our recent switch to paper sticks in the original lollipop, our beloved Chupa Chups brand – a step that will eliminate around 5k metric tons p.a. of plastic globally over the next three years.
"The new Mentos Gum Paper Bottle contains the same great taste that customers know and love, but now they have a more sustainable way to say Yes To Fresh!"
Retailer Notes
*Made with 90% paper (paperboard)
50pcs per UK bottle
RRP: £2.40