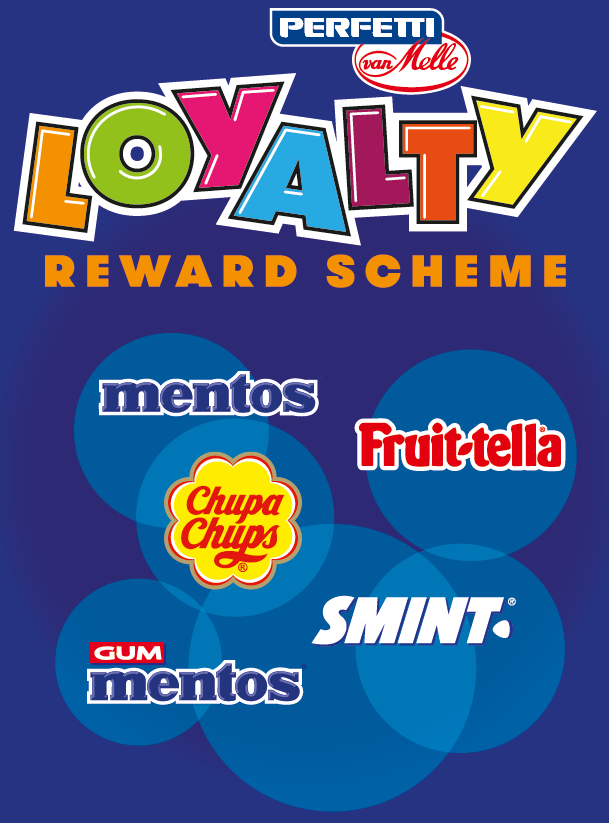 Perfetti Van Melle (PVM), one of the world's largest manufacturers and distributors of confectionery and chewing gum, is urging convenience stores to sign up for a "sweet" deal with some fantastic prizes as part of its new Loyalty Reward Scheme – including a mouth-watering £100,000 giveaway.
In a bid to drive impulse sales of single packs in the convenience market, PVM has worked closely with retailers to launch a tailor-made £2m program that features a range of stocking and merchandising initiatives to help them boost profits and reap other rewards designed with retailers in mind.
Retailers are encouraged to display PVM's best sellers on dedicated merchandising racks, for which they will be instantly rewarded through a points-based membership scheme – and the more points they collect, the better their rewards will be. Among the tempting offers to be enjoyed as scheme members are free stock, superior display solutions, expert category advice from PVM's growing field sales force and the chance to be entered into a draw for gift vouchers worth up to £1,000*.
To gain extra points, retailers will need to stock additional lines, feature POS signposting or add displays such as the ever-popular Chupa Chups Wheel or the recently launched Mix of Minis range, a new pick-and-mix offering of PVM's best-selling individually-wrapped sweets.
"We strive to be the world's most innovative confectionery company, creating imaginative products and engaging brands," said Nicola Hornsey, Senior Sales Manager at PVM. "We're bringing these products to life through stand out display fixtures, which help to attract new customers to the category and boost profits. We are excited to be working closely with retailers to offer their customers a genuinely indulgent experience that will satisfy their desires for a sweet treat.
"Our new Loyalty Reward Scheme is not just a great chance for retailers to win some fantastic prizes, it also gives them the opportunity to reinvigorate their confectionery offering, add some real shopper favourites to their lines and boost their profits."
Antony, Dee's Stores Premier Express Manager and winner of a Buy A Gift Voucher, said: "Sales have improved significantly since the stand was implemented and 90 per cent of purchases are two-for-£1. PVM have visited my store several times and are keen to support."
For more detail on how to get involved in PVM's Loyalty Reward Scheme, retailers should contact [email protected]
*Terms and conditions apply, which are available in the membership brochure.