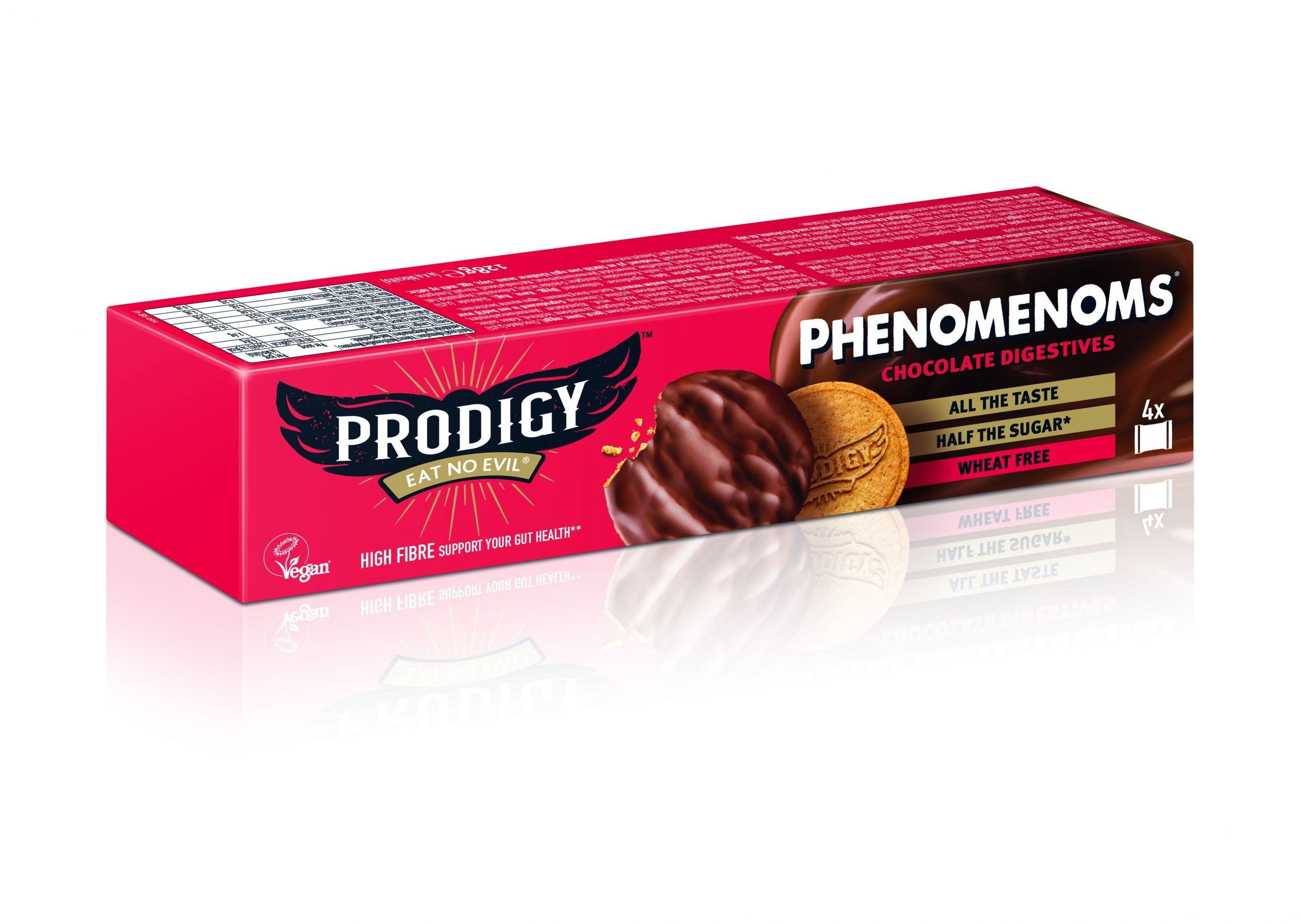 Prodigy, the natural confectionery brand, today announces the introduction of a brand new chocolate biscuit range, "Phenomenoms". The two strong range will be rolling out from June (RRP: £2.29/128g). Each is available in two pack formats; a take home retail box of 128g, containing four portion packs, and a display box of 12 on-the-go portion packs.
Positioned as your favourite chocolate biscuits reimagined, these clean-eating alternatives are made in a "thins" format and available in two variants: Prodigy Phenomenoms Chocolate Digestives and Prodigy Phenomenoms Chocolate Oaties.
The new biscuits boast uncompromised taste along with the snap and crack credentials of the classics. Not only are they better for you and better for the planet, but they are plant-based and Vegan approved, wheat free and contain just half the sugar of a typical chocolate biscuit. As with the rest of the Prodigy product portfolio, they are also high in prebiotic fibre to support gut health, contain zero palm oil and no refined sugars. True to the brand's ethos, the biscuits are also plastic negative as Prodigy removes five ocean bound plastic wrappers from the environment for every product sold. The biscuits will also have their climate footprint offset as part of the brand's work to be Climate Neutral working with Climate Partner.
"This is such an exciting launch for us as we continue on our mission to inspire the evolution of chocolate. We believe we've really hit the spot with chocolate biscuits that not only taste incredibly moreish, and that are of course dunkable, but that are also better for you and more sustainable," said founder, Sameer.
In 2021 Prodigy became the UK's first plastic negative chocolate range, as part of its ongoing commitment to making the future of chocolate not only healthier, but more sustainable. Prodigy launched to market in 2019, heralding a natural revolution in snacking. The brand prides itself on reimagining favourite impulse chocolate bars and biscuits to be all natural, better-for-you and more sustainable. The Prodigy plant-based range is made using all natural premium nutrient-rich ingredients.