By Sarwar Alam
---
Prime Minister Rishi Sunak, Arsenal CEO Vinai Venkatesham and lawyer Ayesha Vardag were among top winners at the annual GG2 Leadership and Diversity Awards in London on Tuesday 7 March.
Sunak took home the coveted GG2 Hammer Award for smashing through the ultimate glass ceiling by becoming the UK's first prime minister of Asian heritage.
It was a double celebration for the prime minister on the evening, as he also topped the annual GG2 Power List for the second consecutive year.
In a video message played at the event, Sunak said, "Tonight's event and the GG2 Power List are a reflection of the tremendous success the British Asian community has made across all walks of life.
"It's heartening to hear the stories of so many winners who have worked hard to establish themselves and build a new life with their families.
"This is a universal story, which particularly resonates with me, with my own grandparents and parents who came to this country, not just to dream of a bright future, but also to create one. Like so many here, they were determined to contribute back to this great country, which gave us all so many countless opportunities to excel.
"Becoming prime minister has been the greatest honour of my life."
Sunak's award was collected by Grant Shapps MP, the secretary of state for energy security and net zero.
More than 700 guests gathered at the Park Plaza Westminster Bridge to hear stories of inspiration from Britain's ethnic communities.
The GG2 Woman of the Year went to Vardag, also known as "Britain's top divorce lawyer", for her work on some of the country's most high-profile divorce cases.
Vardag paid tribute to her south Asian heritage, telling the gathering, "I am half-English, half Pashtun. I guess I finally feel strong enough to start to live as the person I really am. And that person has a big loud voice, gets very fired up about things, laughs too much, eats too much, likes bright colours and lots of pretty sparkly things and can't resist the aesthetic vibe of the east. And now wears a nose pin, like a badge of my Pathan ethnic and cultural heritage, which I long to know and feel more."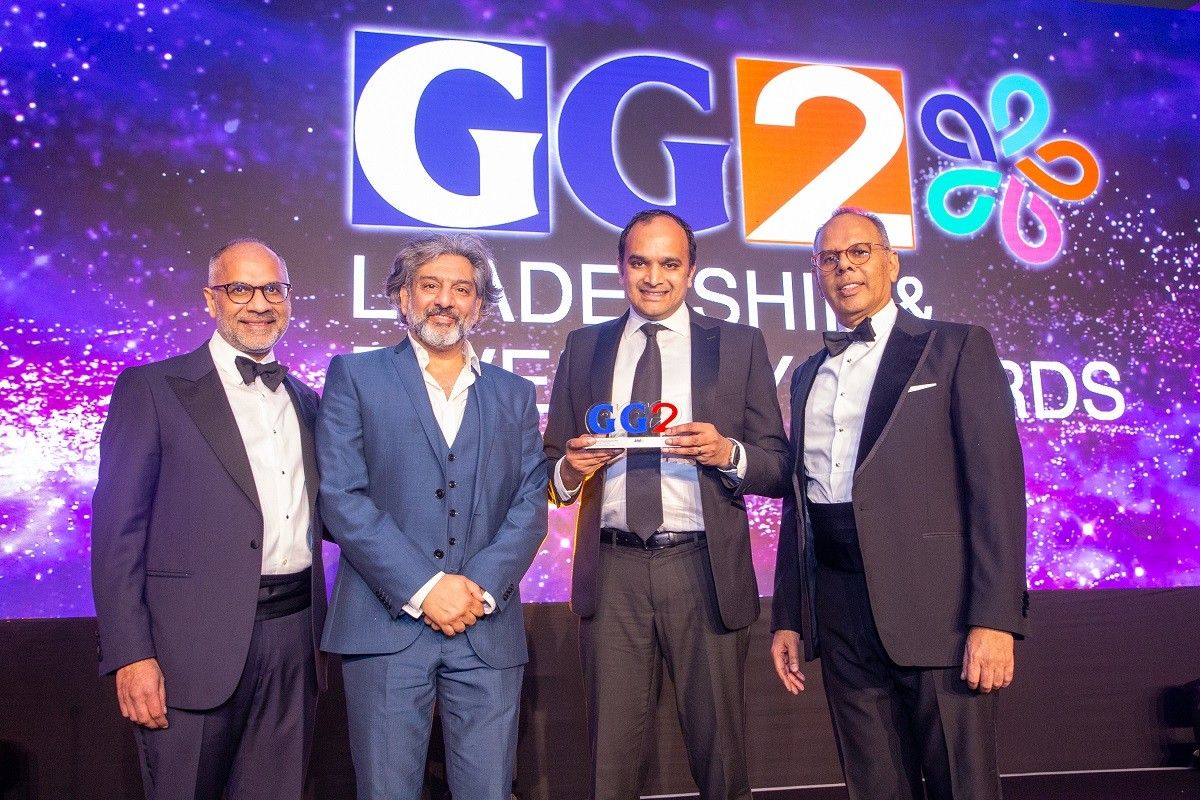 Arsenal CEO Venkatesham was recognised for being not only the youngest ever head of a Premier League football club but also the only one from an ethnic minority background as he collected the GG2 Man of the Year award.
Venkatesham said, "Arsenal are leading the way for diversity in football which has traditionally been a male-dominated industry. Earlier this season Arsenal hosted a South Asians in Football event at Emirates Stadium where I opened the event as keynote speaker in front of 300 current or aspiring South Asian football players and staff."
Now in their 24th year, the GG2 Leadership and Diversity Awards celebrate the achievements of Britain's ethnic minorities. They are hosted by the Asian Media Group, publishers of Garavi Gujarat and Eastern Eye news weeklies and Pharmacy Business magazine, as well as Asian Trader.
Commonwealth secretary general Baroness Patricia Scotland was the recipient of the GG2 Ram Solanki Beacon Award, named after the late founder of Asian Media Group (AMG) Ramniklal Solanki CBE.
In a video message (as she was travelling due to prior work commitments), Baroness Scotland said, "It is a great honour and privilege to be nominated for this beacon award in honour of the great Ramniklal Solanki, who was a giant among men.
"He brought light to a dark world, helped us to believe that justice was possible and through his work, ensured that the marginalised, poor and disenfranchised could be heard.
"He was also revolutionary and dreamed of how the world should be and struggled every year to deliver that reality. He is a true example of what you can achieve in public service and how you can change the world for the better
AMG group managing editor, Kalpesh Solanki, said: "The GG2 Leadership & Diversity Awards have come a long way over the last 24 years recognising and celebrating all ethnic talent.
"In an ever more polarised world, events such as this evening's diversity awards play an increasingly important role in creating better understanding and appreciation of the differences between us by bringing people together to celebrate success.
"There is more that unites us than divides us. By recognising and celebrating success each winner contributes not only in establishing a harmonious and respectful workplace but also a harmonious and respectful neighbourhood."
Among other notable winners were Corporal Hari Budha Magar, who spent 15 years serving as part of British Army's Gurkha regiment.
Magar lost his legs after stepping onto an IED in Afghanistan in 2010. He was determined to challenge perceptions about disabled people and rediscovered his confidence through an array of sports which included skydiving, kayaking, cycling and skiing before taking up mountain climbing.
He received a standing ovation when collecting his GG2 Achievement Through Adversity Award.
A new prize this year was the GG2 Blossom Award, presented to an individual or organisation for outstanding work in the community promoting wellbeing and community spirit. It went to Gregory Cohn from the charity Seeds for Growth, whose Greening Communities initiative help establish communal gardens in collaboration with council estates.
Lawyer Nasreen Karim collected the GG2 Outstanding Achievement in Law Award, while Daily Mail journalist Isaan Khan won the GG2 Young Achiever Award for his undercover investigations during the Euro 2020 final at Wembley and into NHS 111 call handlers.
There were also prizes for companies which have worked in the diversity, equality and inclusion sector.
Guests also raised money for charity Save the Children Turkey-Syria earthquake appeal.
LBC presenter and former BBC journalist Sangita Myska was the master of ceremonies.
The GG2 Leadership Awards were sponsored by pladis, the Daily Mail, the Royal Air Force, the British Army, Sun Mark, Hearst and RHS.
---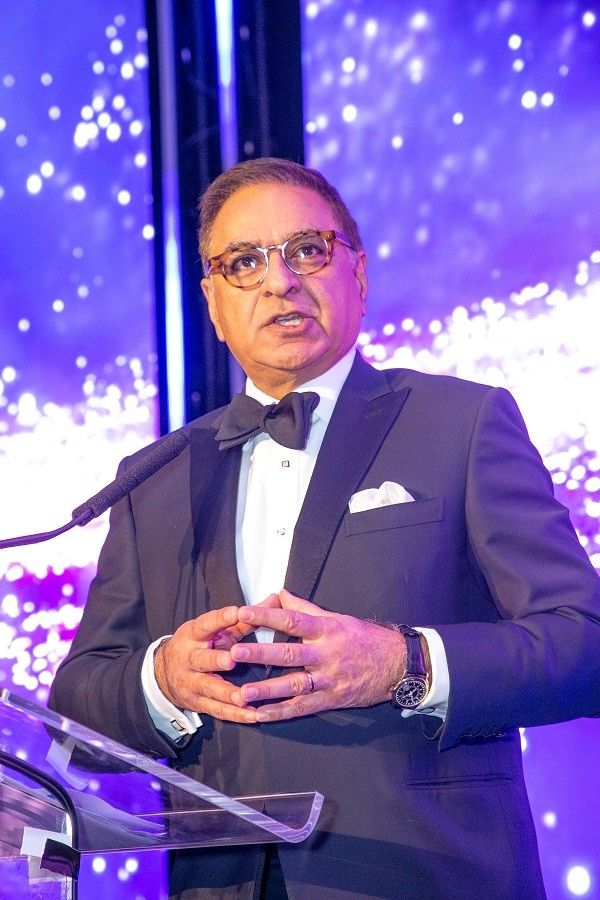 Everybody is equal
Pladis were the headline sponsors and their CEO Salman Amin reflected on the importance of the awards in fostering a culture of equality and diversity.
He told the audience, "At Pladis, we are committed to a journey, one that is a forever journey, to foster a culture that believes in inclusion and diversity.
"We believe this is simply the right thing to do. Each year, my passion for this subject is reinvigorating at the GG2 Leadership and Diversity Awards and hearing all the incredible achievements of the award winners.
"These awards provide a unique platform to showcase exceptional talents and a fantastic reminder of why inclusion, diversity and equity should be an area of focus for every single business.
"Each time I come to these awards, I am truly humbled by what I experience.
"Tonight will be another evening recognise exceptional achievements. And to the Solankis, thank you for your efforts in inclusion, diversity and to equity."
---
At your convenience
The GG2 Awards were well represented by companies and individuals who we know well from the convenience channel.
The GG2 ED&I Initiative Award to JTI for its Introductions programme was awarded to JTI and the trophy was collected by Natalie Richardson, JTI's Inclusion and Wellbeing Director.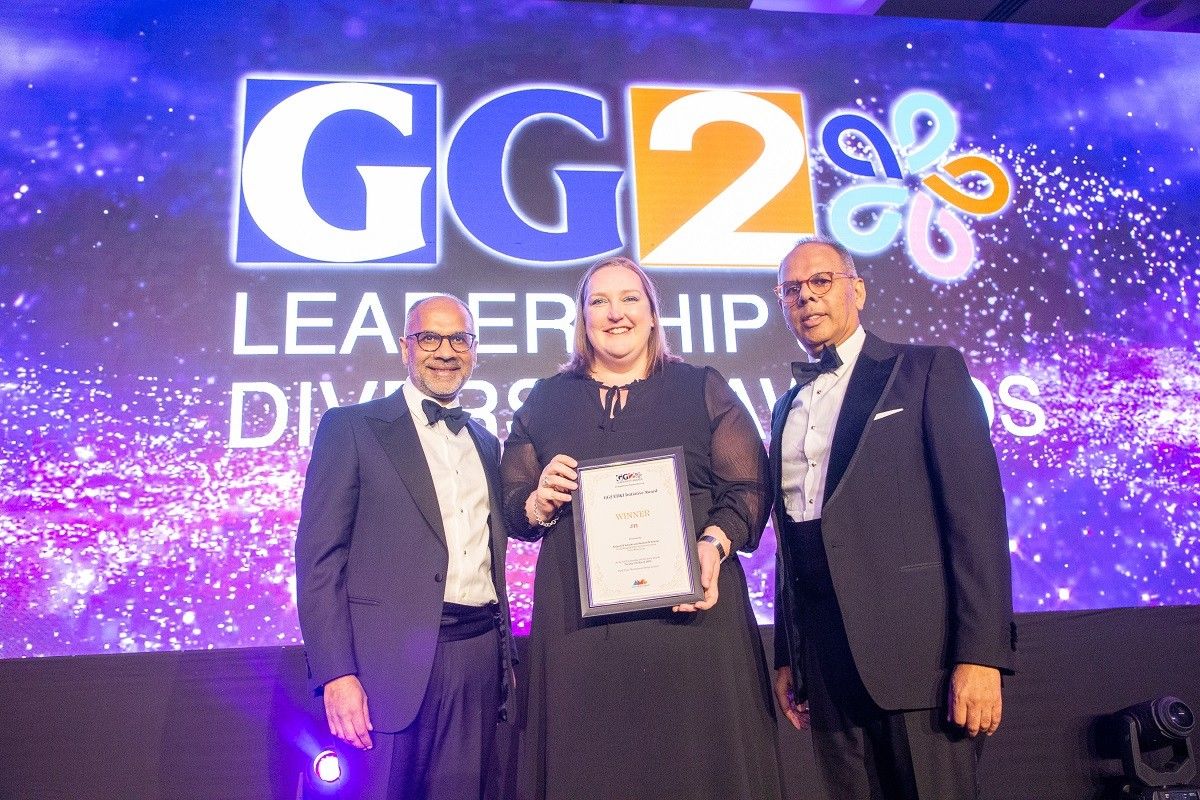 Japan Tobacco Group is a leading firm in the tobacco and vaping industry, operating in 130 countries with a workforce of 48,000 employees from 119 different nationalities and has won awards for its employee welfare initiatives.
The award dedication outlined that in today's workplace bringing your whole self to work is crucial and this company's Introductions programme – designed to promote employee connections by facilitating 30-minute virtual face-to-face chats once a month – helped form employee connections which in turn enhanced social wellbeing and helped break down barriers between departments and encouraged cross generational learning.
Each participant in JTI's Introductions programme receives a welcome box containing a mug, snacks, and starter questions.
This successful initiative led to a more inclusive working environment and enhanced social well-being.
By breaking down barriers between departments and encouraging cross-generational learning, the programme really does allow employees to bring their whole selves to work and form meaningful connections.
JTI says that it believes that diversity is a strategic advantage and is committed to fostering an inclusive workplace where everyone's unique qualities are valued.
The GG2 Diversity Champion of the Year Award was given this year to Anisa Missaghi, the Chief Corporate Affairs and Communications Officer at snacks giant, pladis.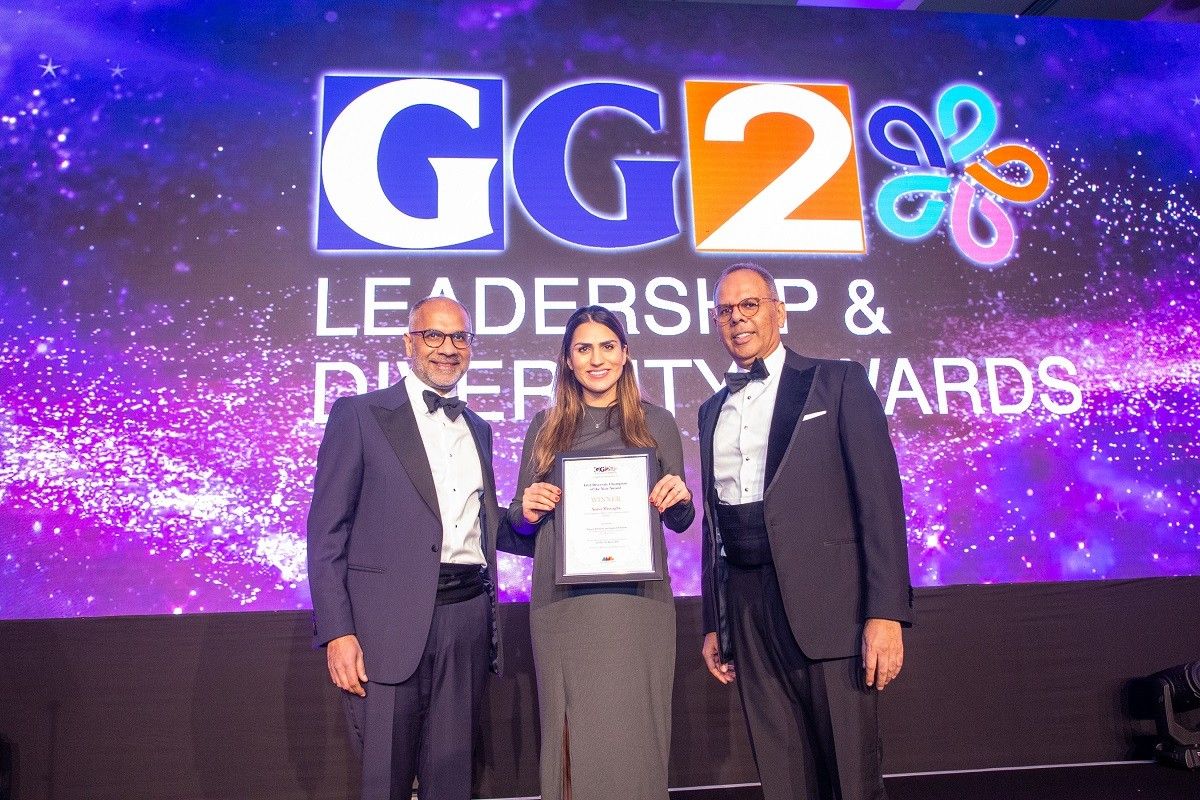 During her time at pladis Anisa has played a key role in ensuring that the workplace culture is more inclusive, supportive, and nurturing – allowing people to be themselves and thrive. pladis introduced initiatives which help create change within the organisation.
Along with CEO Salman Amin – who spoke at the awards – Missaghi was instrumental in creating awareness of Equality, Diversity, and Inclusion at pladis.
A member of the pladis Inclusion and Diversity Board, she helped host a series of Inspire sessions centred around International Women's Day, World Mental Health Day and the United Nations' International Day of Persons with Disabilities, among others. The talks challenged thinking within the organisation.
Mondelēz International won the coveted GG2 Diverse Employer of the Year Award for its excellent Race Relations Network group.
Mondelēz created their Race Relations Network group which has driven change and positivity across the company. The network aims to create an environment where everyone can be their authentic self, free from racial stereotype, prejudice and discrimination: "everyone is welcome, everyone belongs, everyone is treated fairly so we are all equal regardless of who we are, what we look like, where we are from, what we believe or any preferences we may have".
The programme involves training across a range of issues which include allyship and white privilege to neurodiversity and ethnicity. The sessions have had a positive and lasting impact.
Mondelēz is a keystone of the convenience channel and the home of brands such as Oreo, Riz and LU, as well as Cadbury, Milka and Toblerone.