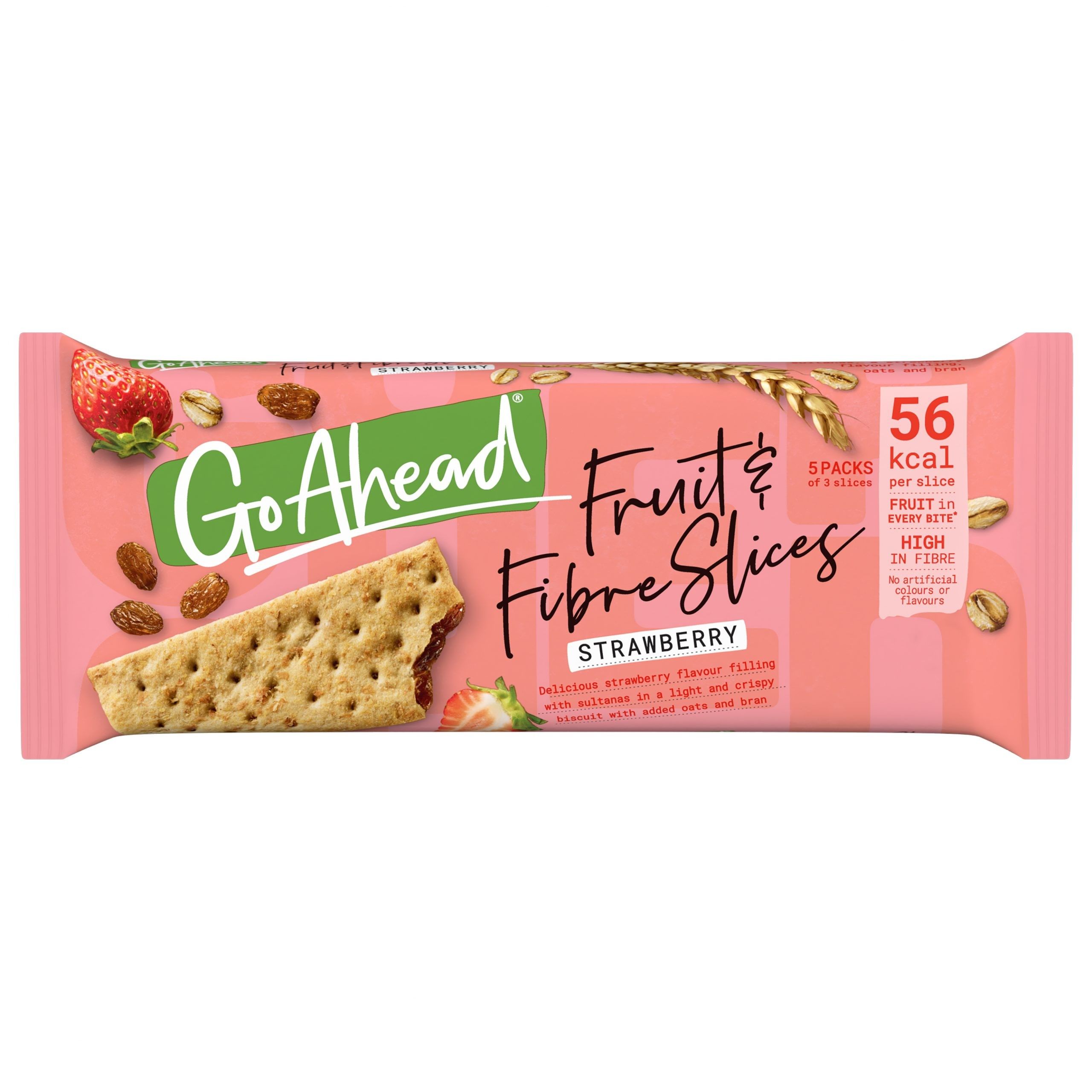 pladis, the global snacking company, has announced a programme of exciting 2021 activity across its £29 million [1] Go Ahead brand covering NPD, an ATL campaign and a packaging and logo overhaul – all in time to help retailers drive incremental sales during the crucial New Year sales period where shoppers are seeking out healthier options.
As part of its busy NPD pipeline, the leading brand in low-calorie snacking [2] is launching Go Ahead Fruity Cake Bites – a cake snack that is just 97 calories per pack. A choice of two fruity fillings, zesty Orange & Lemon and juicy Raspberry & Strawberry, are baked into a soft, cakey coating. The products come in multipacks of 5 individually portioned packs which are under 100 calories each, plus are high in fibre.
Alongside this comes Go Ahead Fruit & Fibre Slices – an extension of the brand's popular "slices" portfolio. The products offer consumers light and crispy baked biscuits which are packed with sultanas, a chewy fruity filling and finished with a sprinkle of oats and bran to create a softer texture. The two variants – Strawberry and Blueberry – contain just 56 calories per slice and are high in fibre.
The new products come alongside the biggest logo and packaging overhaul that the Go Ahead brand has ever seen.
"Shopper attitudes towards food and drink shift very quickly from December to January, so retailers need to be quick to adapt their offerings to cater to this," says Caroline Hipperson, Chief Marketing Officer at pladis UK&I. "The great news is that both of our new Go Ahead ranges are launching just in time for the New Year and, because they are low in calories and high in fibre, they'll allow retailers to drive growth during a key sales period.
"While healthier biscuits took a knock in 2020 as home-bound shoppers moved away from on-the-go products, it's still the biggest sector of sweet biscuits [3] and we predict that the sub-category will be the second-fastest growing sector of sweet biscuits over the next two years – providing retailers are stocking the right product mix."
Go Ahead will be supporting it's branding overhaul plus the launch of Fruity Cake Bites – as well as its core range of Fruit Slices and Yogurt Breaks – with its 'Go Easy On Yourself' PR, social, digital and OOH marketing campaign. On top of gently poking fun at health fads which come with the New Year, the campaign will cheerlead the small, positive changes people make – such as choosing Go Ahead as their snack of choice.
Go Ahead Fruity Cake Bites will be available in packs of 5 individually portioned 27.3g bags at an RRP of £2.39, while Go Ahead Fruit & Fibre Slices will be in packets of 5 individually wrapped packs of 3 slices (14.5g each). The new ranges, along with the marketing campaign and packaging refresh, will launch nationwide into multiple retail including Asda and Sainsbury's – as well as convenience and wholesale – in January 2021. Packaging will be recyclable through pladis's partnership with Terracycle (www.terracycle.co.uk).
[1] Nielsen Answers 12.12.2020
[2] Nielsen ScanTrack, data to 30.05.2020
[3] Nielsen ScanTrack, data to 16.05.2020