Despite being perhaps the most difficult of all the awards to judge, given the great lengths the local retailers have gone to during the Covd-19 pandemic, Asian Trader again arrived at two thoroughly deserving winners for the Spirit of the Community Award for 2020.
Retailer couple Asiyah and Jawad Javed of Day Today, Stenhousemuir, one of the two winners, have owned their store just four years but already become the tent-pole of their community, giving out PPE, delivering food parcels to the needy and their own Happy Meals to local children during lockdown.
The Facebook page of their Alloa Road store is a testament to how ingrained they are in their local community and the wider area. The small town of Stenhousemuir, which lies within the Falkirk council area of Scotland, has an estimated population of just below 10,000, but the number of followers of the store's Facebook page currently stands at over 28,000!
"This page is well known as a community page rather than the shop's own," Asiyah says with a laugh.  "Everybody says if community needs help, just contact the page."
In fact, they have been big on Facebook right from the start, and crossed the milestone of 10,000 followers just as they celebrated two years of the store in 2019; but it took just two months to reach the current figures, Asiyah says, as they started their Covid-19 relief measures.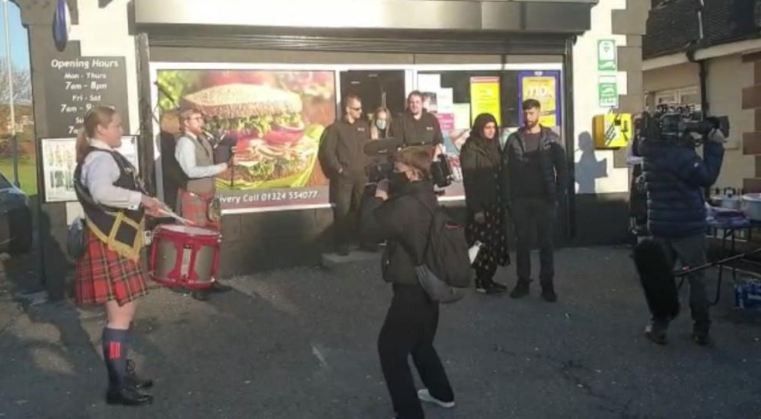 "The word of mouth and everybody thought it helps, so everybody likes the page. Some people just liked it because we were generous," she says, adding that it also helped that they were in the media. "Too much in the media," she laughs again. "I can't tell you how many people came to the shop for our interview."
Media spotlight
It all started when their Facebook post on the support to the elderly went viral after being shared by the LADbible website and American comedian and television host Ellen DeGeneres. Soon,leading national media outlets, and several international ones too – including the likes of Forbes, Al Jazeera and Russia's RT– came calling.
Asiyah is unassuming about all the media attention, but there's something about the young couple that drew in followers on social media, and attracted journalists: perhaps best captured by their local newspaper Falkirk Herald, when it said the Javeds "symbolise the kindness of shopkeepers" in its Big Thank You note.
The family decided to act when Asiyah found an elderly woman, at the start of the pandemic in March 2020, crying outside a supermarket because she could not buy any facemasks or sanitiser.
"She was very upset that she couldn't get face masks and sanitizer, because of the shortage, but the youngsters are getting them quicker because they are traveling everywhere. And she said it is very expensive online. So that's when I decided to give it free to elderly people because I thought it was really unfair," Asiyah recollects.
They started with £2,000 from their savings, putting together free "goody bags" for elderly people, containing a facemask, anti-bacterial hand gel and cleaning wipes, costing £2 each. They also delivered them free to elderly people who were unable to collect them in person. A typical day at the time meant the couple waking at 4am to buy stock and not getting home till after 11pm once they had finished delivering. As they worked round the clock, they even sent their children to their grandparents'.
The demand for the bags was consistent, and they saw support pouring in. Their supplier, United Wholesale, contributed £1,000 when they started. Customers have donated several hundred pounds, too, and volunteered to deliver the bags. And, the store received cards from across the country, often with cash in them.
Still, the generous deed cost them thousands of pounds of their own money. "We have given over £55,000 of stock since the pandemic started," Asiyah reveals.
The involvement in the community has been the hallmark of the store since they took it over in 2017, and a prime reason for the success of the store, which was considered "jinxed" after failing to turn a profit under several different owners.
"We bought the shop which was closed for a year, and when we opened it up we gave free milk and bread to the elderly people because we thought it was hard to get at that time. Since lockdown we have increased our food parcels to over 100 parcels per week. These parcels are comprised of bread, milk, sausage, bacon, porridge, sugar, tea and tinned goods,"Asiyah says, adding that the pandemic experience has been a major inspiration for this.
"Everybody's got grandparents and elderly people in the family, they were all contacting us, from even further away. And, the NHS and carers were short of PPE at that time. So we supplied to them as well," Asiyah explains.
Happy eating
They have provided free baby milk and free Happy Meals to local kids after the local fast food shop closed its doors. Last festive season, they provided free selection boxes for children, lending a helping hand to the parents who were struggling in the pandemic-hit Christmas. The store also handed out food packages to anyone who may be forced to go without a meal on Christmas Day.
Earlier in June, they offered free hot rolls to the homeless or vulnerable in the Falkirk area, and alongside Facebook posts, the couple put up posters across the town to make people aware of the gesture.
And late August, they did it again, delivering food packages for those struggling to buy food. A post on 29 August read: "If anyone is not working/not getting an income and runs out of food, or times are just tough … please don't go to sleep with an empty stomach. Don't be afraid or embarrassed to send us a private message. We will be more than happy to share whatever we can. We will drop it off or you can collect from store."
The loyal Facebook following has indeed played a big part in the success of the store, but Asiyah also credits the social networking site for the key role it plays in their community engagement, particularly to reach out to the elderly.
"When you want to spread the word you just put it on Facebook," she says. "Even elderly people have Facebook. That's why we are more concentrated on Facebook, because Instagram, that's for youngsters. The message we were trying to give was for elderly people."
Mark Zuckerberg may not be fully pleased to hear that, but wouldn't mind Asiyah's horses for courses approach nevertheless,as both platforms belong to his stable.
Significantly, Asiyah adds that the community's attitude towards the local store has undergone a sea change, which is now reflected in their sales.
"Our sales have increased due to the community, because people think that when they spend money here, they knew it will be going back to the community, even if it was ten times more expensive than the supermarket," she says.
Asiyah hastened to add that they are not all expensive – "Our prices are very good," she says – but the awareness on the part of the local community (that the money spent at the shop will be circulated in the community itself, and seeing the benefits it can bring when a local corner shop goes above and beyond), means custom has obviously increased for the store in the past year, and even as the restrictions have lifted, Asiyah says they see no difference is sales. "People are still coming from all over to spend money here."
"Admittedly we have used our store as a local support mechanism for those in need, out of work and the elderly and vulnerable and make no bones about it. This has tied us closer to the local community and consequently seen the locals support us in return with their business," she adds.
The store has also picked up on the trend for home delivery that has taken root in the country. The Javeds have launched a new website, Go Falkirk (gofalkirk.co.uk), which caters to a wider area than the store.
Delivering the goods
"Delivery has a future, we can see that," she says. "We made the website during the pandemic. We promote it on Facebook, and if anybody needs anything, they can just order it online and get it delivered."
They have employed two drivers, and Jawad also chips in to deliver orders. In store, they have three part-time and three full-time staff, besides Asiyah and Jawad.
"They're very good, everybody is very good, because they know what we do, and part of the team," Asiyah is all praise of the staff. "So we look after them and they look after us. They have been with us through the pandemic."
As industry warnings of a supply crisis have intensified over the past month – following a shortage of drivers and food processing staff due to the combined effect of Brexit and pandemic–Asiyah says they are already feeling the heat on the ground.
"Stock is the big challenge at the moment. Finding stock is not easy, we can't do our cash and carry from one cash and carry at the moment," she says. "We have been traveling everywhere, different cash and carries and different areas just to get our stock, because some of these have got one item and the other ones another item."
Jawad is new to the sector, but Asiyahcomes from a retail background, as her parents ran a local store in Stenhousemuir, where she used to go after school, immersing herself in all aspects of retailing. So, when she says the future of convenience stores lies in the community, her statement has a certain authority.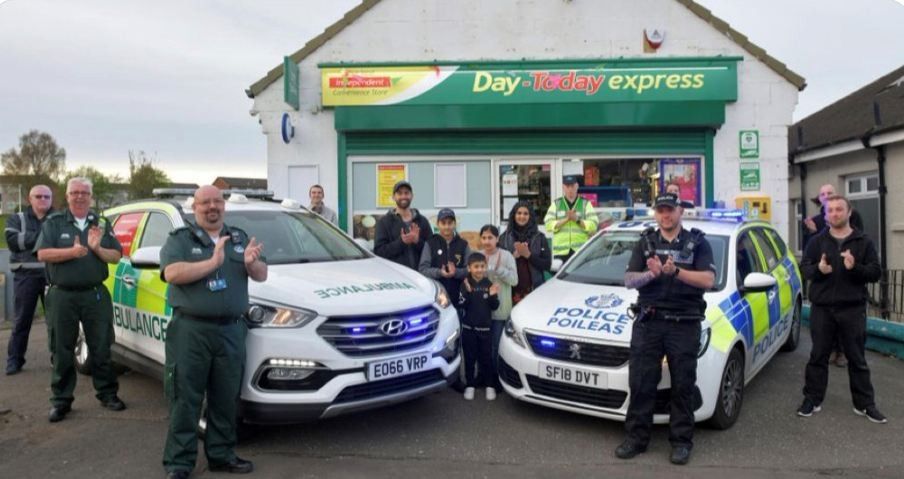 "I think everybody should be doing something for the community, especially the elderly people. Small shops have been busy, but you do something for the community, they have all seen the community coming back to us," she tells. "For us community is like a family now. If they need any help they message us. They know where we are."
Helping the aged
Asiyah has particular concern for the old. "Elderly people who have no family or they stay far away, they need to have some help because they're all equal. And they are very important in your life," she says.
She adds that both of them were brought up with strong principles of helping others who are less fortunate. "You feel better when you have a community," she says. That's what keeps her happy despite long hours and no holidays. "Customers should be seen like family. That's the best feeling in the world."
And she sums up her mission: "Work hard, help everybody and be happy."
Perhaps their greatest achievement during the pandemic is that local police and ambulance teams gathered outside their store to applaud Asiyah and Jawad, on a night normally devoted to clapping for carers. A testament indeed for how important their work has been for the local community, going way beyond the call of duty of a local corner shop.