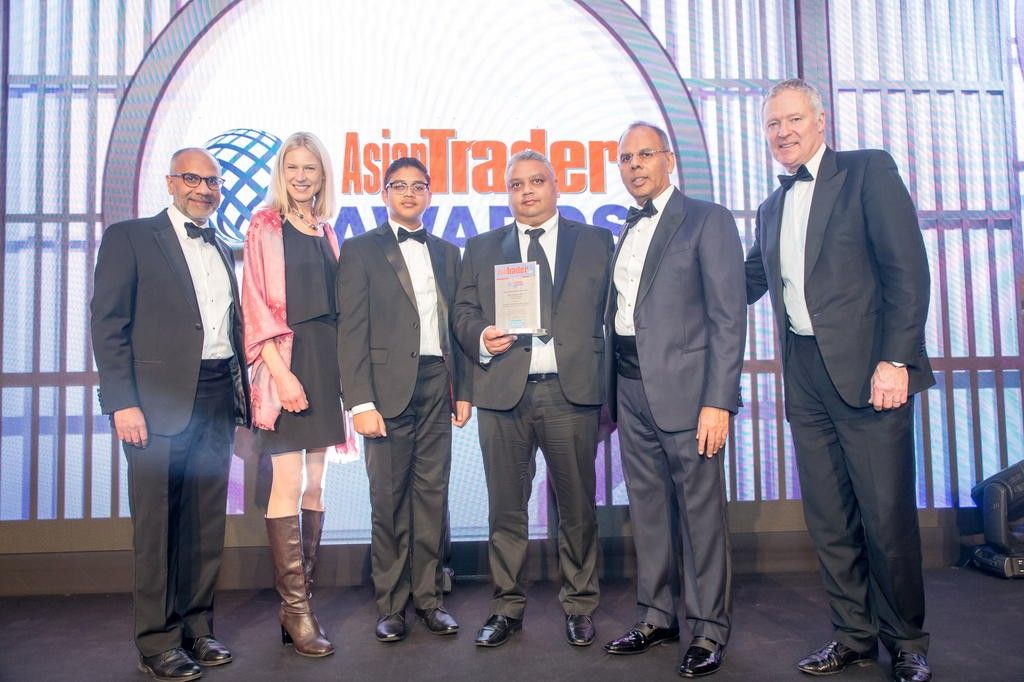 London retailer Pete Patel has been named winner in the Convenience Chain of the Year category at the 2021 Asian Trader Awards.
This is the third consecutive win for Pete, who won the Shop Safety Best Practice Award last time, and the Bakery Retailer of the Year award in 2019.
The 33rd edition of the awards, which celebrates excellence in the UK's convenience stores, was held on Tuesday 30 November at Park Plaza Westminster Bridge, London hosted by noted impressionist Rory Bremner.
Business Secretary Kwasi Kwarteng has graced the event as chief guest, with leading politicians and captains of industry joining in to herald independent retailers, convenience store and symbol operators, shopkeepers, off-license owners and newsagents from across the UK.
Delivering his keynote speech, Kwarteng said: "I have to say to the companies and  business leaders represented here tonight that you have shown a spirit of sacrifice, and huge amounts of real leadership in your communities. And that's why I wouldn't miss this event for the world.
"It was retailers, day in day out, who were bearing the brunt of the risk, who were working, in many cases 20 hours a day, to keep people going and to make sure that essential goods and services were provided. And my only word is thank you. You probably don't hear that too often from government ministers.
"But from the bottom of my heart that is the most sincere, heartfelt message, because it's been a terrible time, for so many people in lots of different communities, and without your support, without your unstinting effort, things would have been a lot worse. So thank you very much on behalf of everybody in this country."
The Asian Trader Convenience Chain Award, supported by Dr Beckmann, celebrates the maturing of the convenience sector, as more and more impulse entrepreneurs expand into multiple sites and establish themselves as true convenience chains.
Pate has five convenience stores, all under Costcutter fascia, in addition to a Bargain Booze outlet- with a fully integrated IT system allowing him access to all stores any time. His stores are located at Brockley, Lewisham; Southborough, Tunbridge Wells; Meopham, Gravesham; Heanor, Derbyshire and Brentwood, Essex where he also has the Bargain Booze store.
He is known for his meticulous, data-driven approach to store openings and refurbishments, backed by thorough research of the area and demographic. He thinks it's important to delegate, and ensures that staff are taken care of. Pete is also a pioneer in sustainability, introducing refill stations and moving away from pre-packed foods wherever possible.
The Judging Panel said: "A massively enthusiastic storeowner – after the pandemic original regular customers are spending more and new customers are now regular customers!"
The full list of the winners:
Ram Solanki Lifetime Achievement Award: Sir David Amess MP (posthumous)
Wholesale Depot of the Year Award: Time Cash & Carry Rainham
Responsible Retailer of the Year supported by JTI: Lewis Prager, Best One Preens, Wakefield West Yorkshire and Jonathan James, James Convenience Retail Ltd, Derby
Convenience Chain of the Year Award supported by Dr Beckmann: Pete (Kalpesh) Patel, Zola Ltd (Costcutter) Southborough
Local Hero Award supported by Walkers Sensations: Asif Akhtar, Premier Smeaton Stores, Kirkcaldy
Bakery Retailer of the Year Award supported by Warburtons: Mike Humphreys, Premier Kenninghall Stores and Post Office Norwich
Independent Retailer of the Year Award supported by Booker: Pete Saleem, Premier Broadway Circle, Blythe, Northumberland
Food To Go Retailer of the Year Award: Shamly Sud, Premier Racetrack, Glasgow
Tobacco Retailer of the Year Award supported by Imperial Tobacco: Amit Puntambekar, Ash's Store, Fenstanton, Cambridgeshire
Impulse Retailer of the Year Award supported by State Bank of India: Mos Patel Family Shopper Ashton Under Lyne (Both Shops)
Symbol Convenience Retailer of the Year Award supported by Bestway: Kopi Kalanathan, Costcutter, Doncaster
Next Gen Award supported by pladis: Nishi Patel, Londis Bexley Park, Dartford
Vape Convenience Retailer of the Year Award supported by British American Tobacco: Aman Uppal, One Stop Mount Nod, Coventry
Spirit of the Community Award supported by Mondelez: Julie Kaur, Premier Jules Convenience Store, Telford
Asian Trader of the Year: Mandeep Singh, Premier Singh's Shirecliffe, Sheffield
Product Awards:
Convenience Snacks Brand of the Year: McCoy's Fire Pit, KP Snacks
Convenience Soft Drink Brand of the Year: Monster Nitro, Coca-Cola Europacific Partners
Convenience Confectionery Brand of the Year: Cadbury Twirl Orange by Mondelēz International
Convenience Vape & Next Gen Product of the Year: Ploom by JTI