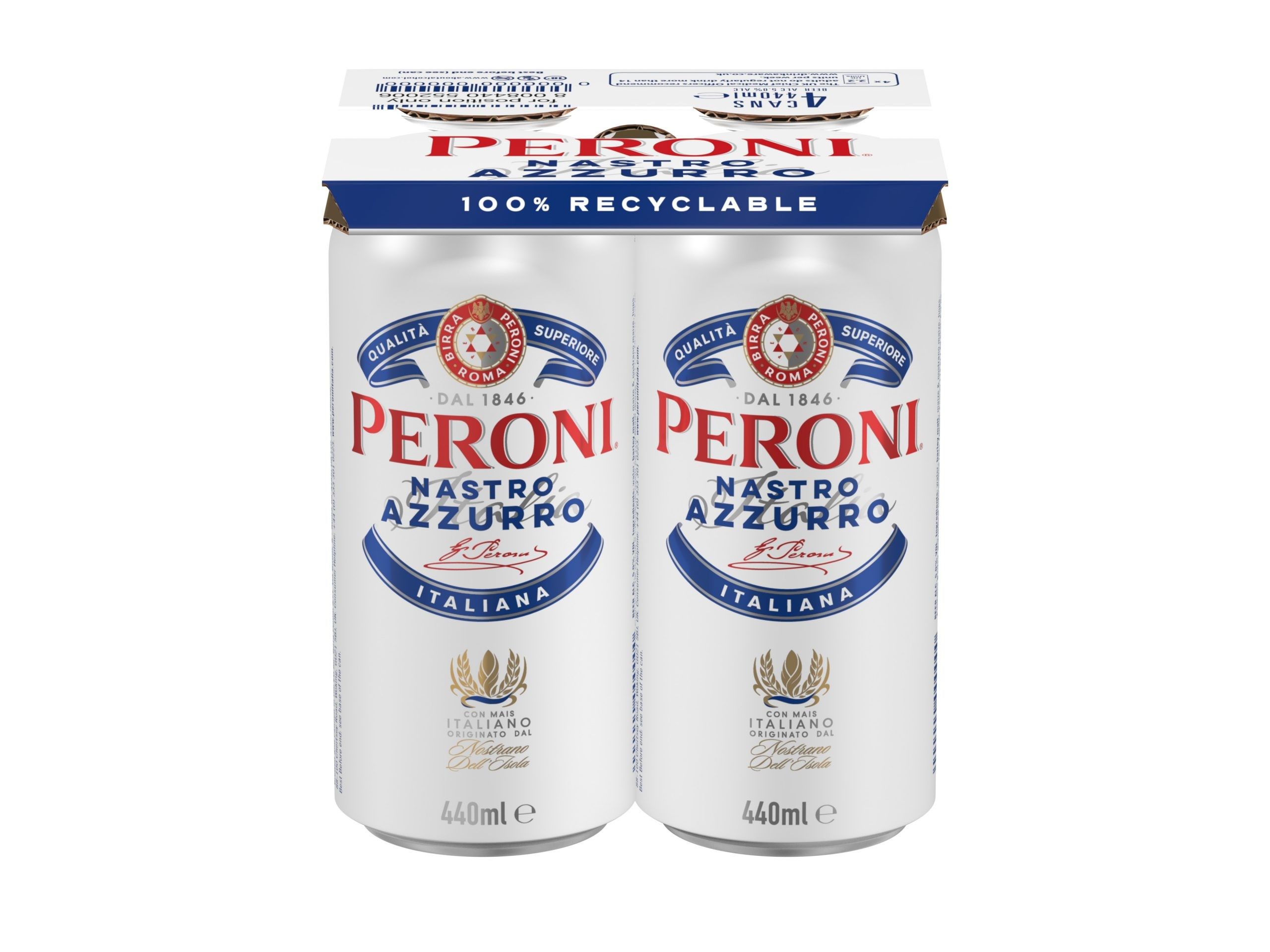 Peroni Nastro Azzurro is launching a new 440ml Can (4 pack) – offering a format with the biggest growth opportunity for convenience retailers this summer. The number-two Premium brand in impulse – will introduce the new pack format this month to help retailers cater for busy bank holiday periods, al-fresco events and for shoppers socialising at home during summer months.
Launching exclusively in convenience, the new pack format features a Top Clip cardboard carrier solution, which is 100 per cent recyclable, FSC-certified and 100 per cent plastic free, removing the need for any hard-to-recycle plastic wrap or can carriers. The new Peroni Nastro Azzurro 440ml Can caters to the growing demand from consumers and is available from Booker, One Stop, Co-op and Cash & Carry outlets nationwide.
This new format leverages the current growth in Premium cans, especially small-pack lager. Premium and Super-premium 440ml cans have grown by 33 per cent and 32 per cent respectively (MAT YA vs MAT TY). Within premium+ lager, small- and- mid-pack cans were the only pack formats to grow share of the category in the 12 weeks to 4 March.
Most beer shoppers have a clear preference for buying either bottles or cans, with only 35 per cent of shoppers choosing to buy both. One in four shoppers are solely can buyers, which Peroni Nastro Azzurro is now able to target with a small multipack.
"Retailers should consider extending the space they dedicate to four-pack cans to offer shoppers greater choice as they socialise at home and in the garden this summer," said Steve Young, Sales Director at Asahi UK. "With the brand equity that Peroni Nastro Azzurro carries, this new pack format is also a great solution for al-fresco occasions like BBQs and festivals. Four-pack lager is dominated by mainstream brands in convenience; however, the biggest growth opportunity is in premium+."
Convenience retailers should dedicate 10 per cent of their chilled beer space to premium+ four-pack cans. From Asahi UK's range, the two recommended SKUs are Peroni Nastro Azzurro 4x440ml and Tyskie 4x500ml – the number-four premium brand in impulse. The launch follows the release of Peroni Nastro Azzurro Stile Capri last month, which offers a refreshingly light lager in bottles to extend the brand into the sunshine lager segment.