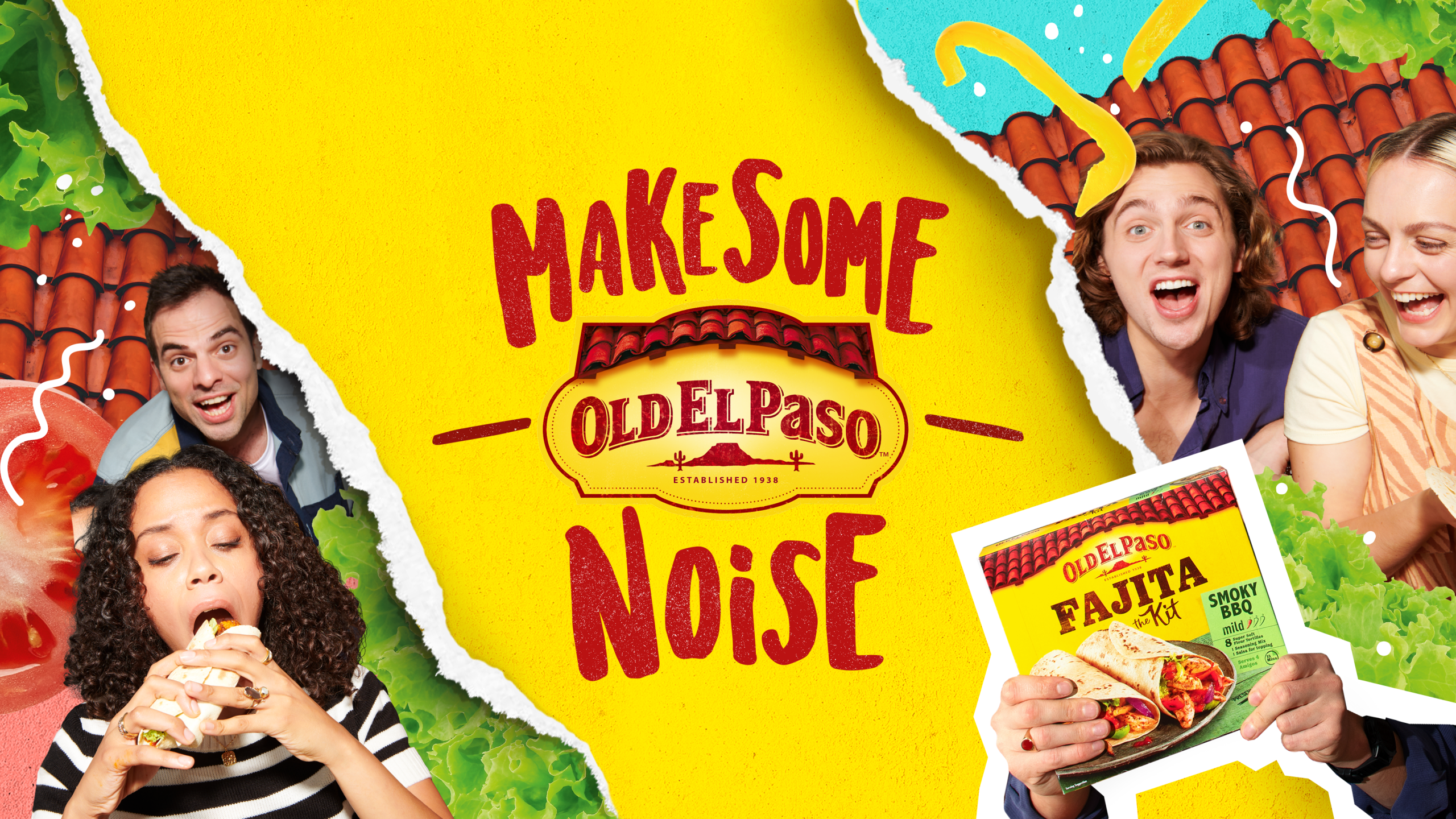 Mexican food brand Old El Paso has kicked off 2023 with the latest campaign to sit within its category-defining "Make Some Noise" creative platform.
Celebrating the exhilarating noise that happens when sharing a delicious Old El Paso meal with friends and family, "Sound of Connection" will inspire the nation to "Dine Loud and Proud" and encourage people to turn more Fridays into Fajita Fridays.
With the launch now live and initially running through to the end of March, the campaign seeks to highlight the fun and joy that can be shared around the dinner table. 92 per cent of consumers say that digital devices reduce chatting over dinner, so the new creative highlights that Old El Paso's full volume dining re-focuses attention on the dinner table, because you can't be on your phone when both hands are holding a fajita! The campaign overall reflects changing consumer dining patterns and highlights the brand's ambition to create authentic "togetherness", while shaking up the UK's meal planning in a way that's affordable, versatile and fun.
The television campaign will be complemented by a broad mix of activity across a range of on-the-go, audio-friendly media including Spotify and radio – bringing to life all the chopping, dicing and dolloping fun of Fajita Friday. A strong digital presence will also be maintained on leading social media channels such as TikTok and Instagram, supported by digital videos and video-on-demand for maximum reach and consumer awareness.
Shoppers will be targeted in store and online, with activations including bundle offerings in partnership with Coca-Cola, great value promotions and vibrant POS. The brand is investing heavily over the course of the campaign, reaching over 95 per cent of the brand's target audience.
"Sound of Connection was born from the insight that sharing a full-volume, hands-on meal with loved ones helps us remove barriers and connect more intimately with friends and family," said Aditi Hilgers, Head of Meals at General Mills.
"Our through the line campaign puts a spotlight on the real noise that happens when we gather around the table with Old El paso – we want to engage and encourage more consumers to discover the vibrancy of a Mexican meal and turn their next end of week meal into a Fajita Friday!
"The new campaign launches across integrated media channels that are particularly suited to "sound" environments to really drive home The Sound of Connection and put a spotlight on the wonderfully dynamic noise that happens when we all gather around the table for an Old El Paso feast.
"Old El Paso is committed to making family meals as convenient, fun, and memorable as possible. The new campaign is set to expand demand for the brand's broad Mexican food portfolio, so retailers should ensure they are fully stocked to avoid missing out on sales."