Rustlers, the £107.8m Chilled Ready Meals brand from Kepak, has shared exclusive insight from data specialists Retail Spotlight, identifying the key lines retailers should use to increase basket spend and boost their profits in store.
In the last year, the five most common products bought with a Rustlers are additional convenience meals, single serve drinks, milk and sliced bread, highlighting how the brand spans a variety of shopper missions from food to go to meal for tonight and top up shop.
The results show the average basket containing a Rustlers is £13.26, an 82 per cent increase on the convenience store average of £7.27 (ACS Local Shop Report 2022), highlighting how retailers can use the brand to prompt bigger spend.
In fact, in the past 12 months, only 3.6 per cent of transactions containing a Rustlers Best Seller (Quarter Pounder, BBQ Rib, Breakfast Muffin, Southern Fried Chicken Sub, Twin pack Cheese) were single item baskets.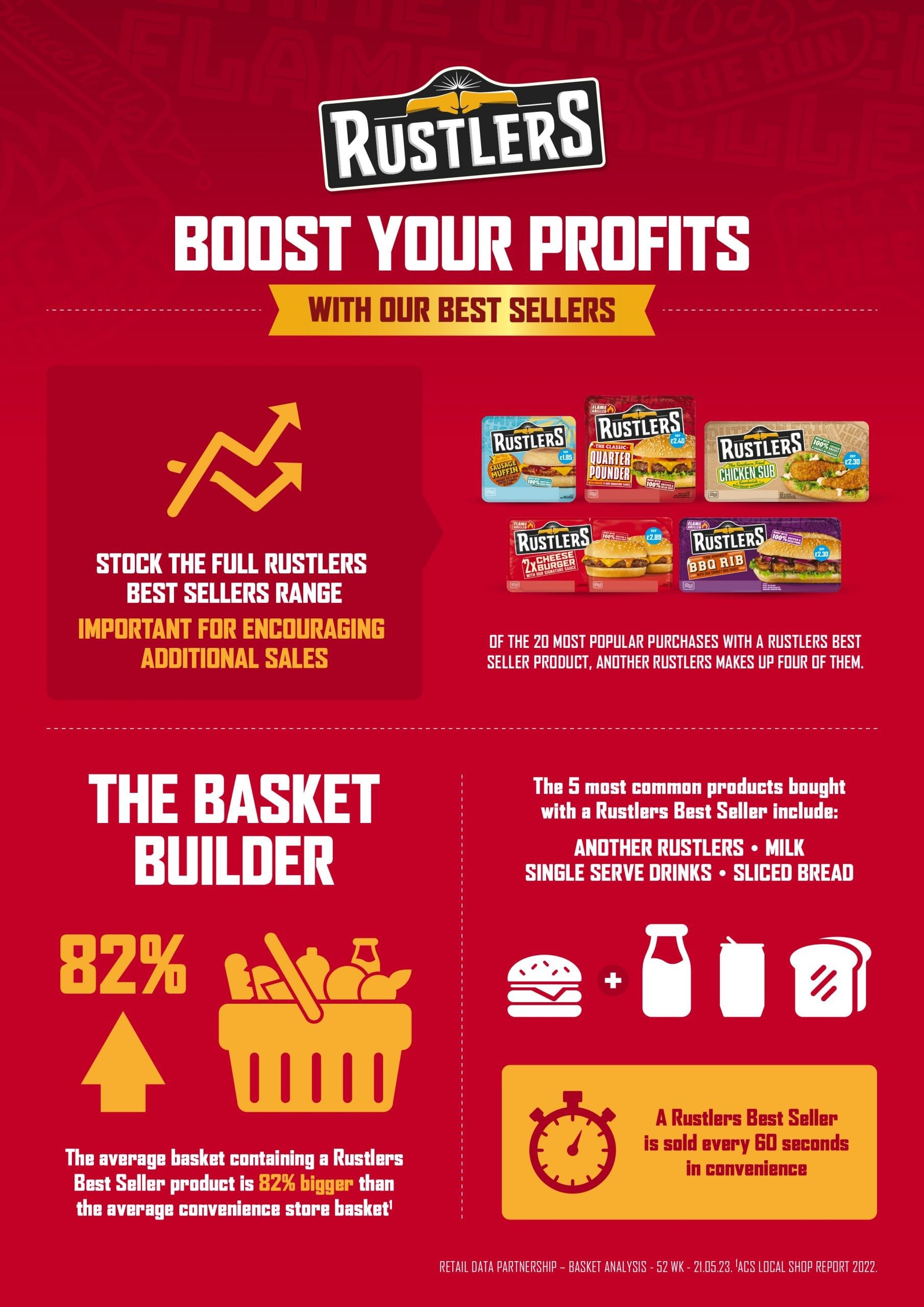 The data also reports the number one item bought with a Rustlers is a 500ml drink. A total of six single serve drinks make the Top 20 list, alongside meat/dairy based snacks (fifth), and bread and milk (third). The brand is recommending retailers stock multiple facings of its best sellers to maximise additional sales, with four of the 20 items most commonly purchased with a Rustlers being another Rustlers product.
Meanwhile, the report also revealed the peak sales period for Rustlers is a Friday between 12-2pm with shoppers treating themselves to lunch or stocking up for the weekend with a few burgers, snacks and groceries.
"It is really encouraging to see the value stocking Rustlers can bring to convenience retailers and the real potential to boost their profits," said Ross Davison, Head of Convenience at Kepak (Foods Division). "By publishing this data, we hope retailers will be inspired to implement a few small changes – from increasing facings to including Rustlers in cross category deals – to increase basket size and drive spend.