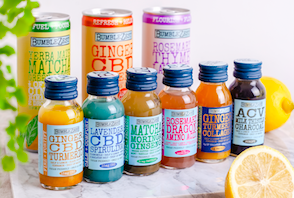 The temperature's dropping, the leaves are falling. It's officially Autumn and Winter is coming. Everyone should always be prepared for the colder months ahead.
With the increase of gas and electricity bills, people are holding off from putting on their heating until December. Walking around the house in two pairs of socks and three jumpers, with the looming flu season on the horizon too. It's important to make sure you've got the right winter warmers by your side, and BumbleZest's Ginger shots are the best companion to have. These fiery shots warm you up from the inside and can help with immunity.
BumbleZest has two premium Ginger shots: Ginger CBD Turmeric shot, and Ginger Turmeric Collagen shot. They are made from 100 per cent natural ingredients, and are both low calorie, low sugar super shots that have been known to keep you boosted and warm with their zingy, punchy, and fiery taste this season.
Ginger shots are packed with the maximum natural ingredients which have powerful antioxidant, antiviral, and anti-inflammatory properties making them the perfect weapon against the common cold and flu.
These are uplifting super shots that many customers have claimed 'sets them up for the day', with its supercharged ingredients; boosting the turmeric with black pepper to speed up absorption. It is a harmonious blend of both fiery and smooth.
Fortify your body, revive your immune response, and restore your balance with BumbleZest golden Ginger shots!