Nakasero, a female-led, family-owned business known for producing award-winning vegan-accredited condiments, is thrilled to announce the confidential sale of its beloved recipes to a global manufacturer.
The terms of the deal remain undisclosed. "We are extremely happy and excited to announce this sale," stated Gita Raikundalia, the founder of Nakasero. "The sale of our Nakasero recipes is a significant change, allowing the range to expand its reach to a new generation of consumers. I am delighted that my recipes will now travel the globe, just as I had envisaged."
Since its inception in 2019, Nakasero has earned widespread acclaim for its exceptional vegan-accredited condiments. The brand's commitment to quality, taste, and clean eating has garnered a dedicated following, both locally and internationally.
Nakasero has received numerous accolades, including New Business of the Year, Local Artisan Product of the Year, Two-time Businesswoman of the Year, Lloyds Small Business of the Year, and a Bronze award in the One to Watch category at the Weetabix Food and Drink Awards.
With the sale of its recipes to a global manufacturer, Founder Gita Raikundalia is poised to embark on a new journey. As the driving force behind the original brand, she will continue her mission of promoting wholesome food and sharing her culinary expertise.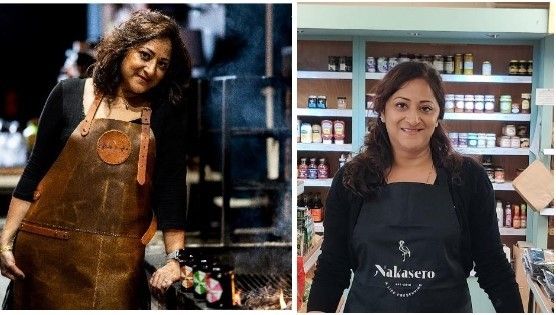 In addition to her culinary passion, Gita's new journey will include mentoring small business owners, engaging as a professional speaker, and sharing her extensive knowledge about business, growth, mindset, and the life of a business owner. Her captivating journey, intertwined with her experiences and stories, will inspire and empower others in their own entrepreneurial endeavours.
The Nakasero brand will be remembered for its unparalleled artisan recipes, crafted with love and inspired by Gita's upbringing, worldly travels, and passion for food. As the range continues to expand its reach under the guidance of the global manufacturer, Gita's legacy and commitment to quality will remain ingrained in every
product that reaches consumers' tables.
The sale signifies a pivotal moment in Nakasero's history, with a deep sense of gratitude to its loyal customers, partners, and supporters who have been instrumental in the brand's success. As the recipes embark on their global journey, Gita looks forward to witnessing the continued love and support from its cherished customers.