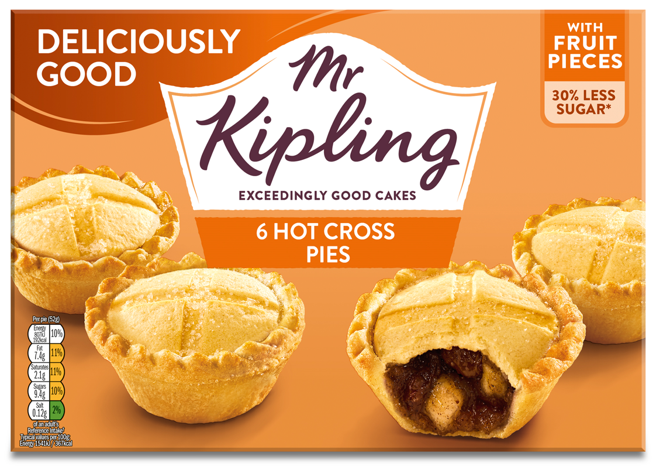 Mr Kipling has expanded its non-HFSS compliant Deliciously Good range with the launch of Hot Cross Pies. The limited-edition Easter product will be available across the grocery, wholesale and convenience channels by w/c 27th February 2023.
Sweet treats are key to the Easter occasion with 87 per cent of shoppers buying more cake than usual during Easter. In addition, 83 per cent agree they want to try new Easter flavours and themes.
The new Deliciously Good Hot Cross Pies take on the popular sweet and spiced flavours of Easter, reinvented in a pie format to provide shoppers with a healthier sweet treat that they can enjoy without compromise.
"These non-HFSS pies contain 30 per cent less sugar and real fruit pieces, making them ideal for driving penetration with health-conscious consumers," said Mathew Bird, brand director at Premier Foods. "As they are HFSS compliant, Mr Kipling's Deliciously Good Hot Cross Pies can be promoted throughout the store for maximum visibility.
"Shoppers also look to brands that they know and love during key seasons and – with Mr Kipling ranked as one of the top Easter cake brands – the new Deliciously Good Hot Cross Pies are set to help retailers boost basket spend."
Mr Kipling Deliciously Good Hot Cross Pies will be available as a pack of six, with an MSRP of £1.75. The pies join the wider Mr Kipling and Cadbury Easter cake range, which includes favourites such as the Mr Kipling Lemon Bakewell and Cadbury Mini Egg Chocolate Cake.
Mr Kipling Deliciously Good Hot Cross Pies
– Pack size: 6 pack
– MRSP: £1.75
Premier Foods Easter SKUs include:
1. Mr Kipling Del Good Hot Cross Pie (NPD)
2. Cadbury Mini Egg Nest Cake
3. Cadbury Mini Egg Choc Cake
4. Cadbury Crème Egg Choc Cake
5. Mr Kipling Lemon Bakewell
6. Mr Kipling Raspberry & Lemon Mini Batts
7. Cadbury Mini Roll Easter – Pack Take Over
8. Mr Kipling Egg Fancies
9. Cadbury Creme Egg Cupcakes
10. Mr Kipling Lemon Fancy – Pack Take Over
11. Mr Kipling Lemon Whirl
12. Cadbury Mini Egg Gateau