A few years back, Tina and her brothers decided to take the plunge and open a shop, now a Nisa Local, in Perry Barr in the West Midlands. They did not come from a retail family and are not "Next Gen" – but they are certainly "New Gen" and their success story of sibling teamwork is an inspiration
How would you describe your store?
Well, it's a family-run store, me and my two brothers. Shisan is 29 and he's the oldest, and then my little brother Divesh, who is 22. My big brother came out of uni, always wondering what to do. And he thought, "Well, let's start a shop." We literally passed this place every day and then one day we saw it was to let. Before, it was just a car insurance place and they needed somewhere bigger, there wasn't a shop at all. And we've got a family friend who had a few Nisas already and he'd always said that if you ever want to get into that business, just give us a call. And so we saw this place and gave him a call. He's like our silent business partner now.
It's just under 2000 square foot and we call it our little TARDIS because it's bigger on the inside than it looks. It looks like a small entrance but then when you actually go deep inside it's actually quite big.
What sort of trading area do you operate in?
We're at the bottom of Kingstanding and College Road, literally on the corner of two main roads and we do get a lot of passing trade. There's a petrol station across the road but you know what petrol station prices are like, so not much competition there.Then at the top of Kingstanding Road there's a Tesco Express but it's quite a distance for people.
We get a lot of elderly people, because it's in walking distance for them, and there's school up the road. And then there's a lot of normal young families, middle-aged families, a good mix and a wide variety of people.
How long have you been a retailer?
It's been five years now since we've had this place – we're still fairly new. I was still at uni at that point, studying psychology. My brother did economics so it's the perfect mix!
What is the best and the worst thing about the job?
I think the best thing has got to be working for yourself, to be honest. It's nice to put in the hard work and you see the rewards at the end of the day, you get the benefit straight away from it. But I think it can also be the worst thing sometimes as well, though, because if you don't wake up in the morning, no one else is going to do it. It's like two sides of the same coin. You can't just decide to pull a sickie, because there is no one else to run it – it is literally just the three of us. Mum and Dad help out here and there, but …
What is the biggest challenge in retailing?
I think trying to please everyone, because we do get such a wide variety of customers, and being a convenience store we are limited in our space. We are always trying to make use of all the little spaces we've got. But it's hard. You're not going to please everyone at the end of the day, are you?
Do you think retailers get the respect they deserve from the local community?
Definitely. I think we know about 90 per cent of our customers by name and they know us. I think Covid has definitely helped people realise how hard retailers work, keeping the shelves stocked up and delivering to people and all the long hours. And a lot of people during all this Covid have given us flowers and thank-you cards, which we appreciate.
Do you find the suppliers' category management plans work?
Yes, Nisa do send a lot of stuff, to be honest, and it's good to look at, we get some different ideas. It's good to freshen things up a bit. But I don't know, I think we know our customers better than anyone at the end of the day and we can put stuff in a place that they're going to see or we know what they're going to be asking for.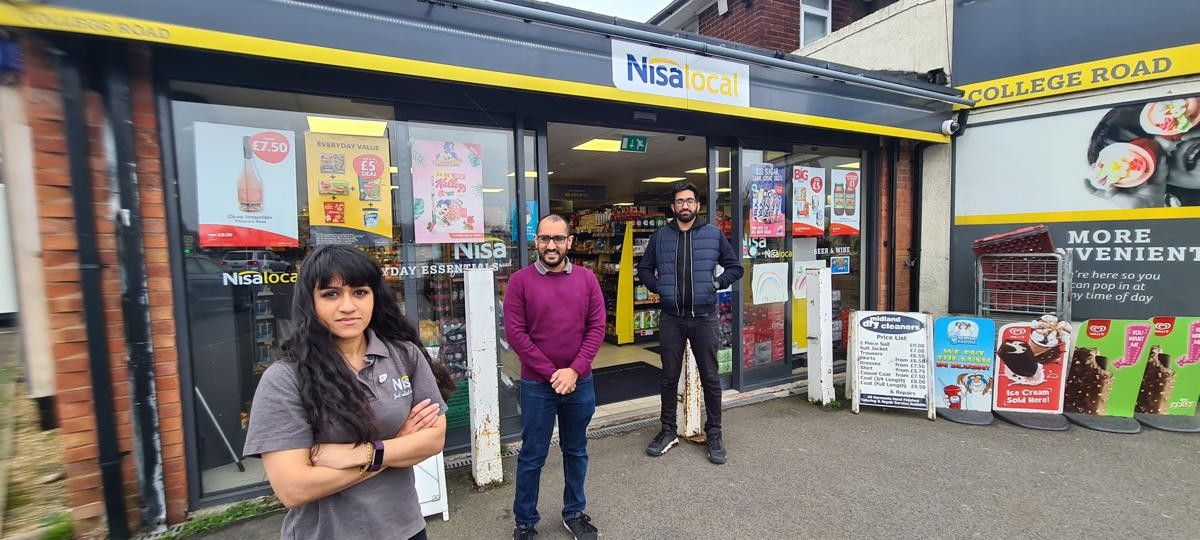 What brands or categories do you find bring more footfall into your store?
I think since Co-op bought out Nisa, I think the Co-op brand in general has really helped our store. I think it's the quality of the products and it's a name that people can relate to. And although we've got a Co-op further up the road, people prefer to use us now because they think, "I don't need to go up there and I'll just come to you."
How do you get up to date information on new products?
The trade magazines, to be fair. We always look forward to reading Asian Trader – it's the highlight of the morning [laughs]! I love to have a flick through a magazine that you can actually physically see. It was through one of the trade magazines that we saw one of the stores had a fresh popcorn machine. We then thought we should get one so we contacted the company and we became the first shop in the West Midlands with fresh popcorn, and it's really taken off now.
How much do your sales depend on seasons and weather?
I think we get a steady trade throughout the year but obviously you're going to have the summer, so we get flowers and plants in. And now this year, as we have an area at the back, we're looking to open a little garden centre. That was my brother's idea so he'll be in charge of that!
Do you get the support you need from the local police force?
I'd say yes. I mean, we don't tend to call the police for little petty thefts because they're already so busy and overstretched and we don't want to waste their time. But I've called them myself a few times when I've been on my own and my brothers aren't there and I found myself in a bit of a threatening situation. And they responded straight away, literally in minutes, which I think as a female, especially with everything going on at the minute is really good to know. And, you know, they have your back basically, we have got the support from them, so I can't really fault them.
What is the best piece of advice you would give to your local retailer?
Definitely make time for yourself. I think it's a lot easier said than done, but I think with retailing your life it can become work, eat, sleep, repeat– and I've noticed that so much with all this Covid stuff going on.
And you get into that routine so quickly that it's hard to fall out of it again. With all the gyms and everything shut, it's hard to find something for yourself. But it's definitely important to go for a walk or a run, get back into the gym when it's open again. Just have a chill-out day. You work so many hours, it's not easy to switch off from work. But definitely make time for yourself.
What sections of the store work best for you and which are the most challenging?
Again, I think it's two sides of the same coin. I think our chilled range for the fresh fruit, the bread and milk is probably one of our best sections because we are quite big inside and have the chillers available to provide a wide selection.
So it is nice for people to come in and think, "Oh, I can just pick up my fruit and veg, chicken, steak and put a meal together, especially because people are shopping a little and often now and for tonight's meal."
And chilled is also the hardest to stock. Because it's such a good section for us, we're constantly trying to improve it as well. We want to keep it fresh, we want to keep it eye-catching, so we're always looking for new products to try out. But with fresh stuff, you need to try and minimise the waste as well. So it's trying to find that balance between getting new stuff in but keeping the wastage down.
What help and advice would you like to see most from manufacturers/suppliers?
I think the availability of products needs to be improved. For example, with the Twirl Orange when it first came out – we managed to get hold of a few boxes, but after that, nothing. You need a steady flow of product; don't just release it and then … nothing. You know, we're letting down customers if they're coming in asking for it, so it makes us look bad then.
Do you ever have customers asking for products they have seen on TV that you know nothing about?
I think there's always going to be something that you've missed, although nowadays it's less TV. I think it's more social media in general. We do tend to look at Instagram a lot more. I know I sit there on Instagram and I search for all the new products that you can see, so when my brother goes to the warehouse I say, "Look out for this, look out for that."
So we try and stay ahead on that, and even TikTok nowadays – you've got to get on these things, and I think Instagram especially is a lot more accessible. Often on a website, you find yourself searching through loads of different pages to get to what you need. For Instagram, the pictures are there, it stands out.
It's a new generation of shopkeepers now, and we do use social media a lot more than anything else.
If you were to give up your store tomorrow, what would you like to do?
I'm too young to be giving up anything! A bit of time off would be nice but I don't think I could sit there.