Can you please give an overview of your brand?
Mars Wrigley is the world's leading manufacturer of chocolate, chewing gum, mints and fruity confections. Alongside an innovation process that shares exciting new flavour varieties, Mars Wrigley also differentiates by taste profile, texture and format to bring completely new confectionery sensations and compelling products to market.
We understand that shoppers expect variety within the confectionery category and that impulse purchase is critical to the overall success of the category. We're committed to creating positive and innovative NPD to encourage shoppers to engage dynamically with the category. The positive impact of innovation alongside our bestselling core range, has ensured that sales stay strong. My role within the business is to ensure that we continue to lead the gum market – supporting our core portfolio in every customer, whilst bringing the right new products to market to boost sales for retailers nationwide.
How is the gum category currently performing?
Despite the challenges faced by many categories in the last year, the Mars Wrigley gum portfolio is performing well and is currently worth over £248.6 million1. EXTRA's core flavours, Peppermint and Spearmint, for example, are the top performing variants and are worth more than £104m2. EXTRA® sugarfree gum is also a key driving force behind the gum category, which is growing in volume sales, worth more than £203 million2. With restrictions now easing and normal life resuming, we have seen an increase of on-the-go shoppers purchasing gum and driving this category value further. Visibility is key in such an impulse category and if independent retailers are to capitalise on this increase in foot-fall, popular items should be fully stocked on shelf and located just below eye level, at "buy level", to take advantage of incremental sales.
Is there any new NPD coming up?
Earlier in the year, we announced the launch of EXTRA® Refreshers bottle. These launched at £2.19 RRP in three flavours, Peppermint, Spearmint and new Tropical flavour which are also being released in a single pack of 7 pieces at £0.59 RRP. Research has shown that fruity confectionery shoppers expect variety in flavours and textures, with fruit flavours being the most incremental flavour in the category.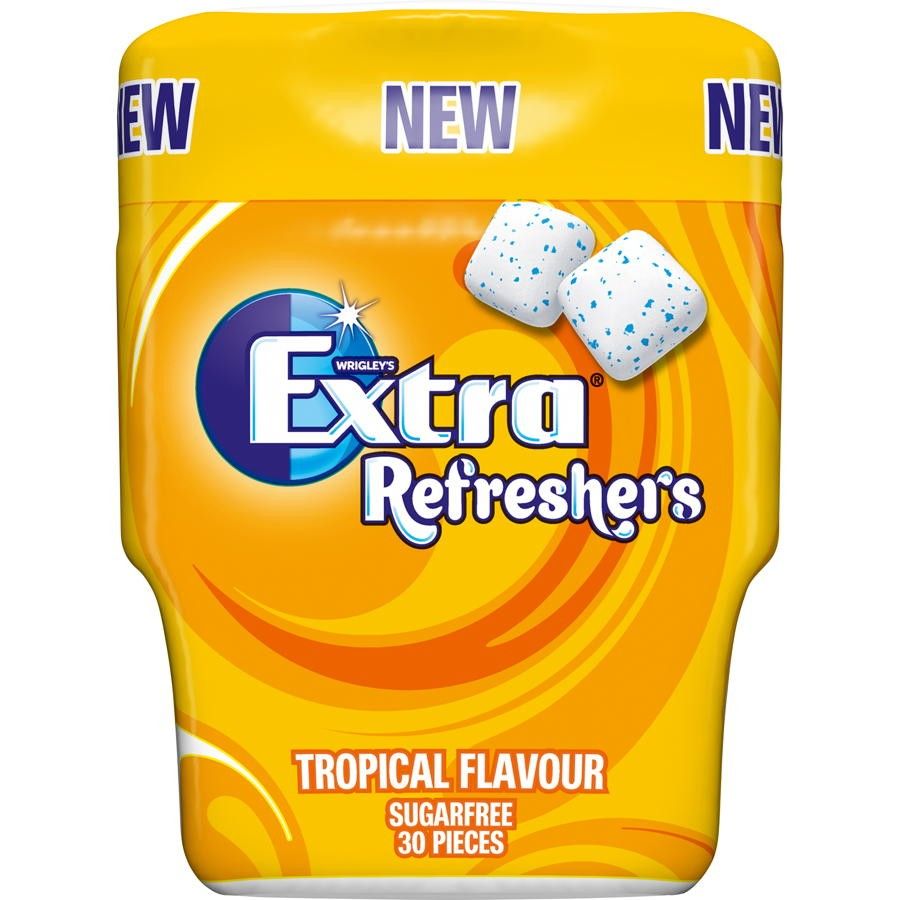 What's more, in May we relaunched EXTRA®'s "Find Your Other Half" activity that seeks to create a campaign that takes dating to the next level by giving young people the confidence to make successful connections in the real world. This year, EXTRA®'s "Find Your Other Half"has partnered with ITV2's mega-hit Love Island. The activation acknowledges that connections with others are crucial to consumers under the age of 25 and promoting responsible togetherness is vital to this age group. The debut of EXTRA® Refreshers bottle, Tropical flavour and Find Your Other Half campaign is just a couple of examples of the way we are always looking to innovate our product offering to not only tie in with consumer needs, but current, evolving trends. We hope to continue to bring to the market breakthrough experiences through our products.
What trends are driving the market?
As consumer behaviour evolves, new shopper and purchase occasions also evolve in the gum category. Some emerging trends that are helping to grow the category are in-home occasions including morning routine, chewing alone, working, studying, watching TV, browsing the internet and gaming. Even before lockdown, 42 per cent of gum consumers said their top reason for chewing gum was to feel relaxed, with 30 per cent of gum occasions taking place whilst relaxing in the afternoon or evening4, giving opportunities to expand overall gum sales as restrictions are lifting.
How important are independent retailers to your brand?
Almost half of gum purchases are unplanned, and it is therefore vital that independent retailers stock Wrigley gum to target on-the-go consumers in convenience settings. Mars Wrigley works closely with independent retailers to make the most of the impulse category and with this, we have created Availability into Action, a trade hub designed specifically for retailers. Availability into Action offers tips for retailers on how to create best-in-class gum displays that will ultimately drive sales. Making the shopper mission quick and easy is another good way to drive sales and this can be achieved by merchandising gum at the end of an aisle.
Describe your brand in three words
Fresh, confident and cheeky.
---
1 Nielsen Scantrack – Total Gum – Total coverage MAT w.e. 28.12.19
2 Nielsen Scantrack – Total Gum – Total coverage MAT w.e. 28.12.19
3 Nielsen Scantrack – Total Gum – Total coverage MAT w.e. 28.12.19
4 Kantar – 2018 – Data before Covid-19