Can you please give an overview of your brand?
Vuse is the latest stage in a journey we began in 2013 with the launch of our first vapour product – the Vype e-cigarette. We've invested more than £3.2 billion in our alternative, smoke-free nicotine products since then to become one of the world's leading vapour companies.
We worked hard on a range of new vaping starter kits and e-liquid flavours for our Vype brand – the ePen3 in 2018 and ePod in 2019. Vype became the number one closed-system vaping brand in traditional retail, winning back-to-back product of the year awards in 2019 and 2020 (winner of e-cigarette category survey by Kantar.)
The evolution continues as Vype becomes Vuse. It means serving the same amazing quality vaping and flavours, but as a recognisable global brand which connects adult nicotine consumers and retailers wherever they are in the world. It is extremely important to state that all Vype and Vuse products are 100% compatible with each other.
How is your brand performing?
In a fast-growing market, Vype has exceeded our expectations. It's the fastest-growing closed system brand in the UK, with year-on-year growth of 44% overall (and 36% in the independent and symbols category) in 2021. It also boasts a market-leading share of sales overall (44%) and in independent and symbol stores (38%), as of early April (Nielsen).
And last year, more than two-thirds of the 686,000 regular vapour consumers used a Vype product. (Kantar). With our extensive investment and expertise in vaping products, we can continue to give adult nicotine consumers the benefits of a variety of alternatives developed and tested to suit their changing needs. We are certain Vuse will exceed Vype's success – it's already had successful launches in the US and Canada where it features as number-one brand. And UK retailers are among the first in European markets to stock Vuse, starting in May.
How is the vape/pod market currently performing?
We're continuing to see very strong growth in the category overall and across different channels – it's a market that promises great things. Convenience and choice are the watchwords for adult nicotine consumers right now. The vape/pod market fits their needs perfectly, with an increasing number of options for adult nicotine consumers in terms of flavour and nicotine strength.
Do you have any new product development?
Vuse will deliver all the benefits of a recognisable global brand that connects adult nicotine consumers and retailers. That means the same amazing quality, flavours, and taste, but with some new features too.
We've made Vype and Vuse products fully compatible with each other – Vype devices work hand in hand with Vuse refills and vice-versa. It means our adult nicotine consumers continue to enjoy a smooth, hassle-free experience. There's innovation in our devices too: both the ePen and ePod 2 devices are now sleeker and faster to charge. Then there's the striking Vuse packaging – it's truly unique and a real knockout. We're very proud to have won a prestigious Pentaward 2020 bronze prize for the design and we think it'll really stand out to adult nicotine consumers and retailers.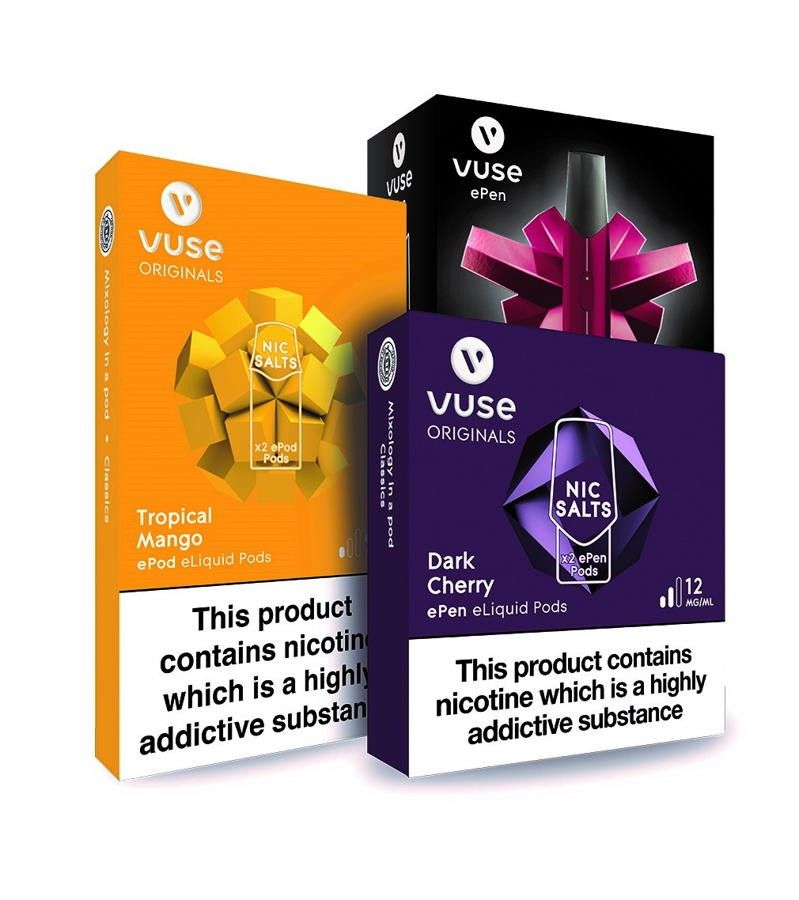 We know consumers are increasingly passionate about the environment and want products that are more sustainable. Across our global business, BAT has made significant environmental, social governance (ESG) commitments. Vuse is playing its part in that, with Significantly reduced plastic in the Vuse packaging
How are you supporting your brand & NPD?
We're working hard to amplify the positive messages and make Vype and Vuse visible to adult nicotine consumers and retailers. Our team is about to set off on a huge activation roadshow to reach hundreds of thousands of potential customers in seven cities across England, Wales and Scotland by August. After Covid restrictions, it's great to be back on the road again to engage with consumers. We're really looking forward to it and hope to wineven more adult nicotine consumers along the way. On top of that, our support includes strong, out-of-home advertising and investment nationwide.
How important are independent retailers to your brand?
Vuse is taking Vype to new levels of performance and style. For independent retailers, it's a great chance to grow sales and win a bigger share of the vaping community. We are helping to educate retailers on the many benefits of Vuse, including the full 100%compatibility between Vype and Vuse products, the importance of maintaining availability and our different promotions. There's also our new nationwide programme – Verify – aimed at helping independent retailers prevent access to tobacco and tobacco alternatives by young people.
Our Vype/Vuse display gantries can really make the difference for retailers when it comes to merchandising and displays in stores, letting them order and control the display to grab adult nicotine consumers' attention. We know that putting our vaping products alongside our oral nicotine pouches, for example, brings powerful results. We'd love to hear from any retailer who wants to use them at [email protected]
Independent retailers now have a bigger, better-equipped BAT field force sales team to help them with Vuse and all our products. Look out for our representatives and the chance to partner with us in a fantastic new B2B programme.
What trends are occurring in the sector?
The category is growing fast. Among current trends, adult nicotine consumers increasingly want more exotic, fruity flavours, as well as lower nicotine strengths and above all else, products that are developed by scientists and are safe to use. Retailers should check out our portal, vapermarket.co.uk, to keep right on top of all the exciting developments in the sector.
Describe your brand in three words…
Innovative, Global, Outstanding.