Can you please give an overview of your brand?
Purdey's is the original natural energy drink. It's a sparkling blend of fruit juices, botanicals, energising B vitamins, and has been delighting people for over 30 years, providing a pick-me-up for consumers looking for an energy lift throughout the day, but who want it delivered through more natural, great tasting ingredients. In fact, Purdey's delivers against three key factors that customers look for in soft drinks today: it tastes great, which is paramount;it has added functional benefits for body and mind; and Purdey's is a beacon brand in wellness, thanks to its iconic silver bottle, strong brand awareness and broad appeal.
How is your brand currently performing?
Purdey's has seen growth of almost 70% and added £3.5m in value to the soft drinks category over the past four years, and we're expecting this growth to continue into 2021 with the introduction of two new flavours, Refocus and Replenish, plus our £1.5m above-the-line campaign going live in May. The growth of Purdey's in recent years has been exceptional and we're really confident in our new flavours, new pack design and new formats, to help us continue to drive sales of the brand.
How is the functional wellness drinks market currently performing?
What we're seeing is how consumers have adopted new food and drink and even lifestyle habits. One in five people have begun to take vitamins since the start of lockdown, and nearly 47% of people agree they will eat more foods to support their immune system. So it's no surprise that the functional wellness drink segment has grown in popularity.It's appealing to those people who are looking to enhance their diets, or feel that extra goodness going into their body. The category is worth £240m, about 2.7% of total soft drinks. What's most exciting about this category is that shoppers are willing to pay more for it – double the pence per litre of a regular soft drink. For that reason, it's a really lucrative opportunity for retailers to take advantage of.
Do you have any new product development?
Indeed – we've gone through a brand redesign, plus we've launched new products and new formats. We've kept our iconic silver bottle look, but we've dialled up the benefits so consumers understand more about what we have to offer, and we're also dialling up the flavour.
And we've launched two brand-new flavours. Refocus is a blend of dark fruits, naturally caffeinated with low levels of caffeine and containing guarana and B vitamins, inspired by helping people who want to stay mentally sharp.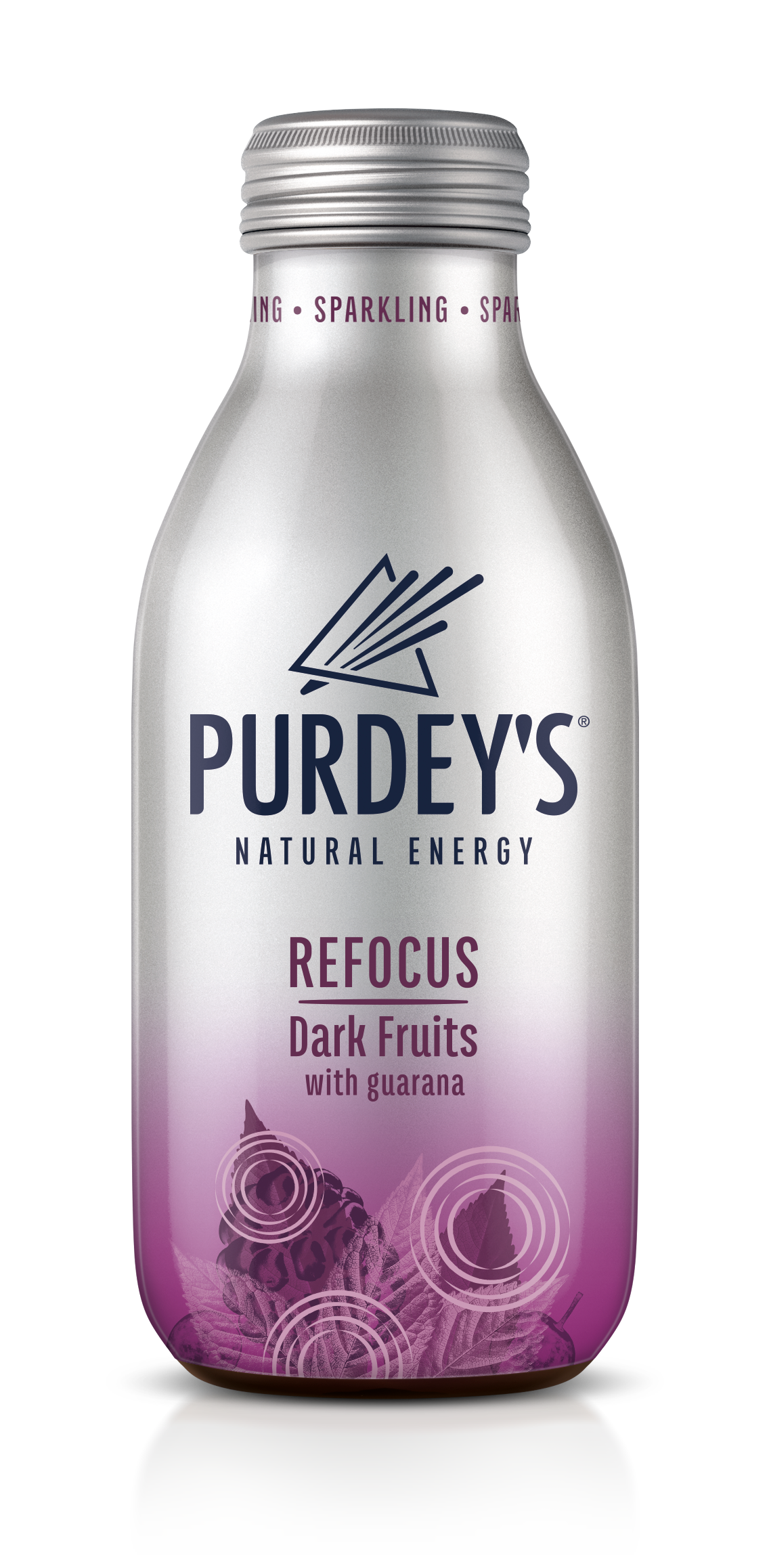 Replenish, our other brand new blend, is a lighter, refreshing, sparkling raspberry and rose extract. This one is under 50 calories per bottle and is enriched with B vitamins and magnesium to help restore natural balance.
We also have a new multipack slimline can offering – a great opportunity for retailers to tap into the take-home opportunity, which we've seen increase over the past year.
How are you supporting your brand & NPD?
This year sees our highest-ever digital spend on the brand with a digital advertising spend of £1.5m as we know this is where our audience spend most of their time. In addition, we have in-store PoS perfect for independent outlets, designed to help consumers navigate the fixture and educate shoppers on the benefits of Purdey's and why they should be buying it. We're working really hard to ensure that consumers essentially are aware of the Purdey's brand and why they should buy into it.
How important are independent retailers to your brand?
Independent retailers are extremely important to the Purdey's brand, and we're committed to helping them drive sales and reach their full potential within the functional wellness segment. We see wellness as a huge untapped opportunity for independent retailers. If the impulse category got its fair share of the wellness market, it'd be worth an additional £27.2m – equating to an additional £812 per store.
In fact, with 46% of shoppers agreeing that shopping for health and wellness products is very confusing, it's important that retailers offer a clear range of best-selling brands that taste really great. More importantly, merchandising these products together helps consumers to navigate the fixture. By clearly communicating and signposting this category, we can show why it's worth paying more for them, and where to find them – particularly in convenience as lockdown restrictions lift and consumers are increasingly looking for on-the-go soft drinks.
What trends are occurring in the sector?
More people are looking for benefits above and beyond their standard diets, such as boosting energy levels, maintaining a healthy heart, even encouraging strong brain function. Nearly half of people are eating more food to support their immune system, and 31% of shoppers are now interested in premium soft drinks that contain functional attributes. So it's really no surprise that the functional wellness sector has grown in popularity, appealing to those people who are looking to enhance their diet and put extra goodness into their body. The biggest area of the segment remains the energising or multivitamin area drinks where Purdey's is a key leading brand. Areas such as gut health, relax, and body image are much smaller, but are emerging slowly, so retailers should stock brands with strong awareness, broad appeal and great taste.
Describe your brand in three words …
Refreshing, natural, energised.