Can you please give an overview of your brand?
McCoy's is the UK's number one ridged crisp brand, a well-loved and popular go-to snack for consumers looking for a full-on flavour experience. We know that the number-one CSN category driver is taste and our mission at McCoy's is always to deliver a range of big, bold flavours in the right formats to appeal to different shopper needs.
The McCoy's brand is famous for its dynamic flavour portfolio and we are constantly refreshing our range with exciting NPD grounded in insight and the latest trends to deliver innovation and drive growth in the CSN category.
How is your brand currently performing? 
The McCoy's brand is worth £148.1m and growing +1.4 per cent in value1. McCoy's is one of the top three PMP brands in CSN, with large format McCoy's PMPs currently growing ahead of the category +45.1 per cent MAT2 as result of brand strength and the introduction of exciting new flavours.
Promising a real flavour punch, McCoy's Salt & Vinegar and McCoy's Flame Grilled Steak are the number two and number three best-selling meal deal choices, perfect for livening up lunchtimes. As consumers look to economise and the trend towards hybrid working creates a resurgence of at-home lunches, we're seeing multipack formats become increasingly popular, growing +7.4 per cent within CSN3. McCoy's is one of the top five multipack brands in CSN, out-performing the segment and growing +10.5 per cent MAT4.
How is the crisps and snacks market currently performing? 
CSN is a fast-growing, priority category with huge scale. Worth £3.8bn and growing at +8.6 per cent YOY5, CSN represents a critical opportunity for retailers to drive sales and footfall. As trends towards recessionary spending continue, shoppers look to the CSN category for affordable tasty treats.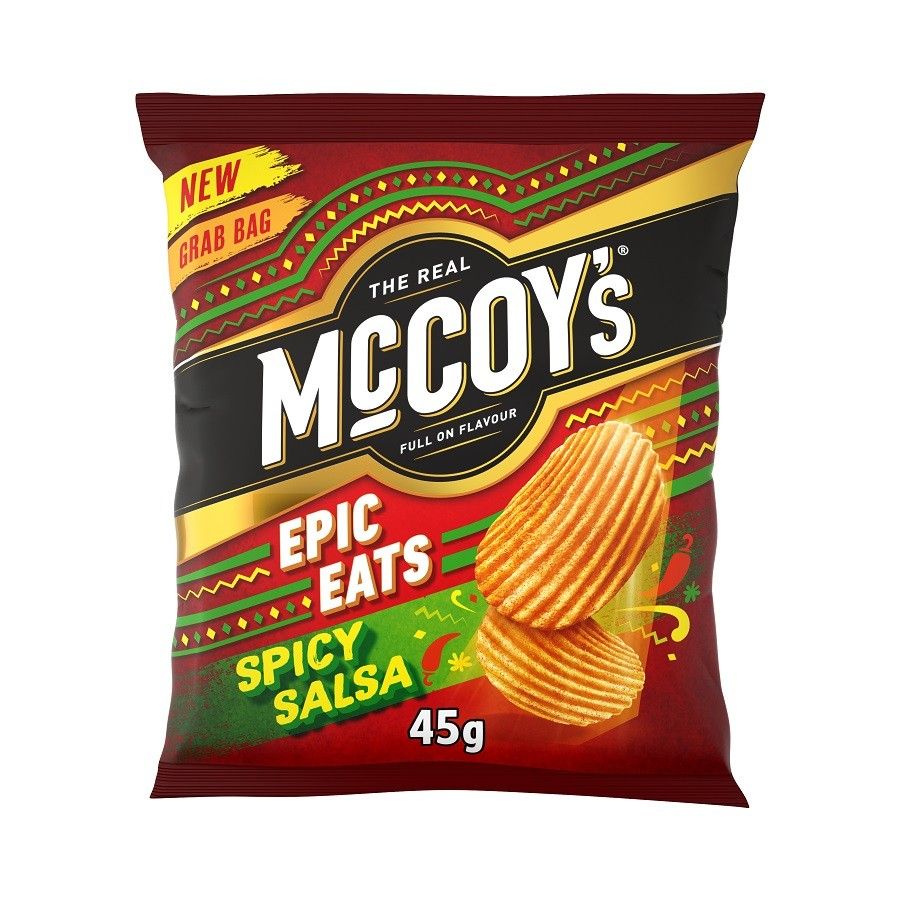 Do you have any new product development? 
At McCoy's our NPD strategy is always to deliver bold and unique flavours to excite and engage consumers, driving category growth. Our newest launch is McCoy's Epic Eats, a flavourful new product range featuring two new flavours: Nacho Cheese and Spicy Salsa. The launch delivers unique and tempting flavours, promising an epic snacking experience for shoppers looking to try something new. Perfectly positioned to drive brand penetration, McCoy's Epic Eats has been designed to excite the category and bolster growth of the McCoy's brand, while strengthening its flavour credentials.
How are you supporting your brand and NPD? 
We're investing in an engaging media campaign, spanning radio and social channels to drive awareness of the new range. The radio activity (from Feb-March) will feature a range of adverts, including an exciting competition offering listeners the chance to win their own epic adventure – and forms part of an ongoing partnership between McCoy's and Global Radio.
How important are independent retailers to your brand?
At McCoy's, we are committed to supporting our retailer partners by offering a strong range of products in the right formats to help bolster their sales. We are continuing to help our retailer partners adjust to shifting category trends and retain shoppers by refreshing our product range and introducing new flavours to entice shoppers.
We're launching an exciting new retailer competition alongside the roll-out of our brand new Epic Eats product range. Running for eight weeks from 20th February in the UK , retailers are in with the chance to win one of six £2,000 cash prizes to "Fund their own Epic Adventure". There are also 1,100 prizes up for grabs in the form of £20 vouchers or a free case of stock with Epic Eats scratch cards.
What trends are occurring in the sector?
PMPs have seen significant growth in recent years and this format will stay increasingly relevant as the cost of living remains high. PMPs offer consumers great value for money, with clear pricing reassuring shoppers that they're getting a good deal. 54 per cent of snack shoppers purchase PMPs (more than any other category)6 and McCoy's is one of the top three PMP brands in CSN.
Brands continue to be crucial for shoppers, with 61.3 per cent saying that brand is the most important factor when choosing Crisps & Snacks7. Customers gravitate towards well-known and trusted brands, with 42 per cent of CSN sales going through the top five brands8.
Lunchtime and daytime snacking are on the rise and represent a key opportunity for maximising sales. With 50 per cent of shoppers saying they will be spending less on meals out, including reduced spending at lunchtimes in cafes, bars and restaurants, lunchtime meal deals will become increasingly important9. McCoy's products make up two of the top three meal deal choices, perfect for capitalising on the growth of lunchtime occasions.
Describe your brand in three words …
Bold. Adventurous. Exciting.
---
Nielsen IQ, Total Coverage, Total PMPs Value, MAT 03.12.22
Nielsen IQ, Total Coverage, Total PMPs Value, MAT 03.12.22
Nielsen IQ, Total Coverage, Total PMPs Value, MAT 03.12.22
Nielsen IQ, Total Coverage, Total PMPs Value, MAT 03.12.22
Nielsen IQ, Total Coverage, Total Value, MAT 03.12.22
Lumina 09.01.22
Lumina Intelligence, Convenience Tracking Programme, 12  w/e 29.05.22
Nielsen IQ, Total Coverage, Total Value, MAT 26.03.22
Financial Pressures Report, Kantar Usage, August 2022