Can you please give an overview of your brand
Founded in 2001, Rockstar Energy celebrates the hard-working hustlers around the world who have the grit and determination needed to make things happen. Now available in over 30 countries, the brand provides a bold boost and is loaded with flavour.
Rockstar comes in four different sub ranges – Original, Juiced, Punched and XDurance. It is known for offering breadth of flavour, innovation, and choice to retailers, making it a go-to brand for shoppers when purchasing energy drinks.
How is the energy drinks market currently performing?
The stimulants category continues to cater for growing need states, with 53 per cent of the population claiming they often feel tired1. This has seen stimulants energy become the fastest growing and biggest category in convenience in the last two years, now worth £665 million2. It also represents a strong trade-up opportunity for the category with approximately two times higher average price per litre than the soft drinks average3.
The stimulants category could continue its impressive run of growth by broadening its appeal, as it is currently bought in the main by young, male shoppers4. These are valuable consumers, spending considerably more in the take-home category compared with the average shopper5. Although a large segment, there is room for growth by broadening the appeal to more consumers –nine in ten people don't buy Stimulant Energy6.

Do you have any new product development?
Our innovation pipeline centres around low- and no-sugar products, which meet HFSS regulations and offer consumers better-for-you options as part of our Britvic Healthier People, Healthier Planet strategy.
We have recently reformulated Rockstar's core range, reducing the sugar content (with less than 4.5g of sugar per 100ml) across all six of Rockstar's bestsellers to make them HFSS compliant in time for the new regulations, helping consumers make healthier choices without compromising on taste.
Extending the appeal of the stimulants category to health-conscious shoppers, the core Rockstar flavours will complement Rockstar Original No Sugar, which already falls under the planned regulations.
With half of consumers claiming to drink both full-sugar and low/no sugar carbonated soft drinks7, adapting our bestselling core range in this way allows us to continue supporting retailers and meeting consumer demand for lower-sugar versions of the drinks they know and love.
Our latest product launch which was announced last month saw the release of Rockstar's top performing flavours8, Juiced El-Mango and Tropical Punch, in a price-marked-pack (PMP) format. These are designed to further drive impulse purchases and bring new shoppers into the category.
How are you supporting your brand and NPD?
Rockstar has recently launched a new global messaging campaign "Fuel Every You". The creative is running across Point Of Sale as well as in and around convenience and impulse stores, and foodservice outlets.
We have some exciting activations planned which are bigger than anything we've done before and will drive brand awareness and engagement. Recently we energised cities across the UK, handing out samples and in September we'll be targeting universities and Freshers' Week with further sampling and experiential activations. This will drive awareness of the brand among a key target audience and ensure it is front of mind when consumers are in stores or outlets. We also have an exciting gaming partnership planned as well as further activations around Christmas.
We continue to invest in the brand and believe there is a great opportunity for Rockstar to stand out of the crowd, particularly with low and no sugar options available to a growing number of health-conscious consumers.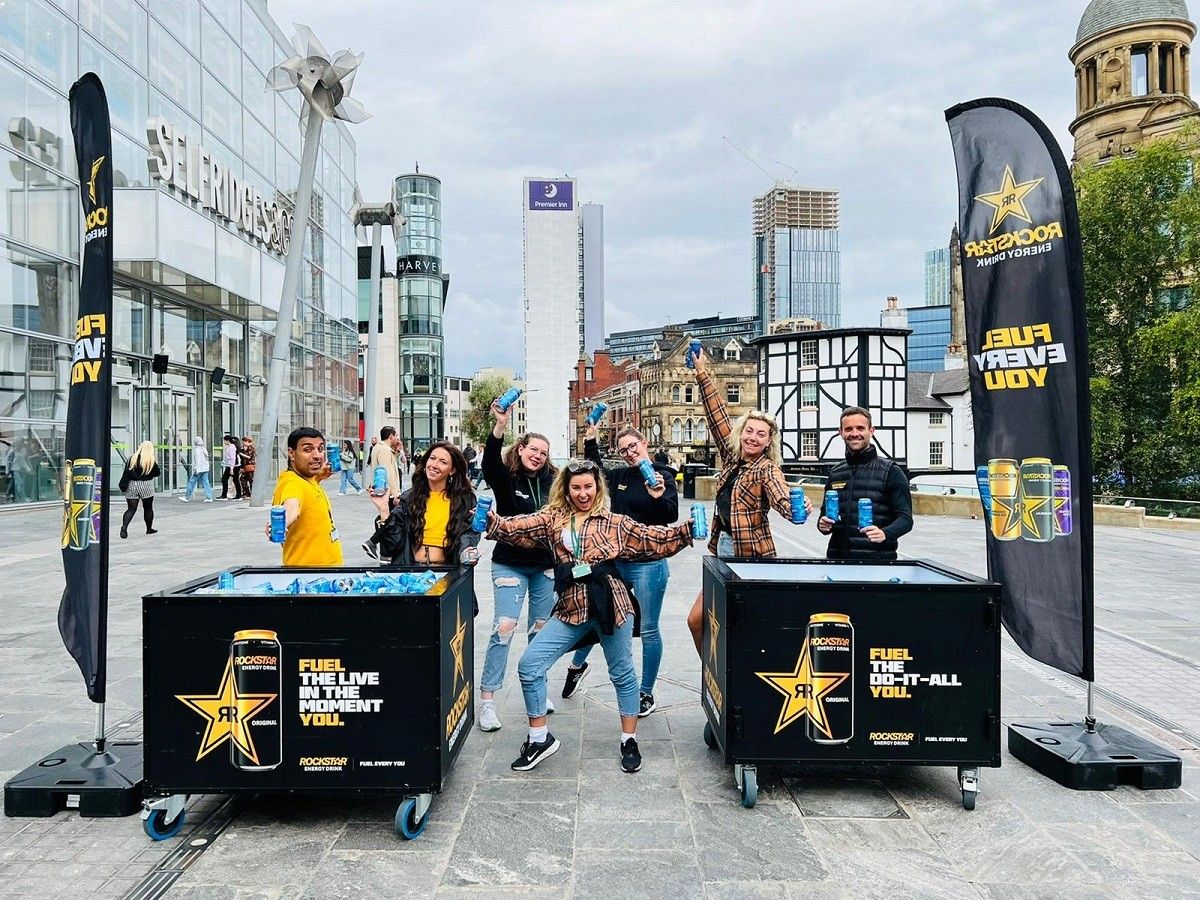 How important are independent retailers to your brand?
Independent retailers play a leading role in the brand's success, given the performance of the stimulants category in recent years. The category was the biggest winner in the convenience channel over the last year, increasing market share to 27.1% and overtaking cola as the number one category in this sector9. Sales of stimulants grew +21% and increased in value by £112 million10 as shopper demand for 'pick me-ups' increased during the ongoing pandemic11. We continue to work closely with retailers to help them drive sales in store.
What trends are occurring in the sector?
New flavours are driving the growth of the category with growth double that of Original flavours and having added £44m in the last year in impulse alone12. Therefore, stocking a range of core stimulants flavours and new variants is and has been key to the success of the category.
Range expansion has also been vital in keeping pace with increased demand and retailers should consider stocking a selection of products and flavours to help attract new shoppers into the category.
Describe your brand in three words …
FUELLING YOUR SALES
---
Mintel Sports and Energy Drinks UK 2021
IRI – Total Convenience – Total Stimulants – Value Sales – 52WE 26/06/22
IRI – Total Convenience – Total Soft Drinks & Total Stimulants – Price per Litre – 52WE 26/06/22
Kantar Worldpanel, Usage Panel, Take Home/Carried-out, Britvic-defined Stimulants sector, 52 w.e. 20.02.22, users are 65.9% male vs 39.5% for total soft drinks, over-indexing with under 44-year-olds.
Kantar Worldpanel OOH Panel, All Stores, Britvic-defined Stimulants sector, 52wk data to 8th Aug 2021 & Kantar Worldpanel, Take Home panel, All Stores, Britvic-defined Stimulants sector, 52wk data to 8th Aug 2021
Kantar Worldpanel OOH Panel, All Stores, Britvic-defined Stimulants sector, 52wk data to 12.06.22
Mintel Carbonated Soft Drinks – UK – 2022 Report, 49% of adults drink both non-diet and diet/low sugar carbonated drinks during Aug-Sep 2021
NielsenIQ RMS, Grocery Mults, Volume share of brand sales, Britvic Defined, MAT to 25.06.22 – 64% of brand volume
IRI – Total Convenience – Total Stimulants Britvic Defined – Value Sales – 52WE 24/07/22 vs YA
IRI – Total Convenience – Stimulants – Value Sales abs change vs LY – 52 WE 24/07/22 vs YAGO
IRI – Total Convenience – Total Stimulants – Value Sales – 52WE 20/02/22
NielsenIQ RMS, Total Impulse, Value % Growth, Total Stimulants- Britvic Defined, MAT to 23.07.22