Although mask will no longer be mandatory in England from today, c-store retailers said they will ask their staff to wear mask for their safety. However, they will not enforce it on the customers to avoid confrontation, as some suffered verbal abuse from customers when masks were mandatory.
Prime Minister Boris Johnson confirmed that mandatory face masks will no longer be required in retail settings, although people are advised to continue wearing them in enclosed or crowded spaces.
Pritina Patel of Nisa Local at Birmingham believes, "Lots of people are still going to be wearing masks because they are still scared as the rates of Covid cases are still quite high. And then on the flip side, you got some people that haven't been wearing one anyway. So, it's sort of 50-50, at the moment."
She adds, "We haven't been telling people that they have to wear a mask anyway. Just because we don't want that sort of confrontation. I don't think much will change. I have told my staff, if they want to, well they can, if they don't want to, they don't have to. So, I think we'll just see on Thursday, wherever they decide which way they're going to do it. But I am sure most of them are going to carry on wearing one."
Steve Singh of Costcutter Kirkheaton opines, "We don't really attack the customers with the policy or guideline because sometimes we don't know whether they are exempt from wearing them. So, we have got signs asking people 'please do the hand sanitizer at the door, please wear a mask' but we do not impose."
"Obviously, it won't be mandatory anymore. If they want to wear, we are fine about that and if they don't want to wear, that's okay, we are not forcing anyone. We will continue to have hand sanitizers at the door and we also do provide free mask to our customers."
With regards to their staff, Steve says, "The choice is theirs, and they're quite happy wearing them at the minute. So, we're still going to wear and my staff are happy to continue wearing them for the time being. As the virus is still around, we are just more concerned we were going to wait till it take its course and maybe wait a month or two before removing anything."
As Scotland still requires people to wear masks in shops, Blantyre retailer Shahid Razzaq think the relaxation in England is 'not a good idea'.
"I don't think it's a good idea to make mask non mandatary, because the virus is still out there, and the retailers and their staff are being put at risk with the government asking people not to wear in masks," he says
"They should ask for when they're shopping, that they should wear masks. So, it would help mitigate some of the retailers who are frontline staff have never been properly acknowledged."
However, Pritina believes that people are fed up of all the protocols and they are going to use their common sense rather than blindly following the announcement by the government.
"We all see in the news, how many times rules have been broken by the government and things like that- they were having parties and stuff like that serve as a double standard, isn't it? And now it's just people are starting to get a bit fed up of all the measures that they're doing," she says.
"Especially, the ones that have been following the rules from the start, and haven't seen family- like grandparents, and then you see now in the news, that prime minister was having parties at the same time, while he was telling everyone that they shouldn't be seeing their grandparents, so now people are like, anytime a new rule comes into force, they're just thinking twice about it basically. I think they're using their own common sense. So obviously, if they're in a situation where, like, if they come into our store and it's busy, then they probably would wear a mask. But if it's sort of empty, or there's not many people, they probably just walk in sort of. I think they're using a bit more of their own judgement."
Even when mask was mandatory, many of the stores didn't force their customers to wear a mask in their store to avoid confrontation and verbal abuse. Though mask is still mandatory in Scotland, Shahid urges only his staff to wear a mask and not to enforce the rule to the customers.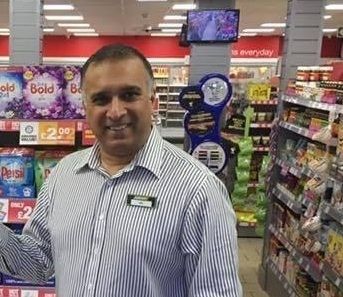 He says, "What I did was I told my staff not to enforce that rule. And the reason for that is very simple, because we're not the police. And our staff shouldn't be open to abuse from the customer who is not willing to wear a mask because he doesn't believe in it. And we get very little protection for retailers and staff in our area. And very difficult when we call the police, for the police to arrive. So, we're leaving our staff and our members themselves open to abuse and even more intimidation and everything else. So, we never enforce that. We just had posters up asking them to wear a mask."
He revealed that the staff had to face verbal abuse, and threats made against them when he asked staff to ensure customers wear mask. "After that, we said, No, we're not calling for our staff to put at risk. Because at the end of the day, our staff don't know if someone has had a disability, or is exempt, or the people that are not exempt. We don't want to put our staff in any danger," he says.
He concludes, "We're in Scotland, and masks are still mandatory in shops in Scotland. And unfortunately, England doesn't. I think for us we will still be asking, we still have posters up asking people to wear masks, and my recommendation to my fellow colleagues in England is to keep the posters up in your store, asking customers to wear masks, you might not be able to enforce it, but you can always ask."