The school lunchbox is more than just an item of Tupperware. It is also a political and cultural football. The major development that is shaking and remaking the market right now is of course the incoming HFSS regulations, talk about which is everywhere at the moment.
It is true that some of the new rules, which were due to be enacted this October, have been delayed until next year, but for producers the new regulations have already determined that they reformulate products in a healthier manner to stay within the guidelines, and many will be promoted to parents with this in mind (not to mention encouraged or banned by schools according to their nutritional value, or lack of it).
With all that in mind, let's look at the enlightened ranges now on offer that could boost sales at a time of the year when distinct patterns of demand show themselves not only regarding the lunchbox itself, but also products for family meals that help when the hectic term-time routine returns after the summer holidays.
Start the day right
If the back-to-school lunchbox is about robust nutrition to ensure kids grow up healthy and happy, then school-day breakfasts – eaten either at home or (increasingly) after arriving at school, also play a vital role.
"Back to school is the second biggest trading period for cereals," says Darryl Burgess, Head of Sales for Weetabix. "This is driven by families returning to their morning routines after the summer break. As a result, it's family favourite products such as Weetabix that perform really well during this time. Cereal rightly has a strong health perception, with previous studies showing that a healthy breakfast can enhance children's learning ability, which puts it in a good place to capitalise this time of year."
He adds that as the cost-of-living crisis continues, cereal also benefits from being one of the lowest cost breakfasts per serving, so it is an affordable way to help the family kick off the day and keep going until lunchtime: "We'll have a big presence in stores this back-to-school period."
As breakfast also migrates to on-the-go solutions due to hectic morning schedules, it means that cereal bars are playing a larger role in both breakfast and day-time snacking.
"Cereal bars have been a staple of school lunchboxes, hitting the parental demands for health, convenience and importantly for the kids, taste," says Burgess. "As well as being HFSS compliant, our Alpen Light Bars come in a variety of flavours to keep kids interested throughout the school week. They are also suitable for multiple occasions, whether that's the mid-morning break, with lunch or a post-school snack to keep children going till dinner.
"Over the last two years we've taken a good look at the cereal bar category and the trends shaping it to ensure our Alpen bars are fit for the future, and that our innovation pipeline fulfils a defined role. The Alpen brand has a clear focus for its bars portfolio, coupled with significant investment, new pack designs and all-new products."
Available in three flavours – Salted Caramel, Dark Chocolate Orange and Cocoa & Peanut – Alpen Oat Blends are a wholesome blend of oats, nuts and fruits with a caramel centre and topped with crunchy nuts or cocoa nibs. The Alpen Oat Blends bars are also high in fibre and have no red traffic lights.
Packing the best products
Kids look forward ravenously to the lovingly-prepared sandwiches as soon as the bell sounds for lunchbreak, but the extra treat comes with the tasty, packaged treats alongside the main item of the lunchbox – the crunchy cereal bars, biscuits, crisps and other snacks that round off a satisfying lunchbox and fortify children for an afternoon of productive learning.
Kate Needham, who is Marketing Director at Burton's Biscuit Company, told Asian Trader that miniature biscuits hold massive sales potential, explaining that convenience retailers can tap into the £83.6m "Lunchbox Minis" category, which has grown by £13.4m since 2019.
Burton's pioneered the packaged mini biscuit category, and its Minis range is now worth £26.6m annually, experiencing astonishing YoY growth of +29 per cent.
"The size of the prize for convenience retailers shouldn't be under-estimated," says Needham. "With Mini Biscuits (+14 per cent) significantly outperforming the Sweet Biscuits category, those who look upon them as a nice to stock rather than a core offering are missing out on a major sales opportunity."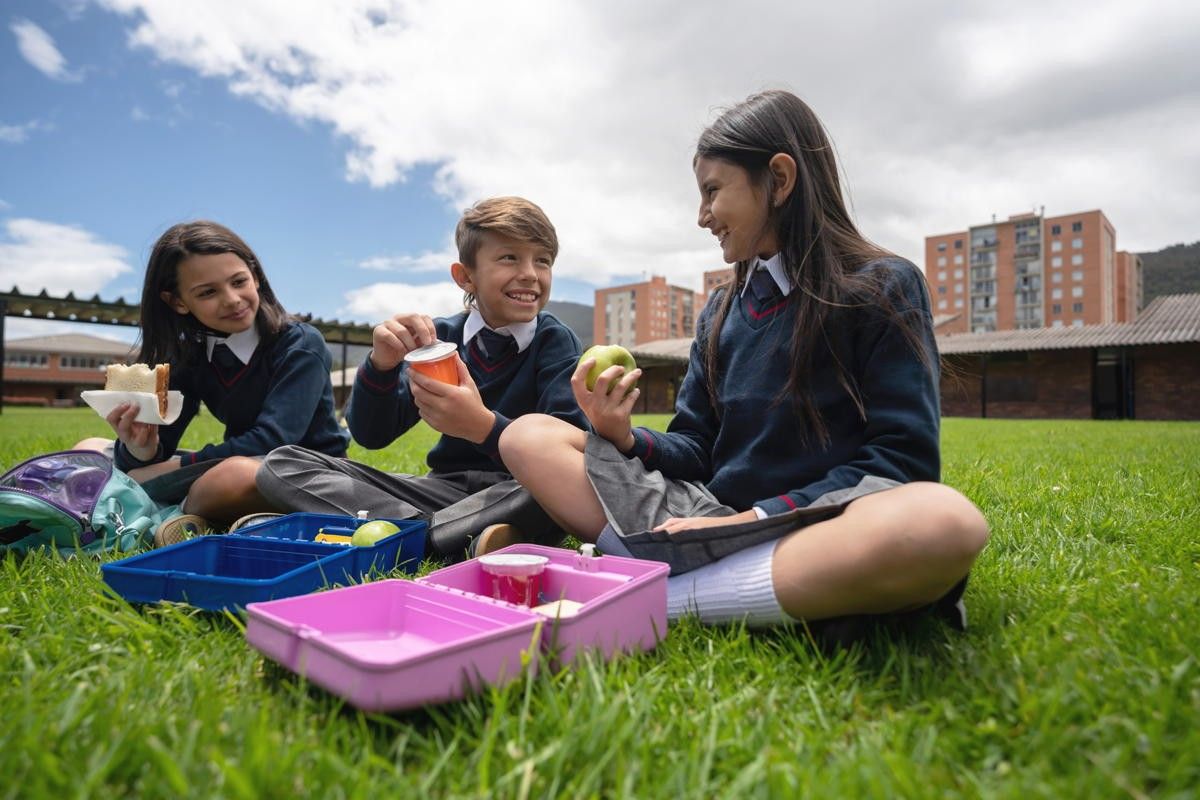 She says the brands in growth within the Minis category have contributed an additional £9.9m RSV to Lunchbox Minis in the last year, with Maryland Minis driving the highest growth +£3.4m, and that consumption accelerated rapidly once lockdown restrictions began to ease, alongside Food-To-Go sales. Incidentally, she adds the Minis phenomenon extends beyond the school lunchbox, with an uplift in consumption by younger adults (16-34-year-olds) contributing to the 14 per cent YoY growth of the category.
Savoury snacks are another lunchbox must-have (if the school allows it), and manufacturers are responding to healthy requirements, as Calbee UK's marketing director, Claire Hooper, explains:
"With many schools encouraging parents and carers to pack healthier snack and lunchbox options for children, our plant-based Harvest Snaps range offers a great tasting alternative to crisps. Baked not fried and available in two flavours – Sour Cream & Chive Lentil Rings and Thai Sweet Chilli Lentil Puffs – these vegetable and pulse-baked snacks are vegetarian and vegan friendly, gluten-free, with all green and amber GDAs.
At under 100 calories they are available in single and sharing packs, as well as multipacks, perfect for lunchboxes. Hooper stresses that being HFSS compliant, Harvest Snaps can still be merchandised in promotional display spaces in affected stores. Calbee's Peppa Pigs snacks are also compliant.
"For pre-school children returning to or starting nursery, our newly launched Peppa Pig Really Cheesy Lentil Puffs created by Seabrook in partnership with Hasbro, are ideal for snacks or lunches … baked not fried, gluten free, vegan and vegetarian friendly and contain only 82 calories per bag. Available in multipacks, with all green and amber GDAs, these snacks are great healthy, lunchbox option."
As far as pack sizes go, economical (and sensibly portioned) multipacks are ideal lunchbox solutions. Calbee's Seabrook brand is widely popular and distributed. "Our variety Seabrook £1.25 price-marked five packs, containing Sea Salted, Salt & Vinegar and Cheese & Onion, offer flavour choice for the whole family, while single flavour multipacks provide firm favourites every day of the week," says Hooper.
Seabrook's new baked maize snacks, Seabrook Loaded, is now worth £8 million, and joining the existing Crunchy Cheese & Bacon Fries and Seaside Salt & Vinegar Fries is a new flavour and shape – tangy Sour Cream & Onion Rings. "The Loaded range is available in a range of formats including single flavour multipacks and sharing bags," adds Hooper
Good to drink
Anyone with children knows the paramount importance of tasty drinks in their lives, flavours that provide pleasure peaks and restore energy and enthusiasm. Just as much as solid food, kids' drinks are vital for their health and alertness.
"To make the most of 'Back to School' occasions, that see consumption moments range from breaktimes to after school pick-ups, it is important to plan ahead utilising formats and SKUs that cater to these moments," says Angela Reay, Brand and Innovation Controller at Vimto's parent, Nichols plc.
Water is always a fabulous go-to for refreshment, but as the flavour range widens beyond that essential category, juice and dairy drinks begin to spread their appeal. Vimto has the advantage of long-term brand recognition, plus a boost from post-lockdown on-the-go sales leading into back-to-school.
"As the consumer trend towards 'Healthy Hydration' and balanced choices grows, retailers can tap into these trends by offering low-sugar alternatives within carbonates and also a range of still juice drinks," says Reay. "Since the return of on-the-go occasions, the Vimto ready-to-drink Stills range has really come to the fore, experiencing +26 per cent MAT growth – an eight per cent market outperformance – and a +31 per cent increase in sales YTD in impulse. We have also seen our whole ready-to-drink Stills portfolio increase by +17 per cent in volume sales year-on-year."
She says the resurgence of on-the-go is characterised by consumers seeking healthy hydration and still juice drinks, with over 60 per cent of servings currently chosen for health or natural benefit reasons – a large over-indexing.
Darryl Burgess points out that convenience is still the number-one need-state at breakfast, and that throughout all the turmoil of the pandemic, this fact has remained consistent. "No matter what your morning routine looks like you want it to be easier – that is why Weetabix On The Go was created," he explains.
Weetabix On The Go remains the UK's No. 1 breakfast drink (a £10m brand with a 60 per cent share of the breakfast drinks sector). Within the impulse channel, the brand is worth £2.1m and accounts for 85 per cent of breakfast drink sales.
"Our research shows that breakfast on the move has returned to its long-term behaviour levels, following the understandable dip during Covid lockdowns. There have been increasing on-the-go breakfast occasions since the summer, now to be boosted by the back-to-school period."
Reay highlights the importance of variety and innovation in appealing to children and their lunchbox preferences.
"Innovation plays a critical role as a lever to drive category growth," she says. "The Vimto portfolio currently includes favourites such as Vimto Original, Vimto Original No Added Sugar, Vimto Orange Strawberry & Lime No Added Sugar and Vimto Raspberry, Orange & Passionfruit No Added Sugar. New to market this year is our Blackberry, Raspberry & Blueberry flavour Still variant, which rolled out in April 2022 following its fantastic performance in our Vimto squash range – now worth £2m."
Then there is added fizz. "Our carbonates portfolio offers a wealth of flavour choice," she adds, "from our brand-new Sparkling Vimto Cherry Raspberry & Blackcurrant to our ever-popular Levi Roots range. Made up of three flavour variants – Caribbean Crush, Jamaican Sunset and Tropical Punch."
Dairy is vitally important, and children are recommended to eat 2-3 dairy servings a day, although Ewa Moxham, Yoplait's Head of Marketing, says that a survey conducted by them found that more than half of primary school-aged children enjoyed fewer than two – indicating a "major dairy gap" in the UK.
As a lunchbox option, Yoplait Kids has been leading the category, reassuring parents of its health credentials. Petits Filous has renovated of its core range (last summer, Petits Filous unveiled Mess Free in a single format to target the on-the-go market) with a new and improved recipe, and over the last five years, sugar in Yoplait products has been reduced by 18 per cent.
"Yogurts remain a staple in kids' lunchboxes and has generated a lot of forward momentum because handheld consumption occasions have proven so popular with parents. We have seen strong growth in kids' yogurts within portable, handheld formats," says Moxham. "Frubes had a successful 12 months despite these challenges, reaching a brand value of £22.4m and growing by 8.9 per cent.
She sees the future as one of continued sugar reduction, and that this is the direction for NPD: "Our research showed that 58 per cent of parents with kids aged four or under are actively looking for ways to reduce sugar, making a No Added Sugar platform more important than ever. In July 2021, Petits Filous launched a No Added Sugar variant to its Mess Free range, fortified with Calcium & Vitamin D, available in two flavours, Raspberry & Apple, and Banana & Apricot.
Meanwhile Frubes is targeting larger households with the introduction of a Family Pack containing 15 tubes in the brand's most popular strawberry, peach, and red berry flavours – the perfect healthy snack for lunchboxes, on-the-go or a top-up after school.
Moving from yogurt to milk drinks, FrieslandCampina'sBusiness Unit Controller, OOH, Wayne Thompson, explains thatYAZOO is a traditionalflavoured milk brand, now worth £74m and with great consumer awareness, performing strongly and outgrowing the flavoured milk category.
"Consumers recognise our packaging, and they know where they can find us in stores," he says. "Even with the change of occasions, we are still seeing growth as shoppers are more likely to try new variants and formats from brands they already know, love and ultimately trust."
The brand is HFSS-friendly, and therefore a perfect lunchbox item, free from artificial sweeteners, flavours, or colours, high in protein and is a source of calcium and Vitamin B2.
"YAZOO KiDS has a completely unique no-added-sugar-or-artificial-sweeteners recipe," says Thompson. The brand is also part of the 'Better Health Food Scanner App' campaign, with all flavours, including the recently approved chocolate variety, holding the 'Good Choice' badge – making it easier for parents to make healthier choices for their children. Also, the cocoa used in YAZOO KiDS Chocolate is Rainforest Alliance approved.
Chocolate remains the most popular flavour across the overall milk drinks market, with over 50 per cent market share, but Thompson says that YAZOO's strawberry flavour performs about as well as that.
They also do limited-edition flavours – products that can create a sense of exclusivity and contribute to brand longevity in the long run. "We relaunched one of our best-selling Limited-Edition flavours due to consumer demand – Choc Caramel. The latest Limited-Edition release follows the success of YAZOO's Jaffalicious Choc Orange, which it will replace. The citrus flavour was a huge hit with consumers," he says.
Home again, home again
After the school day concludes. It's not over for parents, who must rustle up suppers at short notice and under pressure – while still bearing in mind both taste and healthy nutrition.
Meat-free brand Quorn, which has established its credentials over decades now, is a great practical solution that satisfies on taste and texture as well as hitting all the health points.
Gill Riley, Marketing Director at Quorn Foods UK, says that meat free eating is at an all-time high, with almost 50 per cent of the UK population buying into the category – more than 28 million households.
"Quorn's products are extremely versatile and provide delicious meat free meals for every mood, making them an accessible choice for the whole family. Back to school is a hectic time, as families try to get back into routine after summer, and we see the demand rising for convenient, healthy and tasty meal solutions," she says.
"We're advising retailers to stock Quorn's core SKUs, such as Mince (300g RRP: £2.50), Sausages (336g RRP: £2.50) and Pieces (300g RRP: £2.50), to make the most of meat free sales around the back-to-school period. All of these products can be used straight from the freezer to easily create meat free alternatives to traditionally meat-based family meals.
"Popular products such as Quorn Crispy Nuggets (300g, RRP: £2.50) and Quorn Fishless Fingers (200g; RRP: £2.50) are perfect for quick and tasty classic tea-time dishes that are better for the planet and the family,"  says Riley.
Last year, Quorn launched vegan Roarsomes (240g; RRP £2.20), the biggest frozen NPD launch of the year. Created specifically to engage children in meat-free mealtimes, the dinosaur-shaped nugget with a crunchy breadcrumb coating, was the first of its kind in the category.
"This is one of our latest innovations in frozen, comprising a number of delicious products that mimic the taste and texture of popular takeaway menu choices. After a long week of school and work, these exciting new products are a quick and tasty treat to recreate family favourite takeaway meals at home, with the added benefit of being better for the planet."
The range comprises Quorn Crunchy Fillet Burger (190g, £2.50), Buffalo Wings (240g, £3.00), Crunchy Strips (240g, £3.00), with Sticky BBQ Wings (263g, RRP £3) and Sticky Sriracha Wings (253g, RRP £3) joining the line up in May this year.
Another post-school favourite that's both well-loved by kids and easy get on the table is Old El Paso Mexican food range, which is growing at +5.3 per cent vs YA and outperforming the total category by 9.8ppts.
"We recruited 800,000 new buyers with Old El Paso Tortilla Pockets!" says Aditi Hilgers, Marketing Manager, Old El Paso. "Our main priority is making Mexican a family favourite for everyone. We know it's a cuisine that 92 per cent of the population are open to, but only 50 per cent are buying. The growth that Old El Paso has demonstrated towards that goal has been tremendous."
Aditi notes how consumers became more adventurous and experimental in their cooking over the lockdown periods – and as visits to restaurants were restricted, shoppers found alternative ways to recreate their favourite restaurant dishes at home – something that greatly benefitted the brand.
"In 2021, we extended our category-leading Old El Paso Tortilla Pockets range with a new Smoky BBQ variant. The product combines our innovative, first-to-market sealed bottom wraps with our classic and best-selling smoky BBQ flavour profile, the number one in Mexican"
It has seen outstanding success to date, hitting £8.8m RSV sales in its first 18 months year. "In addition to family meals, we learnt that Old El Paso Tortilla Pockets were also great on-the-go, for older consumers who might have limited mobility and even for lunch, with great lunchbox potential," said Aditi.
Imagine, Mexican food for school lunch. Kids today have all the luck.