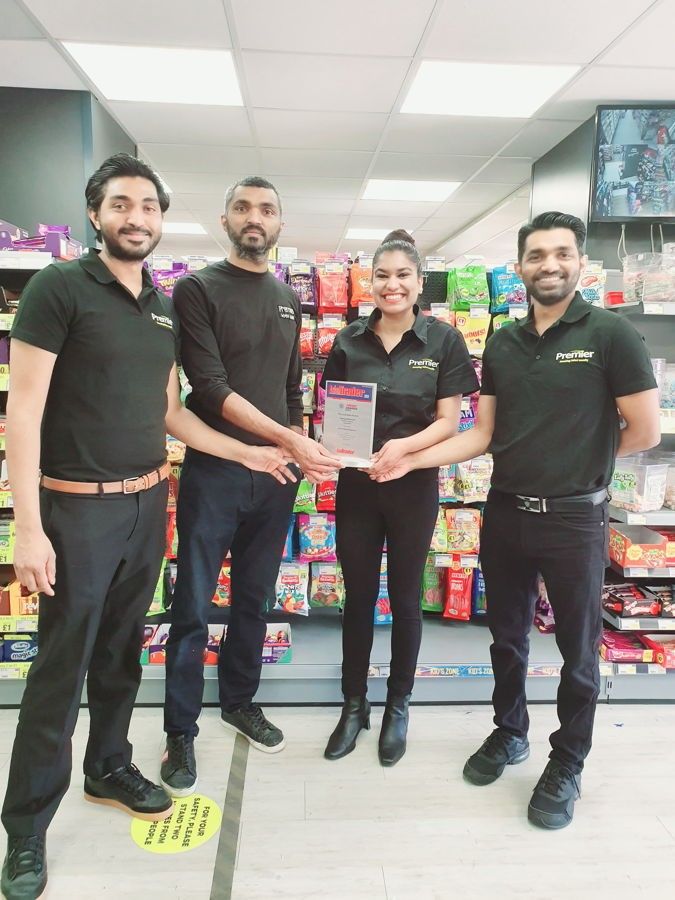 During lockdown, Imtiyaz Mamode, of Premier Gosport in Hampshire, had even made use of the (closed) nearby pub's kitchen to cook meals for the vulnerable in his community. And, when he was announced as winner of the Local Hero Award at the 31st Asian Trader Awards, it really meant a lot to him and the store.
"We never thought that we [would] receive the award. It was really a big achievement because Asian Trader is big, big award," Imtiyaz commented. "When you represent yourself to any award, it's a big achievement. And when you receive a Local Hero Award, you are over the moon. We were all over the moon thinking that,'Yes, we might have done something really good'."
Whilst he is immersed in retail now, the beginning was not at all easy for Imtiyaz, an IT engineer by training who used to work with Imperial College London after arriving in the UK from India in 2013. The change happened in 2017, when his younger brother Sohail sought his help in the new store he acquired.
"I was earning really good money at Imperial College. I thought I will give it a go and have a look how it is, as I'm having my Sundays off as well. And the early days were not good at all," he admits.
"It was really hard coming from IT to a grocery business:it's a completely different picture. So it was really hard and difficult to learn. But I am always keen to learn new things. So when I went deeper, I learned more about grocery products."
In less than two years, they gave up the original shop and moved to the current one. And the lessons they learned in those initial years proved quite useful as they meticulously built a successful store in the form of Premier Gosport.
In fact, the new innings was equally challenging for this cricket enthusiast. The store was previously a Co-op, but shut down for five years. "When we were about to get the shop, many of them said that if Co-op can't do it, you can't either," he remembers. "The lease was really expensive as well. But then we said, 'No, that's fine, we will just try it, we'll try our best and let's see what it does.'"
The store was finally acquired and a full-scale refit was carried out to the tune of £150,000. Raising funds was a challenge, and they borrowed most of the money from the bank. The store officially opened in February 2019 with some "challenging but hopefully achievable" targets.
"The store had been closed for years so we didn't know how long it would take to get up to speed. We agreed with Premier and the bank that we would target having weekly turnover of £12,000 after six months. What actually happened was that we hit £15,000 within a week and were doing over £25,000 a week in eight months," he reports.
Needless to say, both Premier and the bank were as pleased as he and his family. "And from then to now, it's been growing day by day," he adds.
Well before the pandemic struck, and gave a new meaning to the role of local convenience stores in the community, Imtiyaz and the store used to engage all the time with community, particularly with raffle draws to raise money for charities. When the pandemic started, anticipating the impending lockdown, they promised that if such an eventuality came to pass, they would provide free home homemade food to all the vulnerable people who could not leave their homes. It was a bold promise.
"When it was announced by the prime minister, that the country was going to be locked down, we went on social media, on Facebook, saying that if there was any address or anyone who need free homemade food, please let us know," he explains.
His wife Supriya Namdeo, who also works in the store, cooked the Indian meals from their family kitchen, and he delivered them to people. They had five houses in the beginning, but it soon grew to 25. The customers also lent a helping hand, volunteering to deliver food. The local council soon intervened, forbidding them to cook in their family kitchen. Not an encouraging intervention, but it led to more community involvement as the local pub near to them, Carisbrooke Arms, said they were happy to help out.
"So, Supriya started cooking food in the pub. So many people used to message us every day about our food that they were happy to have a fresh free veg meal every day. We were serving more than 25 people a day," Imtiyaz recalls.
As we emerge from the pandemic, they are ramping up their community engagement."We are trying to help one of the football teams and we're planning to do a free car wash, where anyone can have their car washed for free and can donate whatever they want, from 1p to anything," says Imtiyaz.
The local community has been very appreciative, reflected in the astounding growth in sales. From £25,000 per week before the pandemic, takings rose to£35,000 under lockdown and their current sales are almost £50,000! Unlike many of his counterparts across the country, Imtiyaz hasn't seen a fall from the highs of the pandemic last year and believes this could become the new normal for the store.
"I have seen customer behavior changing," he explains. "They used to go more to supermarkets to shop, but now, because what they have seen what the local shops are doing, I think people are going to the local shop more. They realise that giving business to local shops will be more beneficial for them as well," he adds.
This uptick in sales is something that they didn't expect to continue after pandemic restrictions ended, he reveals. "We thought that as soon as this pandemic was on the point of finishing, our sales will go back down to £25,000," he says.
"But what we can see [is that] our sales still stayed on around £50-55,000. It's not dropping down below that, but when we are a bit busy we take around £60-65,000. Our plan is to stick on this figure, £50,000."
He stresses that their engagement with the community plays a significant role in retaining customers, and the recognition of it by the award has reinforced this. "Winning the award makes a huge difference, showing that,'Yes, we've been recognised for what we did for the community.'And people do appreciate these kinds of thing."
Another major factor that drives footfall to the store is their social media presence. From the beginning they had a strategy to tap its potential.
"To hit the ground running we had our social media and leafleting campaign before the store had even opened, keeping local community up to date with the progress of the refit," he says. "That campaign meant that from the day one the store saw a steady stream of shoppers come through the door."
They acquired nearly 5000 followers on Facebook, and some 1200 on Instagram, and use Twitter and TikTok as well, especially to introduce their imported lines with short videos, with Imtiyaz and his staff sometimes acting as reviewers.
American groceries, sweets and snacks have been a big draw for the store. In fact, the range is something that he started at their previous site, when some children repeatedly asked for them.
"I did a bit of research and I said, 'Yeah, that's fine'. And we started five to ten lines of American products. It was really expensive. For example, one of the Hershey's chocolates, we used to sell for £1.95, a small Hershey's chocolate. And people used to buy it and we used to sell a lot," he explains.
From five lines, the range grew slowly and steadily to 15 lines to 25 lines and 30 lines. "Today 40 per cent of the shop, our shop is around 2800 skus, are American products. And most of them came with a customer request, because I have never been to America!" he laughs.
He has seen that the price does not deter customers from buying these products. But, Imtiyaz realised that they are still "extremely expensive" for a large chunk of customers, so he went for a solution.
"If I'm a regular customer, I won't buy it, because I don't have two pounds to spend on a small chocolate bar," he reasons. "So I did lots of research, I tried different suppliers, I contacted them."
As a result of seeking cheaper suppliers, they have been able to sell the same Hershey's chocolate for £1, instead of the £1.95 in the previous store!
The USA range also helps a lot competition-wise. "We are completely different as we get different products than the supermarket. And it's not hard for us. When we have different products, we don't have to worry about it."
Alongside delivering meals, the store also delivered groceries free of charge during the pandemic. It was a pretty basic operation, with customers calling by phone or messaging on Facebook, and Imtiyaz or his brother picking and delivering the products. Rising demand soon meant that was not enough.
"We saw we lacked staff in the shop, and our business kept on growing. And it was getting so much busier that when I or my brother go to deliver, there is no one in the store," he says.
They were forced to curtail deliveries at the time, but Imtiyaz is not going to miss the opportunities the service offers to the store. He is now planning to create a dedicated app.
There are two reasons behind the decision, apart from his IT background. Firstly, their team is now growing. They used to be only five or six staff, all family. But the number has now doubled to 12, and the hiring of new staff has been another instance that has shown why he is a local hero.
"When we hire people we only hire locals," he says. "There were jobs around, as two or three factories have recently made staff redundant. So we try to hire local people to give them a job."
The second reason he is developing his own app is that he doesn't like giving commissions to anyone! "That's the only reason I don't want to use any other app. But yes, I will try to use some of the apps for a few months to see how it goes."
The plan is to pick up on areas where they need to focus while developing their own app. In fact, Imtiyaz firmly believes that the online is the future, and he finds local stores would need to adapt sooner or later.
As he switched from IT to retail, one thing this Sachin Tendulkar fan is missing is cricket. "I love cricket. I have now stopped watching cricket because I don't have time," he rues. But, he notes that the retail has given him so much more than what he could have achieved from IT in the same period.
"If I see myself five years back, what I have now I might have never achieved so quickly. I have my own house as well and the business is running really well now. Hopefully we will have one or two more stores in future. If I was still in IT, I might have not achieved these things," he says.
It's not easy to do it, he would tell his fellow retailers, but he believes nothing is impossible if you try.  "Having a challenge and upgrading my knowledge is not easy, but it's worth it. If you have goals set for what you want to do, then yes, you can achieve everything what you want."